Hi everyone! Thanks so much for tuning in to another episode of #ToursOfTIEC this past week, featuring our on-site tack and apparel store, Tryon Tack! One of my favorite parts of Tryon Tack is that not only does it have items for equestrians, it also has tons of gifts and fun apparel for the TIEC fan or horse lover! There's truly something for everyone. So, without further ado, let me show you!
1. All Things Equestrian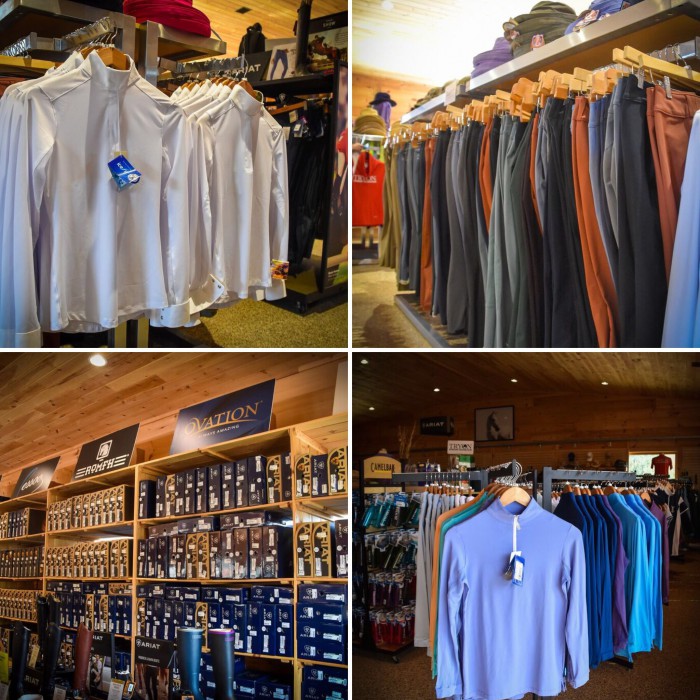 Whether you are showing at Tryon, just need new schooling clothes,  or are getting ready to take your first lesson, Tryon Tack has everything an equestrian could possibly need!  They carry tons of name-brand breeches, show coats, show shirts, belts, and even socks. You could come in here with no riding wardrobe at all and walk out ready to ride! My favorite part about all of the riding gear is the array of colors and brands of breeches. Breeches may be my secret obsession. And socks. And sun shirts. Ok, I am about to get carried away…
2. For Your Horse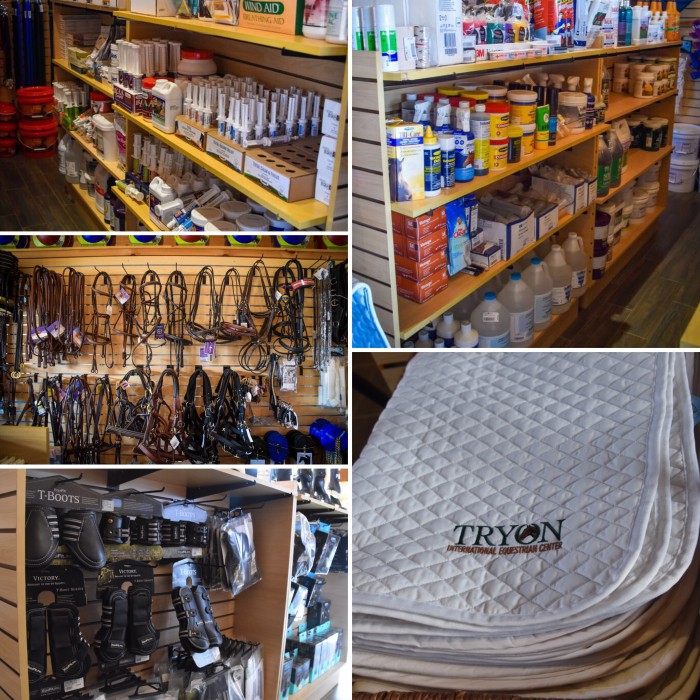 We can not forget about our four-legged BFFs, and neither has Tryon Tack! They have bits, reins, boots, saddle pads, ear bonnets, supplements, medicine, and shampoo; I could go on and on. Even if your horse shook out an ear plug (ugh, why do they do that?), Tryon Tack has you covered! They want to make sure your horse looks and feels just as good as you do.
3. Not a Rider, but You Love Tryon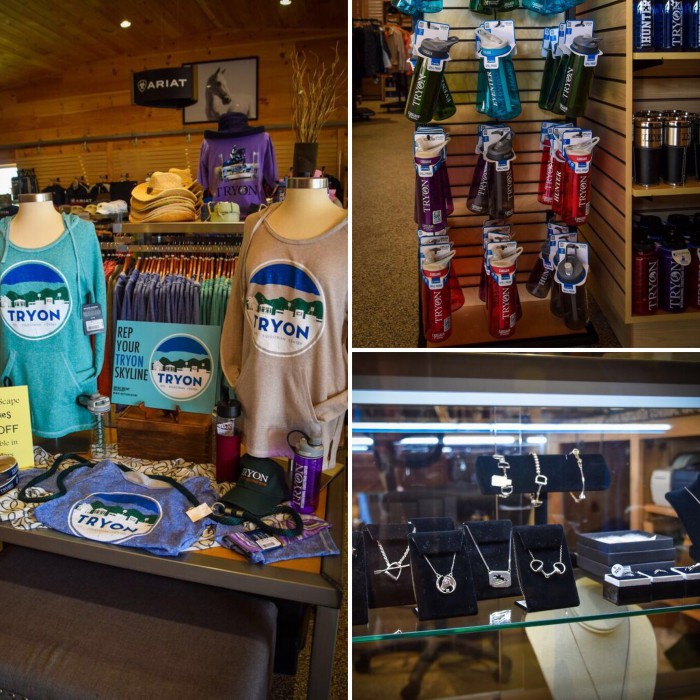 This is probably the best part about Tryon Tack. All of the gift and clothing items! They have water bottles, sweat-shirts, t-shirts, wine-openers, stickers, postcards, and even jewelry! You are bound to find some sort of gift to take home as memory of your time at TIEC, or to send to a loved one back home!
4. Something for the Guys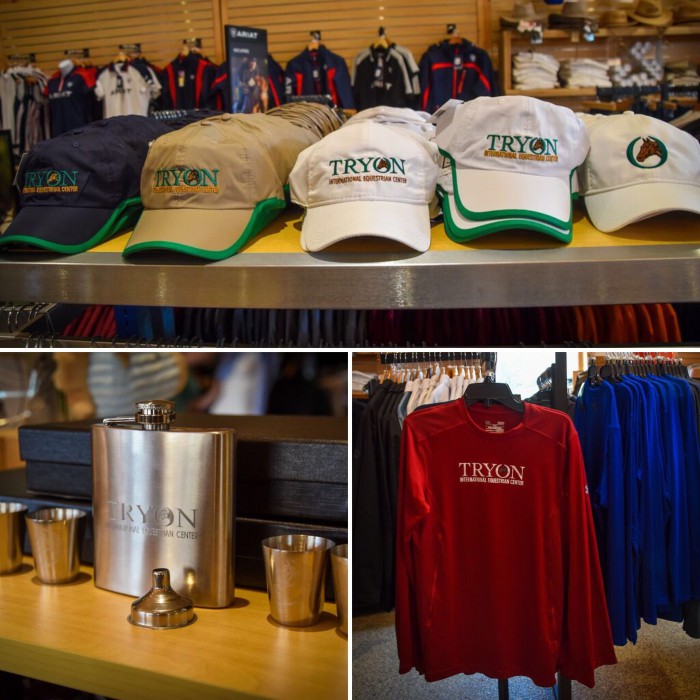 Did your Dad or your brother or your boyfriend come to watch you show? Or did they come to Saturday Night Lights with you? Well, Tryon Tack even has merchandise for all the guys in your life. They have workout clothes, flasks, hats, and leather bags that can be the perfect gift to reward them for hanging out at the horse show with you all weekend long (even when they wanted to be watching that football game.)
5. Overall Your Fave Tack Shop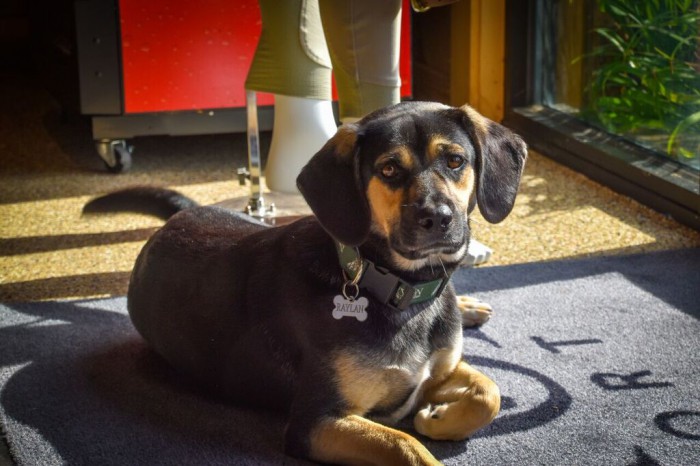 Whether it is Raylan (the pup who greets you at the door) or the friendly and knowledgeable staff; Tryon Tack is the place to shop for anything you may need. The best part about Tryon Tack? It is located right on-site near Roger's Diner. Head to Tryon Tack I for your souvenirs or to treat yourself to a new show shirt after a successful weekend in the ring. Whenever you want to treat your horse, then head to Tryon Tack II, which is right by the barns. Easy! Both tack stores are full to the brim with all of your equestrian and TIEC-themed goodies!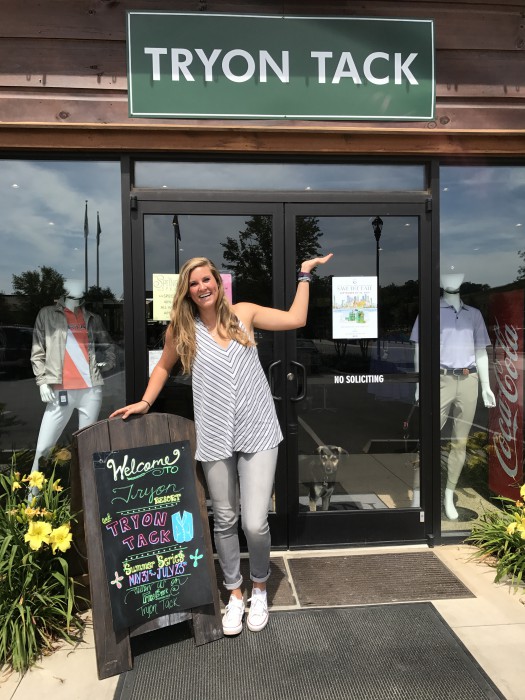 Happy shopping my friends!
That's all for this tour! Tune in to the official Tryon International Equestrian Center Facebook for our next episode coming soon, or click here to view all of the tours we've done so far!
Want to watch a replay of the Facebook Live tour that we did on the official Tryon International Equestrian Center Facebook page?
Click here to watch our tour of Tryon Tack I.
and click here to watch our tour of Tryon Tack II. 
P.S. Tryon Tack is on Facebook! Check out their page by clicking here.
And yes, Tryon Tack is open during Saturday Night Lights!