Mill Spring, NC – August 1, 2018 – In its final week of competition at the venue ahead of the FEI World Equestrian Games™ Tryon 2018 (WEG), Tryon International Equestrian Center (TIEC) welcomed United States Pony Clubs, Inc. competitors from across the United States to compete in seven disciplines in the 2018 USPC Charles Owen Championships East Presented by Flair, LLC, and Airowear. More than 500 competitors from ages 12-25 competed in Eventing, Dressage, Show Jumping, Games, Quiz, Polocrosse, and Tetrathlon – which featured 32 international exchange participants from as far away as Australia and Great Britain. The week also hosted 34 participants in USPC's New Vocations Challenge for Thoroughbred horses.
The week began with a Welcome Block Party on Wednesday, July 25, for competitors and their families who moved in to the stabling to kick off competition, featuring free street entertainment, karaoke, a DJ and food vendors. Opening Ceremonies brought the Championships to an official start and was highlighted by the return of the "Battle of the Barns" Lip Sync Contest, in which teams competed on the George Morris Stage for prizes of $1000, $750, or $500 grants toward the teams' Pony Clubs.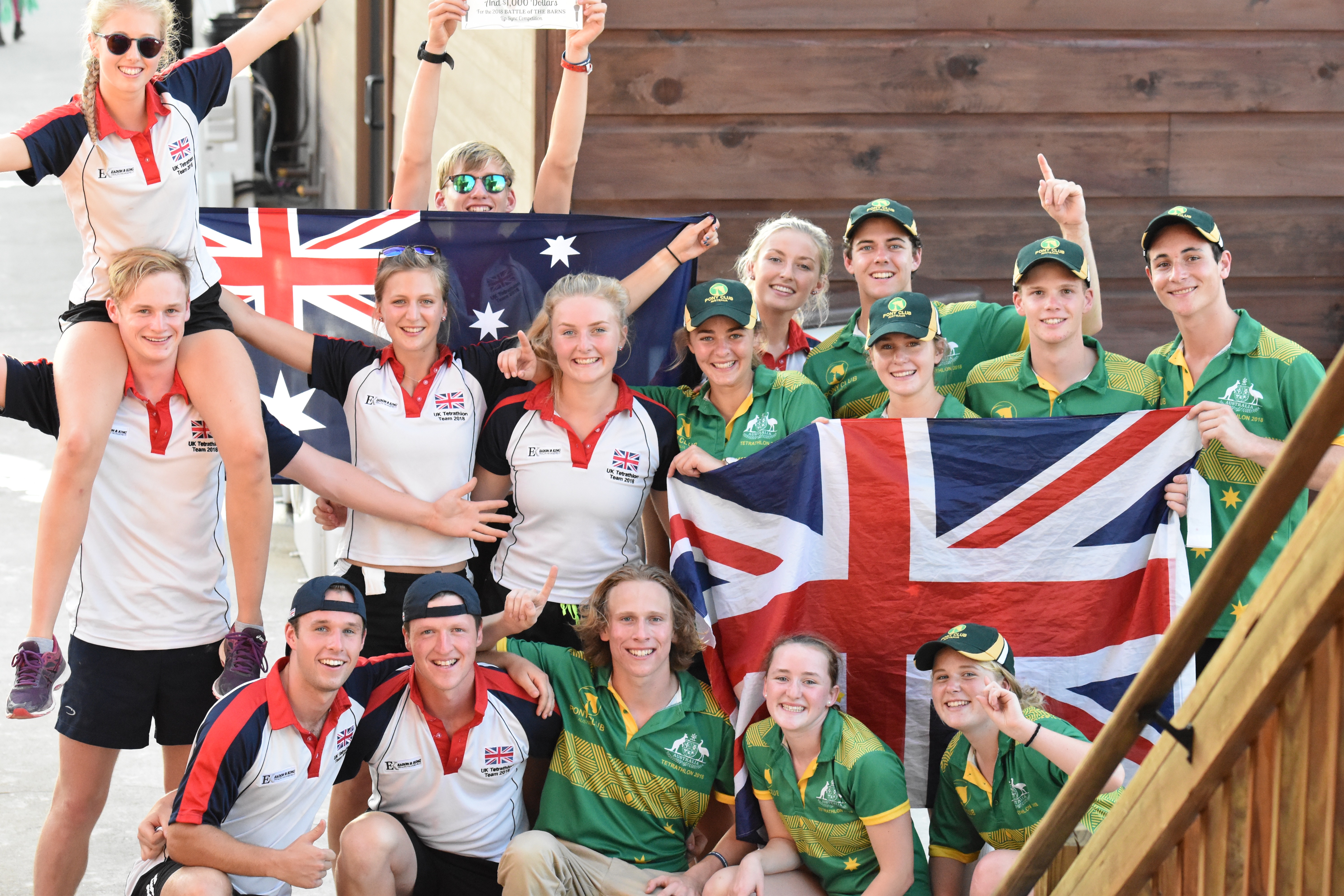 Team Australia and Great Britain took the "Battle of the Barns" Lip Sync Contest.
Friday night featured a Competitor's Party for all competitors, officials and volunteers, with additional tickets available for purchase, and also included a table decorating contest for competitors to display their regional pride. The highlight competition of the week, The President's Cup Games competition, was hosted alongside TIEC's signature "Saturday Night Lights" entertainment, and five teams from the Senior Games division competed in thrilling races underneath the lights and with a packed house cheering them on. Team Switch Blade of Pennsylvania took home the sport's ultimate title, and all members of the team spoke highly of the venue and its atmosphere.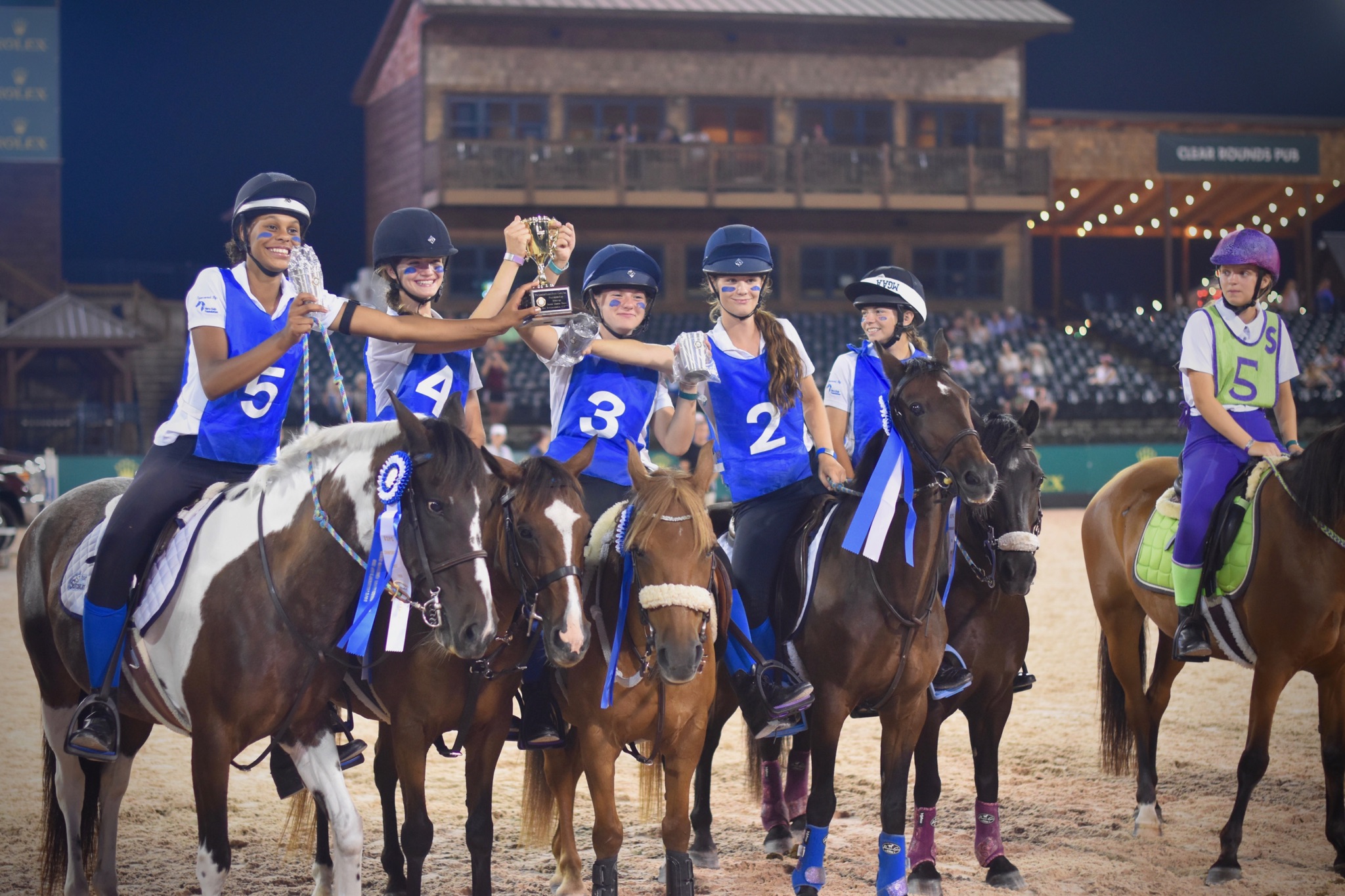 Team Switch Blade took The President's Cup Saturday night in the George Morris Arena.
"It's fun to ride in such a huge arena, and my pony, Churro, is absolutely perfect, so she takes good care of me. This is my first time at Champs!" said Azaria Smallwood. Teammate Kenzie Raniowski, riding Misty, echoed Smallwood's excitement about the venue:  "I was here for the 2016 Championships [at TIEC], and it's great. I love this facility. It's so nice to have a bridle path and this huge arena, and I love the footing."
Jesse Bradley-Johnson was also thrilled to return to TIEC, and explained, "it's crazy to be back. It's so updated and coming back for the second time is amazing to see the progress, past and ongoing." About her sport, Bradley-Johnson commented, "my favorite part of Games is probably my teammates, because you really get the opportunity to ride with them, and it's a really great experience. Rudy and I are strongest at accuracy."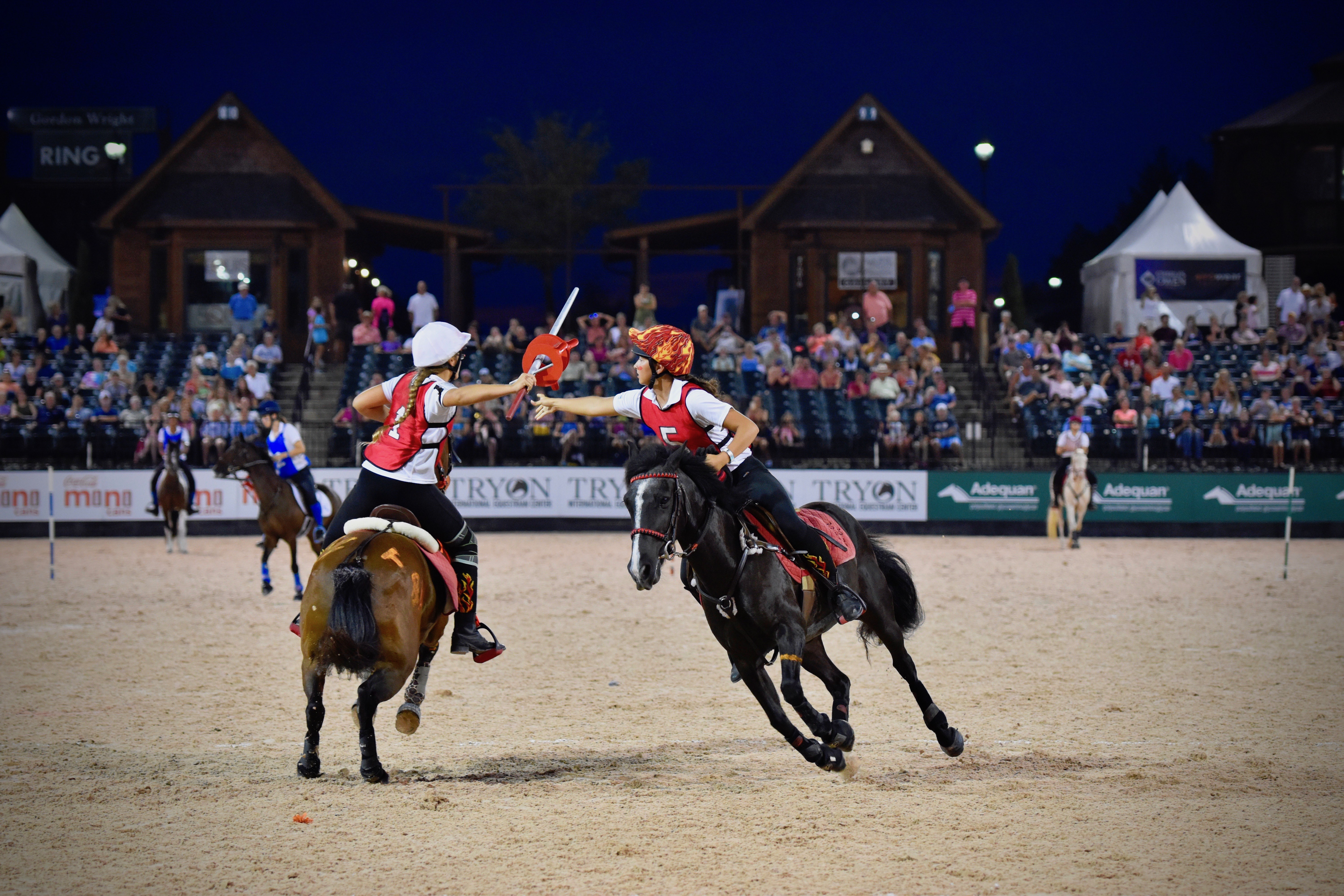 Fenya Siepser, whose favorite part of Games is "the adrenaline you get before a race," highlighted how the TIEC venue allowed competitors the opportunity to cheer on fellow USPC competitors in other disciplines. "It's amazing here. It's really fun to see all the improvements – I can't wait to come back next year and see all the new parts, too! It was so amazing to ride under the lights and he [Sky's the Limit] did so good, and it's so much fun. I'm going to watch polocrosse tomorrow morning, and I've gotten to see some other disciplines, too."
For Cora Raniowski, who has competed in the President's Cup competition three times throughout her Pony Club career and aged out of the Senior Games division following this year's win, has been competing in Games for eight years, and emphasized that anyone – and any pony – can do Pony Club, but particularly Games:
"I hope to come back next year and serve as a line judge or be in horse management. I really love Pony Club, especially Games, because among all the riders there is just so much camaraderie – we help and support each other… anything we need, we are there for each other." Raniowski continued, "any pony can do this! My pony, Tank, a Welsh Cob, was a dollar. He is the most incredible pony I could ever ask for. He's worth his weight in gold. And this President's Cup is the most hard-fought-for title in all of Games, and we're so honored to win it."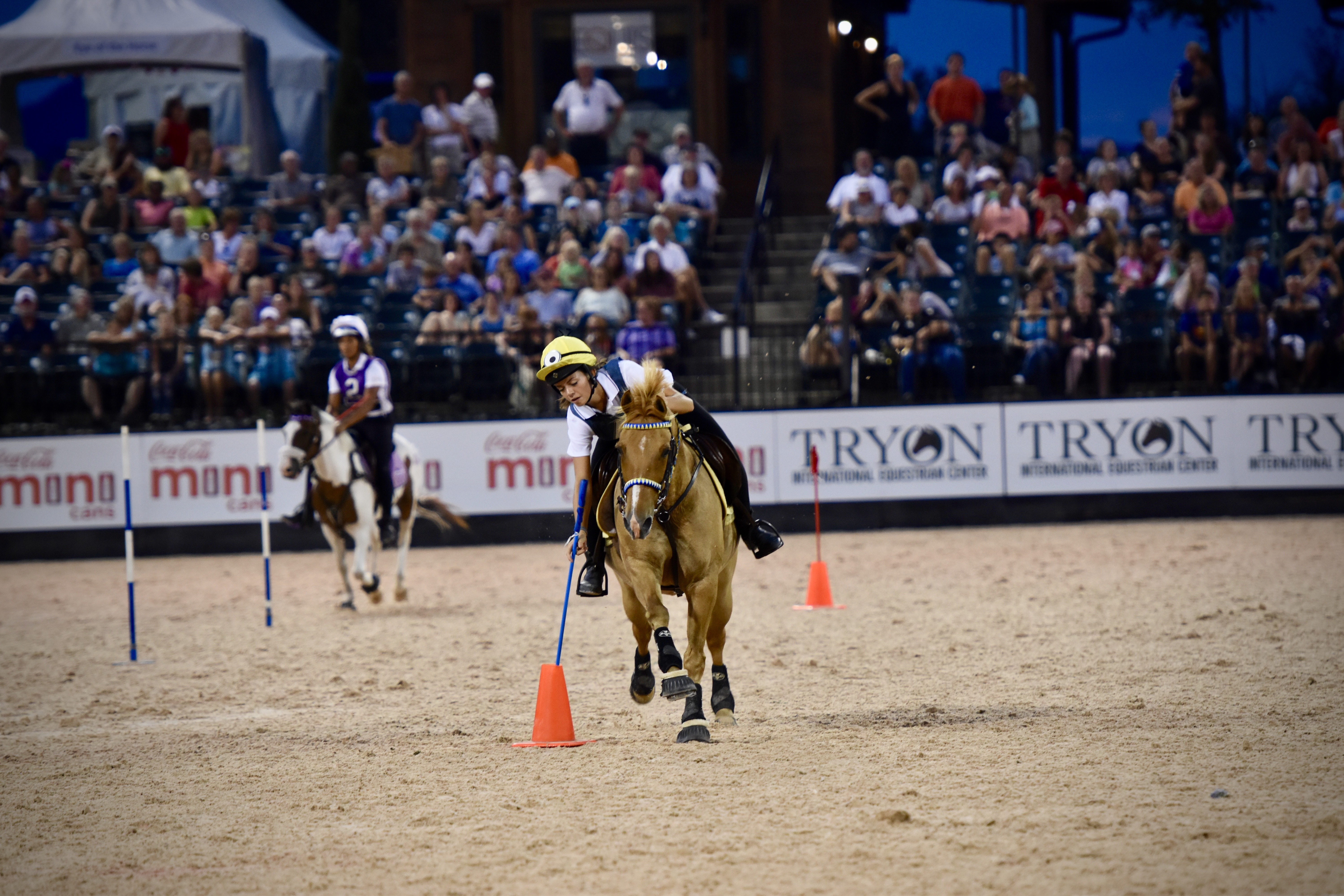 Games competitors were not the only participants to share positive experiences throughout the week, and a common theme was shared across all responses: that the world-class venue naturally fostered the already strong camaraderie shared between riders, disciplines, and regions.
"It's been a lot of fun – it's really one of the better venues to come to. It's been a good week, and I like getting to watch everybody, especially for disciplines that we don't usually get to see, like Games and Polocrosse. And it's a lot of fun camaraderie – kids from other disciplines will come cheer us on, wish us luck, and congratulate us," said Michaela Forsyth of Eastern Pennsylvania, who competes in Novice Eventing.
Calder Stutts, a Tetrathlon competitor from Virginia, came to TIEC for the first time this year and said "it's really nice here – and it's going to be really good when all the construction is finished," he said, referring to a rendering of future hotels and swimming amenities on the Jumbotron to promote the 2019 Championships East to be held at TIEC. "It's been really fun to watch the other disciplines all week – I played Games last year, so it's really nice. And everyone is really friendly here."
The facility was praised by stable managers as well as riders, and Adina Baer, who is a stable manager within the discipline of Polocrosse, described her first experience with the venue: "I've never been here before – it's amazing. It's so cool that there's such a big place for horses! It's really cool to see what everyone else is doing. Sometimes [at Championships East] the disciplines are so far apart that I'm not able to see anyone else's disciplines."
Polocrosse competitor Teagan Lapuk, representing the New York/Upper Connecticut region, has competed at TIEC through the American Eventing Championships, but was a first-time Championships East participant and described her appreciation for the venue as a dual-sport athlete: "our club has always had some racquets and balls to kind of pick up and play around with, but this was the first year we really got into Polocrosse." Lapuk continued, "It's awesome – I love having all the disciplines here, because I can go and watch, and as an eventer, I like to go and watch the eventing, too, and I think the quiz competitors like to go watch as much as they can, and it's fun to be able to watch the President's Cup competition at Saturday Night Lights, or go watch the International Tetrathlon – it's fun to be able to see everything all in one place."
Quiz competitors Stephanie Usselman and Grace Ward confirmed that in their discipline of competition, which is an effort more "mentally and emotionally" focused, it's nice for competitors to study each of the disciplines in person throughout the week in preparation for the several phases of testing. "You can't just specialize in one discipline – you have to know all of it. We get to watch everything, which is nice, but in reality you're always studying while you're watching. Like the other day, we were asking the Polocrosse players questions," Usselman explained.
Jessi Gregory of South Carolina, who has previously competed in Quiz but this year returned to compete in Dressage, called the layout of the facility "quite good" and also showed appreciation for the holistic approach to horsemanship that is highlighted by Pony Club: "I'm planning on coming back next year. I honestly really like the horse management aspect of Pony Club, and I think it's a really good responsibility [to learn]."
Kristin Soucek, who traveled with her horse all the way from Wisconsin to compete in show jumping as part of the New Vocations Challenge, had never previously competed at TIEC. "I love it here – it's like a park for horses! I'm from Wisconsin, so this is a bit of a haul for me, but I would definitely come back," Soucek stated. "I joined Pony Club when I was six – ten years ago! My favorite part is the friends you make – you meet a lot of nice horse people and you make good memories."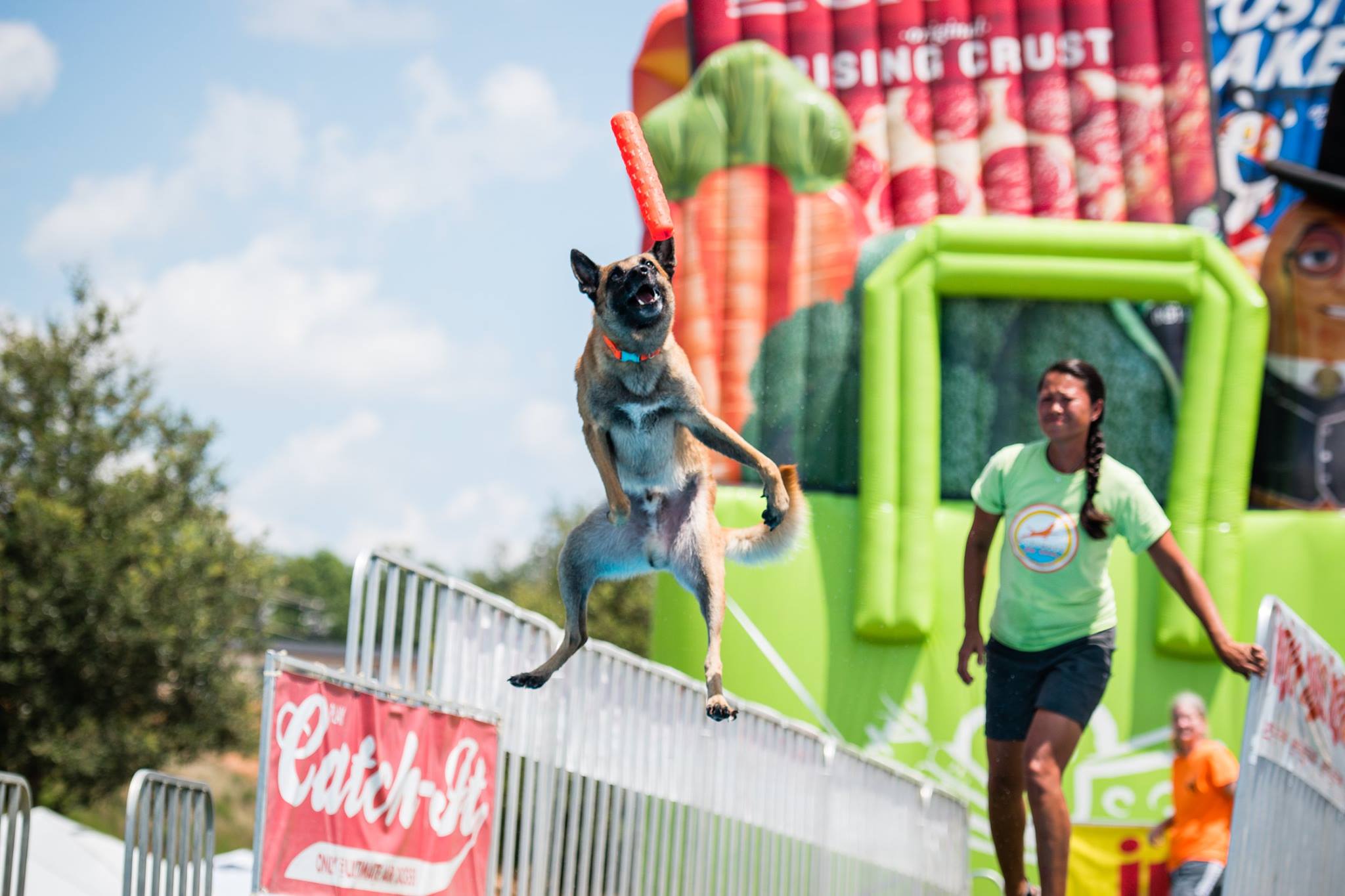 The Ultimate Air Dogs, Presented by Ingles, thrilled packed crowds with performances at 12pm, 2pm, and 4pm Friday and Saturday. 
Following the 2018 USPC Charles Owen Championships East, Presented by Flair, LLC, and Airowear, the venue is officially now closed to competition and all pets ahead of the FEI World Equestrian Games™ Tryon 2018. For more information, visit www.Tryon.com. USPC Championships East will return to TIEC in the summer of 2019, continuing to partner with Tryon Equestrian Partners' shared vision of expanding equestrian sport and celebrating all facets of human-horse interaction, from competition to carousel.
To learn more about Tryon International Equestrian Center, visit www.Tryon.com.
Photo credit: ©TIEC. These photos may only be used once in relation to this press release with proper credit.