For Immediate Release
Mill Spring, NC – August 1, 2019 – Tryon International Equestrian Center (TIEC) at Tryon Resort was proud to host the 2019 US Pony Clubs Championships East July 24-28, marking the third consecutive year that the venue welcomed pony competitors from across the United States competing in seven disciplines. Dressage, Eventing, Games, Polocrosse, Quiz, Show Jumping, and Tetrathlon disciplines were featured alongside Stable Management competitors. Full results from the week can be found 
here.
 Read below to hear what participants from each discipline had to say about their time at TIEC and view candid photos of each discipline showcased throughout the week.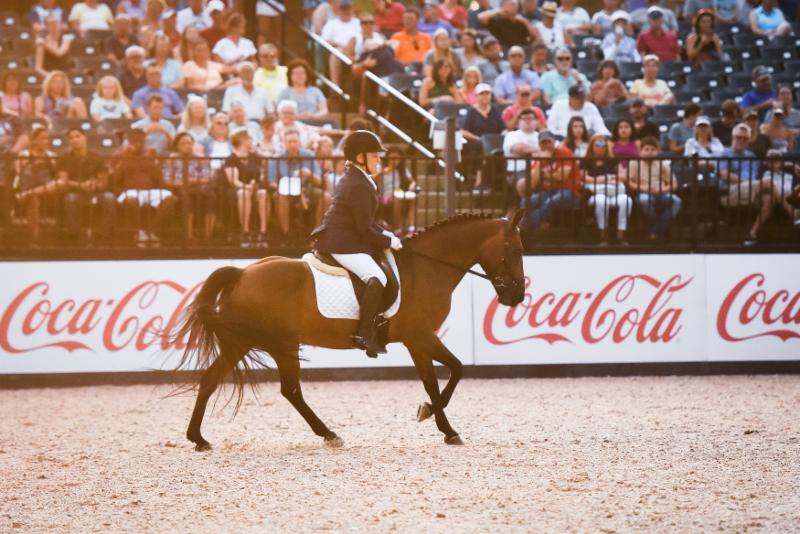 Tristate Team members and best friends, Emily Garside and Lauren Mansky, competed in Dressage at TIEC during the Pony Club Championships East. Garside, who is 17, has been participating in Pony Club for four years: "This is my fourth year doing Pony Club. I love being with people and working as a team. You learn a lot of leadership skills, too. The parents aren't allowed to do anything, so you become more independent." She and her horse, 14-year-old Blue, have been paired for six years. "He's been with me through all of my Pony Club years. He's been a very good boy and we've seen so much progress with him."
Sixteen-year-old Lauren Mansky of Cleveland, Ohio, began participating in Pony Club ten years ago. "This is my tenth year doing Pony Club. My mom did 4H, and she always wanted to do Pony Club. She liked the emphasis on the horse management aspect, and I love that, too." She and Willy, a Connemara Thoroughbred gelding, have been working together for about eight months now. "He's really good! This is actually our first show together."
Although it was a long drive from Ohio, Garside admitted that she was glad to have made the trip to TIEC: "I love it! I'm never going home. I was looking forward to riding in these arenas because the World Equestrian Games were held here. It's so cool to ride in the same spot as those amazing riders!"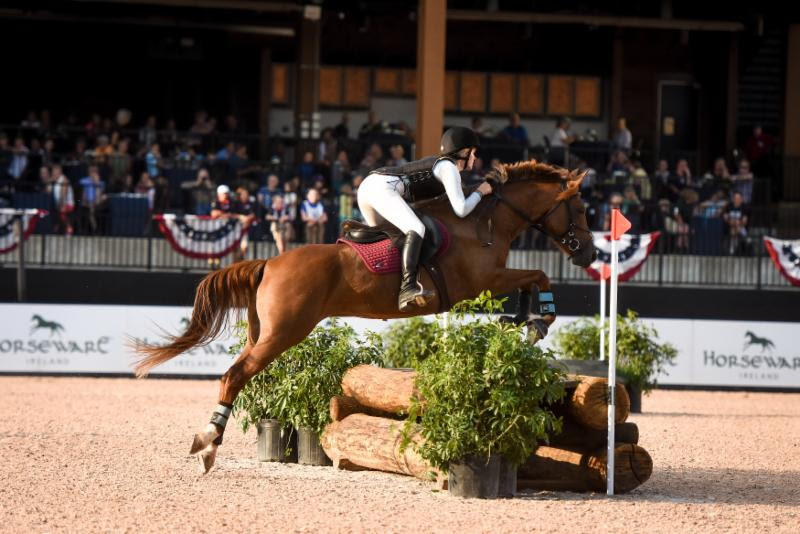 Fifteen-year-old Kirsten Likins, a member of the Burntwoods Pony Club in the Maryland Region, traveled to TIEC last year to support her Pony Club teammates, but this year she qualified for the Championship in Eventing. "I have done Eventing during most of my time in Pony Club, although I did do Show Jumping two years back," she shared of her experience in the multiphase discipline. Likins qualified for Championships East aboard her own Zorro, a ten-year-old Friesian Quarter Horse Cross she has owned for five years.
Likins felt most challenged going into the second phase, Cross-Country: "The Cross-Country course was really good, and it was challenging. All the jumps were maxed out, I felt, and there were some good combinations. It took a lot of focus to get all the angles right, especially off the bridge; that jump came up really fast." Likins also shared that she was prepared to possibly run into some difficulties on course: "My horse is also just bad with water, so that is always an obstacle for us."
Riders participating in Eventing at Pony Club Championship East got the opportunity to run the White Oak Course at TIEC, which also hosted Eventing and Driving Cross-Country at the FEI World Equestrian Games™ Tryon 2018. "I could definitely tell the difference between that [White Oak] and a course, for example, that I used to qualify. The course here was a lot more difficult and a lot more technical," Likins commented.
Likins expressed that she enjoyed the opportunity to compete at a venue like TIEC. "Tryon has been great: I really like the facility, everything is very close together, and you don't have to go very far to get from ring to ring," Likins concluded.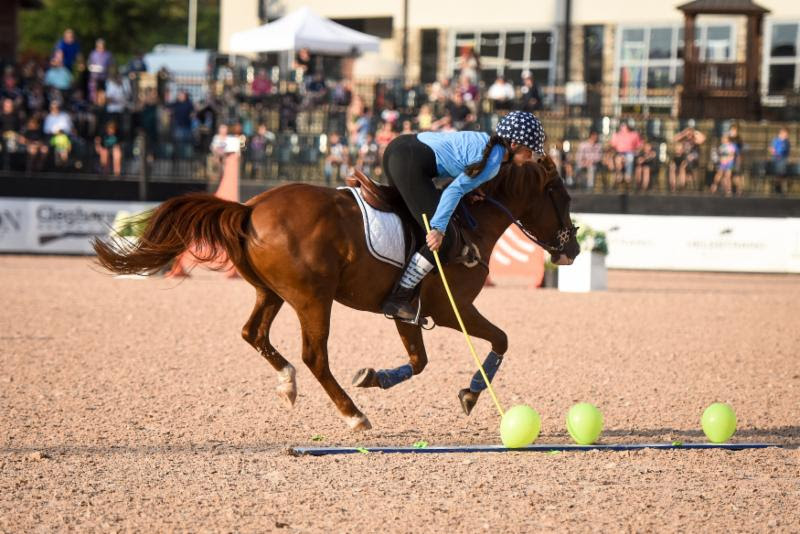 Aiden Murphy, an 11-year-old from Reddick, Florida, competed in Games at TIEC during US Pony Clubs Championships East. Although Murphy has been involved with Pony Club for three years, this has been his first year riding Marquis. Even before joining Pony Club, Murphy had competed in gaming. "I have always done gaming on a team or in pairs but I have really enjoyed being a part of my team in Pony Club. I really like my team a lot," he commented on his fellow teammates.
This was Murphy's first time competing at TIEC, he revealed. "We got here [TIEC] Wednesday and we are set up in barn three. I have never been to Tryon before, but it is really cool here!" Participants competing in Games also got the opportunity to compete in Tryon Stadium, one of the venue's most prominent competition arenas. "Competing in the big stadium was pretty cool," Murphy concluded.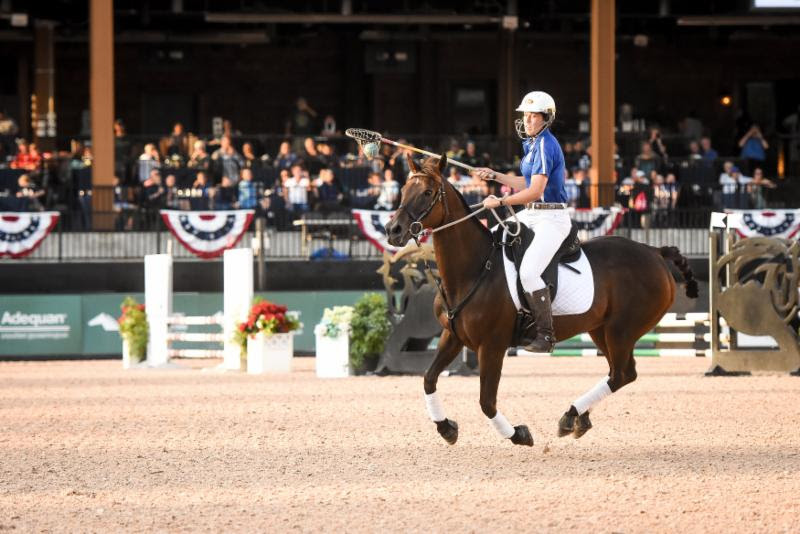 Fifteen-year-old Victoria Tupper of Chesapeake, Virginia, began participating in Pony Club in 2016 and qualified to compete for her region in the Polocrosse discipline aboard Pan, an Argentinian-bred mare. "I was an eventer and I still am," Tupper shared, "but I'm riding Pan and her owner kept on trying to talk me into trying Polocrosse, so I did! [Before] I was stable managing at the rallies and was planning to compete as a stable manager. My favorite part of Polocrosse is going fast. I'm a three [position player], so Pan has to work on blocking and bumping."
Tupper elaborated, "The ones are the people who score the goals, the twos are in the middle area and the threes are the people who block the ones so they don't score goals. So Pan and I are kind of like defense!"
Tupper went on to share that this was her first time competing at Championships East: "This is my first time at the Championships and here at Tryon. Tryon is so nice! My favorite part of Tryon is the Dover Saddlery [store] here."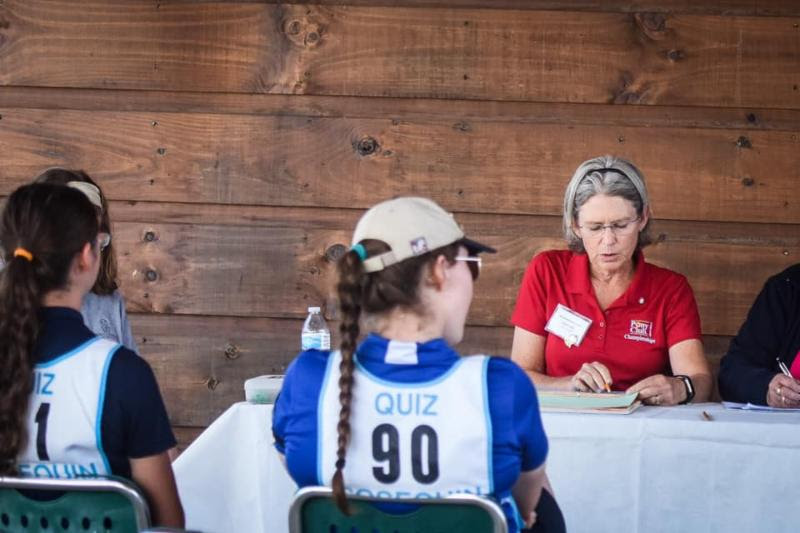 Suzanna Bunn, a Columbus, Georgia resident, competed with the South Region in the Quiz discipline. "It's been a good week – my team is currently in second!" Bunn shared. "I've been here three times, and I really like this place. Being with your friends is really fun, even if you're not competing in the same discipline or group." Bunn elaborated, "I have a friend here that I've known since we were little, and he competes in Jumping, but we still get to hang out this week." When not competing or cheering on her friends, Bunn revealed that her favorite attraction was located on Vendor Row: "The best part of my week so far has been going to Star Stable's vendor cabin – it's so nice. Being at Tryon is great!"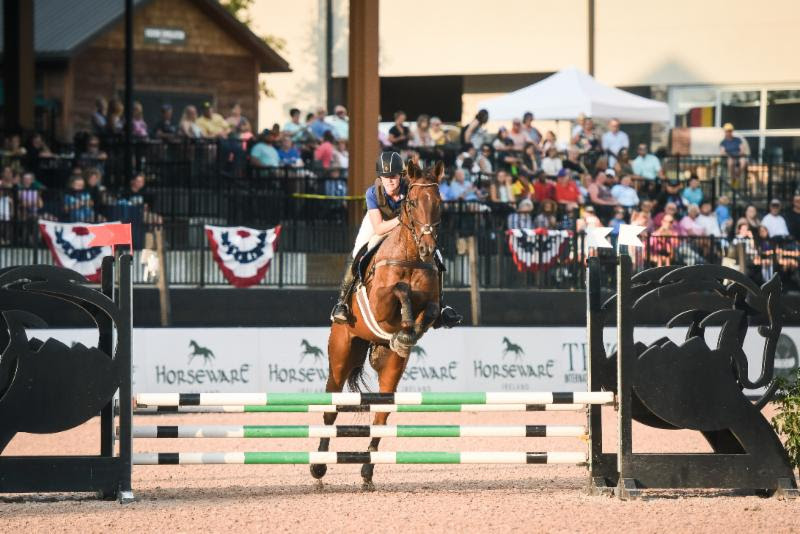 Michael Baugh and his steed, an eight-year-old gelding named Hobbs, made the trek to TIEC from Maryland, where they are members of the Tide Water Pony Club. Baugh competed in the Pony Club Championships East last year, but 2019 was his first year competing in Show Jumping. "I came here last year for the Games competition, but this year I wanted to try something different and at the rally to qualify I went clear in two out of the three rounds," he detailed. "I like Show Jumping because the courses are cool, and I get to go fast."
Although he hasn't had the chance to compete in the Tryon Stadium, Baugh says that his favorite thing about TIEC is Tryon Stadium, which hosted Games competition this year. "Even though I didn't get to ride in there last year, it looks really cool!"
Maddie Cox, who has been a member of Pony Club for six years, qualified to compete for her region this week at the US Pony Clubs Championships East held at TIEC in the Tetrathlon discipline aboard Oz, a fifteen-year-old Welsh pony. "This is my first time at Championships, and it's amazing that I qualified. I've done Games, Eventing, and Dressage before, but Tetrathlon is my favorite," she said of the four-phase sport. "[My pony] Oz is a pretty honest jumper, and he's good at Dressage and Eventing too." Cox concluded that she has really enjoyed her time at TIEC: "I love how TIEC is big and there are stores to get stuff. My favorite thing to do is go biking around with all of my friends!"
To view full results from US Pony Clubs Championships East, 
click here.
Photo credit ©TIEC. These photos may only be used once in relation to this press release with proper credit. Contact 
media@tryon.com
 with questions.