Driving Returning to TIEC for the First Time Since WEG
For Immediate Release
Mill Spring, NC – March 4, 2020 – The Katydid CDE will be celebrating its 17th year of competition with a move to Tryon International Equestrian Center (TIEC) at Tryon Resort in Mill Spring, NC hosted April 23-26, 2020, bringing national and FEI Driving competition back to the venue for the first time since the FEI World Equestrian Games™ Tryon 2018 (WEG).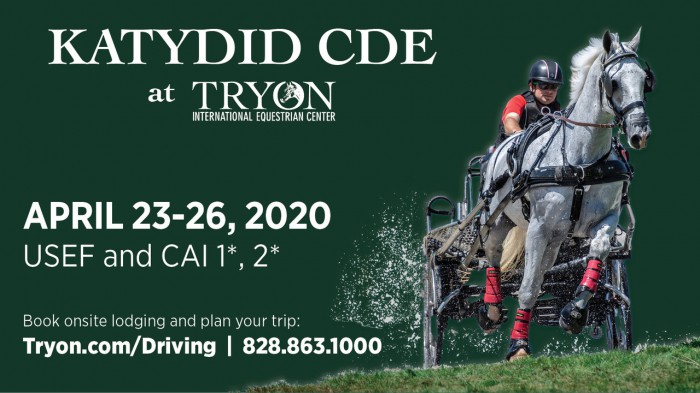 The week will serve as a selection trial for both Single Horses and Four-in-Hand Horses to represent the United States at FEI World Championships this summer in Europe. Katydid CDE at TIEC is one of only a handful of FEI Driving events on the USEF 2020 calendar. As at WEG, the Marathon phase competition will be hosted on the White Oak Cross Country Course at TIEC, following two days of Dressage phase competition. The Cones phase will round out the week in Tryon Stadium, giving spectators an easy way to get an up-close look at the sport throughout all three phases of competition. USEF Preliminary and Intermediate levels will also be hosted.
"I'm very excited about bringing Driving back to a world-class venue. There is a lot of enthusiasm from the Driving community about coming back to TIEC," said Jennifer Matheson, event co-founder and organizer who also served as the Clerk of Driven Dressage during the 2018 WEG at TIEC.
Entries are now open to competitors, and more information can be found at Tryon.com/Driving. There, competitors can book onsite lodging and receive a special discount, plus browse onsite restaurant options.
"The Katydid Combined Driving Event is a historic and esteemed competition for our combined driving community. We're excited to see them take their talents to Tryon International Equestrian Center for the 17th edition of the event this spring," said Bill Moroney, Chief Executive Officer of US Equestrian.
"We are so happy to once again host Driving at TIEC and permanently include this discipline in our competition calendar. As we continue to feature multidiscipline competition, Driving is a sport we are thrilled to highlight," said Eric Straus, TIEC General Manager of Equestrian Operations.
The Katydid CDE at TIEC is free and open to the public for spectators. The full 2020 competition calendar for Tryon International Equestrian Center can be found at Tryon.com/Compete.
Lodging:
A variety of onsite lodging is available for competitors and spectators, with a special offer available for onsite lodging booked by March 10. Choose from a three or five-bedroom riverside cabin, Tryon Resort's signature one-bedroom "tiny house" cottages, or a room at the Stable House Inn. RV pads with full hookups are also available onsite. Click here to reserve lodging now or call 828-863-1015.
Media:
Click here to request media credentials for 2020 competitions, or contact media@tryon.com for more information.
Sponsorship and Advertising:
Activate your brand with our audience and showcase your message to our competitors, lodging guests, and spectators! Print advertising is available in each of the 2020 event programs as well as in the biannual Visitor Guide. For more information, contact advertising@tryon.com. For sponsorship opportunities, please contact sponsorship@tryon.com.