For Immediate Release
Mill Spring, NC – May 7, 2019 – Santiago Lambre (MEX) and his own Ibabco blazed around the short course to take the win in 39.81 seconds at Tryon International Equestrian Center (TIEC), also securing second place in the $36,000 1.45m Sunday Classic with Dingeman, stopping the jump-off timers in 40.15 seconds. Samuel Parot (CHI) and Thriller P, his own 2004 Swedish Warmblood stallion (Cardento x Lucky Light), cleared the second-round track in 41.89 seconds to claim third place on the day.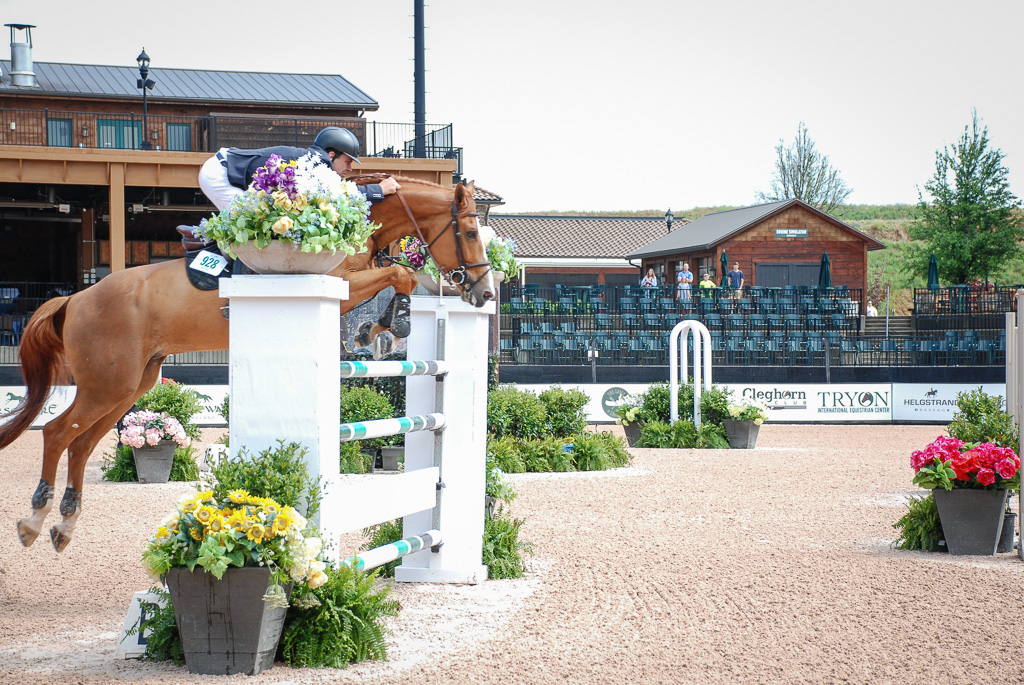 Santiago Lambre and Ibabco
©TIEC
Eighteen pairs tested the Manuel Esparza (MEX) course, with nine returning to challenge the jump-off track. Lambre guaranteed himself the win aboard Ibabco, a 2008 Belgian Warmblood stallion (Nabab De Reve x Darco), before taking a less-ambitious route in the irons with Dingeman to add the red rosette.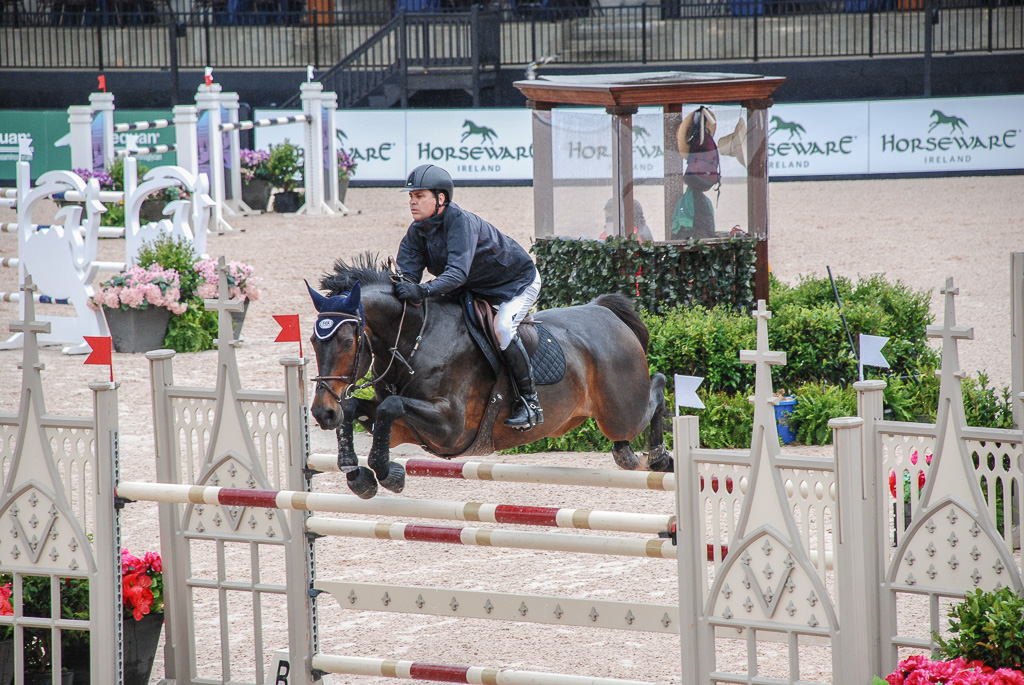 Santiago Lambre and Dingeman
©TIEC
"I knew all the riders in the jump-off were fast, so on Ibabco I tried all that I could to win. I took more risks, and it worked. On Dingeman I was last in the jump-off and didn't have pressure, so I aimed for second," he explained. "For sure on the rollback to number four, I made up a lot of time – I was faster on Dingeman, but you can win two seconds there."
Ibabco was feeling quite fresh after last night's competition in the $72,000 St. Luke's Hospital Grand Prix, Lambre detailed. "He jumped very well in the first round, and I had a cheap rail in the jump-off last night. So, I jumped him again today, and he's a very good horse at this level. Sometimes it's good for him to jump a smaller show like a 2* to prepare for the next competition. I'm very happy with him."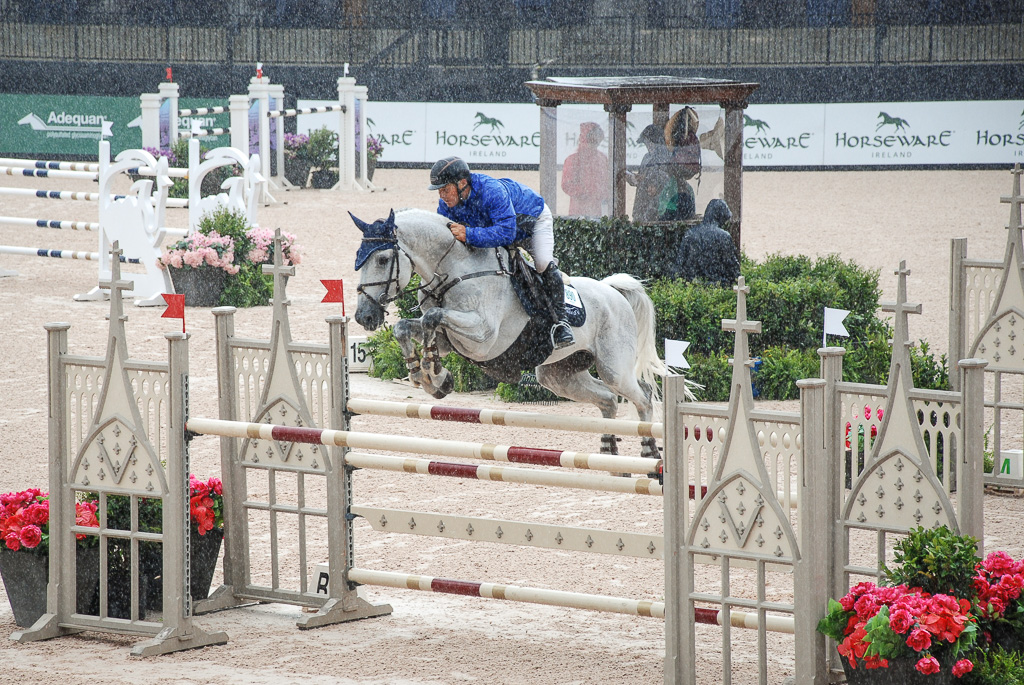 Samuel Parot and Thriller P
©TIEC  
Dingeman, the 2008 Dutch Warmblood gelding (Nintender x Darnels) owned by Aurora Rangel De Alba, is coming off a two-month break, and Lambre elaborated that the mount is preparing for another successful summer at the venue, building on prior wins at TIEC.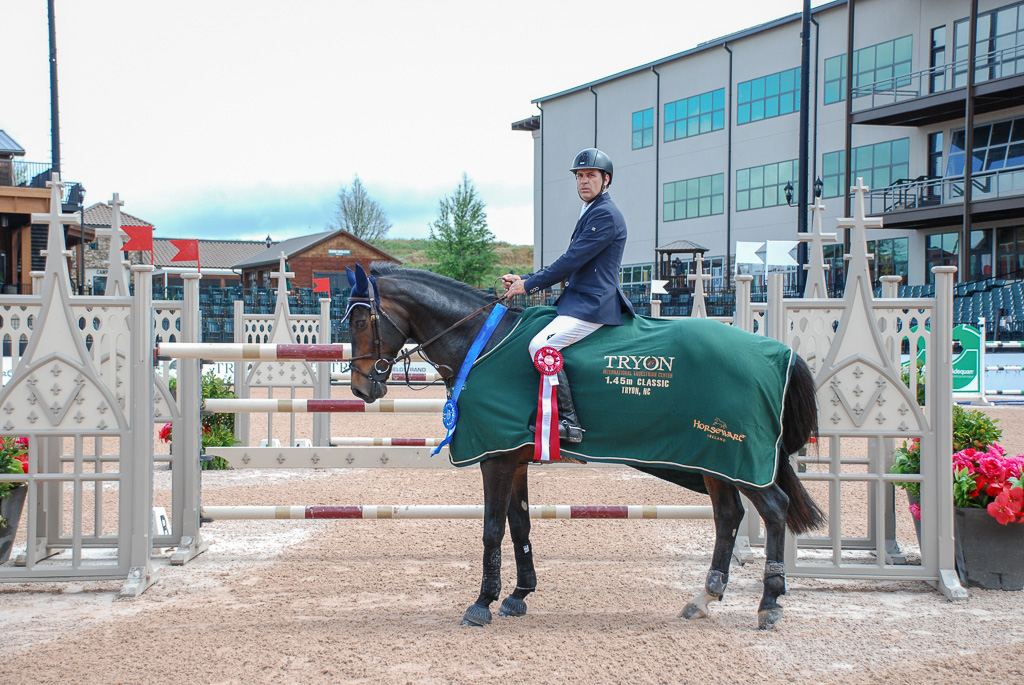 Santiago Lambre in his presentation ceremony with Dingeman.
©TIEC
"I gave Dingeman a break for two months, and this is his first show back. I want to have him ready for the summer here in Tryon. He is also a good Grand Prix horse, and I hope he will be more fit in a couple months," concluded Lambre.
Jumper Highlights:
The $10,000 1.40m High Junior/Amateur Classic recognized Julia Curtis of Villa Rica, GA, and her own Cornet's Gold 2 as victors after they cleared the jump-off in 30.284 seconds. Addison  Gierkink (Harpswell, ME) and Erco Van T Roosakker owned by Kadley Holdings LLC produced a clear jump-off round in 42.121 seconds to claim reserve, while Ava Ellis (Annapolis, MD) and Quivive S Z were the fastest four-fault, first-round pair on a time of 71.662 to receive third on behalf of North Run & Missy Clark.
The $5,000 1.30m Medium Junior/Amateur Classic congratulated Kendra Gierkink (Harpswell, ME) and Kadley Holdings LLC's Crack Uno with the win, stopping the short-course timers in 54.412 seconds. Justin Prather (Calgary, CAN) and Bolero HX claimed second on a time of 58.79 seconds for Bradon Equestrian, while third place honors went to Danielle Torano of Wellington, FL, riding her own Gidora S to a four-fault jump-off time of 53.475 seconds.
Frances Land rode the Pinetree Farms Inc. entry Davillant H to victory in the $3,000 1.20m NAL Low Amateur Jumper Classic, stopping the second-round timers in 51.515 seconds. Reserve honors were named to Addison Gierkink riding S & L Slingback to a time of 52.283 seconds for Kadley Holdings LLC, with Breah Mortenson and her own Farina claiming third on a time of 56.216 seconds in the jump-off.
John Angus (Fort Lauderdale, FL) and Sara Ketcham's Bold Missy swept the $3,000 1.20m NAL Low Junior Jumper Classic, claiming first on a clear jump-off run in 52.731 seconds. Hallie Grimes (Houston, TX) and Ero Del Pierire claimed second on behalf of Can We Keep It? LLC, stopping the short-course timers in 55.476 seconds, while third place went to Farah Rizvi (Greenwich, CT) and Peacock Ridge LLC's Chaplin W, clearing the jump-off in 57.916 seconds.
Friday's $5,000 1.40m Nutrena® Open Jumper Stake awarded Tomas Yofre (Lexington, KY) and Peacock Ridge LLC's Dasino with top honors after their 43.004 second jump-off round, with reserve going to Sharn Wordley aboard Arnoud Dobber's Any to represent Citra, FL, on a short-course time of 46.238 seconds. Yofre also rounded out the podium with Positano for Fair Play Farm, putting in a 47.223 second jump-off performance.
In Friday's $3,000 1.35m Open Jumper Stake, Jimmy Torano of Wellington, FL, took first and second aboard Glasgow De Muze for Isalou Inc., and Chanel One for The New Group II LLC, clearing the short course in 43.791 and 44.19 seconds, respectively. Alberto Michan (Wellington, FL) and his own Cosa Nostra claimed third on a time of 47.457 seconds in the jump-off round.
The $2,000 1.30m Adequan® Open Jumper Stake on Friday was championed by Mia Mannis (Woodbury, CT) and Espace Killy for Brush Hollow Sales, flying around the short course in 43.353 seconds for the win. Paige Johnson (The Plains, VA) and Salamander Farm's Innovation claimed second on a time of 45.738 seconds, while Megan Thiel (Roswell, GA) and Sarah Kerins' Camboro received third place for their 47.442 second jump-off run.
Friday's $2,000 1.20m CaptiveOne Advisors Open Jumper Stake saw Freddie Vasquez of Mettawa, IL, top the podium aboard Meg Gehron's Gastone in a time of 33.38 seconds on the short course, with the red rosette awarded to Tomas Yofre for his ride with North Run & Missy Clark's Betagravin, stopping the jump-off timers in 34.795 seconds. Third place went to Judy Sutton (Maggie Valley, NC) and her own Win A Date, clearing the second-round course in 35.578 seconds.
The 1.35m Open Jumper Division was swept by Jimmy Torano of Wellington, FL, piloting Glasgow De Muze to the champion rosette for Isalou Inc. and tying for Reserve Champion honors aboard Gidora S for Danielle Torano and Chanel One for The New Group II LLC.
The 1.15m Jumper Division resulted in a champion rosette for Paige Johnson of The Plains, VA, riding Gladiator for Salamander Farm. Reserve was awarded to Daniel Michan (Wellington, FL) aboard his own Colorado J & F Champblanc.
Hunter Highlights:
The $1,000 Junior/Amateur Hunter Classic 3'6″ saw Kat Fuqua (Atlanta, GA) pilot her own Calvaro to first and Cupido Z to second, scoring 164 and 162 over two rounds, respectively. Rounding out the podium, Ava Stearns (Chilmark, MA) and North Run & Missy Clark's Carrilou earned a total of 148 to claim third.
Mia Mannis (Woodbury, CT) and her own Cloney's Pleasure topped the $1,000 Junior/Amateur Hunter Classic 3'3″, earning a score of 170 over two rounds to take the win, while second was awarded to Elizabeth Chappell of Charlotte, NC, and her own Ambassador CWF, scoring 167. Third-place honors belonged to Isabella Cukrowski (Rochester, MI) and her own Avanti with a score of 158.
The $500 Marshall & Sterling Insurance NAL/WIHS Adult-Amateur Hunter Classic awarded Kelly Sims (Alpharetta, GA) first and second-place honors, guiding mounts Private I and True Enough to earn the double-podium spot. Rachel Bergman and Vortex Equestrian LLC's Genesis claimed third to represent Durham, NC.
Julia Freeman (Mount Pleasant, SC) and her own Benson K dominated the $500 NAL/WIHS Children's Hunter Classic, scoring 161 over two rounds, while reserve honors were named to Ellie Aronson (Atlanta, GA) and mount, My Time, on a score of 156. Third place was awarded to Madeline Rubin of Mooresville, NC, and Briar Field Farm, LLC's Nuff Said, earning a score of 153 over two rounds.
Kat Fuqua bookended the podium in the $500 Large Pony Hunter Classic, claiming first aboard her own Prestige, and earning third-place honors with her own Chic in Time. Mae Mannis (Woodbury, CT) and Days of Our Lives, the Merrylegs South entry, earned the red rosette for their efforts over two rounds.
The $500 Small/Medium Pony Hunter Classic resulted in a victory for Chandler Wilks and the Dogwood Creek, Inc. entry Telynau Jacobite, scoring 164 over two rounds to represent Alpharetta, GA, with Savannah Welch of Elon, NC, and her own Mapleside Magic Wish achieving 157 to claim second, and Finley Clement piloting Caroline Gilmer's Farnley Crown Prince to third on a two-round score of 156.
The Adult-Amateur Hunter 18-35 Division congratulated Suzette Christy (Charleston, SC) and her own Southside as champion on the week, with reserve honors going to Jordan Carlson of Roswell, GA, for her efforts aboard Kelly Sims' Bacchus.
Greg Crolick of Clarkston, MI, and Harvey championed the Absorbine® Green Hunter 3'3″ Division for owner Traci Ribeiro, with reserve champion awarded to Wellington, FL, resident Jimmy Torano aboard Isalou Inc.'s Moonlight.
Greg Crolick also championed the Foothills Hunter 3′ Division, this time aboard Cambridge for Avery Rome, while reserve on the week went to Mia Mannis of Woodbury, CT, and her own Cloney's Pleasure.
The Foothills Hunter 2'9″ Division welcomed Catherine Tucker (Huntersville, NC) and Nicole Davis' Per Se as champion for their efforts, with the reserve rosette named to Ashley Conkle of Wellford, SC, riding Laura Hunt's Dolce.
Photo credit ©TIEC. These photos may be used once in relation to this press release.