73rd Tryon Block House Races FAQ
When is the event? 
The event originally scheduled for April 11, 2020 has been canceled. Click here to learn more. 
Where is the event held?
Just minutes from TIEC, the Green Creek Race Course is located at 6881 S. NC Why 9, Columbus, NC 28722. View map below.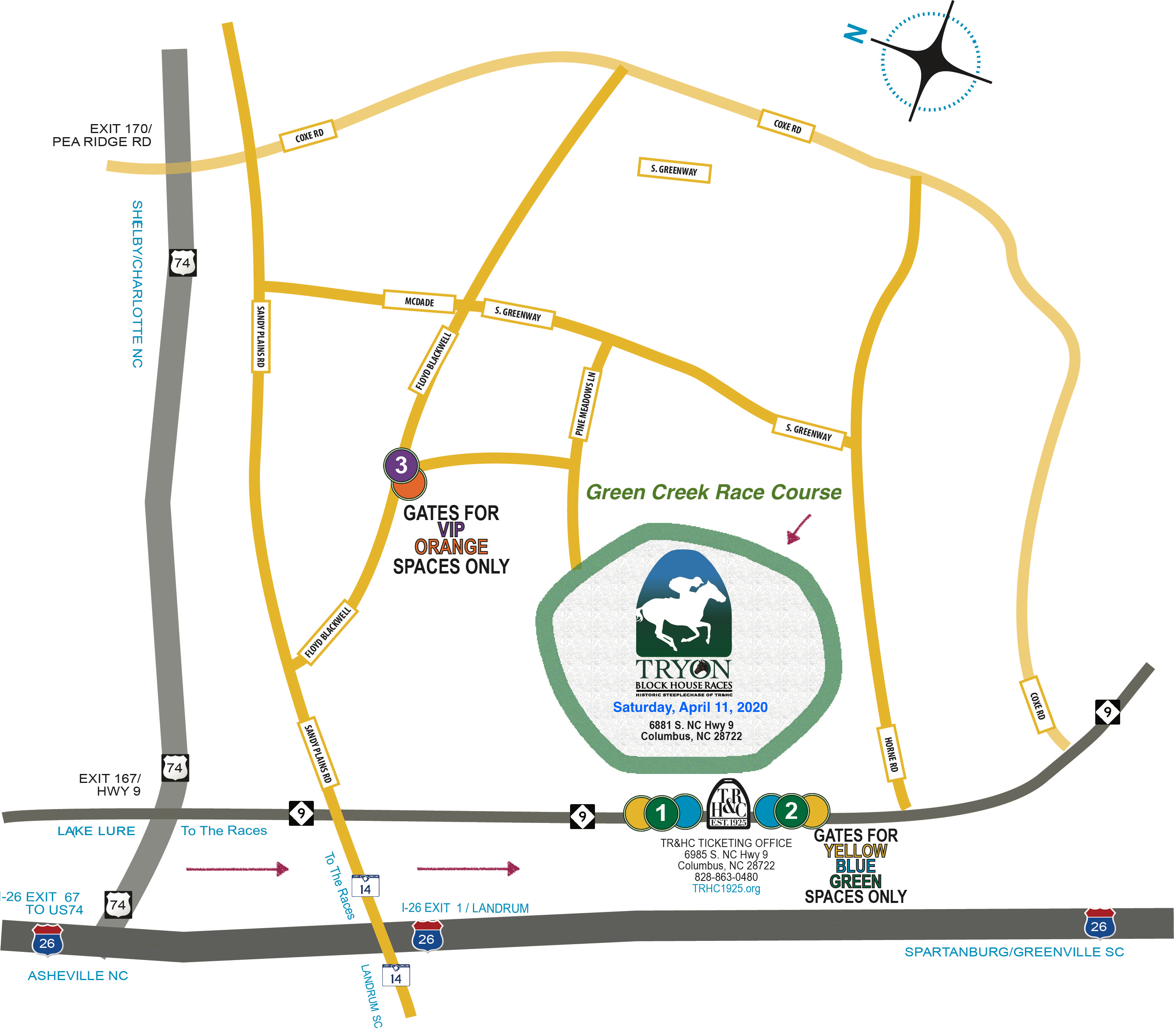 When do tickets go on sale? 
Stay tuned for 2021 ticket information.
What does the Pre-Race Party entail?
This pre-race party of dancing and food includes a live band, a cash bar, and plenty of fun! The official artwork for the Tryon Block House Races will be auctioned at the Pre-Race Party.
What cannot be brought to the Tryon Block House Races:
Pets
Open Flames
Grills
Large sound systems
Tents larger than 10×10'
Glass containers
Outside spiritous liquors
ATVs, Golf Carts or other motorized vehicles
Generators
Coolers cannot be carried in by walk-up attendees
Can I re-enter the property once I leave?
No, there is absolutely no re-admission to The Tryon Block House Races once you leave.
Can I bring my own tent to TBHR?
Yes! You can bring up to a 10×10' tent, but you must purchase a Personal Tent Permit in advance or on the day of the event. For the safety of the horses and guests, all tents must be installed weighted and staked properly and will be subject to inspection. If they are unstable, you will be asked to take it down. All spaces on the rail must place their tents behind the vehicle or at least fifteen feet from the rail.
What does my parking space purchase include?
All tailgating spaces include one 12×20' parking space and admission for all customers that are in the car.
Does my car count as an oversized vehicle?
Any vehicles exceeding 20′ in length, 7′ in height, and 12′ in width will be counted as an oversized vehicle. All vehicles with a non-oversized ticket that arrive exceeding these measurements will be relocated to the oversize parking area and incur the difference in price.
Can I be dropped off for the races?
Yes! We offer a "walk-up" pass for attendees who do not wish to bring a car to the event. This pass allows for a single (1) general admission ticket to the race without a car or parking. These will be available online a week before the race as well as on the day of at the Tryon Riding & Hunt Club office.
Where can I purchase tickets on the day of the event?
You can purchase Block House walk-up passes at Gate 1 or the Tryon Riding & Hunt Club office. All other tailgating passes are available at the Tryon Riding & Hunt Club office for purchase or online here pending availability.
What is your refund policy?
The races will run rain or shine. There are no refunds for purchases.
I am interested in Handicapped Parking. Where should I select a space?
Since the Tryon Block House Races are in a field with driving accessibility, we recommend you choose a space closest to where you would like to be. The flattest ground and closest proximity to handicapped restrooms are rows J and K in the Yellow section.
I did not see my tickets in my email. How do I receive them and what do I need to do once I receive them?
Tickets are attached to your confirmation email with your receipt. If you did not receive this email or have any further questions, please email tickets@tryon.com. This ticket will need to be printed out in order to display on the dash of your car.
Have other questions? Email Steeplechase@tryon.com