MILL SPRING, N.C. – November 11, 2017 – Winter holidays are right around the corner and Tryon Resort is offering getaway experiences and festive events to make the season even more magical. Both the young and the young-at-heart can indulge in a fun, family daytrip, Christmas vacation, or a romantic couple's retreat. Start off with a bountiful Thanksgiving feast in November, followed by Tryon Resort's signature Winterfest activities all December long, and finish in style with a grand New Year's Eve celebration.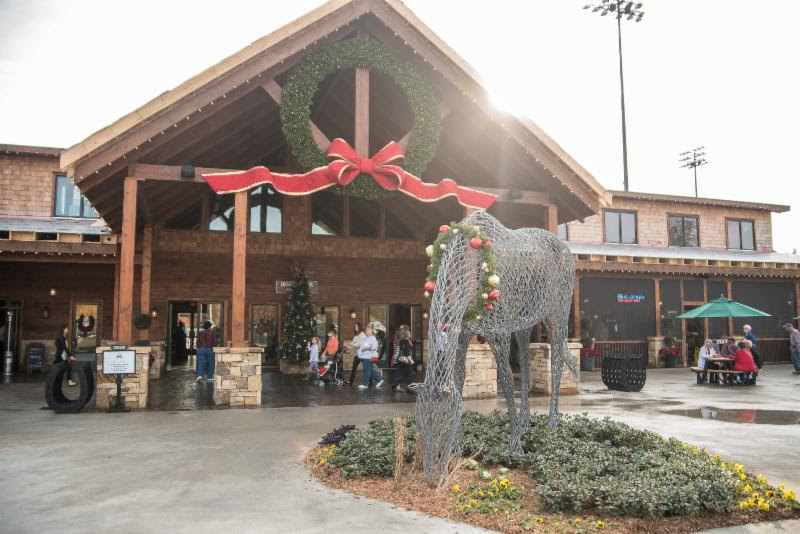 Thanksgiving Day Buffet
On Thanksgiving Day, Tryon Resort is serving up a delicious holiday buffet from 11 a.m. until 4 p.m. at Legends Grille featuring carved turkey and ham, traditional sides, specialty items and delectable desserts. Come for the feast, or better yet, trade a messy kitchen at home for a relaxing Thanksgiving weekend in one of Tryon Resort's three or five-bedroom riverside cabins. One bedroom cabins are also available for those looking for a more intimate escape. Tryon Resort's Lodge on Lake Lure, complete with 17 luxurious guest rooms, is offering the same Thanksgiving buffet at its Treetops Restaurant overlooking scenic Lake Lure. Buffet prices for both locations are $29.95 for adults and $14.95 for children. Reservations are recommended and can be made by calling 828-863-1000.
December: Winterfest Celebration
Saturdays at Tryon Resort are packed with holiday fun. On Saturday, Dec. 2, 9, 16 and 23 bring the kids to dine on a pancake breakfast with Santa, followed by story time with Mrs. Claus. In the General Store, decorate cookies while watching classic Christmas movies. Free carousel rides are also available.
Dec. 8-Dec. 10: Christmas Market & Holiday Shopping
On Friday, Dec. 8 through Sunday, Dec. 10, visit Tryon Resort's Christmas Market featuring unique arts and craft vendors. Then, explore Dover Saddlery's selection of lifestyle merchandise and tack to please both the equestrian and fashionista on your list. Bypass traffic jams and busy megamalls for enjoyable holiday shopping this year at Tryon Resort. For Christmas Market and Dover Saddlery hours and a complete list of vendors, visit www.tryon.com.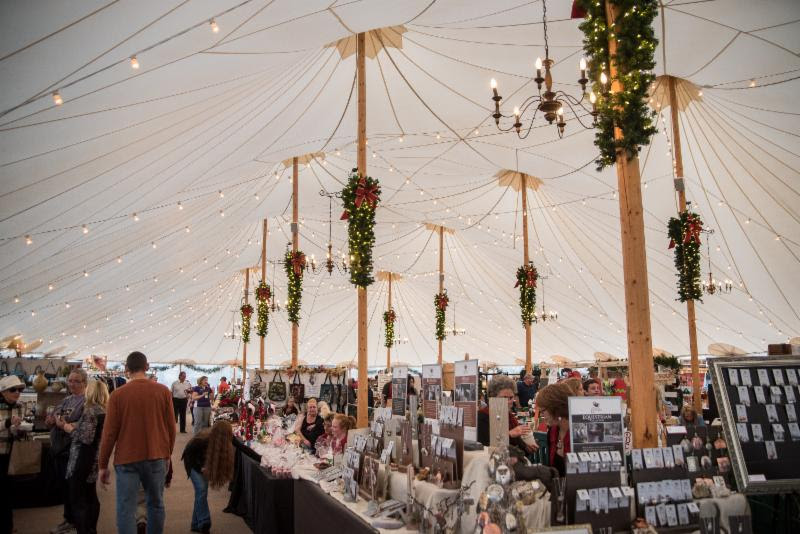 Dec. 16: Polar Express Movie & Buffet
Tryon Resort continues its movie night tradition with "The Polar Express" on Saturday, Dec. 16. Bring the kids in their comfy pajamas at 5 p.m. and start with a kid-friendly buffet and Christmas treats. The conductor will promptly cruise through the corridor at 6 p.m. before the movie begins to punch each child's commemorative train ticket. Buffet prices are $20 for adults and $15 for children 12 and under and can be purchased online at www.tryon.com.
Dec. 23: Christmas Eve EVE Ugly Sweater Karaoke Contest
Come dressed in your ugliest Christmas sweater on Saturday, Dec. 23 at 9 p.m., and take a chance in our Christmas Eve EVE Ugly Sweater Karaoke Contest! Prizes will be awarded to first, second and third place singers and to the "Ugliest Sweater" champion. This party is for grown-ups only.
Resort Dining & Lodging
Winter is perfect for escaping the demands of daily life with a getaway to Tryon Resort in bucolic Western North Carolina. Blanketed by expansive, scenic views of the Blue Ridge Mountains, Tryon Resort delivers the peace and quiet of a rustic, mountain retreat while being centrally located between Charlotte and Asheville, North Carolina and Greenville, South Carolina. Bring that special someone or come with the family, and take advantage of Tryon Resort's holiday lodging specials. Choose from a three or five-bedroom cabin on the river, a one-bedroom "Tiny House" cabin, or a room at the Stable House Inn. RV pads with full hook-ups are also available for rent. Onsite restaurants are open year-round serving farm-to-table cuisine, sushi, casual favorites, and Sunday brunch.
New Year's Eve
Save the date for Tryon Resort's annual New Year's Eve celebration on Sunday, Dec. 31 at 7 p.m. For this its third consecutive year, Tryon Resort is hosting two parties – one at Legends Club and one at Campagna Italian Grille – for the price of one all-access pass. Individual tickets are $80 per person or $150 per couple and include passed heavy hors d'oeuvres from theme of country celebrating New Year's at that time throughout the night, a dinner buffet, two live bands, a DJ, champagne toast, party favors and more as you watch the ball drop on the jumbo-tron from the Legends Club patio. Extend the party and book an onsite lodging packages. For tickets and reservations, visit www.tryon.com.
More Info:
To start planning a winter holiday getaway to Tryon Resort, visit at www.tryon.com. Tryon Resort is located at 25 International Blvd. in Mill Spring, N.C. 28756. General admission to Tryon Resort and parking are both free and open to the public.
Like "Tryon International Equestrian Center" on Facebook to get the latest updates and information.
Media Inquiries: Michelle McConnell Yelton, myelton@tryon.com or 828-863-1178.
About Tryon International Equestrian Center at Tryon Resort
Tryon International Equestrian Center at Tryon Resort, host of the FEI World Equestrian Games™ Tryon 2018, is one of the world's premier equestrian lifestyle destinations. From carousel to competition, the mission of Tryon Resort is to celebrate the magic of the horse, grow equestrian sport, and increase access to this majestic animal. With first-class facilities for hunter/jumper, dressage, and eventing competitions, the facility will soon accommodate all eight equestrian disciplines. Tryon Resort is a spring, summer and fall haven for equestrian competitors and enthusiasts, and a year-round destination for connoisseurs of diverse cuisine and shopping, lodging getaways, and family entertainment. Learn more at www.tryon.com.
Please visit www.tryon.com or call (828)-863-1000 for more information on Tryon International Equestrian Center & Tryon Resort.