For Immediate Release
Allie Hay and Emily Carpenter for TIEC 
Mill Spring, NC – October 23, 2021 – Daniel Coyle (IRL) and Legacy danced across the Tryon Stadium to a victory in the $137,000 ESI Footing Grand Prix CSI 3* at Tryon International Equestrian Center & Resort (TIEC). Following close behind in second place with a jump-off time of 35.676 seconds was Ali Wolff (USA) and Casall, the 2005 Holsteiner gelding (Casall x Capitol l) owned by Blacklick Bend Farm. Santiago Lambre (BRA) and Comtess 202, his own 2011 Westphalian mare (Comme II Faut 5 x Pilot), finished with third place honors with a clear round and a time of 35.956 seconds in the second round.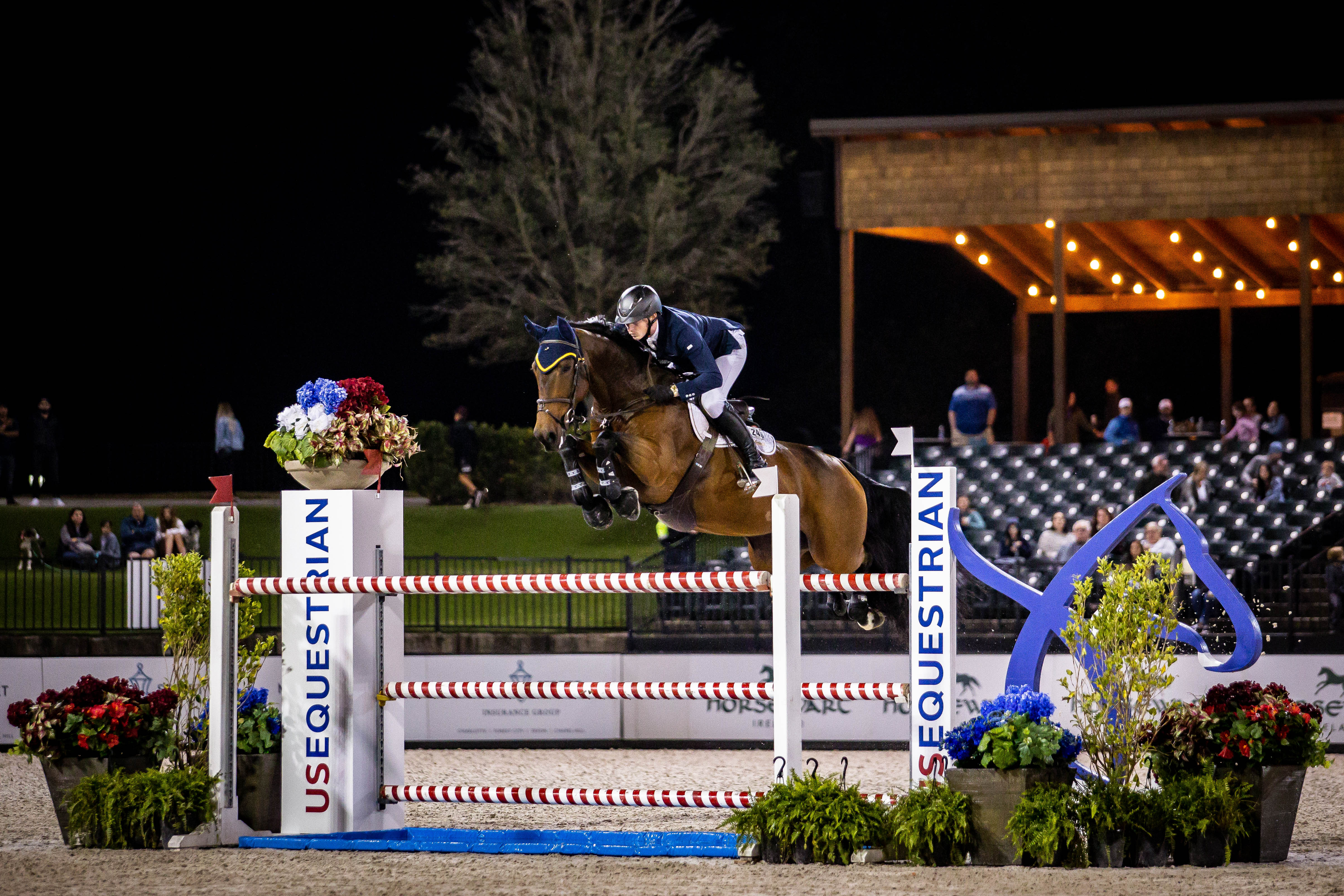 Daniel Coyle and Legacy
©TIEC/Natalie Suto
Thirty-nine riders tackled the Olaf Petersen Jr. (GER) course design, with 11 riders qualifying for the shortened second round. Coyle and the 2010 Zangersheide mare (Chippendale Z x Bon Ami) co-owned by Coyle and Ariel Grange stopped the second-round clock at 34.684 seconds to earn their win. As one of the last riders to compete in the jump-off, Coyle knew he had to be speedy to top Wolff's leading time. 
He noted, "Ali was fast, and when I saw Santiago didn't beat her, I thought, 'She's very fast!' My plan was to try and do all the numbers correctly without going wild. From the first line, everything showed up really well for me. If there was a big risk tonight [to win], I wasn't going to take it, so thankfully everything came up smoothly for me."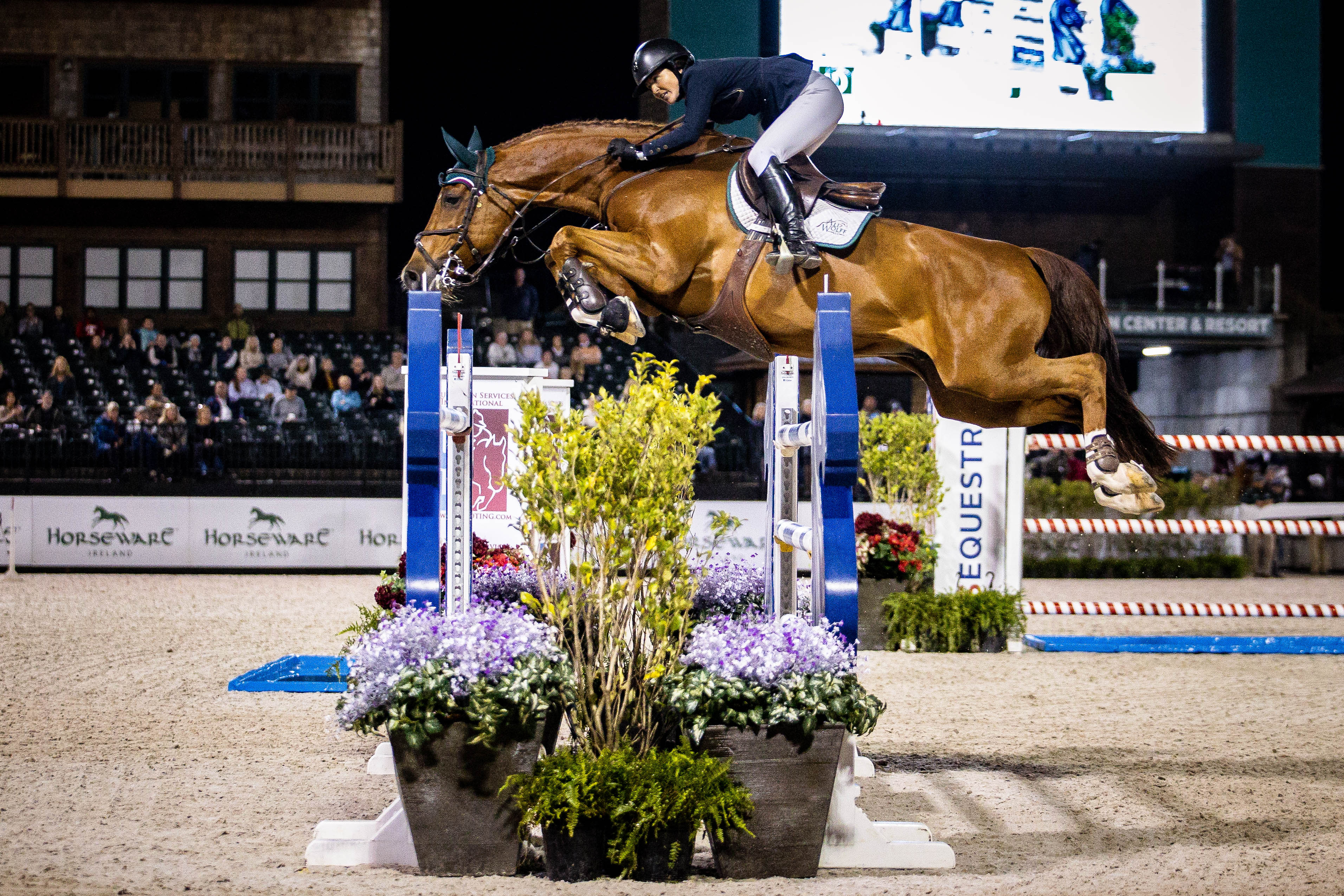 Ali Wolff and Casall
©TIEC/Natalie Suto
Two years ago, Coyle and Legacy won the $73,000 Lugano Diamonds Grand Prix 2* at TIEC while the mare was still quite green to international competition, and they have only improved since then. "Legacy has done a lot since we were last here," Coyle recapped. "I always thought she was a championship horse, [even when we were here] the last time and she was a little green."  
Santiago Lambre and Comtess 202
©TIEC/Natalie Suto
After competing in Europe over the summer, the duo was prepared to take on the stiff competition during the 2021 Tryon Fall Series. "Sure, this is a step down from the Europeans, but tonight wasn't easy, and the jump-off was pretty fast," he acknowledged.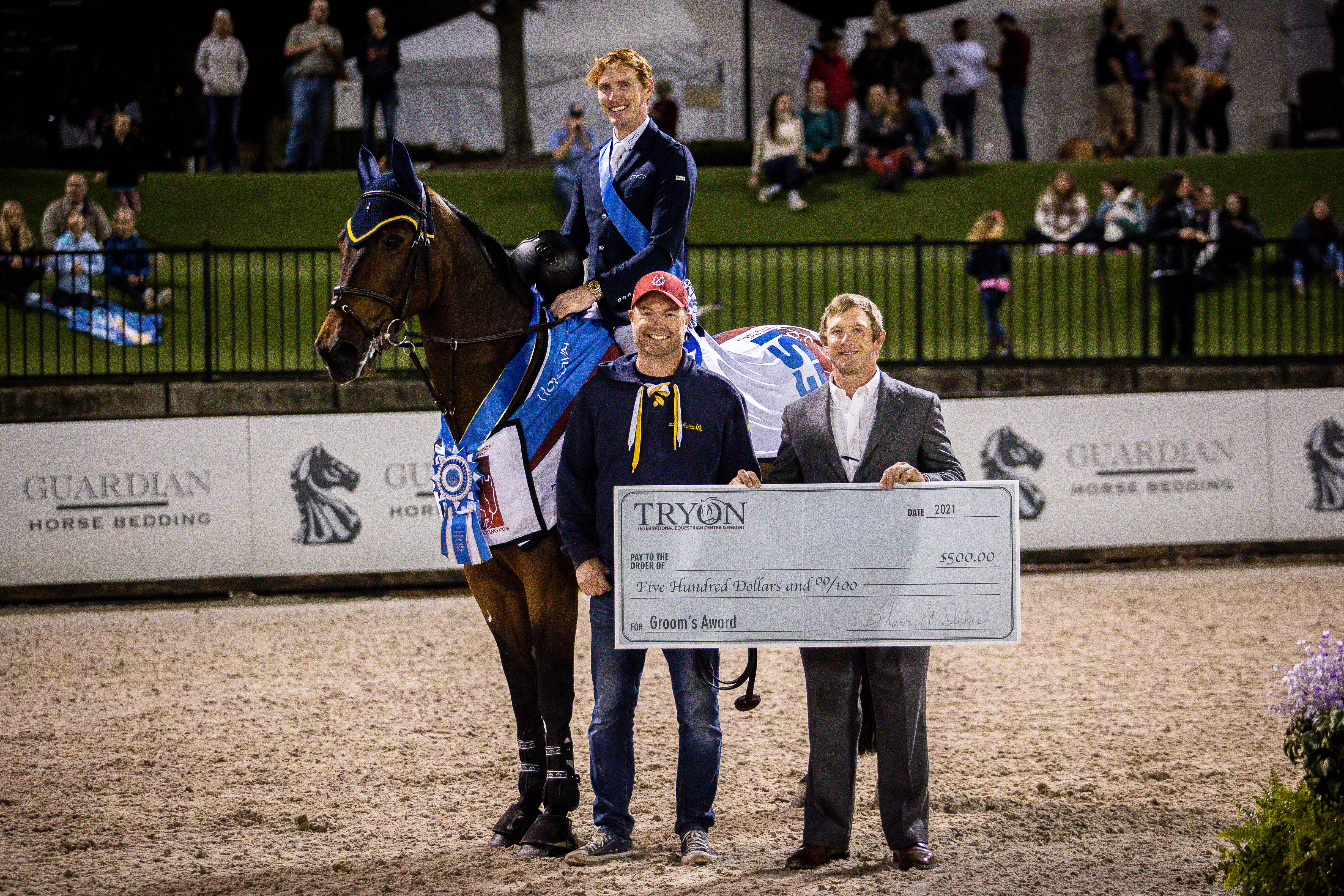 Greg DeBie was honored with the Tryon Resort Groom's Award for his care and dedication to Legacy, alongside Drew Page, Paddock Master.
©TIEC/Natalie Suto
Coyle will stay at TIEC for the Washington International Horse Show presented by MARS Equestrian next week to close out his competition season. Ending his show year on a high note, Coyle expressed his gratitude to his team and to TIEC. "It's a great facility and a great place," he said with a smile. "It's also a good place to finish the year."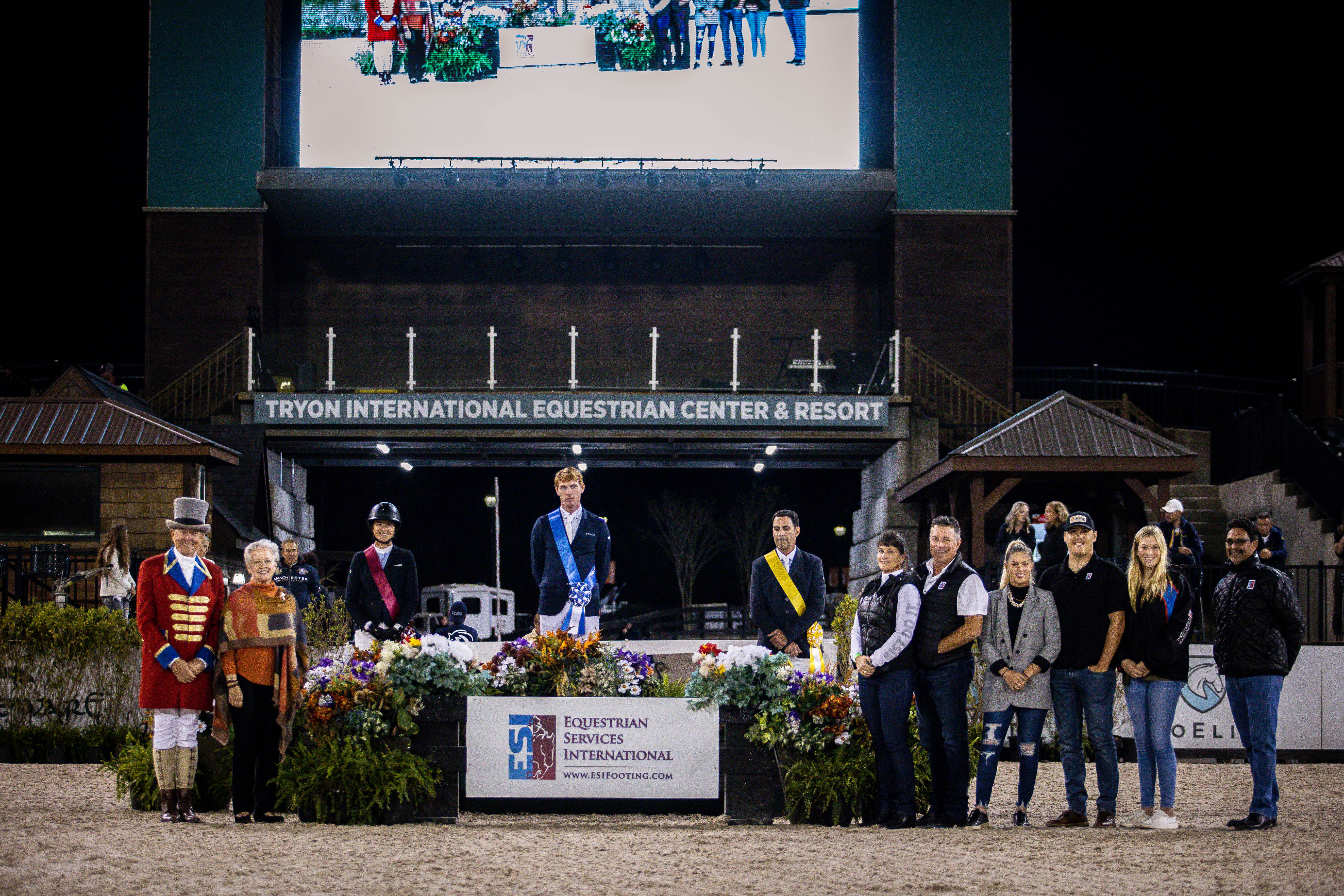 Ali Wolff, Daniel Coyle, and Santiago Lambre in their presentation ceremony alongside Steve Rector, Ringmaster, Sharon Decker, Tryon Equestrian Partners Carolinas Operations President, and representatives from ESI Footing: Brett, Tracy, and Brittni Raflowitz, Anders DeShields, Elizabeth Galloway, and Collie Valdivia.
©TIEC/Natalie Suto 
$137,000 ESI Footing Grand Prix CSI 3*
Horse Name, Year Breed gender (Sire x Dam Sire)
Rider (COUNTRY), Owner: Faults/Faults/Time
1. Legacy, 2010 Zangersheide mare (Chippendale Z x Bon Ami)
Daniel Coyle (IRL), Daniel Coyle and Ariel Grange: 0/0/34.684
2. Casall, 2005 Holsteiner gelding (Casall x Capitol l)
Ali Wolff (USA), Blacklick Bend Farm: 0/0/35.676
3.Comtess 202, 2011 Westphalian mare (Comme II Faut 5 x Pilot)
Santiago Lambre (BRA), Santiago Lambre: 0/0/35.956
4. Darquito, 2011 Hanoverian gelding (D'inzeo 6 x Contefino 2)
Andrew Bourns (IRL), Deirdre Bourns: 0/0/36.817
5. Play, 2012 Swedish Warmblood gelding (Unknown x Unknown)
Jessica Mendoza (GBR), Leken AB: 0/0/37.154
6. Arpeggi, 2010 Westphalian gelding (Arpeggio x Lancer III)
Brooke Kemper (USA), Caroline Blum: 0/0/37.560
7. J'Adore Flamenco, 2012 Selle Francais gelding (Je T'aime Flamenco x Corofino 2)
Maria Gabriella Brugal (DOM), BG Stables LLC.: 0/0/38.242
8. Kasper Van Het Hellehof, 2010 Belgian Warmblood stallion (Emerald x Nabab De Reve)
McLain Ward (USA), Poden Farms: 0/4/37.460
9. San Chano, 2009 Oldenburg gelding (Sandro Boy x Chacco-Blue)
Jacqueline Ruyle (USA), Jacqueline Ruyle: 0/4/37.816
10. Scato Van De Molenbrug Z, 2010 Zangersheide stallion (Scendix x Charisma)
Jennifer Waxman (USA), Daniel Bluman & The Scato Group LLC.: 0/6/49.816
11. Lafayette Van Overis, 2011 Belgian Warmblood gelding (Kashmir van Schuttershof x Tauber an het Kapelhof)
Adrienne Sternlicht (USA), Starlight Farms 1 LLC: 0/15/54.94
12. Cincinnati Kid 7, 2012 Holsteiner gelding (Clarimo x Carpaccio)
Katherine Strauss (USA), Katherine Strauss LLC.: 1/89.47
For full results from the $173,000 ESI Footing Grand Prix CSI 3*, click here.
Tryon Fall 5 competition continues through Sunday, July 18, with the $25,000 Tryon Resort Sunday Classic taking place in Tryon Stadium at approximately 1:00pm. Competition is open to the public and highlight classes are live streamed at www.Tryon.com/streaming. The Washington International Horse Show presented by MARS Equestrian will take place at TIEC Tuesday, October 26-Sunday, October 31. View full competition information at www.Tryon.com/compete. 

Photos ©TIEC. These photos may only be used once, in relation to this press release. Competitors may request photos in advance or review and purchase Tryon Fall Series photos at www.Tryon.com/photos. With questions, contact media@tryon.com.