Mill Spring, NC – October 13, 2018 – Kent Farrington (USA) and Gazelle came away with top honors in the $132,000 Adequan® Grand Prix CSI 3* after a tense jump-off competition at Tryon International Equestrian Center (TIEC), stopping the clock at 32.232 seconds. Paul O'Shea (IRL) and Imerald Van't Voorhof, a 2008 Belgian Warmblood gelding (Emerald Van't Ruytershof x Bacardi-Orange De Muze) owned by Tequestrian Farms, LLC, took reserve honors with a time of 33.026 seconds, while Shane Sweetnam (IRL) and Main Road earned a spot on the podium finishing on four faults in 32.748 seconds aboard the 2008 Swedish Warmblood gelding (Heartbeat x Irco Marco) owned by Sweet Oak Farm and Seabrook LLC.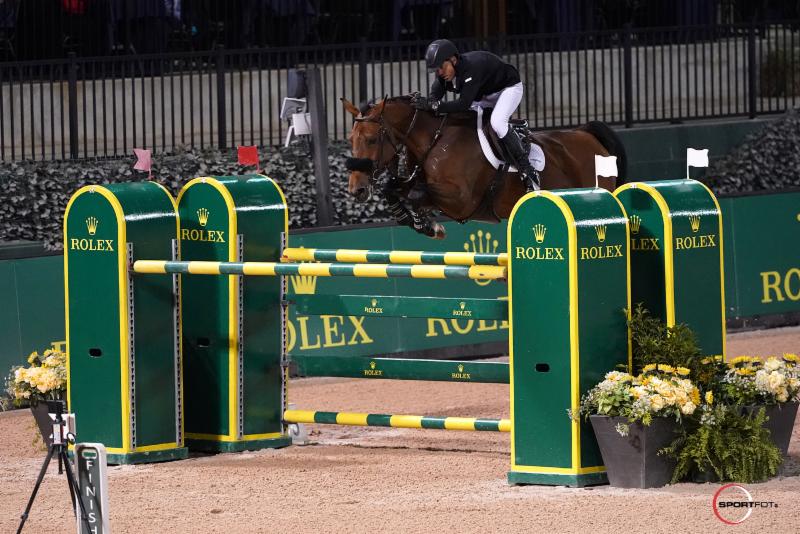 Kent Farrington and Gazelle
For Farrington and the 2006 Belgian Warmblood mare (Kashmir Van Schuttershof x Indoctro) owned by himself and Robin Parsky, the challenge was to complete a technical course designed by Michel Vaillancourt (CAN) against a competitive field of 31 entries. Only four pairs returned to prove themselves on the short course, and Farrington was last to go.
Alongside the podium in the presentation ceremony: Allyn Mann, Director of Strategic Partnerships, Animal Health Division of Luitpold Pharmaceuticals, makers of Adequan®; Sharon Decker, COO of Tryon Resort; and Jennifer and Roger Smith of Tryon Equestrian Partners.
"When there are only four in the jump-off, and you go last, I kind of measure the class and see what kind of effort it will take to pull it off," said Farrington. "It was a little closer than my liking tonight, but I'll take it. A win is a win."
Commenting on the course's difficulty, Farrington admitted, "I think the course was more difficult than maybe a lot of us anticipated, with the lights, because some horses might not have been under the lights yet here. The liverpool fence had a glare, so you saw a lot of young horses struggle with that. There was plenty of course for the field today, and that's why you only saw four in the jump-off."
Paul O'Shea and Imerald Van't Voorhof
Competing under the lights was no problem for Farrington's mount of more than five years, he explained. "Gazelle is a very experienced horse, so the lights played to her hand tonight." His preparation strategy with the mare is to get on early and jump "quite small," Farrington elaborated:
"The horse is extremely careful, one of the most careful if not the most careful horse I've ever ridden. So you have to watch that line, and keep her from getting too impressed in the ring and keep her measuring her efforts."
Shane Sweetnam and Main Road
"So far so good here," Farrington said of his experience with the venue, after taking the win in Friday's $35,000 1.50m Welcome Stake CSI 3* with Creedance. "I'm here next week with the same horses, and bringing some young ones over. I'm just back from Europe, so concentrated on gearing up the team before I do indoor shows."
Denise Moriarty was presented the Absorbine® Groom's Award for her care and dedication to Gazelle.
The 2018 Equus Events Tryon Fall 3 CSI 3* concludes tomorrow, October 14, with the $35,000 1.45m Classic Stake CSI 3*, which will take place at 1:30p.m. in Tryon Stadium. The Tryon Fall Series presented by Greenville-Spartanburg International Airport continues through Sunday, October 28, featuring four weeks of international and national hunter, jumper, and equitation competition.
For full results from the $132,000 Adequan® Grand Prix CSI 3*, 
click here.
About Tryon International Equestrian Center at Tryon Resort
Tryon International Equestrian Center at Tryon Resort, host of the FEI World Equestrian Games™ Tryon 2018, is one of the world's premier equestrian lifestyle destinations, with first-class facilities for all eight FEI disciplines. From carousel to competition, the mission of Tryon Resort is to celebrate the magic of the horse, grow equestrian sport, and increase access to this majestic animal. Tryon Resort is a spring, summer and fall haven for equestrian competitors and enthusiasts, and a year-round destination for connoisseurs of diverse cuisine and shopping, lodging getaways, and family entertainment. Learn moreat www.Tryon.com.
Photo Credit 
©Sportfot.
 These photos may only be used once in relation to this press release with proper credit.