The Bows are back! The Tryon International Equestrian Center (TIEC) Summer Series is proud to present the third annual Pony Spectacular as part of Tryon Summer 3 competition from June 26-30 at the venue. A celebration of all things pony at TIEC, events throughout the week are available for competitors, their families, as well as spectators and fans. This event is ideal for riders wishing to prepare for competition at the USEF Pony Finals in a larger arena atmosphere, and includes fun for the whole family all week long. Read below to catch up on all there is to see and do at TIEC in celebration of the Pony Spectacular!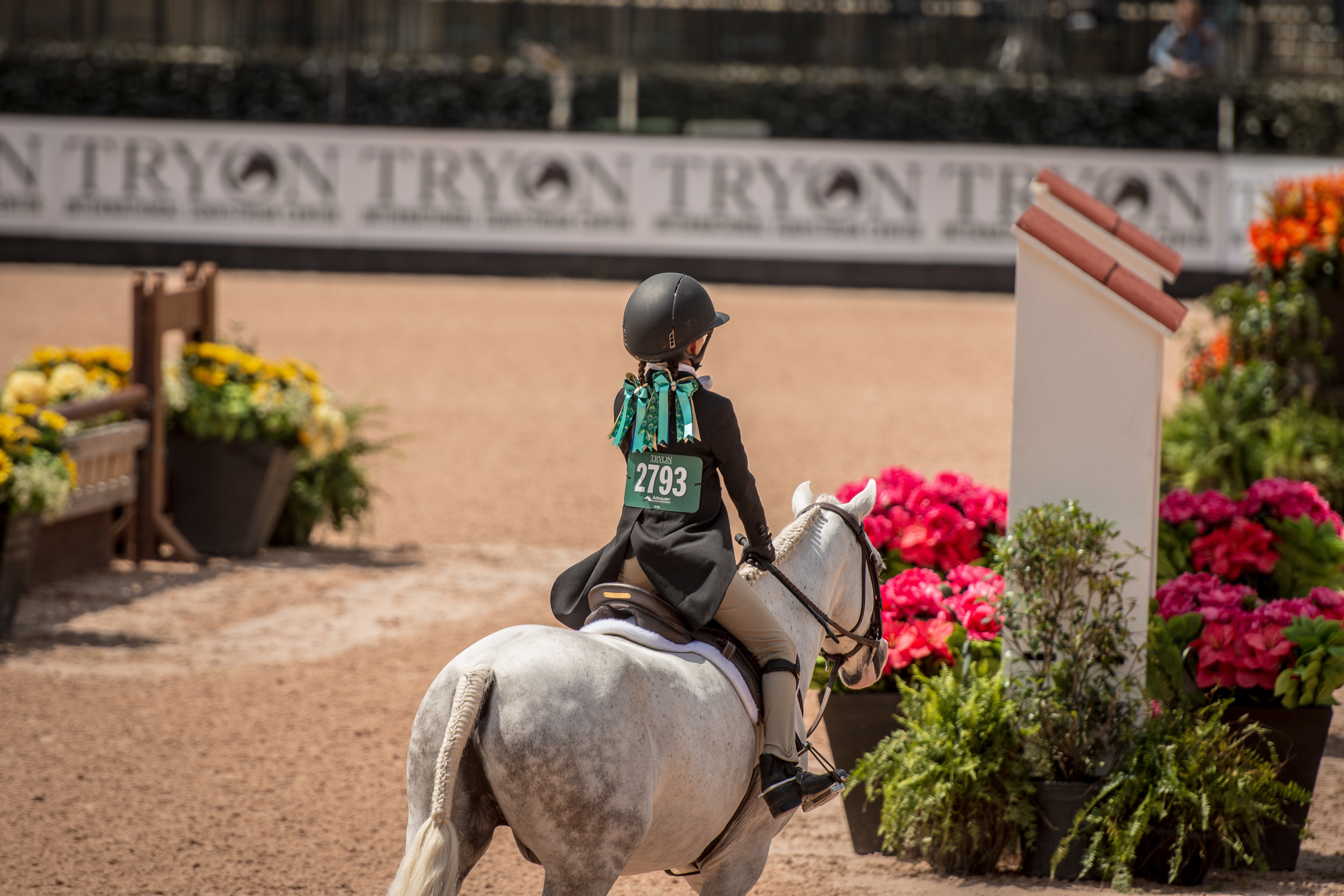 Highlighting the week, the $10,000 USHJA Pony Hunter Derby will take place in Tryon Stadium on Friday, June 28. The winning pair will be honored during the $72,000 Ingles Grand Prix CSI 2* Saturday evening in front of the "Saturday Night Lights" crowd. With ponies and their riders taking center stage, Pony Spectacular is designed to help give pony riders additional experience in a more competitive atmosphere.
Pony Spectacular Special Events & Activities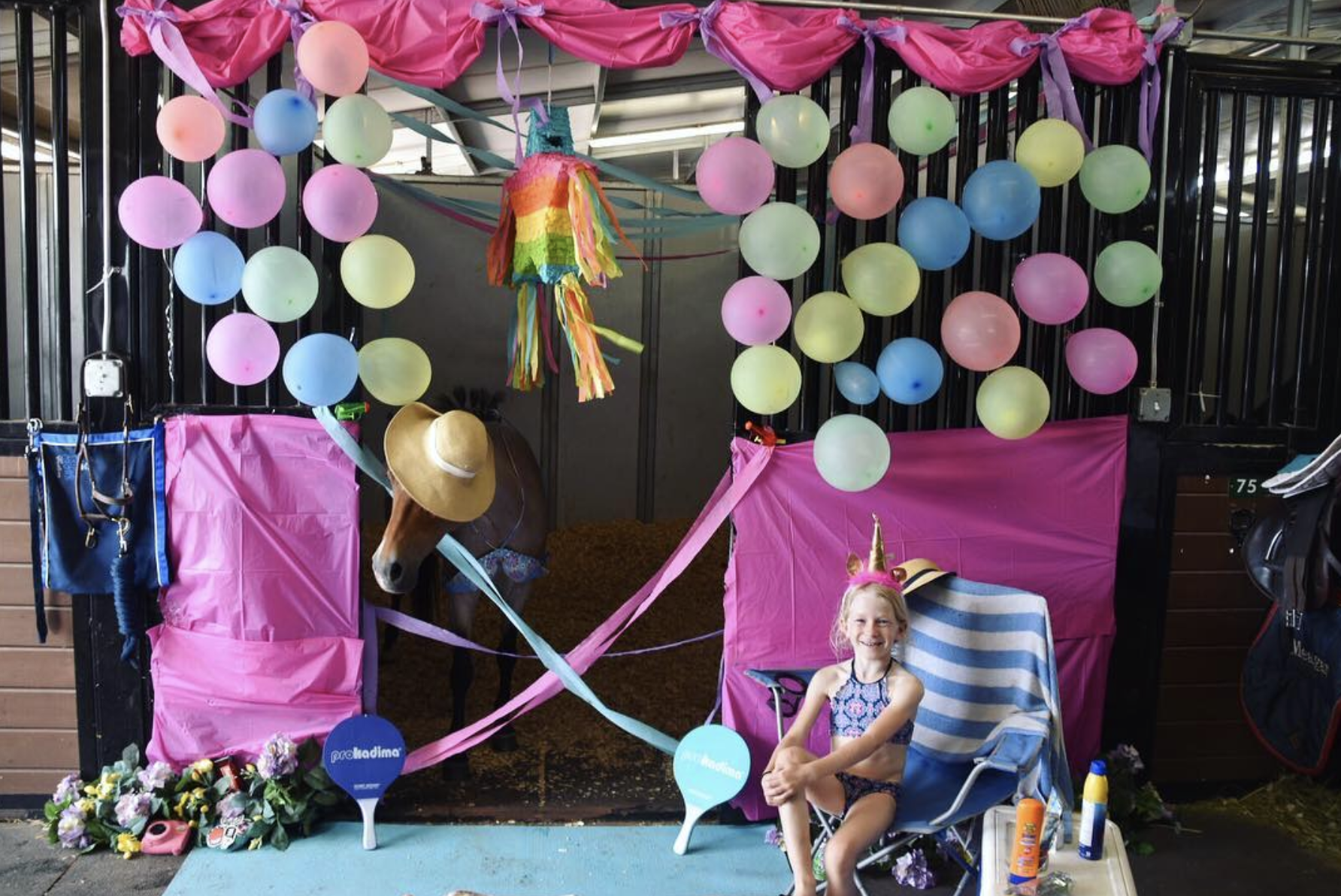 2018 Winning Decorated Stall
Thursday, June 27
9am-4pm – Stall Decorating Contest
This year, Pony Spectacular will again be hosting a stall decorating contest open to all pony competitors, with a winner crowned through votes on Instagram. The theme for this year's stall decorating contest is "Rainforest." The winning stall will receive a FREE table in Legends Club for Friday's Movie Night and Ingles Ice Cream Social. Stall photos will be taken beginning at 4pm on Thursday and voting will take place on Instagram Thursday and Friday. The winner will be announced on Friday, June 28 at 3pm.

Friday, June 28
3:00pm – $10,000 USHJA Pony Hunter Derby presented by Dover Saddlery
The ponies take over the Tryon Stadium in Friday afternoon's $10,000 USHJA Pony Hunter Derby presented by Dover Saddlery, providing the ultimate opportunity for pony riders and their mounts to compete in an exciting and competitive environment. The winner will be presented with a special Grand Prize Bucket presented by Dover Saddlery and recognized in advance of Saturday's $72,000 Ingles Grand Prix CSI 2*. This highlight class for the week is free and open to the public, with covered, ringside seating and a cash bar available in the Legends Club. Come watch as these talented athletes tackle the Derby course and enjoy their time in the spotlight!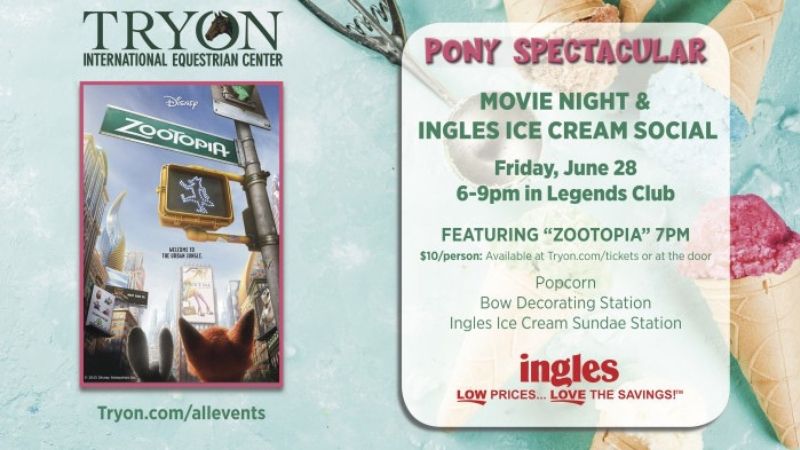 7:00pm – Movie Night Featuring "Zootopia" and Ingles Ice Cream Social
After the $10,000 USHJA Pony Hunter Derby, grab your friends and head to the Legends Club for a movie night and ice cream social. "Zootopia" will be the featured movie this year and will be played on the Jumbotron in Tryon Stadium. Popcorn, ice cream and toppings will be provided for competitors on a first come, first serve basis. There will also be a decorating station in Legends Club for riders to decorate their own show bows. Entry to the Legends Club will be $10. There will also be free general admission for seating surrounding Tryon Stadium. Concessions will be offered throughout the evening and will include everyone's favorites: popcorn, cotton candy, and lemonade.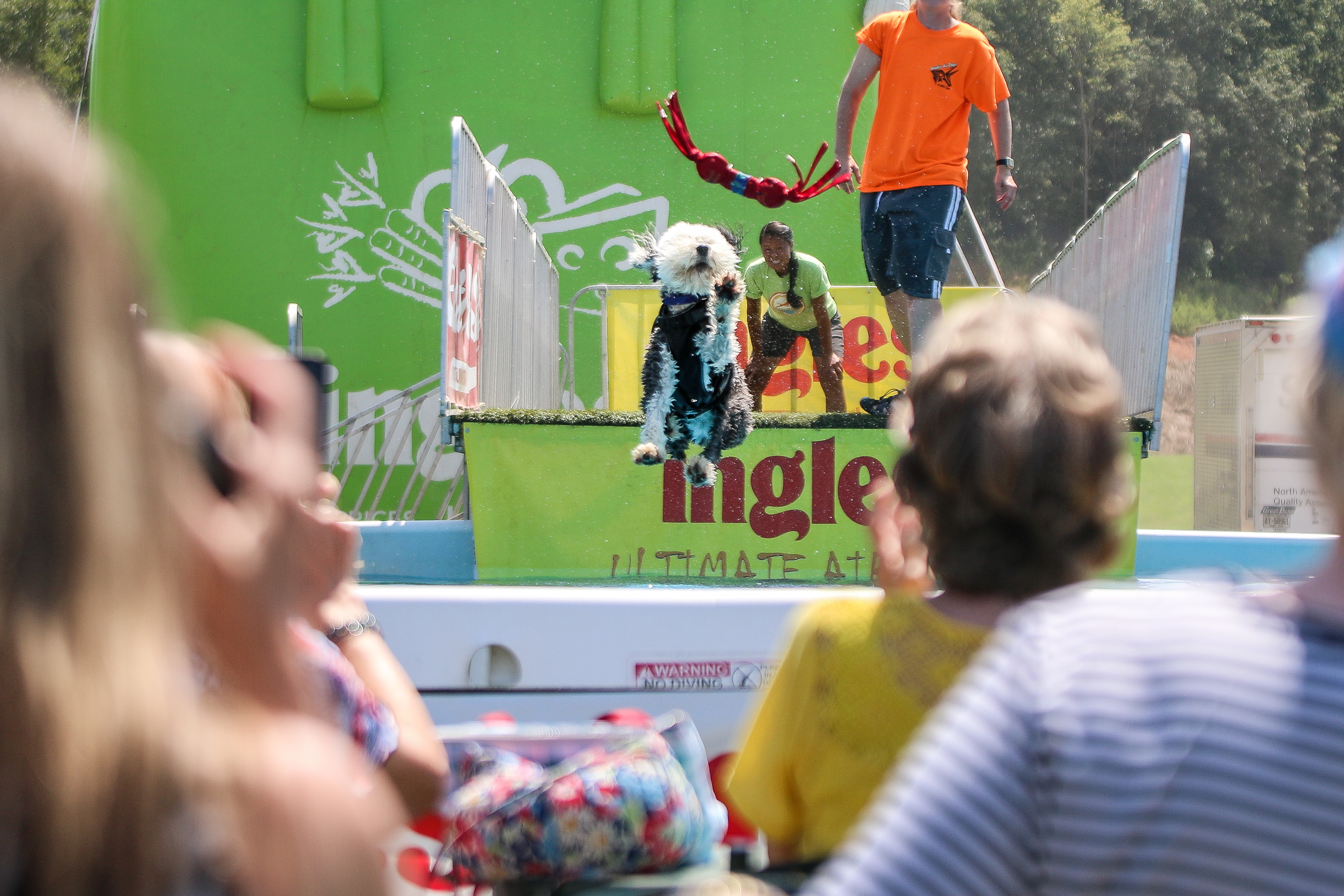 Saturday, June 29
1pm-5pm: Ultimate Air Dogs Presented by Ingles
Ultimate Air Dogs presented by Ingles is a must-see at TIEC. Watch as the athletic dogs launch into the pool while chasing after their favorite toys, all earning points based on how far they soar. Come enjoy the thrilling talent and big splashes of Ultimate Air Dogs at TIEC on June 29-30 on the grass near Legends Plaza. Saturday performances will be held at 1pm, 3pm, and 5pm, while Sunday's jumps run at 10am, 12pm, and 2pm.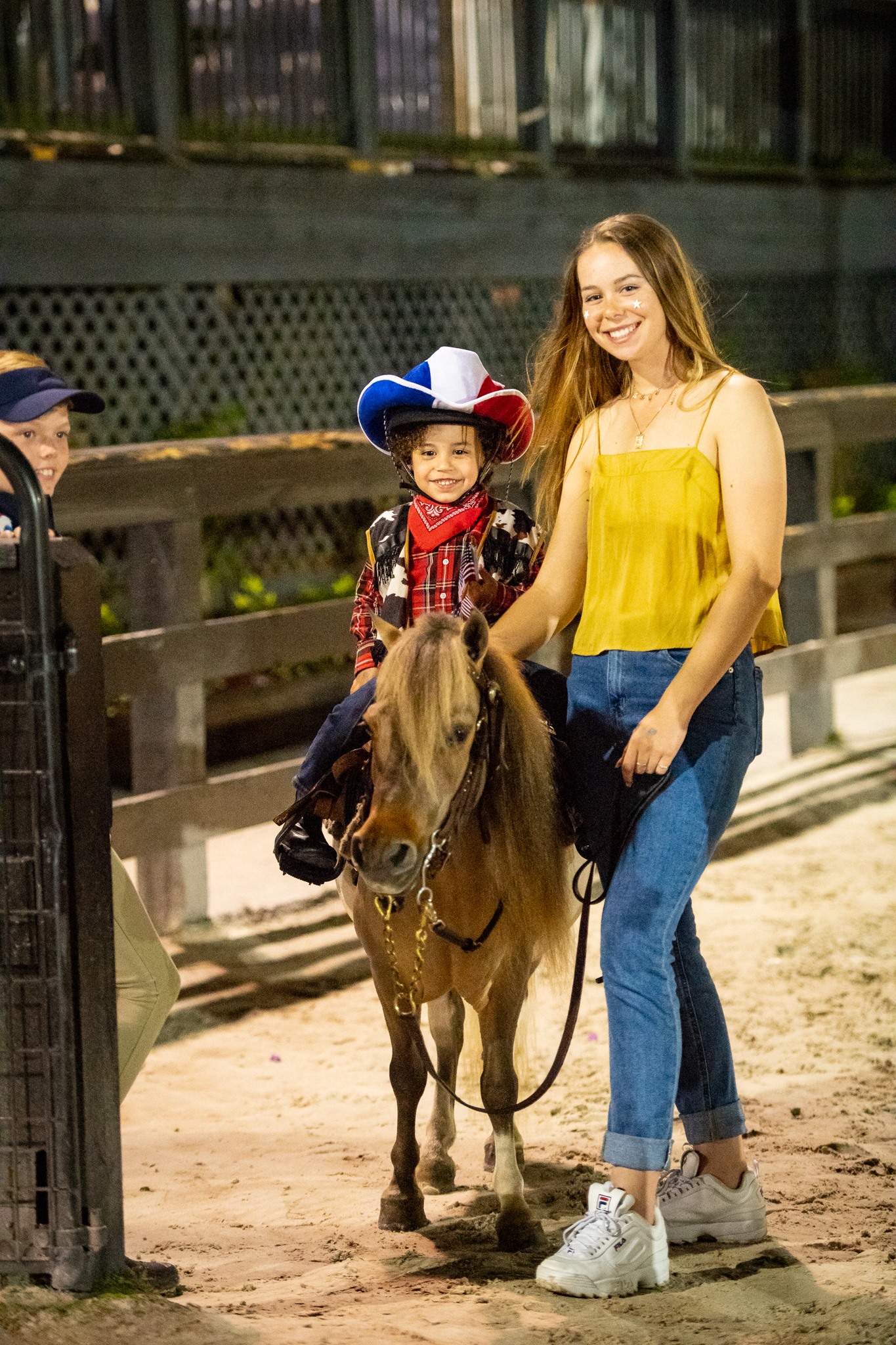 6:45pm – Pony Costume Parade in Tryon Stadium
For the first time, Pony Spectacular week will feature a Pony Costume Parade in Tryon Stadium, proudly presented by KidSense and guest-judged by KidSense Executive Director Willard Whitson. There is no cost or pre-registration required! Ponies and riders will assemble in the Tryon Stadium Warm-up Ring at 6:45pm dressed up in the costumes of their choice. The parade will begin at 7:15 pm. Ponies and riders will do one lap in the Tryon Stadium. The Best Costume Duo and the Stall Decorating winners will be recognized in the center arena following the parade, and ALL participants will receive a free KidSense Museum pass. Back numbers must be visible, and all participants under the age of 18 must be accompanied by an adult in the arena.

8:00pm – Saturday Night Lights: $72,000 Ingles Grand Prix CSI 2*
Ahead of the 8pm $72,000 Ingles Grand Prix CSI 2* in Tryon Stadium, Saturday Night Lights entertainment kicks off at 6:00pm in Legends Plaza with free family-friendly entertainment. Enjoy live music from Joe Lasher presented by Ingles, magicians and entertainers, kids' activities, pony rides and carousel rides, face-painting, peruse the shops along the Promenade or enjoy one of many available restaurants, concession stands, and bars. Watch as riders vie for the podium in exciting Jumping competition and cheer on your favorites, and don't forget the karaoke after-party at the Silo Bar! Parking and admission are FREE.