For Immediate Release
Mill Spring, NC – September 4, 2019 – Captain Mark Phillips has been preparing the White Oak Cross-Country Course at Tryon International Equestrian Center (TIEC) for all levels, from Beginner Novice through Advanced and including Modified, to compete in the inaugural Blue Ridge Mountain Horse Trials at TIEC September 14-15. The FEI World Equestrian Games™ Tryon 2018 (WEG) course designer renowned world-wide for his designs, Phillips' résumé includes an Olympic gold medal as part of the British Eventing Team in 1972, and he is famous for designing the legendary courses around the world including the Burghley Horse Trials for nearly 30 years, Badminton Horse Trials, and Kentucky Three-Day. For the course at TIEC, Phillips' design in collaboration with Eric Bull's ETB Equine Construction will allow competitors to utilize the same venue that hosted the FEI World Equestrian Games™ Tryon 2018. Entries are open through September 13, and stalls are discounted by $100 for all competitors of the inaugural event. Registration is available online at
www.EventEntries.com
.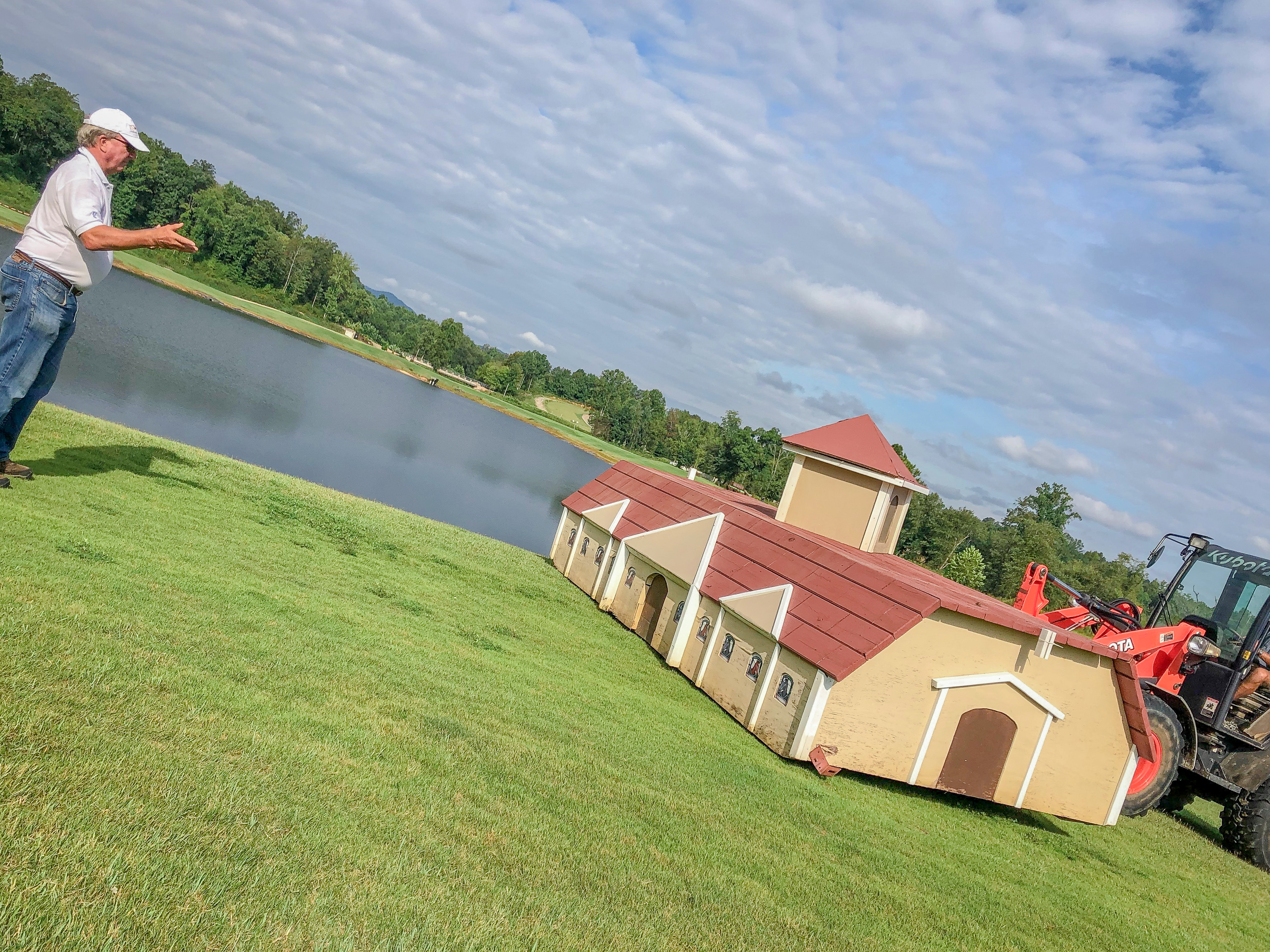 Photo courtesy of John Michael Durr.
The White Oak Course at TIEC
The Blue Ridge Mountain Horse Trials at TIEC will mark the first time this national-level Eventing competition has been hosted at the venue, as well as the first time the White Oak Course has been utilized for all divisions.
Phillips commented, "We've got all the divisions down on the golf course, which is what the lower divisions have wanted for a long time. That means it's very busy down there, with lots of fences, but the footing is fantastic and the fences are good, so the riders should have a good experience," he said while overseeing fence placement.
The White Oak Course offers something for every level of rider, despite its history of hosting and challenging some of the world's best. Phillips explained:
"I think high-performance riders want to run over good courses on good footing, especially when going a lot faster on those horses, and so good footing is paramount. And then," Phillips continued, "we've got a lot of good fences, particularly after the World Equestrian Games. Lower-level riders want to have a good run and good experiences for their horses with nice surroundings, and again over nice courses."
The former golf course boasts meticulously-manicured footing tended by a team led by TIEC's full-time agronomist, Daniel Fradley, and incorporates scientific management to produce the best experiences for horse and rider alike. Phillips emphasized that "good footing" and "TIEC" are interchangeable for eventers:
"Tryon is Tryon. We're lucky enough to be able to run cross-country on fantastic, [former] golf course footing, where we can control the moisture content in the ground. We find here that if you have 25-26% moisture content, the footing is nigh-on perfect. With the irrigation system at TIEC, we're able to replicate that all the time." Phillips continued, "So, we've got the ability to control that and give riders and horses the best possible experience. Plus, they have fantastic stabling here, and Dressage and Show Jumping is done on all-weather footing. It's top-quality footing."
What Riders Can Expect
From obstacles highlighting iconic Carolinas geography and wildlife to greenways and varied terrain, the White Oak Course is shaping up to provide an abbreviated version of what WEG competitors experienced just a year ago – sans the long, uphill gallop to the finish.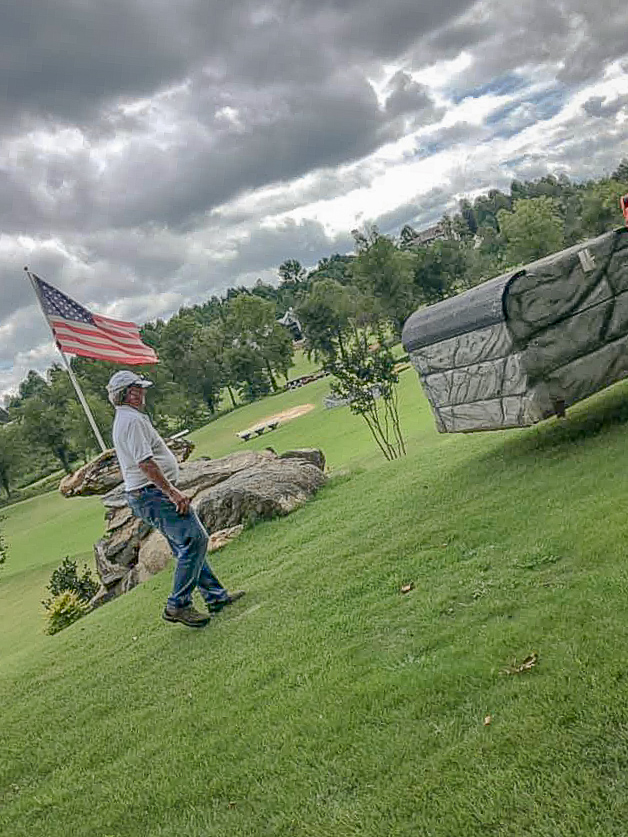 Photo courtesy of John Michael Durr.
"WEG was a long-format, single course at White Oak, and the [Blue Ridge Mountain Horse Trials at TIEC] has seven divisions on a smaller, shorter footprint. In the long format, riders came up the hill and finished in the [International Stadium], but now for this, everything happens down on the [former] golf course," Phillips explained.
The White Oak Course will also provide a world-class atmosphere that Phillips believes can help both riders and their horses at lower levels improve and advance:
"I think we have a lot of lower-level competitions at nice farms, but it's not the kind of atmosphere or the facilities at Tryon. And, I think once in a while, to be able to come and experience top-quality facilities is a nice thing to be able to do," Phillips said.
"I think from a course designer perspective, Beginner Novice through Intermediate is an educational process, with each level being a rung of the ladder to educate the horse and, to a lesser degree, the rider." Phillips continued, "It's a process to go through before you really start answering questions at the Advanced level. I think here [at TIEC] we've got the rungs of those ladders in the right place for that."
Looking Forward
Always aiming to grow equestrian sport and make top-level competition as accessible as possible, TIEC organizers have offered a $100 discount on stalls to all Blue Ridge Mountain Horse Trials entrants for the inaugural competition, and extended the entry deadline to September 13 to allow for maximum competitor flexibility.
More competitions available to competitors at all levels is good for the sport, according to Phillips: "[Cost] itself restricts the number of competitions riders can afford to go to. Competitors thrive on competition – if you go to a competition and get beaten, you then go home and work harder so you don't get beaten the next time."
Entries:
To learn more or to enter the Blue Ridge Mountain Horse Trials at TIEC,
click here
.
Lodging:
Onsite lodging, from one, three, and five-bedroom cabins to RV pads with full hookups and the Stable House Inn, are available for booking at
www.Tryon.com/lodging
.
Plan Your Trip:
Media Inquiries:
To request media credentials for this or any other event at TIEC, please
click here
. With further questions, please contact
media@tryon.com
.