Hard Work Pays Off for Nashea Powell and Dessert First in $5,000 USHJA National Derby at TIEC
Pablo Barrios and Le Vio Victorious in $5,000 Speed Stake CSI 3*
For Immediate Release
Mill Spring, NC – July 5, 2019 – Julie Curtin (USA) and Cassico repeated their 2018 victory in Friday's $25,000 USHJA International Hunter Derby, earning a first-round score of 182 and receiving a handy score of 212 for a grand total of 394 to top the field. Harold Chopping (CAN) and Barbara Scott's Catchphrase, a 2010 Zangersheide gelding (Marome NW x Prelude), collected scores of 160 and 193 to land in second place on a total of 353, while Kelley Farmer (USA) and As Quoted, the 2013 Dutch Warmblood gelding (Zambesi TN x Bybalia SMH) owned by David Glefke, produced rounds garnering scores of 178 and 172.5 to claim third with a total of 350.5.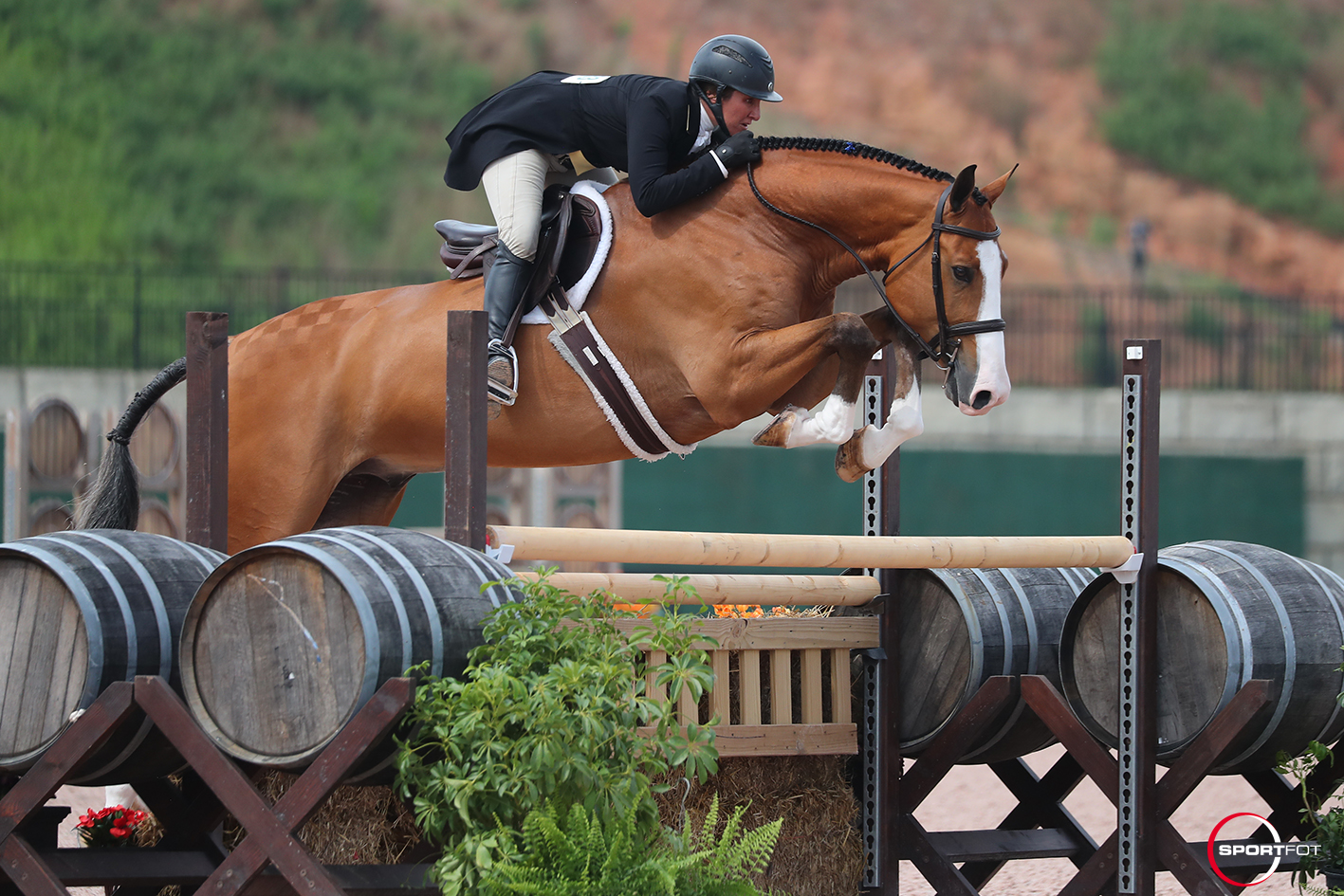 Julie Curtin and Cassico
©Sportfot
Curtin and the 2011 Holsteiner gelding (Carrico x Trevigiana) owned by Rebekah Warren were able to earn a repeat victory from last year's USHJA International Hunter Derby during Tryon Summer 4, besting a competitive field of 21 entries over the Dean Rheinheimer (USA) course design. "The course rode really nicely," Curtin reported. "There were a lot of long lines out there, which is nice, but it's sometimes kind of easy to get lost. This is the first time I've ridden in this arena – Cassico actually won this same Derby last year here on the grass! It was nice – the footing is great, and the course rode really great.
"We were eight points behind [going into the handy], so I had to just go for it all," Curtin explained of her winning strategy. "We took every tight turn, high option, and just tried to lay it down, because I knew I had some ground to catch up. We're getting ready for Derby Finals, so I knew I had to practice. I knew it would either work or it would not, and today it worked! He's such a scopey horse. The jumps were big, and it was hard, but he was good."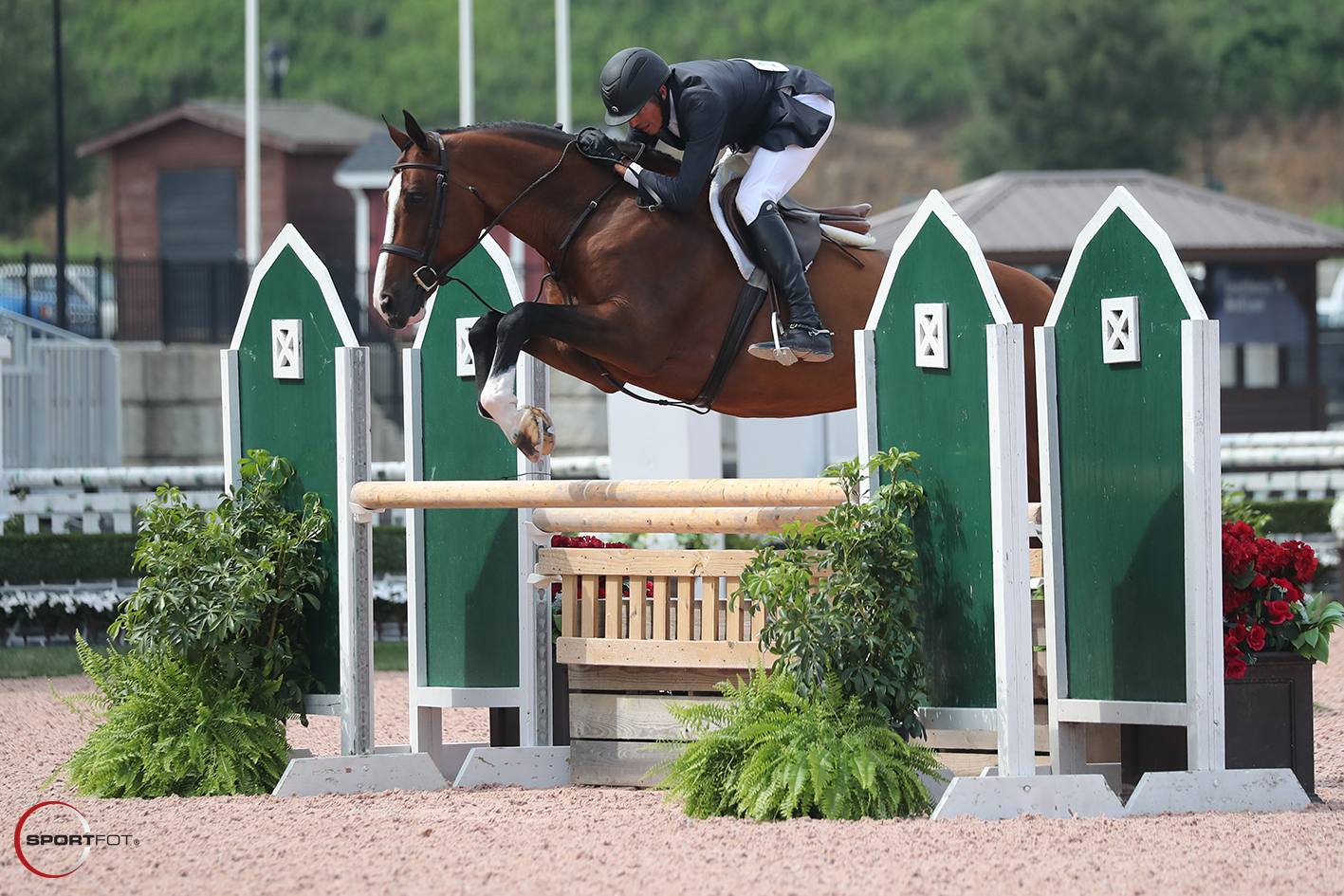 Harold Chopping and Catchphrase
©Sportfot
They made up the difference – and earned their 41-point lead – in two areas, Curtin believes: in their first jump, choosing the high option, and in overall handiness. "Jump one was hard – that was a blind turn for a high option, but he handled it so well. But otherwise, I just tried to keep it tidy everywhere. And he's so scopey that on all the tight turns it just kept coming up nicely. The two-stride came out a little long, but he just got right up there and handled everything beautifully."
While Derby Finals is the next goal in focus, Cassico will be Curtin's ride in National and International Derbies for a long time to come, she hopes. "He's still young and has a big future, so we're really excited. Hopefully, Derby Finals will go well, but then his mother is going to start showing him; I will just do Derbies with him and let him be an amateur horse. Right now, I'm doing Derbies and High Performance with him, but we'll back down a little bit and let her ride him in the Amateurs. Hopefully, I'll have him for the next eight years to do Derbies on!"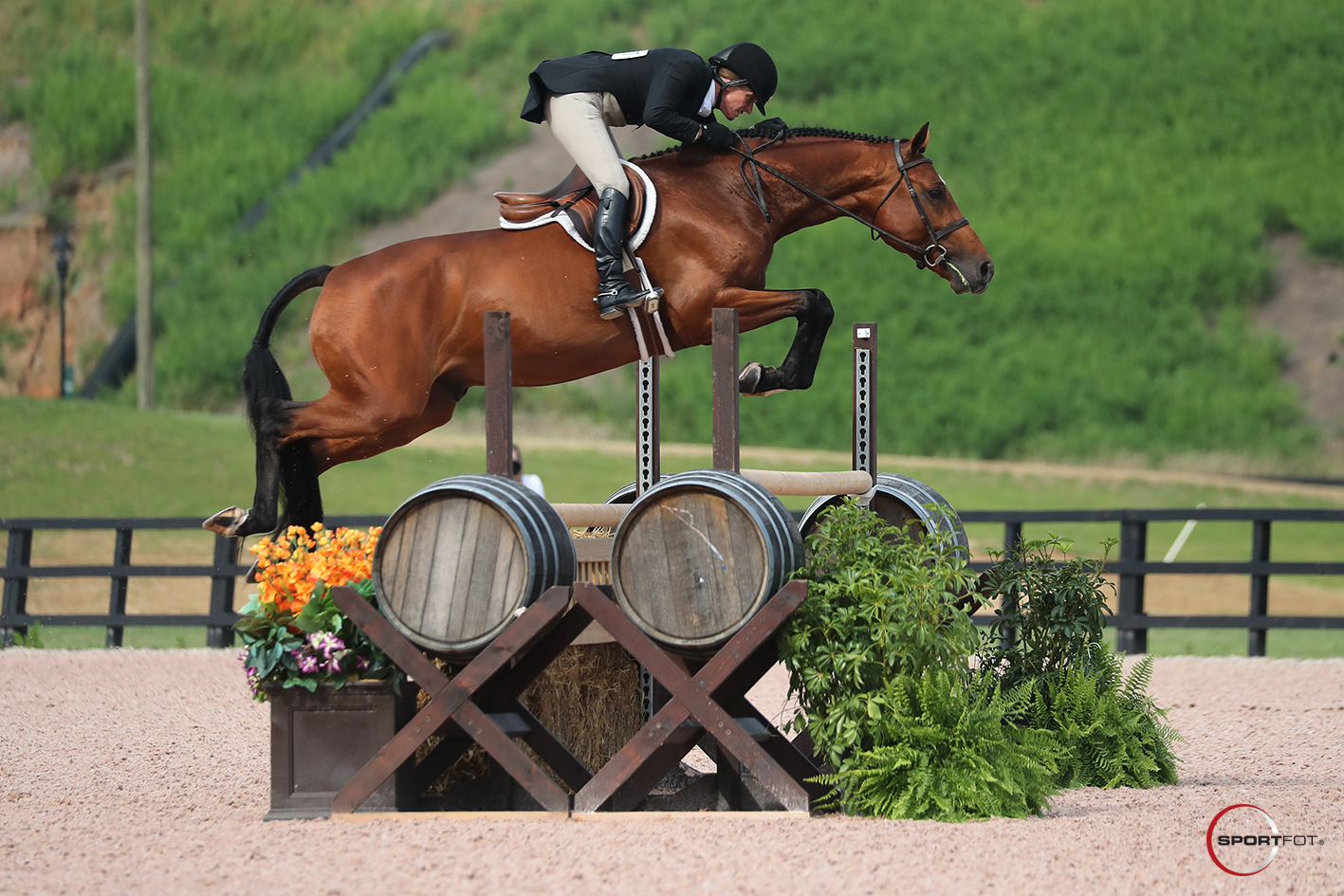 Kelley Farmer and As Quoted
©Sportfot
Adjacent to the TIEC International Stadium, the warm-up for Friday's $25,000 USHJA International Hunter Derby was hosted beneath a newly-erected covered arena at TIEC, which allowed for competitors to warm up and rest in the shade. "The covered arena is really nice," Curtin said. "It was nice that the facility did that, because it's hot here in July, so it's much appreciated. Kudos to everyone who made that decision – I think it was a good one."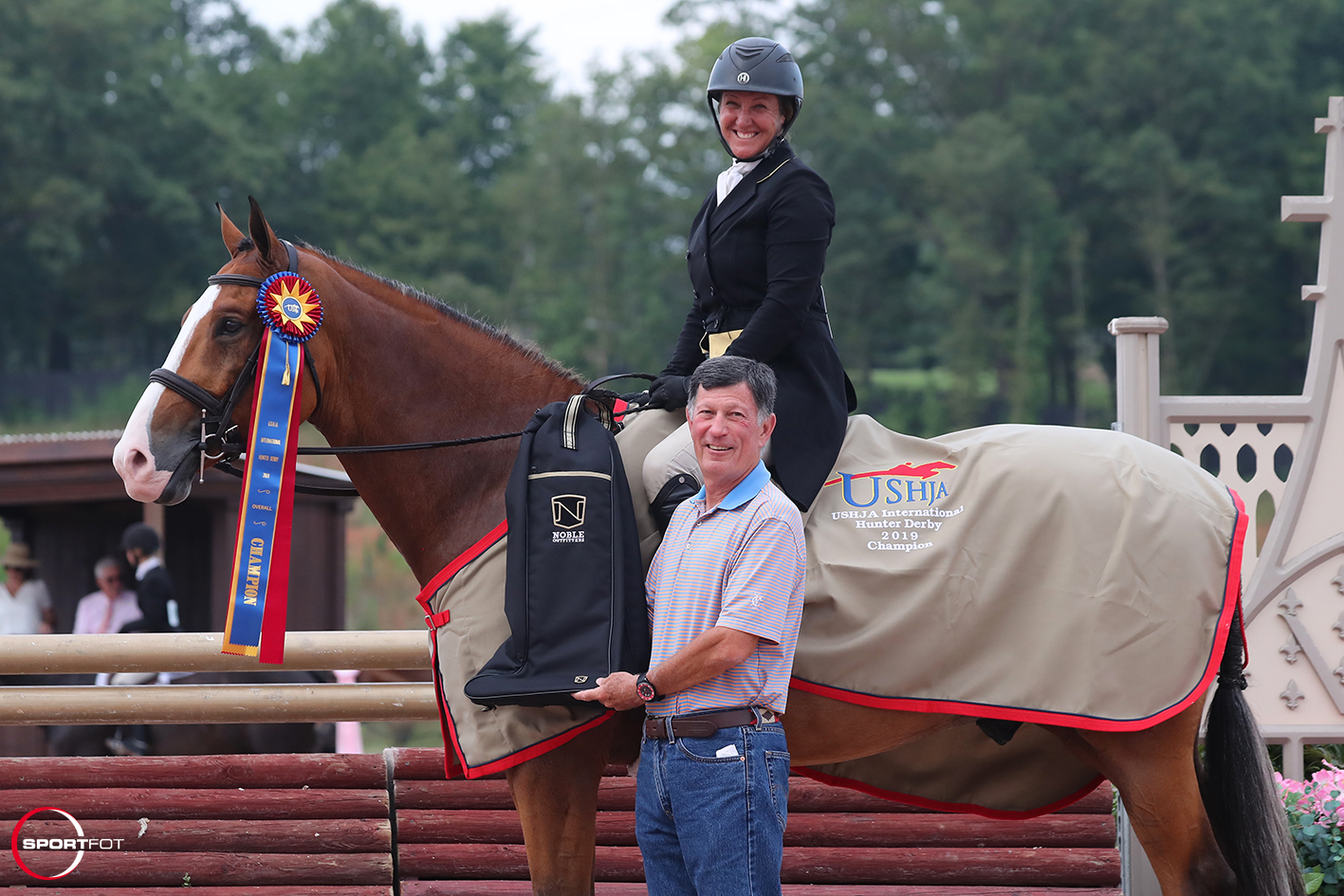 Julie Curtin and Catchphrase in their presentation ceremony alongside Eric Straus, TIEC General Manager of Equine Operations.
©Sportfot
Curtin who also earned second in Friday morning's $5,000 USHJA National Hunter Derby, concluded, "It was a very good day! Tough competition – it's always a tough competition when Kelly [Farmer] and Evan [Coluccio] have as many horses as they had each! I'm very happy about the win."
Hard Work Pays Off for Nashea Powell and Dessert First in $5,000 USHJA National Derby at TIEC
Nashea Powell (Jacksonville, FL) and Dessert First held the lead throughout Friday morning's $5,000 USHJA National Derby during Tryon Summer 4, earning the highest first-round score of 93 and a second-round handy score of 94 to receive a combined score of 187, claiming the win at Tryon International Equestrian Center (TIEC). Julie Curtin (Woodstock, GA) piloted Commentary, the 2011 horse (Cooliage x Stutbuch I Quinni) owned by Amy Squier Perez, to second-place honors with a combined score of 178. Third-place honors were awarded to Geoffery Hesslink (Shelburne, VT), who earned a combined score of 177 aboard the Lindsay Maxwell-owned 2007 warmblood gelding (Accordino x Unknown), Largesse.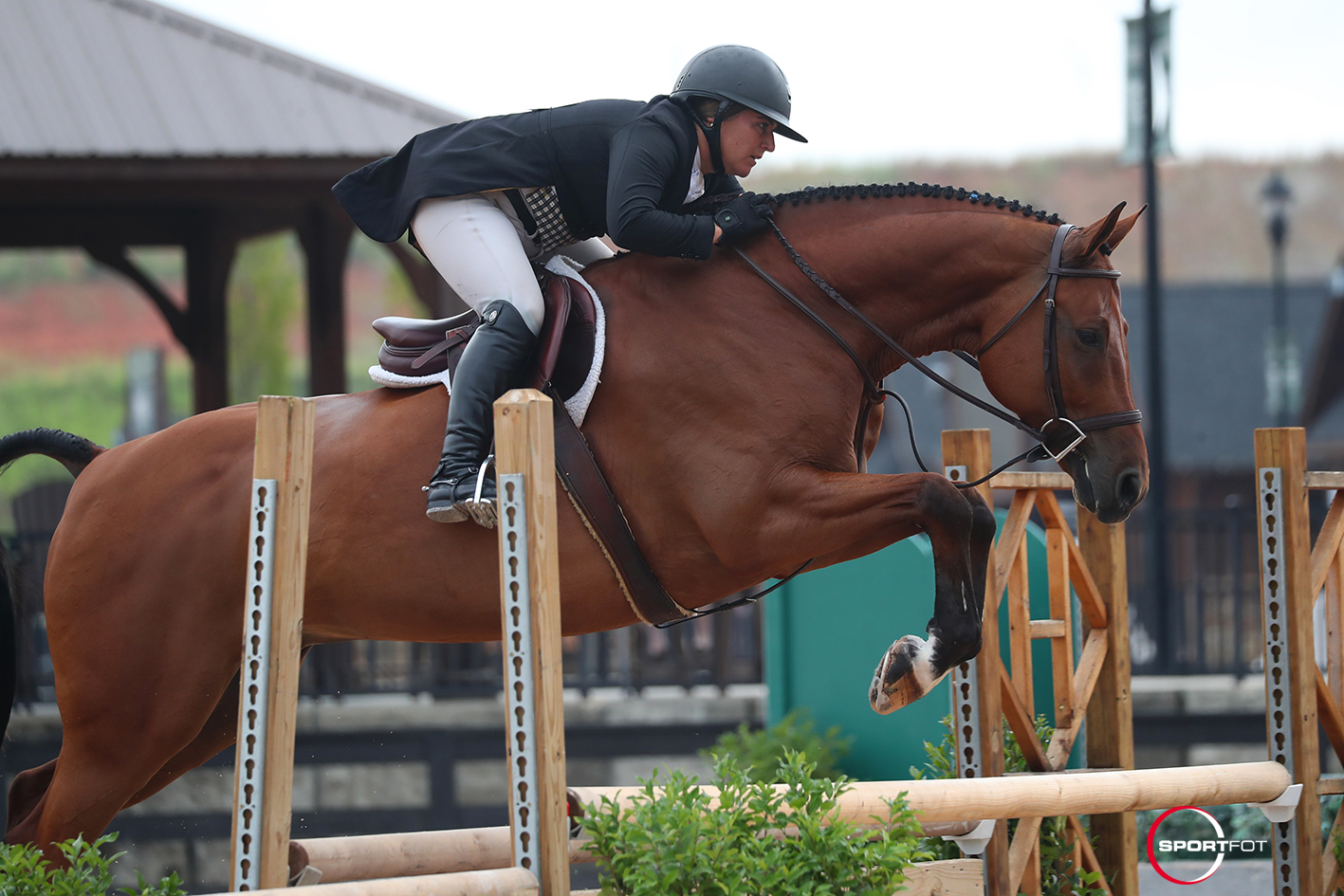 Nashea Powell and Dessert First
©Sportfot
Powell and Renae Sweeny's 2009 Hanoverian gelding (Canturano x All About Love B) have been taking their time working up the ranks in the Hunter rings over the past two years, Powell revealed: "We got him and I did the 3' Greens and 3'3" Greens, then last year he started doing the little Derbies and the National Derbies. Our goal is to be able to do an International Derby, but I don't want to rush him; I just want to take my time with him."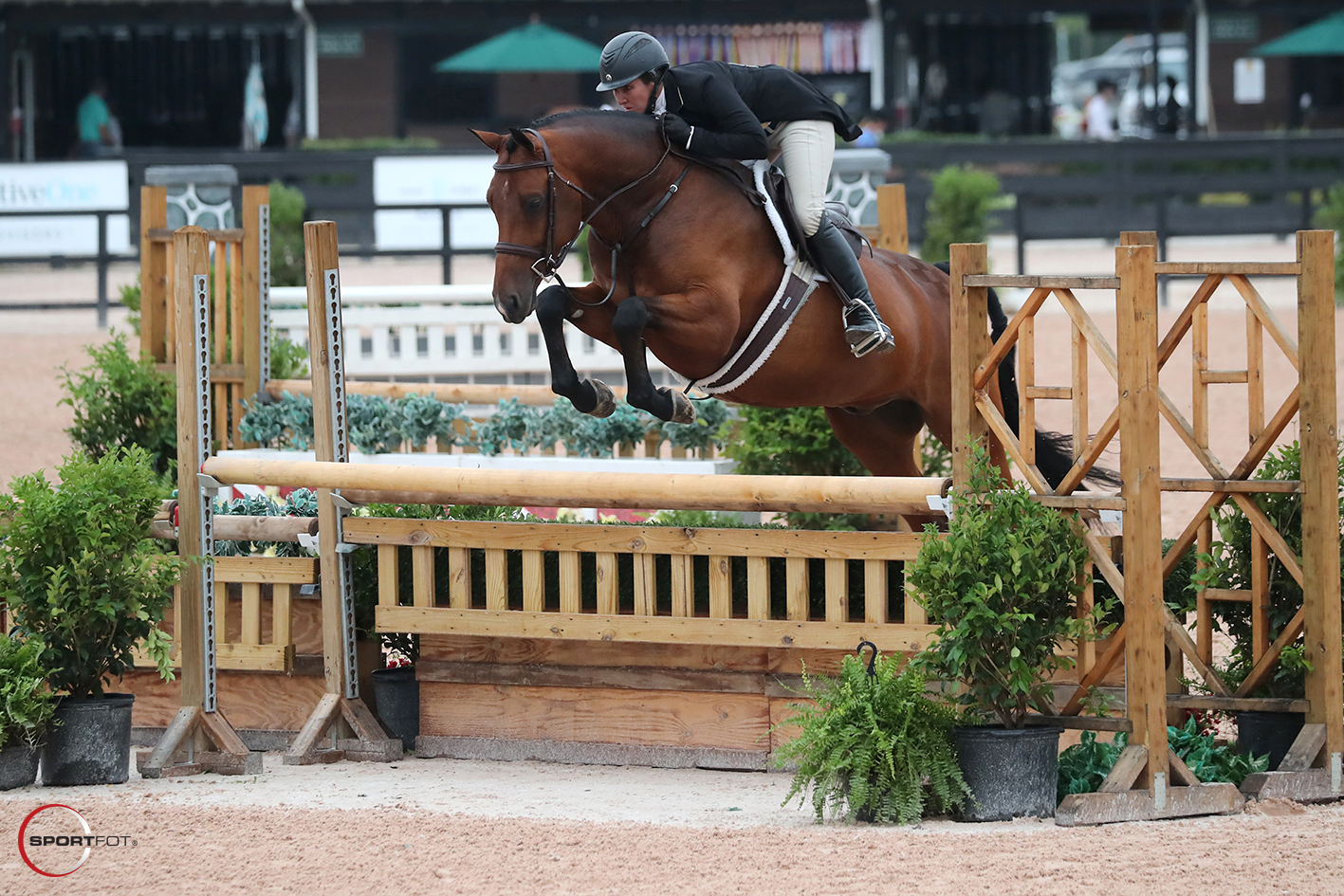 Julie Curtin and Commentary
©Sportfot
Powell explained that Dessert First, known as "Cupcake" to the large group that swarmed him upon exiting the ring, is a special horse with a love for the spotlight. "His personality is my favorite thing about him," Powell shared. "He just has such a great expression, and I just fell in love with him. He's a spoiled brat, but when it's time to horse show, he knows it! He gets bored when he's not in the show ring – he just loves it, and loves to horse show!"
Geoffery Hesslink and Largesse
©Sportfot
Powell and her "barn squad" are regulars at TIEC and, in fact, Powell shared that her National Derby win at the venue has been a long time coming: "We were here at Tryon last year and the year before, as well. [Dessert First] and I were actually winning in one of the National Derbies when we were here last year, but he pitched me at the trot jump in the handy round! Even the judges said to me, 'oh my gosh, that was heartbreaking!'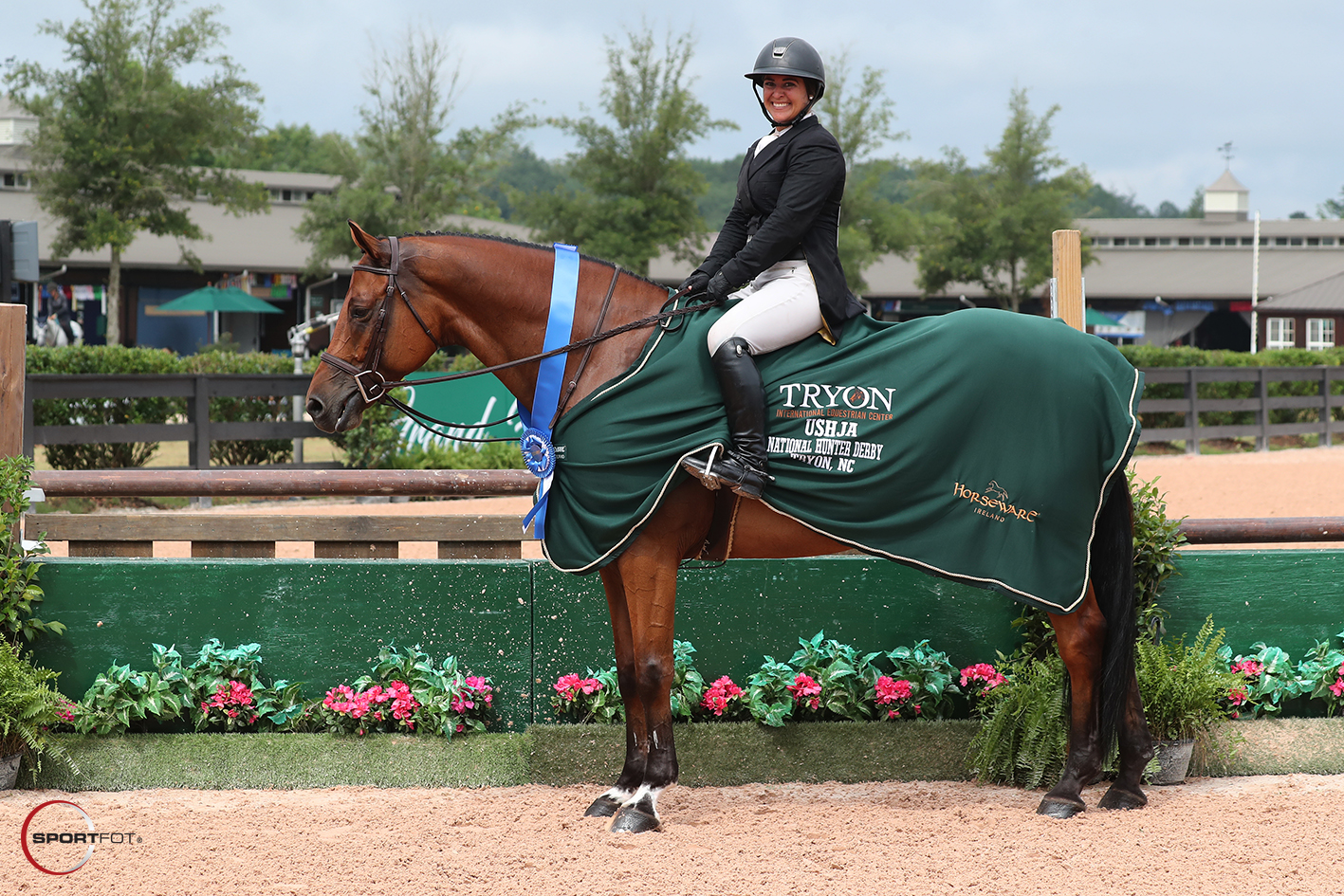 Nashea Powell and Dessert First in their presentation ceremony.
©Sportfot
"But you know, he's a project, a work in progress, and is still learning. This year was just finally his time," concluded Powell. "I could not be more proud of him, he's been so amazing this whole week. Our whole barn is just so supportive and that's why they were so excited today because they've been there to watch our progress and it's just been such a long time coming. We've worked so hard with him."
Pablo Barrios and Le Vio Victorious in $5,000 Speed Stake CSI 3*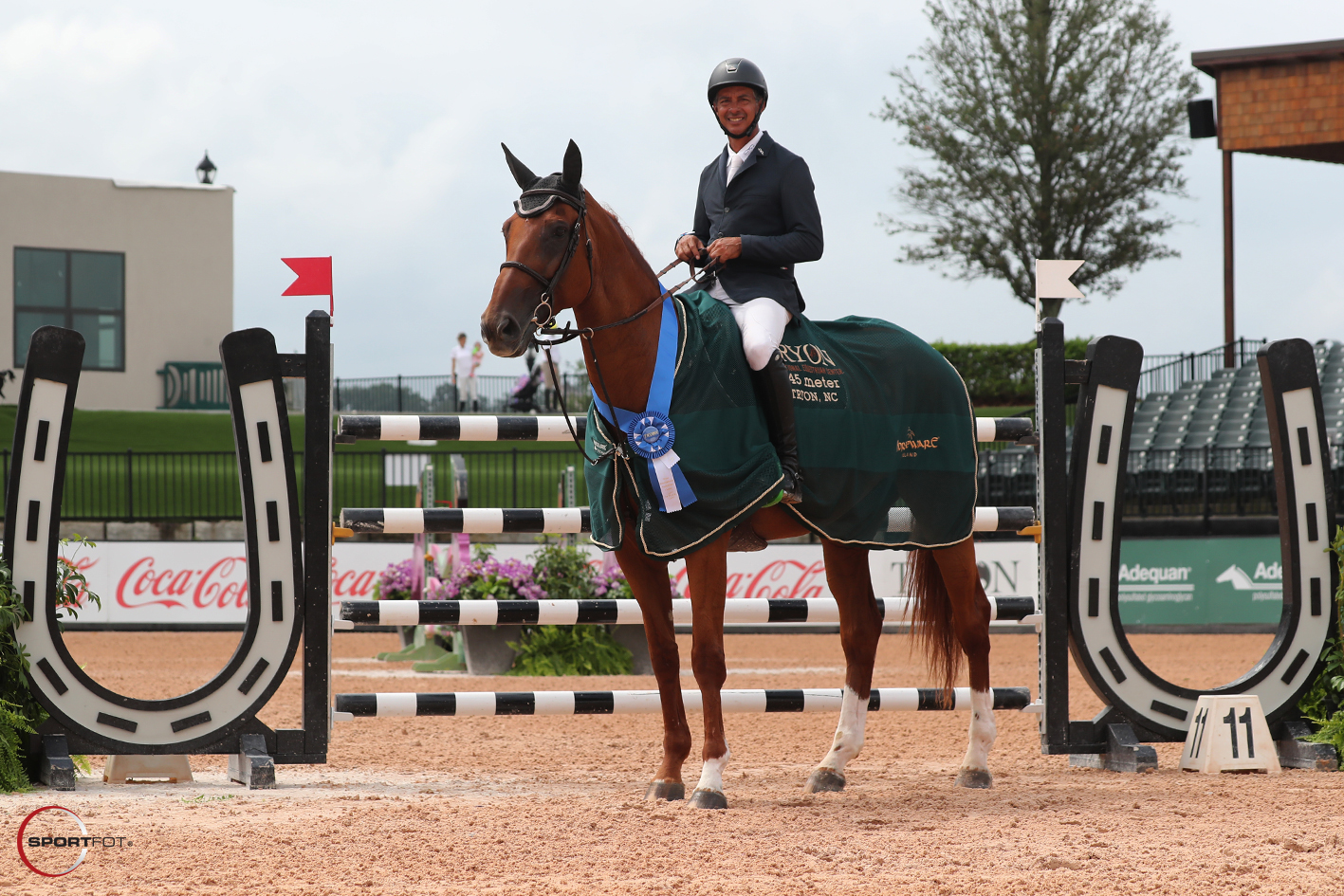 Pablo Barrios and Le Vio
©Sportfot
Pablo Barrios (VEN) and Le Vio, the 2009 Hanoverian gelding (Van Gogh x Drosselklang II) owned by Gut Einhaus LLC, earned top honors in the $5,000 Speed Stake CSI 3* on Friday morning during Tryon Summer 4 at Tryon International Equestrian Center (TIEC) with a fault-free round in 57.43 seconds. David O'Brien (IRL) and the Spy Coast Farm entry, Kir Royal SCF, a 2010 Belgian Warmblood gelding (Amaretto D'Arco x Nabab de Reve) sped around the course in a time of 58.87 seconds to earn a close second place. Third place was awarded to Samuel Parot (CHI) aboard his own Harley David, a 2007 Dutch Warmblood gelding (Harley VDL x Randel Z) with a time of 60.52 seconds.
For full results from the $25,000 USHJA International Hunter Derby, click here.
For full results from the $5,000 USHJA National Hunter Derby, click here.
For full results from the $5,000 Speed Stake CSI 3*, click here.
Tryon Summer 4 continues through Sunday, July 7, with the highlight $134,000 Adequan® Grand Prix CSI 3* hosted at 8pm in Tryon Stadium. To learn more about the Tryon Summer Series, visit www.Tryon.com.