For Immediate Release
Mill Spring, NC – June 6, 2019 – Kelli Cruciotti (USA) and Zidante cruised around Wednesday's $6,000 1.40m Power & Speed Stake CSI 4* to open FEI competition at Tryon Spring 6 TR&HC Charity Horse Show, stopping the speed portion timers at 29.579 seconds. Savannah Jenkins (USA) and Quitana 11, a 2006 Holsteiner mare (Quick Star x Lucky Lionell) owned by Georgy Sarah Maskrey-Segesman, claimed second on a speed phase time of 30.178 seconds, while Pablo Barrios (VEN) and Le Vio, his own 2009 Hanoverian gelding (Van Gogh x Drosselklang II), cleared the speed test in 30.66 seconds to take third.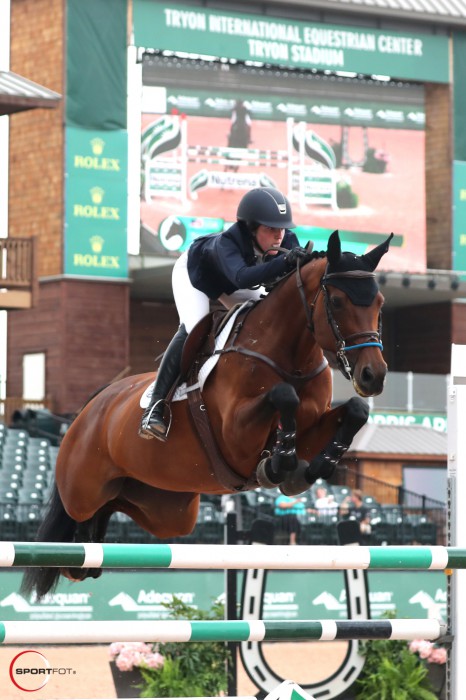 Kelli Cruciotti and Zidante
©Sportfot
Cruciotti and the 2004 Dutch Warmblood mare (Cantos x Herannus) owned by Serenity Farm have been paired for six years, competing together in the Junior Jumpers. "I've pretty much done everything with her. She has a heart of gold," Cruciotti explained. "She tries so hard for me in every class. She loves to compete, and I think she wants to win more than I do, so she just loves it. She's just an amazing horse.
"I loved the course," Cruciotti said of the Kelvin Bywater (GBR) design. "This was my first time ever showing here. The ring felt great, and the horses jumped awesome. I'm looking forward to a great week."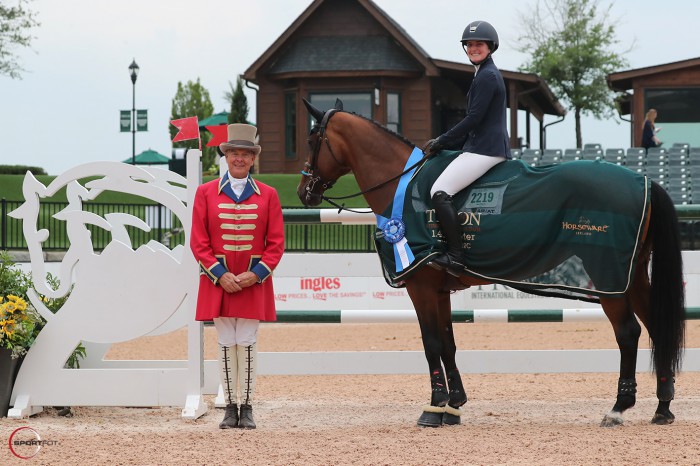 Kelli Cruciotti and Zidante in their presentation ceremony alongside Steve Rector, Ringmaster.
©Sportfot
Despite a speedy performance to take the win, "I actually just wanted to have a nice, efficient round," Cruciotti admitted. "I wasn't thinking about going super fast. My main goal with her this week is actually for Sunday in the $36,000 1.45m Sunday Classic CSI 4*. She's so naturally fast and she has her own rhythm, so it's not hard to go fast. I just kind of have to let her go.
"This year has probably been one of her best years," Cruciotti continued. "She won a 5* class in Wellington, she just last week won a 4* Speed Stake at Devon. She's 15 years old, and she's finding her stride now. I'm really proud of her."
For full results from the $6,000 1.40m Power & Speed Stake CSI 4*, click here.
Tryon Spring 6 TR&HC Charity Horse Show continues through Sunday, June 9, and features a $50,000 USHJA International Hunter Derby Friday at 4:30pm, preceded by a free course walk with Liza Boyd and Jack Towell at 3:30pm, and the $204,000 Coca-Cola Grand Prix CSI 4* Saturday, June 8, at 8pm, both hosted in Tryon Stadium. To learn more, visit
www.Tryon.com.
Photo credit
©Sportfot
 unless otherwise noted. These photos may only be used once in relation to this press release with proper credit.
About Tryon International Equestrian Center at Tryon Resort:
Tryon International Equestrian Center at Tryon Resort, host of the FEI World Equestrian Games™ Tryon 2018, is one of the world's ultimate equestrian lifestyle destinations with first-class facilities for all FEI disciplines and showcasing Hunter/Jumper, Equitation, Steeplechase, Polo, and multidiscipline events in Mill Spring, NC. From carousel to competition, the mission of Tryon Resort is to celebrate the magic of the horse, grow equestrian sport, and increase access to this majestic animal. A haven for equestrian competitors and enthusiasts, Tryon Resort is an iconic, year-round destination for connoisseurs of diverse cuisine and shopping, lodging getaways, and family entertainment. Learn more at www.Tryon.com.