Kent Farrington and Gazelle Take Back to Back FEI Wins with Victory in $130,000 Asheville Regional Airport Grand Prix CSI 3*
For Immediate Release:
Mill Spring, NC – May 7, 2016 – Kent Farrington (USA) piloted the talented Gazelle to another FEI victory at Tryon International Equestrian Center (TIEC), as the pair finished atop the leaderboard in the $130,000 Asheville Regional Airport Grand Prix CSI 3* in front of a large crowd of spectators. Farrington and Gazelle demonstrated their efficiency, finishing the short course in 37.367 seconds. Fernando Cardenas (COL) and Quincy Car rode to second place with a time of 39.801 seconds, while Frances Land (USA) and For Edition earned third, crossing through the timers in 39.801 seconds.
The class saw 27 entries test the first round of the class, which was set by Manuel Esparza of Mexico. Seven combinations moved forward to the jump-off round, with only four earning double clear efforts on evening under the lights.
Kent Farrington and Gazelle
Farrington and Gazelle, who also took top honors in the $35,000 FEI 1.50m Suncast® Welcome 
on Thursday
, found their rhythm early in the first round, tackling the track seamlessly. Farrington stated earlier in the week that the 2006 Belgian Warmblood mare (Kashmir van Schuttershof x Diva 'Ter Elsen'), who he owns with Robin Parsky, is quickly learning the ropes of the larger classes.
"She's jumped under the lights a few times and I try to take a lot of my horses and get them experience early on so that they're used to crowds and larger atmospheres," said Farrington. "I'm fortunate to have a great team of supporters behind me so that I can go to some of the best shows in the world."
Fernando Cardenas and Quincy Car

Tonight's
 course found both seasoned competitors and talented amateurs tackling the track, and was designed particularly with that in mind, according to Farrington. He explained, "When you have a field like this, it's kind of a mixed bag of horses and riders. He had to be clever with how he designed the course so that he has a good competition without giving it away. You also can't make it too challenging that it over faces the younger horses and riders."
"I thought that he had a good balance tonight. There's always the element of a night class and a crowd for both young horses and riders that is a factor, other than just the course alone. I think that was a fair course for the field," he continued.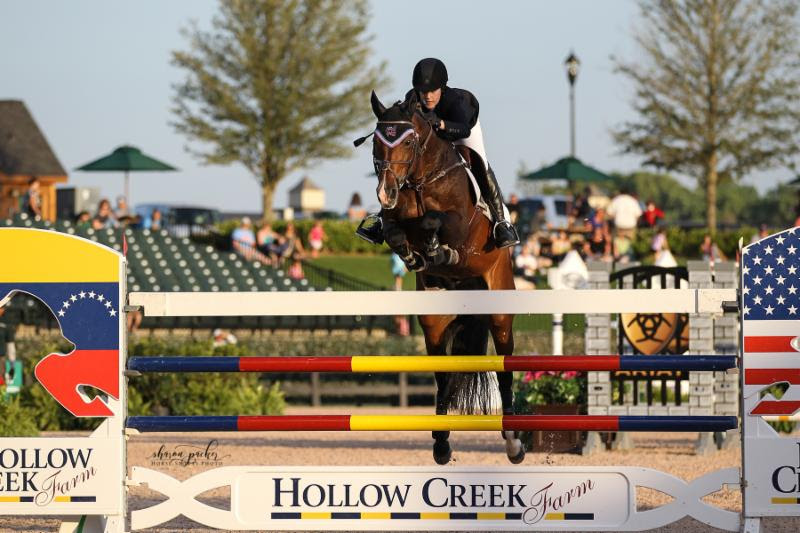 Frances Land and For Edition
While components of the track proved difficult for several pairs, including the Rolex triple combination and a spooky liverpool vertical, Gazelle handled each question on the course with ease. Slicing several fences on the jump-off track, the notoriously speedy Farrington sealed the win with nearly two seconds to spare.
"For me, it's about measuring the class and feeling confident with what my horse can do and what that is going to mean on course. Samuel Parot is a very competitive rider and that horse is exceptionally fast," he noted. "They went at the end of the class, so I had to do a faster plan that I would have liked. He's won a bunch of World Cup Grand Prix classes on that horse and he's never one not to count as a major competitor."
Kent Farrington and Gazelle in their presentation ceremony with Mark & Katherine Bellissimo, Robin Parsky, and Lew Bleiweis Executive Director of Asheville Regional Airport accompanied by Bob Roberts and Bill Meyer. 
"I tried to put enough pressure on him that he may have one down, which he did, so it worked out for us today," he added.
Big plans lie ahead for Farrington, who was named to the Short List to represent Team USA on their quest for a medal at the 2016 Olympic Games in Rio de Janeiro, Brazil, later this summer. Farrington has grown into the one of the strongest riders for the United States and is looking forward to a competitive summer season.
"I'm going to Europe after this and we'll be jumping in Rome, which will be our next big show. We have a few more that we will use as preparation as well. Hopefully the horses and riders stay healthy and I think we have a great chance in Rio."
Final Results $130,000 Asheville Regional Airport Grand Prix CSI 3*
1. GAZELLE, 2006 Belgian Warmblood mare by Kasmir van Schuttershof x Diva 'Ter Elsen'
KENT FARRINGTON (USA), Kent Farrington & Robin Parsky: 0/0/37.367
2. QUINCY CAR, 2004 Oldenburg gelding by Galiani Car x Kiss By Star Car
FERNANDO CARDENAS (COL), Fernando Cardenas: 0/0/39.801
3. FOR EDITION, 2000 Hanoverian stallion by Forsyth x  Leggiera
FRANCES LAND (USA), Jay Land: 0/0/41.866
4. CAROLIEN VH SCHEER-KASTEEL, 2002 Belgian Warmblood mare by Perhaps VH Molenvondel x Qalanka V Scheefkanteel Z
VANESSA MANNIX (CAN), Vanessa Mannix: 0/0/42.896
5. ATLANTIS, 2003 Zangersheide gelding by Andiamo x Dodana W
SAMUEL PAROT (CHI), Samuel Parot: 0/4/37.345
6. AUCKLAND DE L'ENCLOS , 2006 Belgian Sporthorse gelding by Nagano x Peggyschnitt van het Stalhof
SHARN WORDLEY (NZL), Ashland Stables & Sharn Wordley: 0/4/41.804
7. BINKIE, 2006 Dutch Warmblood gelding by Larino x Whisper B
DAVID BLAKE (IRL), Pine Hollow Farm: 0/4/41/09
8. BULL RUN'S TESTIFY, 2004 Selle Francais gelding by Dollar du Murier x Marquise des Monts
KRISTEN VANDERVEEN (USA), Bull Run Jumpers, Inc: 4/75.91
9. HITCHCOCK VD BROEKKANT, 2007 Belgian Warmblood gelding by Canturo x Quilis an Boelaere
ALISE OKEN (USA), Hi Hopes Farm, LLC: 4/76.90
10. QUADAM, 2006 Hanoverian stallion by Quite Easy I x Sensation
LESLIE HOWARD (USA), Richard Neal: 4/78.03
11. CASPER, 2006 Oldenburg gelding by Contender x Falubet
SHARN WORDLEY (NZL), Sky Group: 4/79.39
12. BARON, 2006 Dutch Warmblood gelding by ukato x Vera Van Veecaten'
DAVID BLAKE (IRL), Pine Hollow Farm: 4/80.34
Photo Credit ©SharonPackerPhotography. These photos may only be used once in relation to this press release.