For Immediate Release
USEA/TIEC
Mill Spring, NC – September 3, 2017 – The final day of the 2017 USEA American Eventing Championships presented by Land Rover and Nutrena® concluded today as the Advanced, Intermediate and Beginner Novice divisions took center stage to be recognized for their hard work this week.
The 2017 USEA American Eventing Championships presented by Land Rover and Nutrena® saw a record number of entries competing throughout the week, making it the largest eventing competition in the history of North America. Twenty-one divisions ran smoothly throughout the week at Tryon International Equestrian Center (TIEC), hosting well-over 700 competitive entries.
Adequan® USEA Advanced Gold Cup Final
For the first time in history, the Adequan® USEA Gold Cup Final was run with cross-country as the last phase. When severe weather hit the USEA American Eventing Championships (AEC) presented by Land Rover and Nutrena ® earlier in the week, the cross-country phase had to be postponed from Friday afternoon to Sunday morning due to the emergency vehicle access and allowing the footing time to dry out. This put a new twist on the Final as the top 10 pairs ran in reverse order of standing on cross-country.
Following a double clear show jumping round under the lights in the George H. Morris Arena last night, Marilyn Little and RF Scandalous were still sitting on top of the leaderboard and as a result were the last to set out on cross-country. When Little fell from the 12-year-old Oldenburg mare (Carry Gold x Richardia) owned by Jacqueline Mars, Robin Parsky, and Phoebe & Michael Manders, at fence 16, The Stick Pile, the door was opened for a new champion.
Matt Brown was sitting in fifth with BCF Belicoso, an 11-year-old Irish Sport Horse (Lux Z x Catcher Berezina) owned by the Blossom Creek Foundation, before leaving the start box on cross-country. However, time was proving to be tight on Capt. Mark Phillips' cross-country track, which ran at the White Oak Complex, so when Brown earned one of only three double clear he climbed up the ranks to the top spot, and officially earned the title of Adequan® USEA Gold Cup Champion.
"At the beginning of the week I joked with my wife [Cecily] that riding [Belicoso] is like riding an electric golf cart that's slightly running out of batteries all the time – he doesn't have much blood to him, but he always is willing to go when I ask him to, and he showed me the same things in the show jumping and in cross-country," said Brown.
Brown had been eventing on the West Coast for decades, but decided to move east a few years ago in order to be based in the mecca of the sport. "The thing I've found really great about being on the East Coast after having some success on the West Coast, in order to do well at a competition like this with Doug [Payne], Phillip [Dutton], Jennie [Brannigan], Marilyn [Little] and others, you really have to be on the inside line and not give away those little points, so being back here is definitely pushing me and pushing the horses. I felt like Belicoso really stepped up in all three phases and is constantly improving, so I'm really happy with him."
For his win in the Adequan® USEA Gold Cup Series, Brown took home $20,000, the lion share of the $40,000 prize money. He was also the recipient of the Jack LeGoff trophy as winner of the USEF Open Horse Trials National Championship.
Doug Payne and Vandiver
It was a bit of déjà vu for Doug Payne and his stalwart partner, Vandiver. The 13-year-old Trakehner gelding (Windfall II x Visions of Grandeur) owned by Debi Crawley, Doug and Jessica Payne, has a bit of "always the bridesmaid, never the bride" syndrome. The pair came in second last year and second at The Fork CIC3* this spring. Last year, Mark Bellissimo, managing partner of Tryon Equestrian Partners (TEP), jokingly gave Payne the pole that cost him the win and to continue the tradition, Bellissimo presented Payne with a dressage marker as he lost by a mere .2 to Brown this year, who finished the weekend on a 33.5, with Payne finishing on his dressage score of 33.7.
"Dressage was good but it's still coming," explained Payne. "Where he's lacked in the past is he just needs a little more engagement and more power, and so we had a couple little bobbles but in the grand scheme of things it was well on the right path. Looking to the future, I think it's very bright."
"Jumping was good last night, and then today cross-country was excellent. He's like a seeing-eye dog looking for the jumps. You just kind of sit there and enjoy it. I was probably five seconds down when we went across the first bridge, and then the course opens up a little bit there, and his stride is absolutely massive, so I got to the last fence and had 20-some odd seconds, so I just coasted across the line. He was flying."
Vandiver is flying out to compete at the Blenheim CCI3* in England on Wednesday and the AEC was his last run before his overseas debut. "It's a perfect prep for the next two weeks. I'm excited to see [Blenheim]  – my wife and my sister have competed there, but I haven't been yet."
Jennie Brannigan and Cambalda
Jennie Brannigan and her longtime partner, Cambalda, accrued 4.8 time penalties on cross-country to drop down to third place. While Brannigan has had enormous success this week at the AEC, she had a disadvantage today, as she broke her hand last night after jamming it into the neck Nina Gardner's 15-year-old Irish Sport Horse (Balda Beau x Cathys Lady) during show jump warm-up.
The Adequan® USEA Advanced Gold Cup Series is a longstanding program of the USEA. Several years ago the Final was moved to the AEC and the Series has flourished at TIEC for the last two years.
"We've really been blessed to have started the Adequan® Gold Cup Series with the USEA, and to see it evolve through all types of formats," said Allyn Mann of Adequan®. "I think what we saw today was the accumulation of what really defines the championship – to have the horse and rider go out there and perform. When you look at the difference between first and second, it's amazing that these horses and riders do what they do, and then it's just a small difference between first and second or even first through fifth. I love the sport of eventing – it really defines courage and athleticism and fearlessness."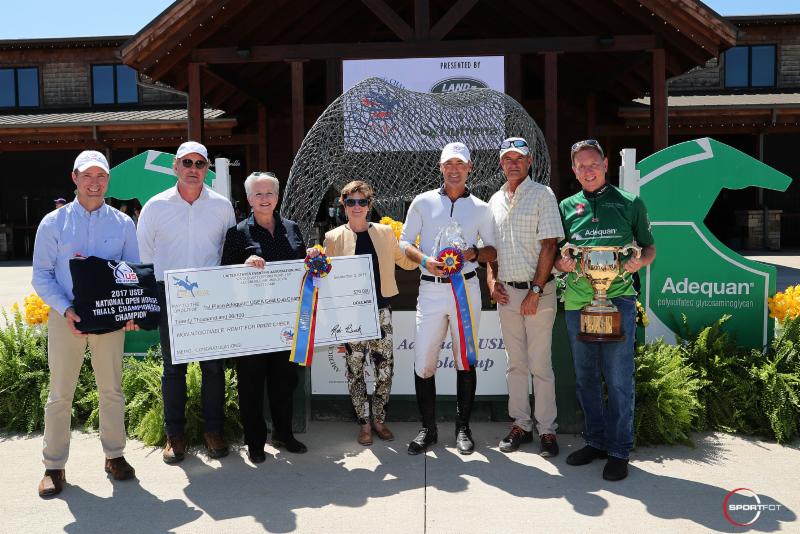 Matt Brown in his presentation ceremony for winning the Adequan® USEA Gold Cup Advanced division at the 2017 USEA American Eventing Championships presented by Land Rover and Nutrena® with Rob Burk, CEO of USEA; Mark Bellissimo, CEO of TIEC and Tryon Resort; Sharon Decker, COO of TIEC and Tryon Resort; Carol Kozlowski; President of the USEA; Mike Huber; and Allyn Mann of Adequan®.
This is the second year of the AEC at TIEC and has grown into a world-class competition in just a short time. "We just love our partnership with the USEA, and hosting the AECs for the second year now is just a real honor," said Sharon Decker, COO of Tryon Resort and Tryon International Equestrian Center. "This is one of our most special weeks of the entire season. We love eventing and to see our Advanced group today on our FEI World Equestrian Games™ course is very exciting. I was standing out there today and thinking about a year from now, we'll have some of the same riders out there along with many from around the world."
"We're thrilled with how the course held up, even in the midst of a tremendous amount of rain, and very pleased with how it was prepared for today's competition, as well as how the field held up and how the course performed over the last two days in the middle of all the rain," she continued. "So we're just grateful for a magnificent team here that makes things happen, but so thankful for the relationship we have with USEA and our partnership going forward. I want to thank Allyn and the good folks at Adequan® and our friends at Land Rover and Nutrena® who have made this event possible."
Matt Brown, Doug Payne, and Jennie Brannigan pose together following their presentation ceremony.
The Adequan® USEA Advanced Gold Cup was a part of a record-breaking AEC. "It's hard to explain the feeling of the American Eventing Championships when you're not here, but I think when you watch the smiles of the kids and the pros, and everybody across the board, it's a really special experience, and I think the word is getting out. With 755 starters, that's almost a hundred more than we had last year, and last year was the largest horse trials in the United States by starters in history," explained USEA CEO, Rob Burk. "Last night under the lights, that for me, for the upper level division, was kind of a dream come to reality, so that was pretty amazing, and at the same time, watching the Novice division finishing up right before that with the stands packed and roaring – it's kind of that dichotomy of the upcoming rider and at the same time these professionals and upper level amateurs that we want to put in a position of success."
There was another fall on course today in addition to Little, as Kylie Lyman and Lup The Loop, a 9-year-old Irish Sport Horse gelding owned by Joan Nicholas, fell at the Adequan® Water Complex. The horse was examined by the veterinary team on-site and was led back to the stables unharmed. Lyman was transported back to the main TIEC facility by ambulance. She was conscious throughout the examination and in good spirits. A 20-minute hold was established on course during the incident. Lyman was then transported to Spartanburg Regional Hospital in Spartanburg, SC, where she was diagnosed with a concussion and broken clavicle.
Boehringer Ingelheim Open Intermediate
Jennie Brannigan rose to the occasion once again as she took the Champion and Reserve Champion honors in the Boehringer Ingelheim Open Intermediate division. Brannigan and the 7-year-old Warmblood gelding (Leo Von Faelz x Berina A), FE Lifestyle, kept a tight grasp on first place, as they captured the lead after dressage, and earned a final score of 30.3 to hold a slight lead over Twilightslastgleam, a 7-year-old Thoroughbred gelding (National Anthem x Royal Child) also owned by Nina Gardner, who received a 32.5.
"I'm super excited for the horses," commented Brannigan. "I'm not on my best game at the moment, but I'm so happy that they jumped well and that I was able to ride them half-way decently. I'm so excited for the Gardners. They are such amazing people. I've been riding Twilightslastgleam since he was a young horse and I haven't even had FE Lifestyle for a year and it's super exciting. I'm just trying to get FE Lifestyle more experience, and I'm really happy with how he show jumped today. He keeps improving and the future is really bright for that horse, this is just the beginning of what he can do on the flat. I was just so excited."
Jennie Brannigan and FE Lifestyle
Charlotte Collier and Parker Collier's Clifford M, an 11-year-old Holsteiner gelding (Cristo x Naomi IV), maintained their third-place positioning after finishing without penalties in show jumping on a 32.7.
Of the pair's performance, Charlotte commented, "This is my second time here; I did Training level here last year and it's a big jump to the Intermediate. He was awesome. He tried his heart out in the dressage, went down centerline, flicked his toes and was a total super star. Cross-country he was a powerhouse, and gave me his all. Show jumping, he was a super star. It's usually his hardest phase so to have no rails and to go under the time, it was more then I could've ever asked for. I'm so proud of him."
Charlotte, a student of event rider Sharon White, plans to move up with the horse that "has her heart and soul." She concluded, "I want to run Advanced with him in the spring, and then just see how far we can go from there. I only started riding him last spring, and I did my first Training level with him last summer, and now we're here so it feels incredible."
Master Beginner Novice Amateur
Carrie Griffen maintained her three-phase lead, concluding the week with a blue ribbon in the Master Beginner Novice Amateur division aboard her own Feuertanzer ES, a 12-year-old Belgian Warmblood gelding (Nicholas x Daybreak) on their original dressage score of 23.3.
"This entire week has been such an amazing opportunity for us," Griffen commented. "Dressage is not our strength and I've had a really bad back for the past two weeks, so we couldn't really ride for the two weeks leading up to this. He really did very well in dressage though. He relaxed and he's a pretty mover. He just got it together and did a nice job. He loves cross-country. He's very excited when he gets out there. He is very exuberant, and he's very proud of himself," she continued. "Today, it was a fabulous course. I loved the design and it asked a lot of questions of the rider and the horse."
Carrie Griffen and Feuertanzer ES
Cindi Moravec and her own OTTB, Holloway, moved up the leaderboard from fourth place after dressage, clinching second on their dressage penalties of 27.3. "This is my second year here at AEC," said Moravec. "I came last year and my goal this year was to place top ten. Last year I was out of the ribbons, I was fourteenth. This horse is an OTTB. I bought him sight unseen from a picture and a video and on a big leap of faith I purchased him. He's a phenomenal horse. I just love how he's coming along."
Third place was awarded to Briana Stolley and her own Balmullo's Catfish, a POA-Connemara pony that she originally bought for her daughter to move up on. Stolley joked, "My daughter is never getting him! He has turned out to be a really special little guy."
The pair maintained their dressage score of 28.0 throughout the competition. "I evented at the Preliminary level years and years ago, but I took nine years off so my first event was a few months ago. This whole experience has just been the best. I love this pony, and he gives it his all when he is with me," she concluded.
Junior Beginner Novice Rider
Brynne Hershbine and Julie Hershbine's Cadenza Aria, an 11-year-old Oldenburg mare (Turnofthecentury x Whisper) went into today's showjumping round tied for first, and maintained her lead to finish on top of the Junior Beginner Novice Rider division.
"This week was a lot of fun," said the fifteen-year-old and first-time American Eventing Championship attendee. "With dressage I was really nervous, but she was really good and listened to all my aids. When we went in I knew it was going to be a great test. For cross-country, I just wanted to get over all the jumps safely, and she was very adjustable. In stadium jumping the pressure was totally on, because I knew if I knocked a rail I'd be out of first, but she was very good and listened to me, so I'm happy with her," she commented.
Brynne Hershbine and Cadenza Aria
Carson Birdsong and Brooke Birdsong's Ballygrace Laralai, an 11-year-old Irish Draught Sport Horse mare (Glenlara x Significadre), improved their third-place rank to finish in second.
"She's gone Training but got eliminated every time, so we bought her and brought her back down to Beginner Novice, have gone Novice, and will maybe go to Training in the fall. She did really well this week," Birdsong commented.
Sydney Lee rode her own Sweet Georgia Brown, a 10-year-old Mustang gelding, to a third-place finish, improving her rank by one. "This week has been really nerve-wracking, as being in an atmosphere this big has been a such a huge change for him, but I'm really proud of how well he performed, and we actually scored our lowest score here."
The pair connected and discovered eventing together after the gelding had competed across multiple disciplines without really sticking to one, and Lee had competed in the hunters for ten years "without really going anywhere," she said. "My trainer thought I would like eventing, and the first time I went cross-country schooling I was instantly hooked."
Beginner Novice Amateur
The Beginner Novice Amateur division was championed by Leah Backus aboard her ownDiamond of Truth, a 5-year- old Irish Sport Horse gelding (Salute The Truth x Mainways Queen ofDiamonds), as the duo added nothing to their original dressage score of 29.3 to finish atop th division. Nicole Thomas guided Here N' Now, an 18-year- old Canadian Sport Horse, to secon place on a 30.8, while Hannah Fearing and Roll 'Em Easy, a 6- year-old Percheron gelding collected third place with their final score of 31.0.
"Going into the stadium round I was pretty nervous. It's probably our weakest phase and I heard his feet ding a few times on the poles, but I was proud of him and we didn't have anything down,"said Backus.
Leah Backus and Diamond of Truth
"I bred him myself, and just started competing him this year," she continued. "He's learning slowly but surely, and we are trying to teach him the right stuff. I want to hopefully move him up the
levels."
Nicole Thomas jumped from fifth place after dressage, up to second place after their cross-country round, and were able to maintain their top three placing after a strong stadium round. The
pair, who normally struggle with nerves in the show jumping portion of competition, found their stride in the George H. Morris Arena.
"Stadium always makes me really nervous. Thankfully my horse knows the deal and was able to pick up my slack when I made a few errors. I was really thankful to be sitting on him this afternoon," commented Thomas. "I've had him for about 2.5 years now. I bought him to be a schoolmaster and confidence builder. He's a little older, but my goals is, as long as he is happy and healthy, to keep competing him. I owe him everything and he owes me nothing!"
Fearing also found herself at the top of the leaderboard after a consistent week of competition, moving up from ninth place after dressage to third following both a fantastic cross-country and
show jumping round.
"He was so good today. Stadium jumping is my worst phase, so I was a little nervous going in to that big ring. He rocked it out on cross-country yesterday," she explained. "This has been pretty
cool. I have never competed anywhere this big or this nice before, so it's been cool for him to take this in and get that experience. I think he really liked it and I hope that we can come back here and show at some point in the future."
Beginner Novice Rider
Kathleen Bertuna maintained her lead aboard her own Millye's Mojave, a 12-year-old Thoroughbred gelding (Mojave Moon x Slew the Dragoness), to finish on top of the Beginner Novice Rider division. It's Bertuna's first time competing at an AECs, and her first year back in eventing after spending nineteen years away from the sport. Her partnership with "Miller," an OTTB horse that she's been riding since November, has been a long time coming-she has been saving to buy her perfect horse for the past twelve years.
"I stopped eventing because of school, a career, husband and kids, but it was finally time. I had to sell my horse to pay for medical school, but as soon as I got my first job I started putting money away," she said. "At the beginning of the season, cantering over very small fences seemed really, really big, but I progressively, slowly got better, and my horse is just a prince. If I get it wrong he just says 'try again,' and he's a wonderful partner."
Kathleen Bertuna and Millye's Mojave
Mills Maloney and her own Primo Valentino, a 16-year-old Andalusian gelding, improved their second-day rank by two to finish in second after putting in a clear showjumping round.
"The week started out pretty well," she said. "Dressage is not my favorite, but cross-country was really good, and he rocked around that course. Then we put in a good stadium, so he was a good boy and had fun. He really likes eventing," said Maloney.
"I've been looking forward to riding in the George H. Morris Arena all weekend-it was fun. I expected him to be a little more scared of it, but he liked it. We started eventing together at the beginning of this year, and he used to foxhunt a little but he likes doing this better. He likes to go fast," she concluded.
Sierra Simmerman rose from seventh place throughout the competition to claim third place aboard Elizabeth Mackie's Indian Summer Sage, a 12-year-old Connemara mare (Aladdin's Denver x Auntie Margaret). The pair have been together since February, and this year was Simmerman's first year back into eventing after competing in jumpers for the past six years, she said.
"The cross-country course was perfect-it was simple but difficult for my little level getting back into it. It's so exciting," she said. "This is my first time at the AECs. It's been my goal for a while."
Jr. Beginner Novice 14 & Under
It was an invigorating finale for the Junior Beginner Novice 14 and Under division today when three-day leader, Ashley Stout and her own Deo Volente, an 11-year-old Hanoverian gelding, picked up zero faults in the cross-country and show jumping phases, ultimately giving her the championship title on a dressage score of 19.8.
"I feel like our week here at AEC's went really well. When we first got here he was a little spooky, but I felt like he was really willing to help me out. Our cross-country went so much better than I had anticipated. I was a little nervous at first but he was just on his A-game. I was just happy to conquer the cross-country course. I felt that stadium was one of our best events, and he was just so great in that arena," commented Stout.
Ashley Stout and Deo Volente in their presentation ceremony with Rob Burk, CEO of USEA; Sharon Decker, COO of TIEC and Tryon Resort; and Carol Kozlowski, President of the USEA.
The duo came away with the lowest accumulated total at the 2017 American Eventing Championships. Stout was all smiles after her victory gallop. "Overall, I was very happy with how he performed."
Avery Cascarino rode Gloria Cascarino's Dudley Do Right, a13-year-old gelding, to an incredible weekend, placing second after dressage on a 20.0, and coming away with second place. "This whole trip was absolutely wonderful," said Cascarino. "Dressage was fun, he was really listening and paying attention. He was a bit nervous at first, but his cross-country was great. He really listened to me with the stadium, and he was such a good boy."
Viktorija Petraitis and Our Little Secret, a 15-year-old Arabian gelding owned by the Petraitis Family, held on to third place on their dressage score of 25. "When we got in those rings and out on that course, he knew exactly what he had to do. It was so much fun," she concluded.
Beginner Novice Horse
Holly Payne-Caravella and Benjamin Button rose to the occasion this week in the Beginner Novice Horse division ending on their original dressage score of 25.8. Payne-Caravella and the 4-year-old Thoroughbred gelding (Classic Alliance x Lively Lady) owned by Kathleen Hall, completed a solid cross-country round and remained faultless in the show jumping phase of competition.
Of Benjamin Button's first AEC experience, Payne-Caravella commented, "His week started off on a very exciting note. We got here on Monday, and he didn't go into competition until Friday. It's a big place and he was totally overwhelmed on the first day, I had to lunge him and let him buck and be crazy. He's usually pretty calm, but this was a lot for him to take in. It's been so good for him."
Holly Payne-Caravella and Benjamin Button
Darrell Vaughn and Eluca claimed the reserve champion position. The 8-year-old Dutch Warmblood gelding (Negro x Fabiola) owned by Deirdre Stoker Vaillancourt, was purchased primarily as a dressage horse, but displayed a love of jumping early on in his training career. Of the gelding's performance, this week, Vaughn exclaimed, "Our dressage test was fun, and then we came to cross-country and again, beautiful day, the course was great, he was peeking at some things but he's only been eventing for a short while, this is his fourth event. It was a big place for him, but after a couple of jumps he said 'hey, I'm ok with this,' and went around like a champ. Today he jumped his heart out, he was really great and very focused. He's kind of a goofy guy sometimes because he is still young, but I couldn't have asked for more from him."
Third place was awarded to Kate Chadderton and her own Ff Valour, an Australian Warmblood mare (GNZ Calgary x Immenhof Landaura), who also ultimately earned their victory on their dressage score alone. "Julie Hoover and I imported her at the beginning of this year," Chadderton said of the mare. "She's only four, and comes from the middle of nowhere in the Outback of Australia. Because of that, this is a lot for her to look at. I really think that she is going to shape into something. So far she's been good on the flat, she's got a great attitude toward cross- country, and she is bred to be a show-jumper. She's just lovely all around, and she's nice to be with on the ground. This whole week was exactly what we needed to continue on our way with competition goals," she explained.
Chadderton also applauded the course designs, describing them as "building blocks" for the young horse competing at this level.
Click here to view Final Results!
For more information on the 2017 USEA American Eventing Championships presented by Land Rover and Nutrena®, please visit www.useventing.com and to learn more about Tryon International Equestrian Center (TIEC), please visit www.tryon.com.
Photo Credit ©Sportfot and ©LeslieMintz/USEA. These photos may only be used once in relation to this press release with proper credit.
About the Adequan USEA Gold Cup Series
The 2017 Adequan® USEA Gold Cup Series features 11 qualifying competitions throughout the United States at the Advanced horse trials and CIC3* levels. Qualifying began last fall and continues through August with the final taking place at the USEA American Eventing Championships, August 30 – September 3 at the Tryon International Equestrian Center in Mill Spring, N.C. Riders who complete a qualifier earn the chance to vie for $40,000 in prize money and thousands of dollars in prizes in the Adequan® Advanced Division and the title of Adequan USEA Gold Cup Champion.
About the USEA American Eventing Championships
The USEA American Eventing Championships (AEC) presented by Land Rover and Nutrena® is the pinnacle of the sport for the national levels. Held annually, this event draws together the best competitors from across the country vying for national titles from the Beginner Novice through the Advanced level. This year's AEC is being held at the Tryon International Equestrian Center (TIEC) in Mill Spring, N.C. August 30-September 3, 2017