Stephanie Angus will be stepping under our rider spotlight this week! Stephanie and her son, John, share a passion for horses and a talent in the sport. The local superstars shine bright in the rings at TIEC, so be sure to keep an eye out for them! Continue reading to learn more about Stephanie's horses, what it's like to share the sport with her son, and the impact horses have made on both of their lives.
Stephanie Angus and Brad
©TIEC
How did you get involved with the sport?
I think my first word was 'horse.' My uncle was a racehorse jockey, so he always had racehorses. I'd always wander off and try to get into trouble with the horses. It's been forever! My son, John, had kind of a late start. He didn't really have a lot of interest at first. It's only been in the last five years or so. I just kept bringing his pony to the shows, and I'd say, 'please trot it around for mommy!' and he'd say, 'ugh, ok!' He'd do it, and then as he got better at it, he really got into it. I'd say by the time he learned to go fast and jump, he thought it was really cool.
Tell us about your horses!
We got John's horse, Tonix, from a good friend. He's been super. He's been his step-up to the smaller Grands Prix. He's worth a million bucks! They click very well. My horse, Brad, I've had for the last four or five years. I call him my boyfriend because he's wide and makes me look little! We have a blast. I've put him in the 1.40m with John a couple of times. John was going to do it, so I said I'd walk the course with him and decide. I hadn't done that height in years. Last year when I was here [TIEC], I was doing the 1.20m and hanging on for dear life. They were telling me it wouldn't be that big, then I'm walking the course and asked, 'what do you think?' John said, 'just do it!' It was fun and Brad was great. He actually went clear the last time. I messed up in the jump-off, but he forgave me.
We have 13 [horses] at home. John still has his first little show pony, Peaches. We have a retired one that I imported and have had for years. We have our mini pony, Blue, and a mini donkey. My dad and his girlfriend have two trail horses, and then we have our show horses. His junior horse, who he won everything on last year, went out and got leased so John could move up. We still own him, but he's doing Hunters and Equitation now!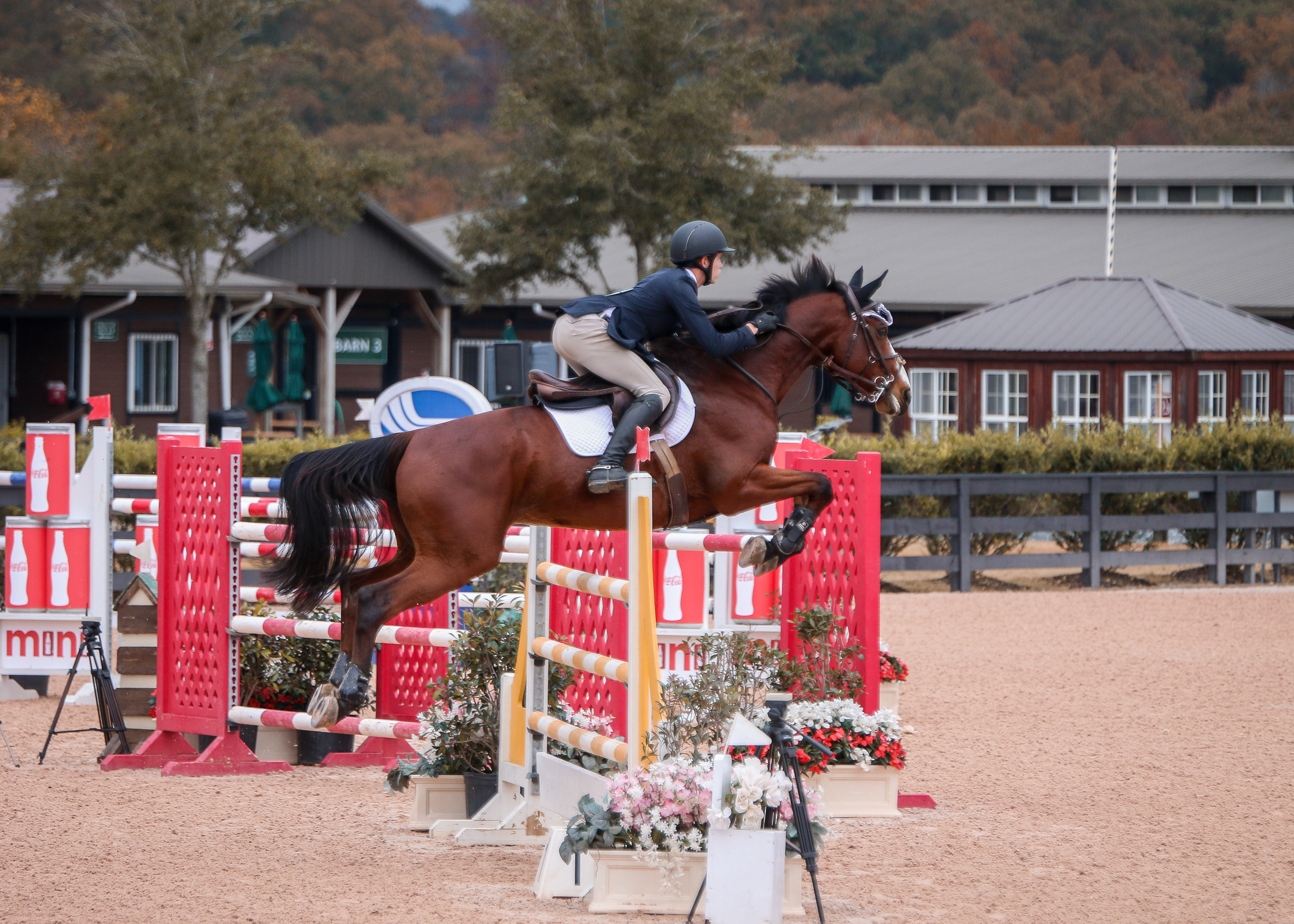 John Angus and Tonix
©TIEC
Which horse has made the biggest impact on you?
Stephanie: For me, it'd be Brad. He is so cool and fun. I ride him bareback. He is such a character!
John: Tonix! Just last year, I was doing the Low, Medium, and High Juniors and then all of the sudden started doing Grand Prix classes with him. He has had a big impact on my life.
Where's "home" for you?
We actually moved up here almost two years ago from Florida. My dad bought a farm and asked if we'd move up here with him. I don't do winters, but I said if he was going to be near Tryon then we'd would come, and we did! We live about twenty-five minutes away from TIEC now. We love it here. I think it's one of the best places to show. We never want to leave!
Stephanie Angus and Brad
©TIEC 
What's it like riding and showing with each other?
Stephanie: It's funny, you just missed us kind of getting at each other! He says to stop drilling him, but I tell him, 'I'm Mom, I'm the trainer, and sometimes you're going to be mad at me.' We do everything together and work well together. We have a good time and I am so super proud of him!
John: I love that she's always there for me. Anything and always, she is there for me.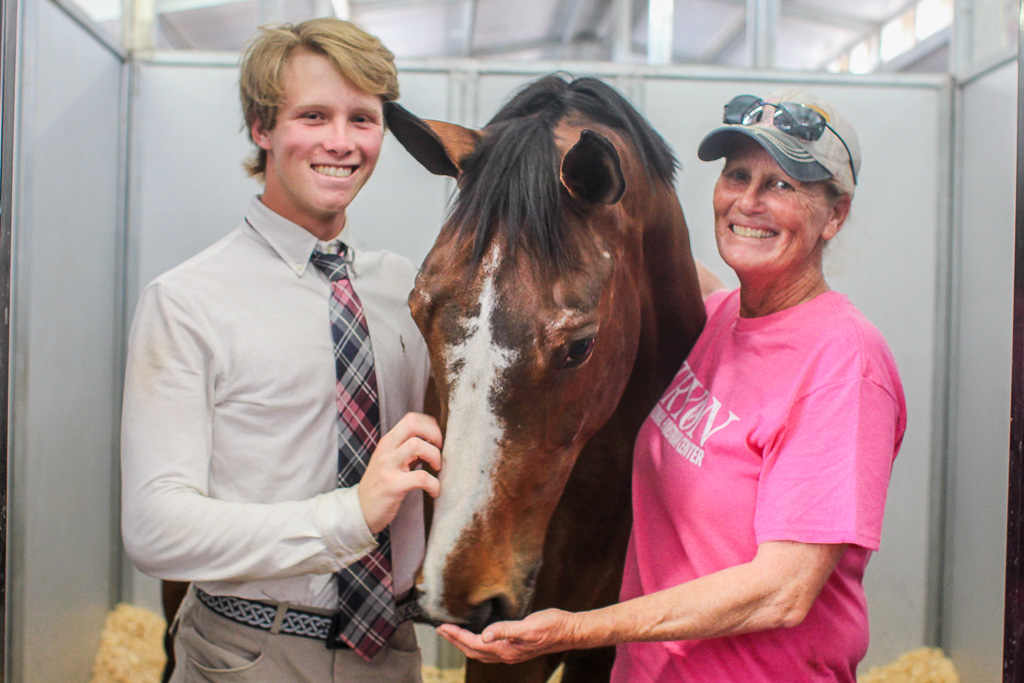 Stephanie and John Angus with Tonix
©TIEC
How have horses impacted your life?
Stephanie: I would say it's a really hard road. You have to learn to be dedicated and true to the horse. It's one thing to want to win, but you have to really be a horseman as well as work hard. It's nonstop. There are no days off. I always say to him [John], some days you're the windshield and sometimes you're the bug! They keep you humble and they keep you honest.
John: I went from doing nothing and playing video games all day, to really enjoying the sport and keeping fit. It's been a really big impact!
Thank you for catching up with us, Stephanie and John! We'll be cheering you both on at TIEC.