One year ago, Angela "Annie" Peavy, was sitting on her horse Lancelot Warrior, "Lance," at the 2016 Rio Paralympic Games. This year, she is competing two horses in the Grade IV Para division at the USEF Para-Equestrian Dressage National Championships, sponsored by Deloitte at Tryon International Equestrian Center.
The Connecticut native began her riding journey at the age of 4, and it was all started by a deal made with her mom. Partially paralyzed on the left side from birth, a young Peavy struggled with the idea of going to physical therapy. "Little kids hate therapy because it can be boring," commented Peavy. "Mom told me that if I went to therapy, I could go ride horses. It was our deal. My best friend had ponies in her back yard and I just thought that it was the coolest thing ever. My love for the horses grew and every time that I went to the therapy barn I would ride and I would only want to trot and go fast. I remember always saying, 'go faster, go faster!'"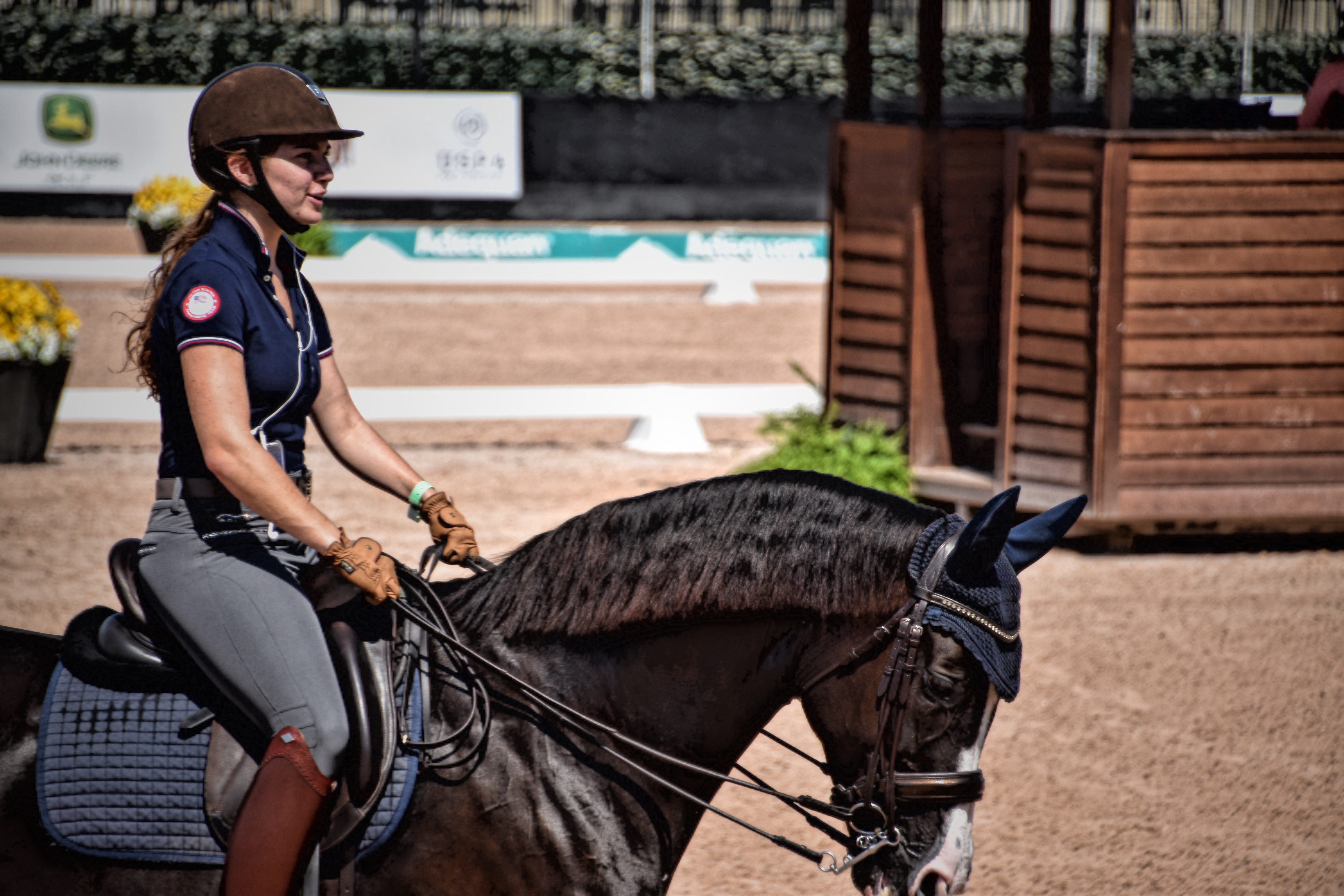 Now a seasoned international Para-Equestrian competitor, the 21- year-old Peavy took the time to sit down and talk with us this week, answering questions about her Rio de Janeiro Paralympic experience, the growth of Para-Dressage in North America, and of course, the balance between being a college kid and an international athlete.
The Road to Rio
Q: Rio was your first Paralympics. How did Lance handle the trip over and the experience in general?
A: "By the time I got to Rio, I had been competing for two seasons internationally with Lance. I knew going into Rio that he was a solid boy, but of course, there is always something to worry about! Rio was so much bigger and the stands were completely full, so I was like 'what if he gets scared of the people, what if the atmosphere overwhelms him?'
We got there a while before competition, so the horses had time to settle in. When I went to show, I was definitely nervous the night before, I even thought I was going to throw up, I couldn't stop thinking of everything that could go wrong. But once I got on Lance, I was just kind of in a bubble with him. He was very focused on me, even with the 10,000 people in the stadium, he wasn't spooked or nervous at all. He went in like an old pro, he listened to me, did his job, and was just like he is at home.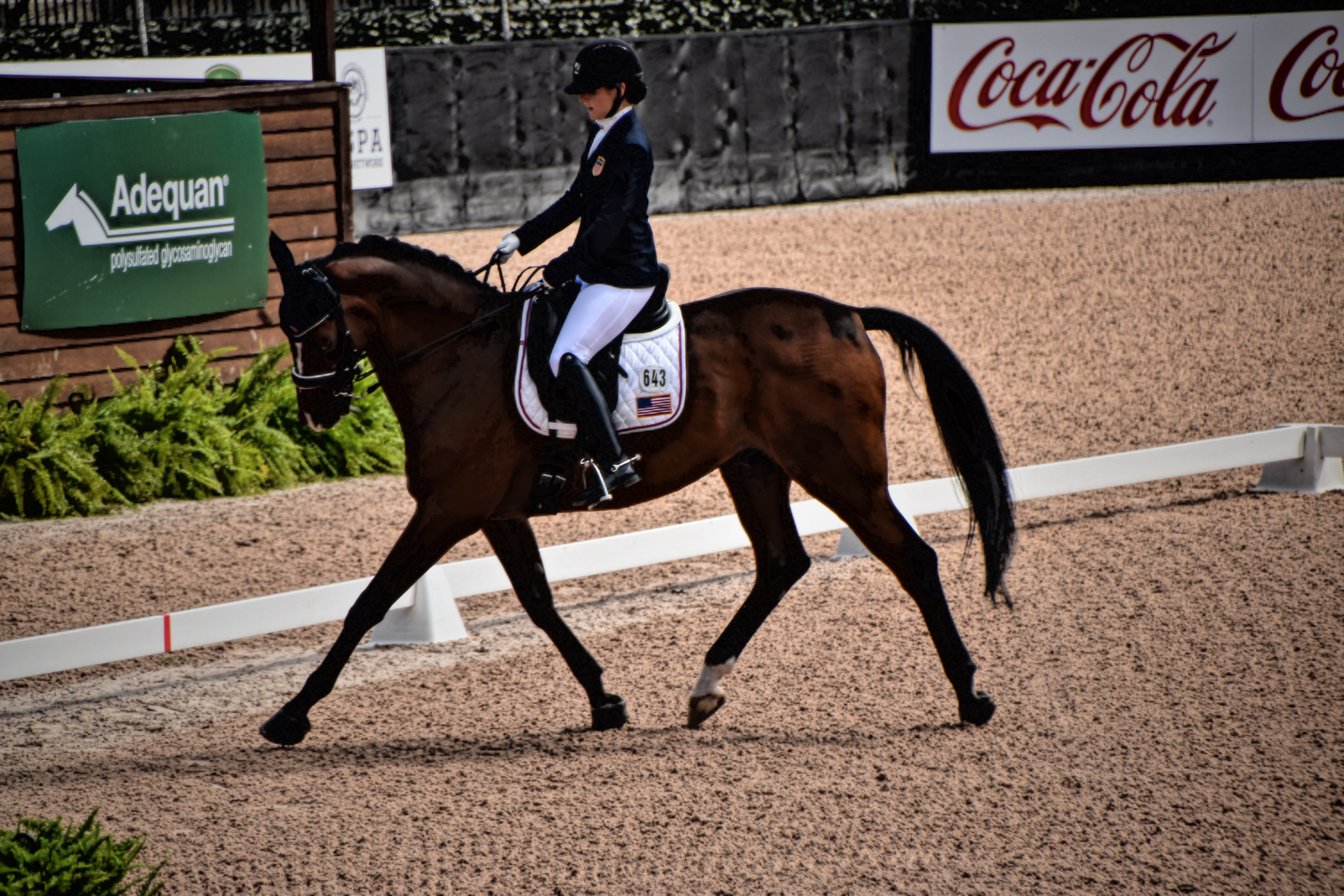 My trainer, Heather Blitz always says that it's like Lance doesn't see, because he doesn't spook. He goes in and does his job, he loves to work. I'm so grateful for that horse and all that we have achieved together."
Q: You have a close friendship with Paralympian Rebecca Hart. Rio was her third Paralympic Games, do you think having her there with you helped in any way?
A: "It was so great having Becca on my team, because I'm pretty close with her and she had already been to two other Olympic Games. She always had words of wisdom, and we would sit in bed together and eat chocolate at night and discuss our game plans!"
Q: What was your favorite Rio memory?
A: "I really enjoyed going into the arena for the welcoming ceremonies, there were 10,000 people and seeing my family up in the stands, they were waving the American flag and they were all so excited. That was my favorite part. My siblings don't ride at all, but they were very emotional and seemed so proud to be there supporting me."
Family, School and Horses, A Balancing Act
Q: Your mom, Rebbecca Reno, is a fierce supporter of your dreams and the Para-Equestrian sport in general. Can you tell us a little bit about your relationship with her, and how that has helped you get to where you are today?
A: "My mom has always been so supportive of my siblings and I. With riding, growing up in the cold of Connecticut, she would sit at 5 pm after school and watch every lesson, freeze. When it came to competition she was always there, always helping with the details. She's always the most excited and such an amazing cheerleader. During Rio when I was warming up, she was crying the whole time, she was on the kiss and cry stand shaking because she was so nervous! My mom and I have always been very close.
When I started traveling for the horses in high school, she was the one who would travel with me. We aren't together as much now because she does live in Washington DC for some of the year, but we talk every day, I see her at every show.
My mom is amazing, and she's always made such a big investment in all of the other athletes too. She's always there for me, but she's trying to grow the sport in America as much as possible."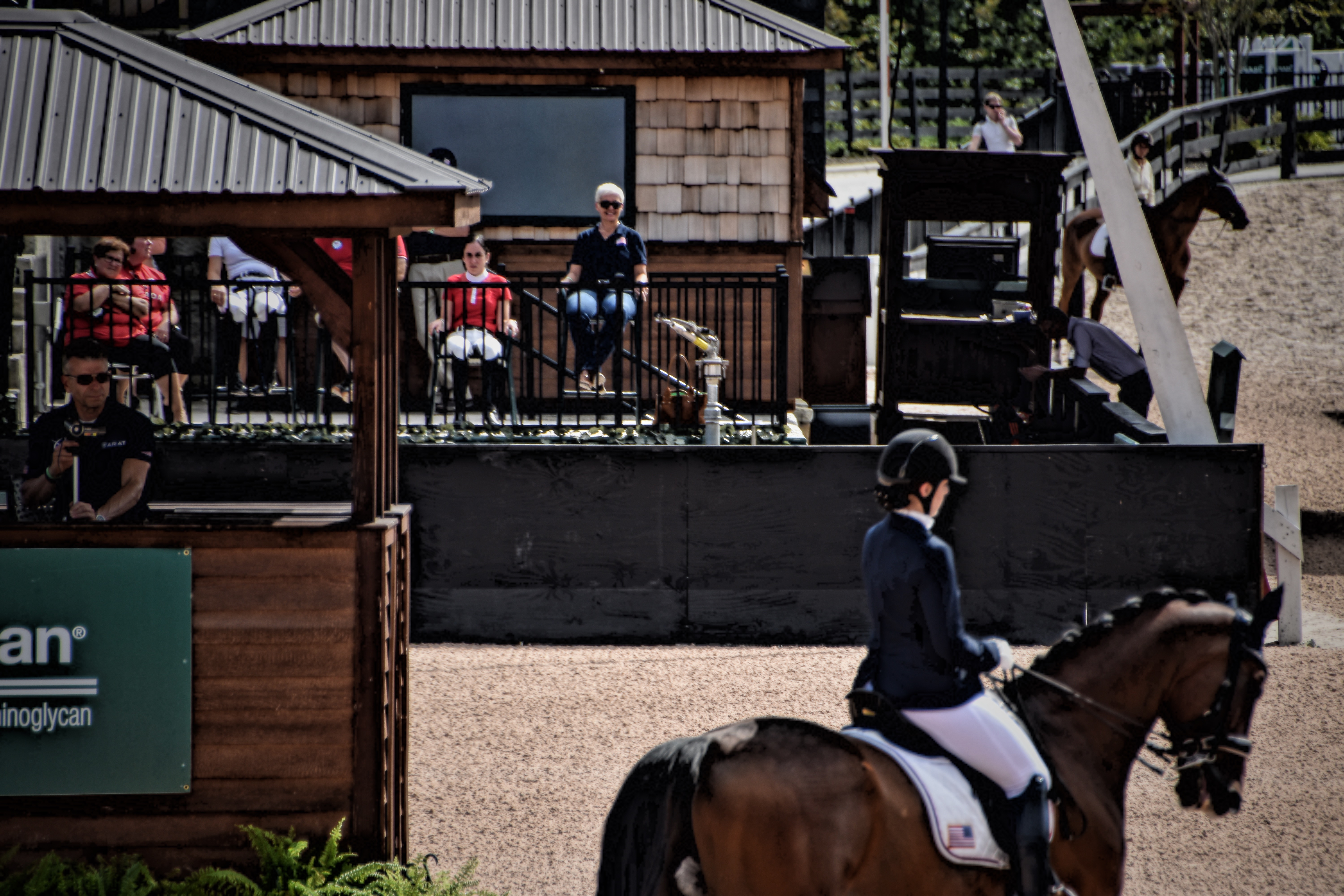 Q: You are now a college student at Lynn University. What is it like balancing class and competition?
A: "I've always had to balance horses and school. In high school, I would show a lot in New England, and I went to an all-girls boarding school in Connecticut. Starting in my sophomore year I would leave school for substantial amounts of time, and had to really work on balancing my riding and keeping up with my school work. In high school, I had a tutor in Wellington, because that is a pretty common thing down there.
In college, my schedules are more flexible. Lynn is an i-Pad school, so for example, when I went to the World Cup Finals in Omaha this past March, I missed about a week and a half of school and it was easy to stay caught up because everything was online. Sometimes I will get stressed out when it comes time to make time for tests and exams, but if I can't make it to ride, Heather (Blitz) keeps my horses fit so I can focus on school."
The Growth Of Para-Equestrian Dressage in America
Q: You've been competing in the Para's for five years now. When did you notice a transition in the sport, was there a moment when things began to get more serious for you?
A: "My first international competition was in 2013, and then I went to Normandy in 2014. Those horses and riders are incredibly talented, and I think after we went to Normandy, America began to take it much more seriously, and the growth really began to take off. The focus of the riders, the quality of the horses, everyone takes it much more seriously now as a sport."
Q: You mentioned that you started horse showing in New England. What is your best advice to riders that are new to the sport?
A: "I think starting at national shows is the best first step. They usually do have para tests at national shows, even if you have to ask specifically for it. They're normally more than willing to put the class on the list. That's how I started, I rode a lot of first and second level tests in New England, and tons of para tests
Taking small steps to get to where you want to be, that's important. Gain as much experience as possible before you decide to take it to an international level. Just keep trying. It hasn't always gone well for me over the years. Sometimes you can get so frustrated, but you can't give up. Always look forward."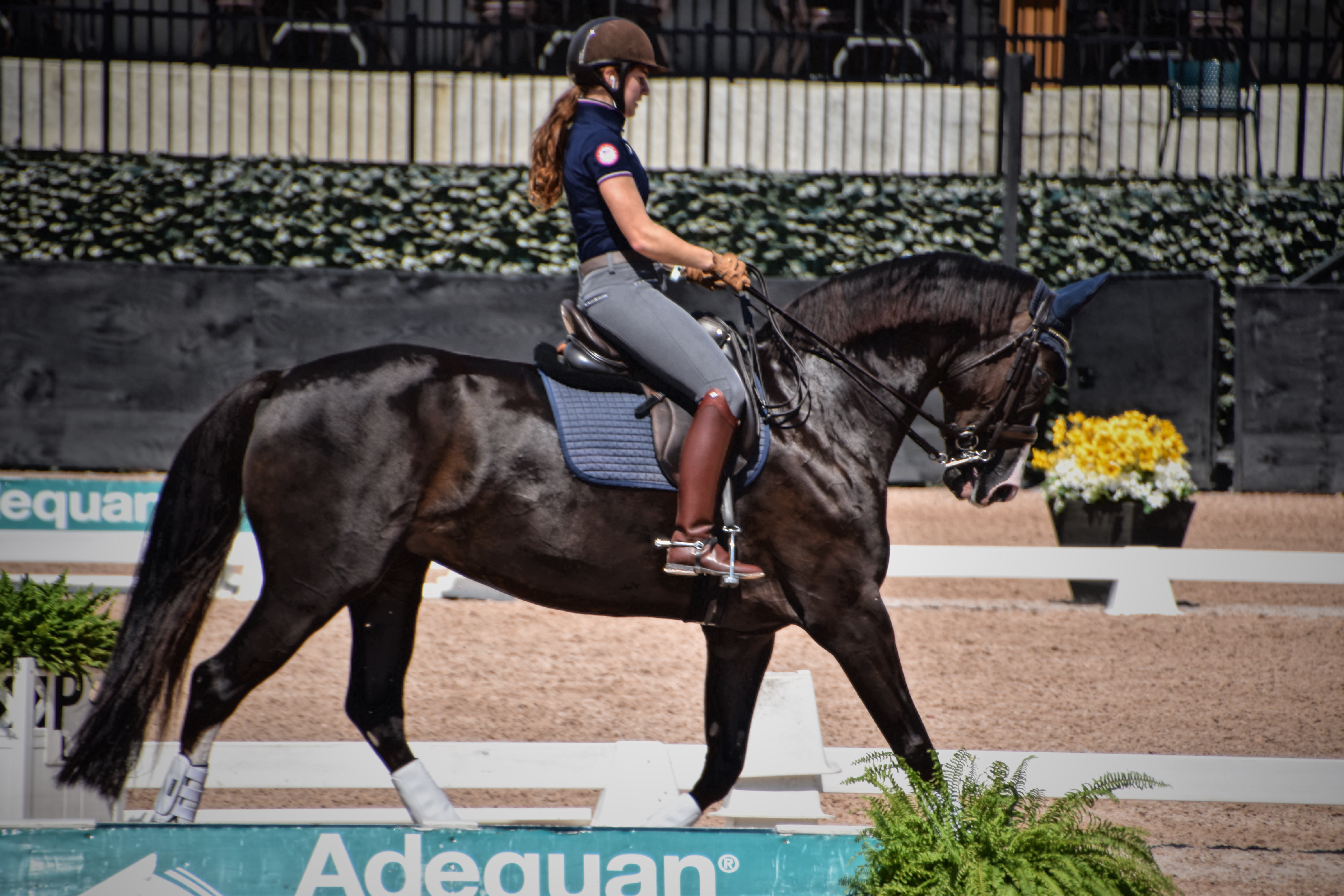 The future looks bright for Peavy, as she continues to embrace the growth of Para-Equestrian dressage. Looking forward, Peavy doesn't have any plans to slow down. "I have my heart set on the 2018 World Equestrian Games of course!  After that, I would love to get back into the Paralympic arena at the 2020 Tokyo Olympic Games."
If one thing is certain, it's that Peavy's "don't give up attitude" will get her as far as she dreams of going, riding one stride at a time.