Gavin Moylan and String of Pearls Claim Champion in the Pulse Equine Performance Hunter Combined 3'3"/3'6" Division
For Immediate Release
Mill Spring, NC – October 1, 2019 – Santiago Lambre (Wellington, FL) and Con Rouet claimed Thursday's $5,000 Horseware Ireland Welcome Stake after finishing the jump-off in a time of 41.829 seconds to kick off Tryon Fall 2 competition at Tryon International Equestrian Center (TIEC) at Tryon Resort.  Johan Kachelhoffer (Princeton, NJ) aboard his own Copit Della Caccia, a 2008 Italian Warmblood stallion (Copito x Campbell), finished in second place with a jump-off time of 43.187 seconds, while Grant Seger (Corpus Christi, TX) piloted the Grey Fox Crossing-owned Dr. J, a 2008 Italian Warmblood gelding (Diamant de Semilly x Calando I), to round out the podium on a time of 41.369 seconds to earn third.
Santiago Lambre and Con Rouet
©TIEC
Course designer Nick Granat (Chicago, IL) had 12 horse-and-rider pairs in the initial round and welcomed back four entries in the jump-off. Although Lambre and the 2010 Oldenburg gelding (Conthargos x Balou Du Rouet) owned by Salvador Onate Barron came out in the lead after their final round, Con Rouet has been getting a break from jumping "as much" while Lambre competed at Saugerties, NY.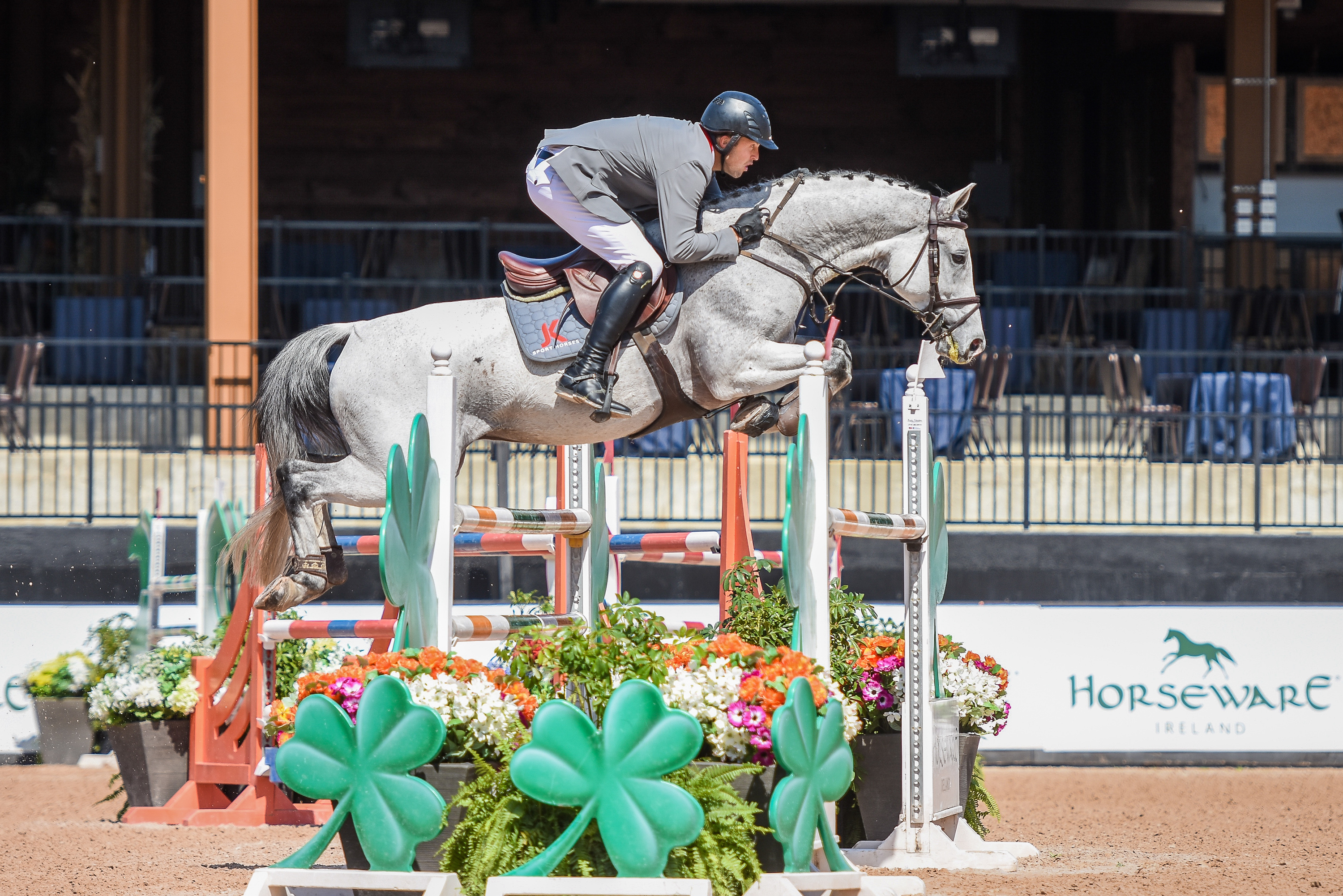 Johan Kachelhoffer and Copit Della Caccia
©TIEC
"Although this is his first week [back] now, Con Rouet is a super careful horse and very competitive," Lambre explained. "The first round was not easy, especially for a national welcome, and I was not super-fast [in the jump-off] since there were only four, but it ended up being a good risk since the last rider [Grant Seger] was faster but had the last rail down."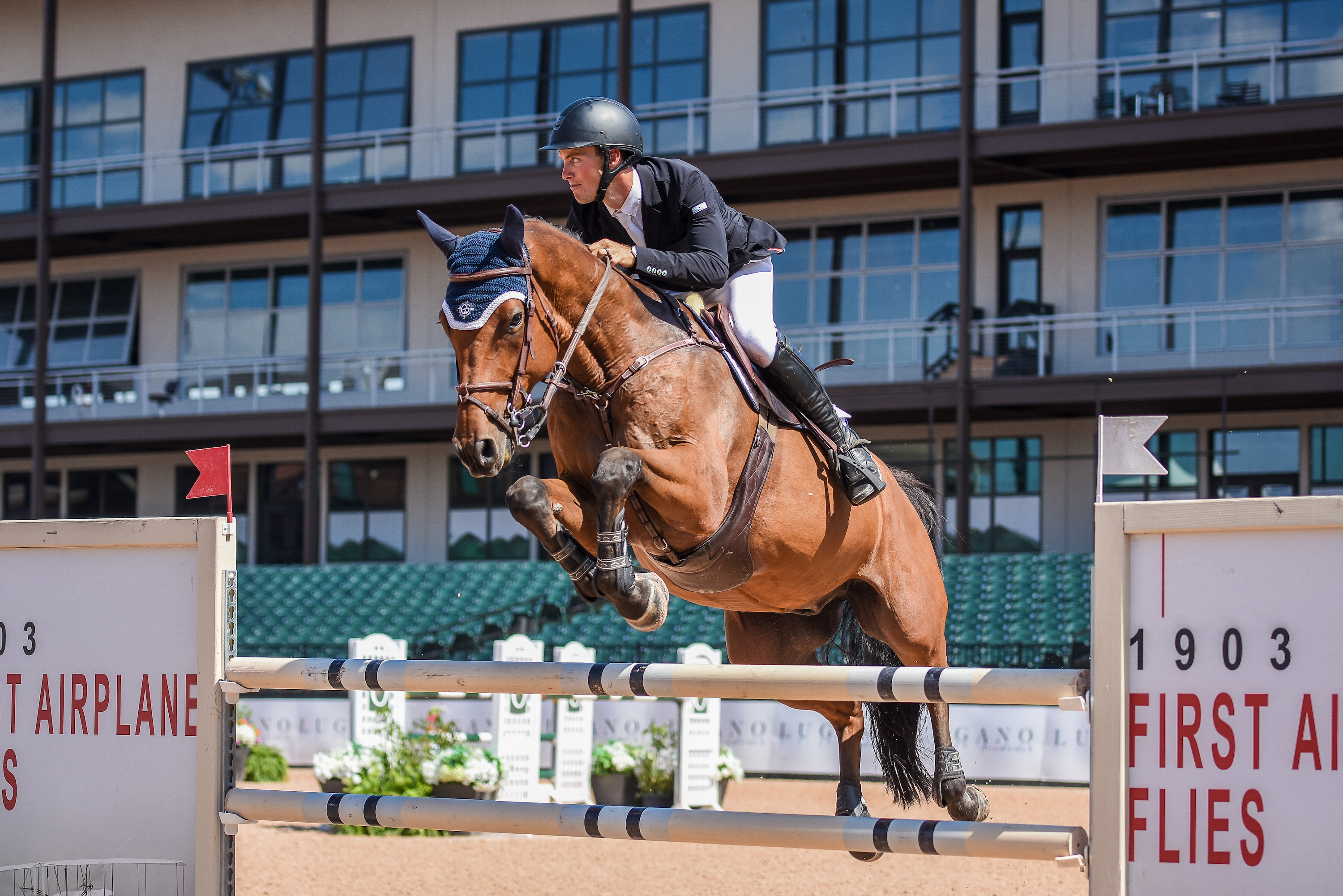 Grant Seger and Dr. J
©TIEC
Con Rouet did not compete in Fall 2 competition following his win, but Lambre did return to Tryon Stadium for a win aboard Diathago in Saturday's $25,000 Carolina Arena Equipment Grand Prix. "I'm preparing him for Wellington to have him ready to do the speed classes there. I think his level is gonna be 1.45m, but that's okay because if he's fast it's good. He's going to be a really competitive horse," Lambre concluded.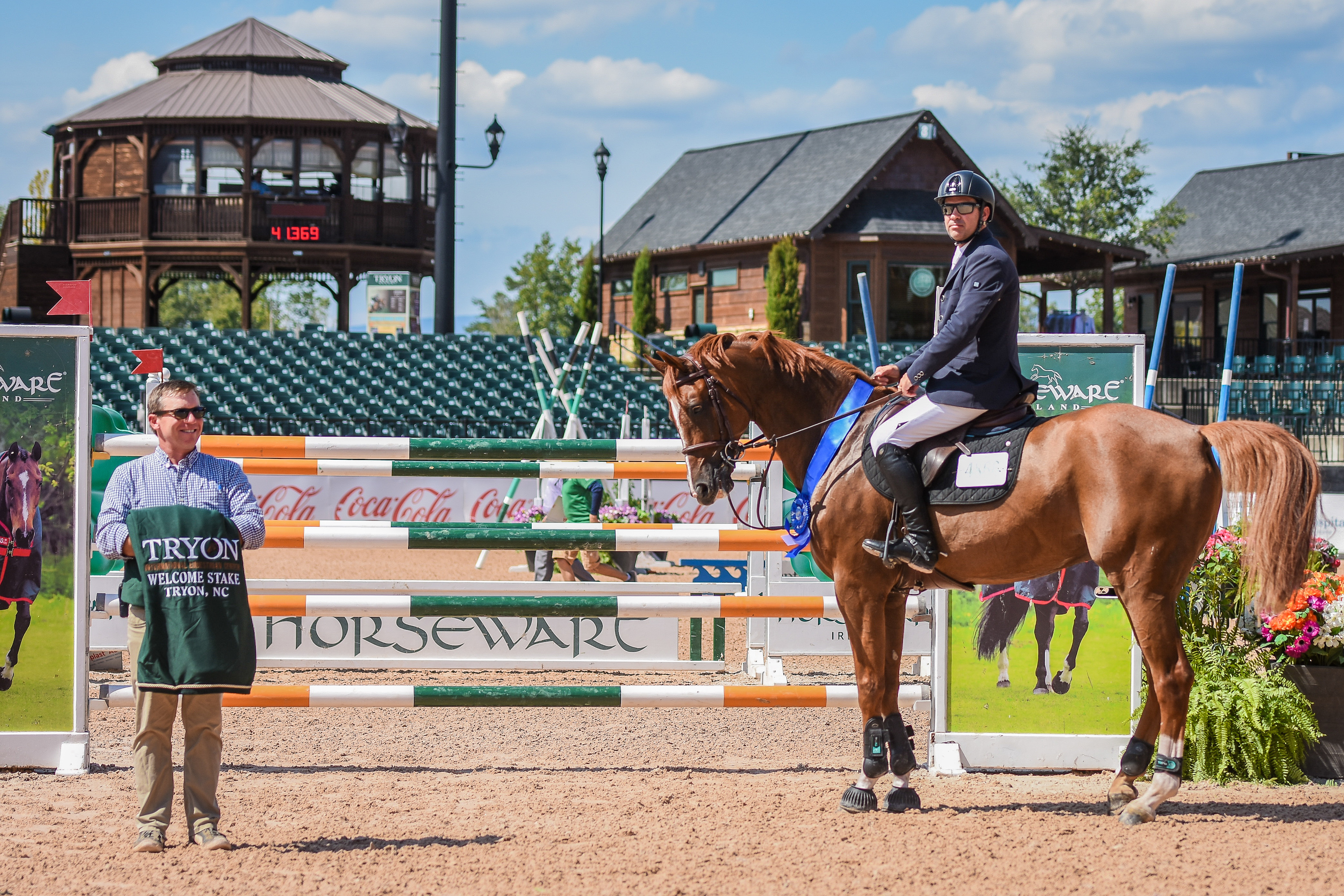 Santiago Lambre in his presentation ceremony alongside JP Godard, Competition Manager.
©TIEC
Gavin Moylan and String of Pearls Claim Champion in the Pulse Equine Performance Hunter Combined 3'3"/3'6" Division
The Pulse Equine Performance Hunter Combined 3'3"/3'6" Division saw Gavin Moylan (Middleburg, VA) and Priscilla Denegre's String of Pearls come out on top for champion honors, while Colleen Acosta (Roanoke, TX) piloted Olive, owned by Ryann Grissom, to reserve honors.
Moylan shared that String of Pearls, who is owned by his wife's mother, has been a member of his program for about five years and has been very successful. "I found her [String of Pearls] in Germany as a four-year-old and immediately she suited my wife's mother, Penny Denegre, who has had horses with me for a long time and is a great supporter of this sport. She's just been a winner since we've had her."
Although Moylan enjoys showing the mare himself, he explained that "it's really about Penny this year," and that his main goal for String of Pearls is simply to prepare her to compete at the upcoming indoor shows. "Penny qualified for Harrisburg and Washington [International Horse Show], which is a big deal in the adults, and we're very excited for her to go there."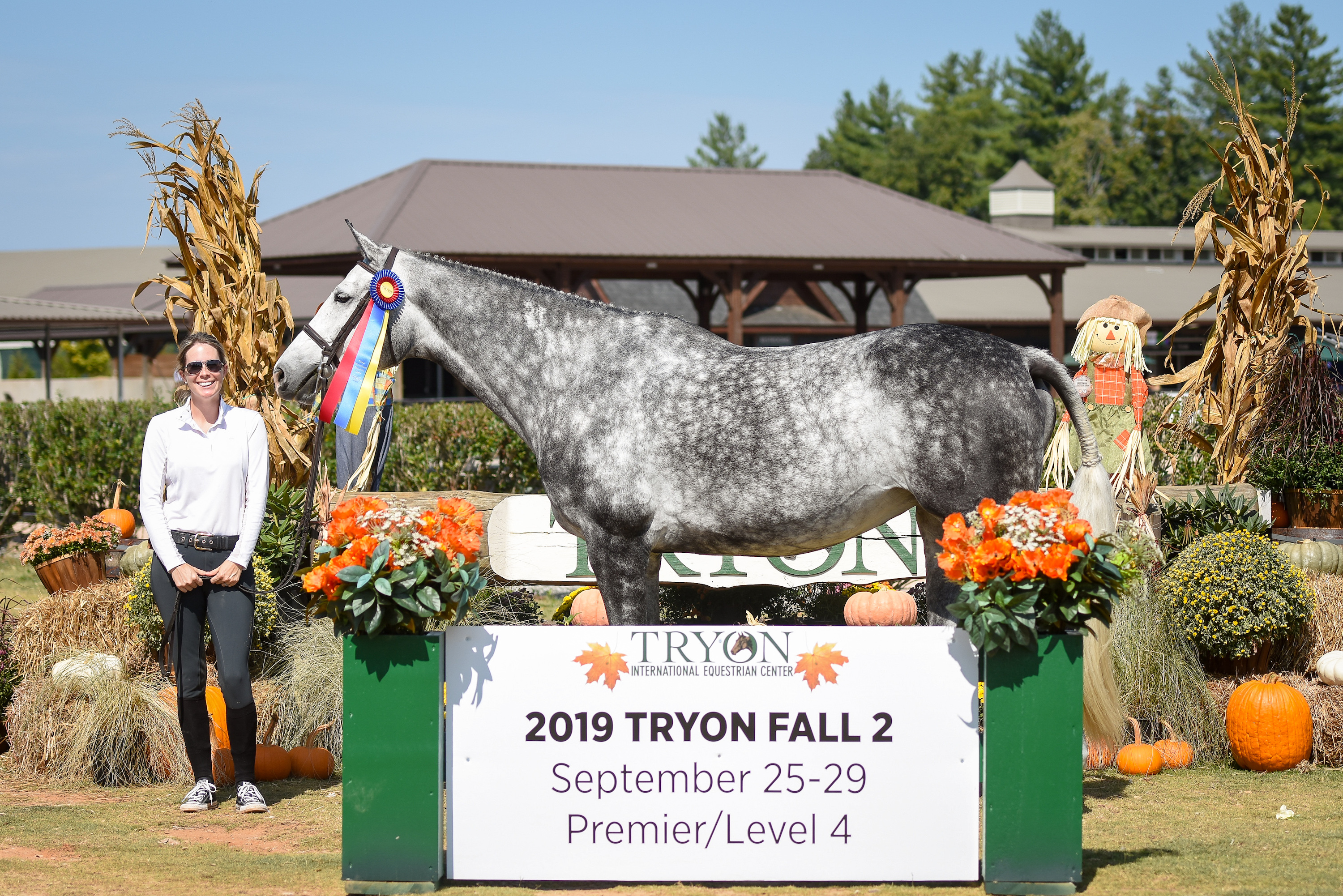 Alden Moylan and String of Pearls
©TIEC
Showing at TIEC has become a fall tradition for Moylan, who shared that he and his family have been making Tryon their fall horse show destination for the past five years. "I really enjoy it. I've got my wife and kids here and we put our RV in the RV park so it's very convenient for all of us. The restaurants and the General Store are great, I don't know what I would do without my morning latte. It's a wonderful facility and I really enjoy it," concluded Moylan.
Jumper Highlights
The 1.10m Jumper Division saw Leah Bergman (Chapel Hill, NC) as champion aboard her own TGF For Gold, while Ryan Genn (Lebanon, OH) piloted Calamera to reserve for Loveland Equine Investments.
Amy Shafmaster (Newington, NH) and her own Basje took champion honors in the CaptiveOne Advisors 1.20m Open Jumper Division, which also awarded a two-way tie for reserve. Shafmaster also piloted her own Carlos and Juan Ortiz (Loxahatchee, FL) piloted Diana Patterson's Estrada Empire.
Robert Stucky (Waxhaw, NC) and Uranus 112, owned by Caron Stucky, topped the 1.15m Jumper Division, with Roxy Leyshon (Flowermound, TX) and her own Vesuvius 4 collecting reserve for their efforts.
The 1.35m Open Jumper Division named Ryan Genn (Lebanon, OH) and Dante's Inferno, owned by Wilhelm Genn, champion. Theo Genn (Lebanon, OH) and Taylor Blackman's Quax took reserve honors.
Theo Genn (Lebanon, OH) took champion honors in the Nutrena® 1.40m Open Jumper aboard Eduardo Leon's Firewall, while Wilhelm Genn (Lebanon, OH) enjoyed a reserve champion finish aboard Van Gogh, owned by Wilhelm and Patty Genn.
The Tryon Estates Child/Adult Jumper 1.10m awarded Megan Charms (Lyndhurst, OH) and Terry Brown's Hero Van de Heffinck champion honors. Reserve honors went to Sara Williamson (Wellington, FL) and the Ossian Ventures entry, Ugolin D'Authou.
Hunter Highlights
Donald Sheehan (Maryville, TN) took champion honors in the Absorbine Green Hunter 3' Division aboard Indian Ocean, owned by Kashmere Farms LLC. Reserve honors went to Jen Hauser (Carmel, IN) and Steve Schaefer's Bredero.
The Amateur-Owner Hunter Combined 3'3"/3'6" 18-35 Division resulted in a champion rosette for Kristen Schnelle (Colleirville, TN) riding Calena, the Jason Schnelle entry. Reserve was awarded to Sarah Morris (Memphis, TN) and her own Gidget.
The Adult-Amateur Hunter 18-35 Division awarded Layne Woodward (Pinehurst, NC) and her own Montblanc, with reserve honors awarded to Courtney Canizares (Elon, NC) and her own In Unison.
The Walk-Trot A Division congratulated Charleigh LaFont (Mooresville, NC) and Madeleine Waugh's Most Valuable Pony MVP as champions, with reserve earned by Britton Bobowski (Waxhaw, NC) and Emily Jay's In The Spot Light.
Jen Hauser (Carmel, IN) and Lindsay Barton's Anini Beach claimed champion in the Baby Green Hunter 2'6" Division, with Hanley Morrison (Madison, MS) claiming reserve aboard Honor Hill's Color-Coded, owned by Honor Hill Farm LLC.
To view all Tryon Fall 2 Show Champions and Reserve Champions, click here.
For full results from the Pulse Equine Performance Hunter Combined 3'3"/3'6" Division, click here.
For full results from the $5,000 Horseware Ireland Welcome Stake, click here.
Photo credit ©TIEC. These photos may only be used once in relation to this press release with proper credit. Contact media@tryon.com with questions.