Samuel Parot and Couscous Van Orti Rise to Take Top Honors in $6,000 Nutrena® 1.40m Power & Speed CSI 2*

For Immediate Release
Sarah Madden & Kim Beaudoin for TIEC
Mill Spring, NC – October 5, 2017 – From a field of 49 entries, Santiago Lambre (MEX) and his own Doloris, a 2008 Dutch Warmblood mare (Harley VDL x Colinda D), were the only pair to go double clear in the $35,000 Suncast® Commercial Welcome Stake CSI 2*, Thursday's highlight class for the Tryon Fall III CSI 2* competition at Tryon International Equestrian Center (TIEC). Tryon Fall III welcomes back international FEI competition to the venue, beginning a four-week stretch of top show jumping competition, which will conclude on Sunday, October 29.
Lambre and Doloris posted a blazing short course time of 37.60 seconds, while Tracy Fenney (USA) and MTM Farm's MTM Reve Du Paradis, a 2005 Selle Francais gelding (Crown Z x Kaline De Semilly), stole second place with the fastest four-fault short course, stopping the timers in 38.07 seconds. Michael Morrissey (USA) took third aboard La Lopez 3, a 2008 Westphalian mare (Lenardo x Leandra) owned by QBS Equestrian LLC, with their time of 38.29 seconds.
Lambre complimented his mount's carefulness around the challenging CSI 2* course, and said, "In the first round, the mare was really good. She is very careful. I gave her a three-week break, so she is fresh. In the jump-off, I was lucky to be the only one clear."
The pair has been competing together for about a year, Lambre explained, though he's owned the mare since she was six. "This year she's winning a lot of classes. I think six or seven FEI classes this year, and she's very consistent."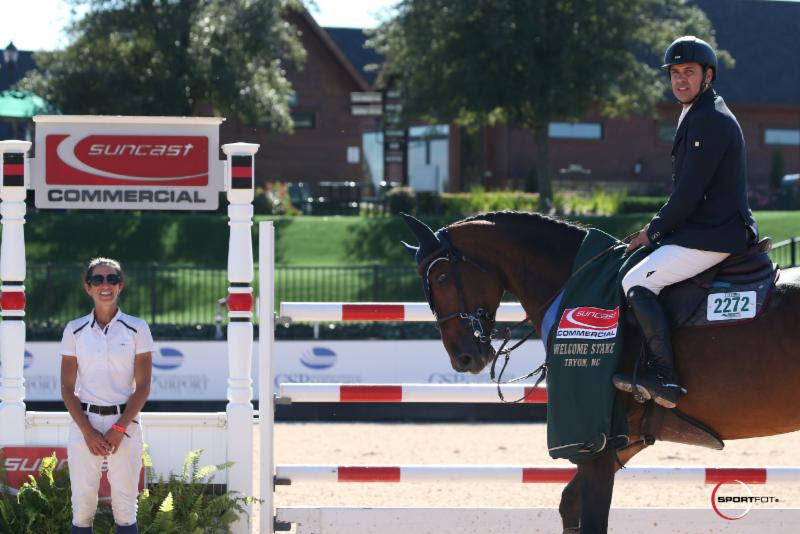 The class saw 49 trips on the course designed by Richard Jeffries (GBR), while only twelve returned for the jump-off round. The short course's elements posed tough questions to the twelve combinations that contested it, explained Lambre.
"I think the jump-off was big," he noted about the track. "Sometimes the oxer is less wide, and in this jump-off it was still [the same width], with not so many options, so it was tough, and of twelve clear there was only one double-clear."
After a successful summer at TIEC, Lambre is hoping that fall is just as fruitful, especially for Doloris, "My plan with her is to ride in the Grand Prix this week and then the CSI 5* in two weeks," he said. "Tryon is very nice. I did all the summer here and it's a fantastic facility-one of the best places in the world."
Samuel Parot and Couscous Van Orti Rise to Take Top Honors in $6,000 Nutrena® 1.40m Power and Speed
Samuel Parot (CHI) and Couscous Van Orti captured the win in the $6,000 Nutrena® 1.40m Power and Speed class to start FEI competition yesterday at TIEC. Parot and Couscous Van Orti stopped the timers in 25.78 seconds to take the victory ahead of Ibrahim Barazi (JOR) and Omnia Incipit, who earned second place on a time of 26.01 seconds. Parot also captured third place position aboard Dazzle White, completing the short course in 28.08 seconds.
"It was a very nice course today," commented Parot.  "The track laid for the jump-off was clear and not too complicated. I knew that in the line I could win if I took it in five strides instead of six. That was the plan and that's what we did."
Parot has had the ride on the 2002 Belgian Warmblood gelding (Nabab De Reve x Vroni Van Orti), for several years, competing successfully around the world, as well as at the 2015 Pan American Games in Toronto.
"I've had this horse for a long time," explained Parot. "I rode him in the Pan American Games and he won a Grand Prix class here at TIEC last year. He's a nice horse. He's 15 but acts very young at heart."
Parot is a horse show regular at TIEC, and has spent a great deal of time competing at the venue. "The facility is one of the top horse show facilities," said Parot. "It's my favorite show to compete at. The main ring is incredible. The footing is amazing. It's just a fantastic place to be." 
Click here to view results for the $35,000 Suncast® Commercial Welcome Stake CSI 2*.
Click here to view results for the $6,000 Nutrena® 1.40m Power & Speed CSI 2*.
Competition continues with Tryon Fall III tomorrow, Friday, October 6, featuring a $5,000 USHJA National Hunter Derby and a $6,000 Nutrena® 1.40m Jumper Classic CSI 2*. The $86,000 MD Barnmaster Grand Prix CSI 2* will begin at 7:00 p.m. on Saturday, October 7.
For more information on TIEC, please visit www.tryon.com.
Photo Credit ©Sportfot. These photos may only be used once in relation to this press release with proper credit.