For Immediate Release
Mill Spring, NC – May 28, 2019 – Santiago Lambre (MEX) claimed top honors in the $36,000 1.45m Sunday Classic aboard his own Ibabco, a 2008 Belgian Warmblood stallion (Nabab De Reve x Darco), on Sunday, May 26, at Tryon International Equestrian Center (TIEC). Santiago Lambre stopped the timers in 34.086 seconds to secure the win and conclude Tryon Spring 4 competition at the venue. Kristen Vanderveen (USA) dashed into second place with a time of 34.256 seconds aboard Bull Run's Almighty (Caspar x Quidam De Revel), owned by Bull Run Jumpers Six LLC. Todd Minikus (USA) placed third riding Amex Z (Andiamo Z x Landaris), owned by Bit By Bit Group, with a time of 34.642 seconds.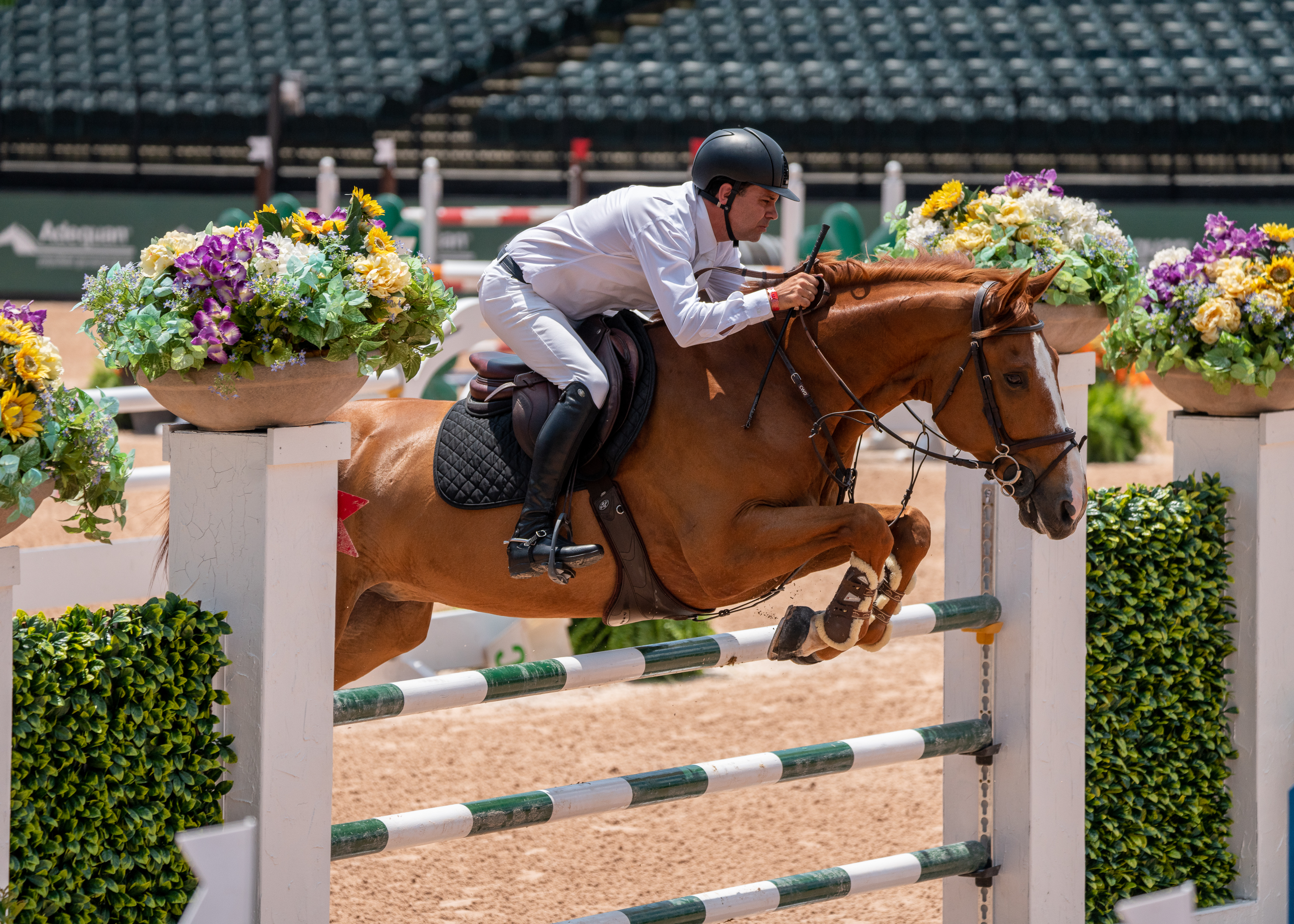 Eighteen pairs challenged the course set by Catsy Crux (MEX), with eight returning for the jump-off. Lambre, who had two mounts in the Classic, topped the leaderboard aboard Ibabco. "He's a very good horse. Normally he would jump in the Grand Prix, but he was almost sold this week, so I didn't compete him at all throughout the week. Today [Sunday] was his first class. He'll do the three star next week," he explained.
Fresh off of Lambre's win in Saturday night's $72,000 CaptiveOne Advisors Grand Prix CSI 3* atop his own Cetano Van Aspergem Z, a 2009 Zangersheide gelding (Clinton x Ahorn Z), Lambre enthusiastically noted, "a weekend like this is always unbelievable. The last two weeks in Lexington, I didn't win one dollar, so it's nice to have this comeback."
When asked about his strategy, he commented, "It was a fast jump-off with Kristen [Vanderveen], Samuel [Parot], Todd [Minikus] , and Sharn [Wordley], so you have to try everything you can. I was just before the last to go, so I had a good chance to watch the other ones. I knew exactly what to do. I tried, and it worked," Lambre concluded, "it was a nice course for a three star. It was nice to have eight in the jump-off. All of the courses this weekend were very good."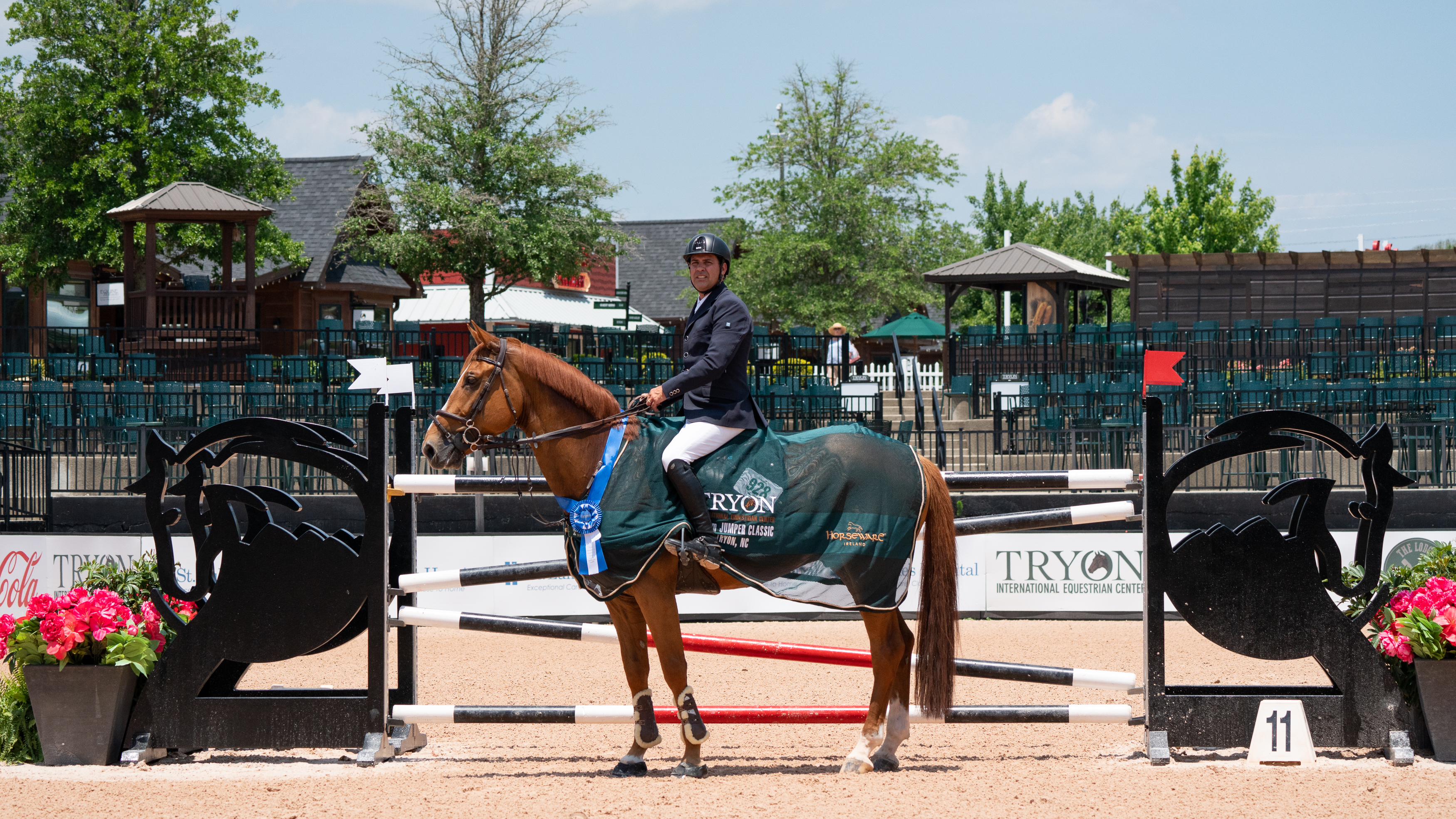 Jumper Highlights:
Briley Korener (The Woodlands, TX) rode For Jef de Wezelse owned by BKS Horse Farms, LLC to victory in the $10,000 1.40m High Junior/Amateur Classic with a winning jump-off time of 40.7 seconds. Second place was awarded to Olivia Epple (Woodstock, GA) aboard Itile Horta owned by Livhaven Stables with a second-round time of 45.216 seconds and eight faults. John Angus (Fort Lauderdale, FL) claimed third-place honors with E Berlin Pearl owned by Brenda Peurifoy, with a first-round time of 79.821 seconds and eight added faults.
Korener also topped the 1.40m High Junior/Amateur Jumper Division, earning champion with For Jef de Wezelse, while Epple claimed reserve honors aboard Itile Horta.
The 1.30m Open Jumper Division was championed by Martien Van Der Hoeven (Pinehurst, TX) aboard Comme Ci Comme Ca owned by Valerie Kalderon. Van Der Hoeven also claimed reserve honors with the Kathryn Hartshorn-owned entry, Heros.
Hannah Loeffelbein (Overland Park, KS) claimed top honors in the $5,000 1.30m Medium Jr/Amateur Classic aboard Lucky Strike owned by Hays Investment Corp, securing a time of 32.965 seconds. Jacqueline Ward (Houston, TX) rode her own mount, Cayman, to the second place title with a time of 45.891 seconds and four added faults. Victoria Zelch (Novelty, OH) claimed third place with Dazzle White, owned by Musical Woods, LLC with a time of 39.199 and eight faults.
Elisabeth Yeager (Senoia, GA) championed the 1.20m Open Jumper division atop her own Hot Spot. Kristen Vanderveen (Wellington, FL) captured reserve with the Bull Run Jumpers Six LLC entry, Bull Run's Divine Fortune.
The $3,000 1.20m NAL Low Junior Jumper Classic saw Alexandra Doyle (Canton, GA) become victorious aboard her very own Carto's Star, landing a jump-off time of 41.278 seconds. Ryleigh Threat (Concord, NC) secured second place aboard All In, owned by Crown Sage/Vartech Systems, with a second-round time of 38.397 seconds and eight faults. Alexia Rule (Marietta, GA) rode her own mount, Veneto Fontaine, into the third-place position with a jump-off time of 67.905 seconds and twenty-two added faults.
The Developing Jumper Series 6/7 Yr Old Young Jumper 1-20m-1.25m division was championed by Hunter Holloway (Topeka, KS) atop Silver Creek's Vindication owned by Silver Creek Farms. Reserve was claimed by Marcus Gruenthal (Morriston, FL) with Infante SK owned by Drumnacross Farm LTD.
Carrie Carse (Clearwater, FL) topped the $300 Low Adult-Amateur Jumper Stake with her own, Calvetto, stopping the timers at 40.093 seconds. Second place was awarded to Kendall Edwards (Charlotte, NC) riding the Townsend Farm, PKP Holdings LLC entry, Warramiro, with a time of 40.867 seconds. Kasey Jonethis (Jupiter, FL) landed in third aboard Lord Johann, owned by Jonathan Porteous.   
Hunter Highlights:
Lee Cesery (St. Augstine, FL) claimed top honors in the $1,000 Amateur Owner Hunter Classic 3'3″/3'6″ aboard her own, Central Park, scoring 161. Second place was awarded to Lindsay Maxwell (Beverly Hills, CA) atop her own, High Society, on a score of 159. Lauren Wolfe (Raleigh, NC) finished in third aboard her own, Gratina, securing a score of 149.5.
The $1,000 Junior Hunter Classic 3'3″/3'6″ congratulated Luke Jensen (Denton, TX) aboard Coraggio PF, owned by Jill Barnett, with a score of 167. Julia Szasz (Washington, MI) followed in second atop her own, Casiro, landing on a score of 163. Cassidy Rein (Raleigh, NC) earned a score of 162.5 riding Baron de Ley, owned by Tara Dow-Rein, to claim third place.
The $500 Marshall & Sterling Insurance NAL/WIHS Adult Amateur Hunter 18-35 Classic awarded top honors to Riley Ballard (Dover, DE) atop her own, Stellium, totaling a score of 163. Alexis Worthington (Jacksonville, NC) and her own, Say Cheese, took home the red ribbon with a score of 160. Kasey Jonethis (Jupiter, FL) aboard Zaletto, owned by Jan Nichol, rounded out the top three on a score of 144.
In the $500 Small/Medium Pony Hunter Classic, top honors were awarded to Cecelia Caldwell (Charlotte, NC) atop Gayfields Easy Button owned by Andrea Guzinski with a score of 158. Savannah Welch (Elon, NC) captured second place aboard her own Mapleside Magic earning a score of 148.5. Third place was claimed by Jane Anzelc (Elizabethton, TN) riding her own M&M Way Too Lucky and landing on a score of 127.
The Absorbine® Green Hunter 3′ Division was championed by Colin Syquia (Wellington, FL) aboard Wherewithal owned Christina Mohr, while Heather Steinman (Canton, GA) earned reserve honors riding Cimento owned by Chris Murray.
The Junior Hunter 3'3″ Division awarded top honors to Cassidy Rein (Raleigh, NC) aboard Baron de Ley owned by Tara Dow-Rein. Luke Jensen (Denton, TX) was reserve champion riding Coraggio PF owned by Jill Barnett.
The Main Street Insurance Large Junior Hunter 3'6″ Division awarded Jillian Minahan (Milton, GA) with champion honors riding Charkira owned by Falcon Ridge Stables. Reserve honors were granted to Julia Szasz (Washington, MI) aboard her own Casiro.
In the USHJA Hunter 2'6″ Division, Caroline Willard Briles (Oak Ridge, NC) secured the tricolor with her own Maxine. Ashley Conkle (Wellford, SC) secured the reserve champion title aboard Candy Crush owned by Alexandra Mikhail.