Santiago Lambre and Sharn Wordley Show Early Success at Start of Tryon Spring 4 CSI 3* Competition
For Immediate Release
Mill Spring, NC – May 24, 2018 – Competition at TIEC on Thursday highlighted the $35,000 1.50m Welcome Stake, which saw New Zealand's Sharn Wordley and Sky Group's Barnetta overtake Santiago Lambre (MEX) and his own D'Artagnan, a 2008 Dutch Warmblood gelding (Mr Blue x Carthago), after finishing the jump-off course in 44.592 and 44.92 seconds, respectively. Deborah Stevens (USA) flew around the short course set by Hector Loyola (PRI) in 45.134 seconds with Centennial Farm Inc.'s Condor C, a 2005 Holsteiner stallion (Cassini I x Reviera), to finish in third.
Wordley and the 2004 Westphalian gelding (Baloubet Du Rouet x Polydor) have been together for more than three years and have been a successful pair together, Wordley said as he recounted on the duo's strengths. "He's a great horse. He was second in the U.S. Open at the Rolex Central Park Horse Show twice, and he was second in the $1,000,000 at Saugerties in the CSI 5*, and he was third in the World Cup last year in Toronto – so he's done some really good things for me. He's a good team horse."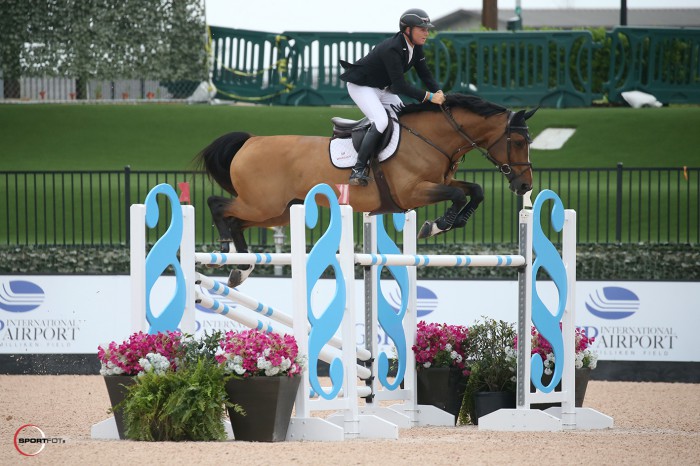 With a reliable mount under him navigating a tricky course, Wordley admitted to utilizing his late order in the lineup to his advantage. "The course today was very technical. It was very twisty and turny, and there were a lot of half-stride related lines," he explained. "The first round basically rode exactly how it walked, for me, anyway, but in the jump-off the fastest riders went before me and I was able to sneak in front of them after watching them go. It was a nice class and it was fun."
Hoping for a repeat performance in Saturday's $70,000 Spy Coast Farm Grand PrixCSI 3*,Wordley feels that Barnetta's confidence in the George Morris Arena in Tryon Stadium will help. "I'm going to flat tomorrow, flat him again Saturday morning, and hopefully do the same thing I did today on Saturday night. He's been here a lot, so he knows the ring quite well. That's important to him – he's got to know the ring. He's been placed many times here in this arena, so he knows it."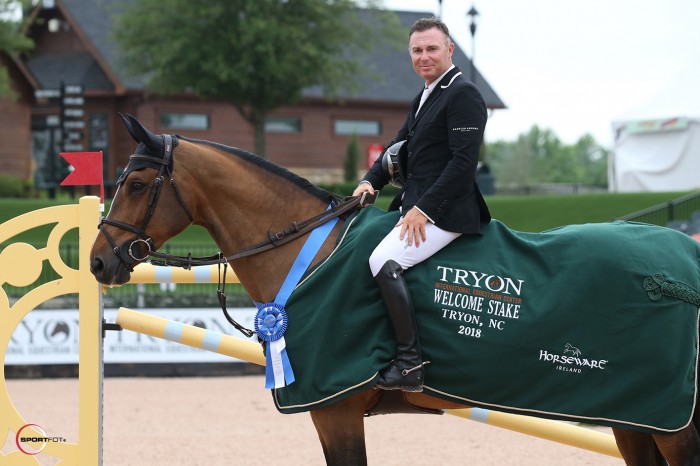 Carrying forward this positive momentum, Wordley will travel to Thunderbird, followed by a stay in Spruce Meadows before a possible World Equestrian Games™ contention he closed.
Wednesday's FEI $35,000 1.45m Power & Speed competition welcomed a returning victory for Santiago Lambre (MEX) in the George Morris Arena, as the rider guided his own D'Artagnan to a fast first-place finish. Lambre and the 2008 Dutch Warmblood gelding (Mr Blue x Carthago) clinched the blue ribbon after speeding through jump-off timers in 34.771 seconds. Lambre also breezed to second place aboard Aurora de Alba's 2007 Swedish Warmblood gelding Casino N (Careful x Ahorn), crossing through the the fast-track timers in 35.561 seconds. Argentina's Gustavo Prato rode Equus Forte LLC's Carna Z, a 2005 Zangersheide mare (Crown Z x Grannus), to a time of 36.179 seconds to achieve third place.
After seeing success in Wednesday's Power & Speed, Lambre also landed on the podium in Thursday's $35,000 1.50m Welcome Stake, finishing second aboard D'Artagnan, and commented that his growing string of FEI mounts are refreshed and know the Tryon venue well, contributing to his consistent success.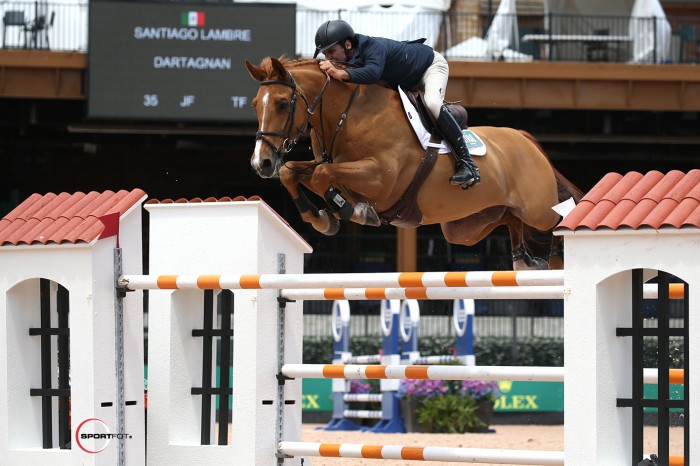 "I now have six horses jumping in FEI [level competition], so I can jump different horses every week, so they are fresh. I think these horses had two weeks off before they were here, so it's good for them," he explained.
"D'Artagnan is ten years old. He is best for a Speed class – I use him in those more than Grand Prix classes. He's a very fast horse. He will jump again Sunday, then have a week off ahead of CSI 4* competition. Casino N is a horse for my wife that I ride sometimes, and both are competitive horses," he said of his two Power & Speed mounts. Lambre's mount in the $70,000 Spy Coast Farm Grand Prix CSI 3* will be, "Cetano [Van Aspergem Z] – the horse I jumped yesterday in the 1.40m and had a rail down in the Welcome. Hopefully he will jump well Saturday."
Lambre's strategy in both the Power & Speed and the Welcome was to go fast and faster, something he has become known for in his numerous TIEC victories. "Wednesday's first [ride] is a fast horse, but I didn't go too crazy because there were not so many in the class. With the last one, I had already won and I was trying to beat myself," he concluded of his double podium finish.
Click here for a full list of results from the $35,000 1.45m Power & Speed CSI 3* class.
Click here a full list of results for the $35,000 1.50m Welcome Stake CSI 3*.
The Tryon Spring Series will continue through Sunday, June 10, featuring six weeks of international and national hunter, jumper, and equitation competition.For more information on TIEC, please visit www.Tryon.com.
Photo Credit ©Sportfot.These photos may only be used once in relation to this press release with proper credit.