For Immediate Release

Mill Spring, NC – July 2, 2019 – Olivia Sweetnam of Wellington, FL, and Secret Crush, owned by Jill Shulman, earned top honors in the $10,000 USHJA Pony Hunter Derby presented by Dover Saddlery at Tryon International Equestrian Center (TIEC), receiving a two-round score of 171.5. Jennings Goodwin of Raleigh, NC, piloted her own Touch the Sun to a second-place finish with a score of 168, while Katherine Mercer of Wellington, FL, and Benlea Mizzou, owned by Juliette Propp, claimed third-place honors with a total score of 162.

Olivia Sweetnam and Secret Crush
©Sportfot
Although the pair are only able to practice at shows, Sweetnam shared that she and Secret Crush have really taken to each other. "I started [riding Secret Crush] just before WEF. She's only six years old, but she's very easy and so straightforward. She's probably the easiest pony I've ever ridden and she's the most fun for sure."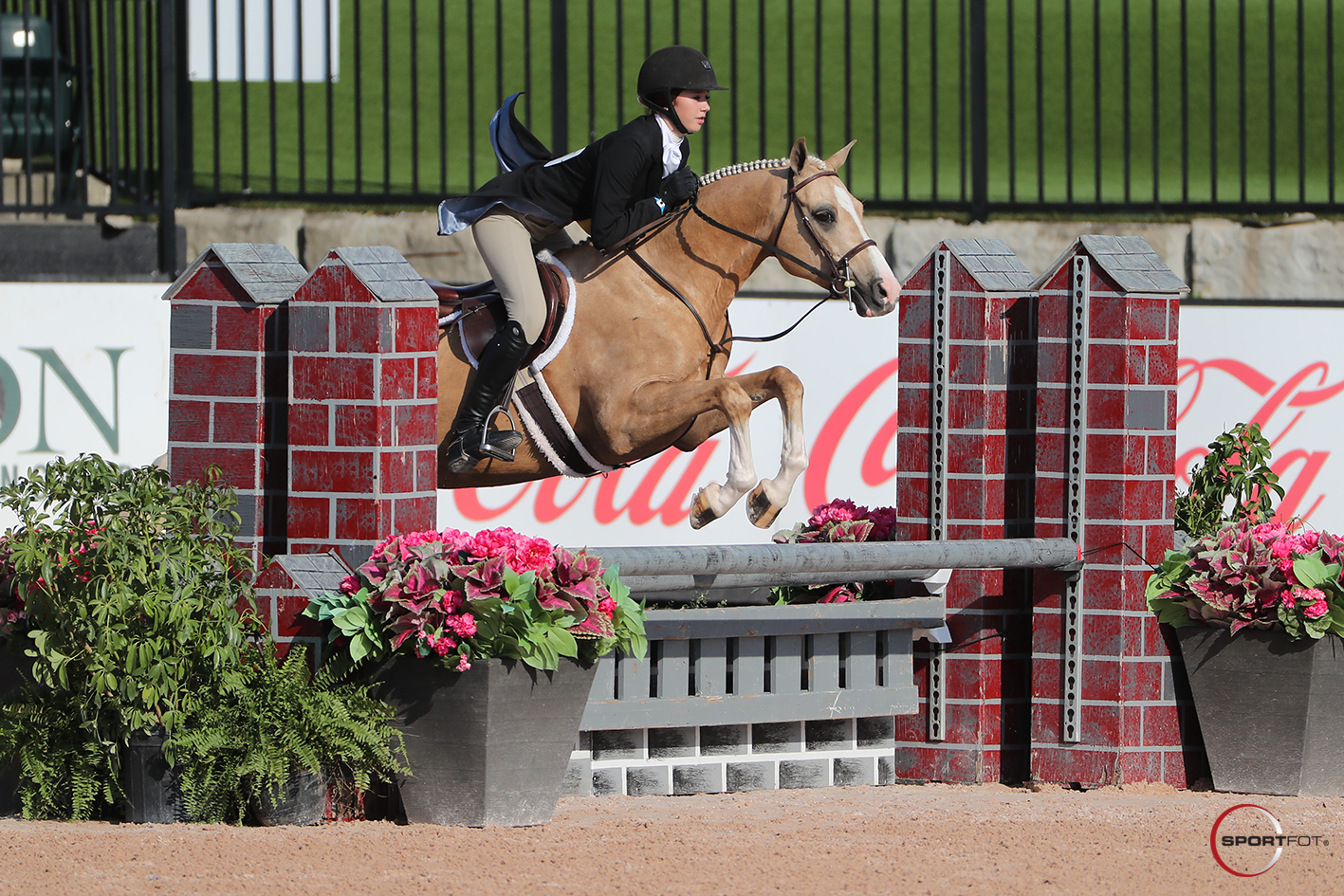 Jennings Goodwin and Touch the Sun
©Sportfot 
Thirty-six pairs tested the first round set by Dean Rheinheimer of Sheridan, IN, with 12 returning for the handy round. After a first-round score of 83.5 put them into second place, the duo went into the handy round determined to best the competition. "When I saw the beginning of it [the handy round], I didn't see that many [people making] handy turns so I made sure that when I went in I was extra handy," Sweetnam explained.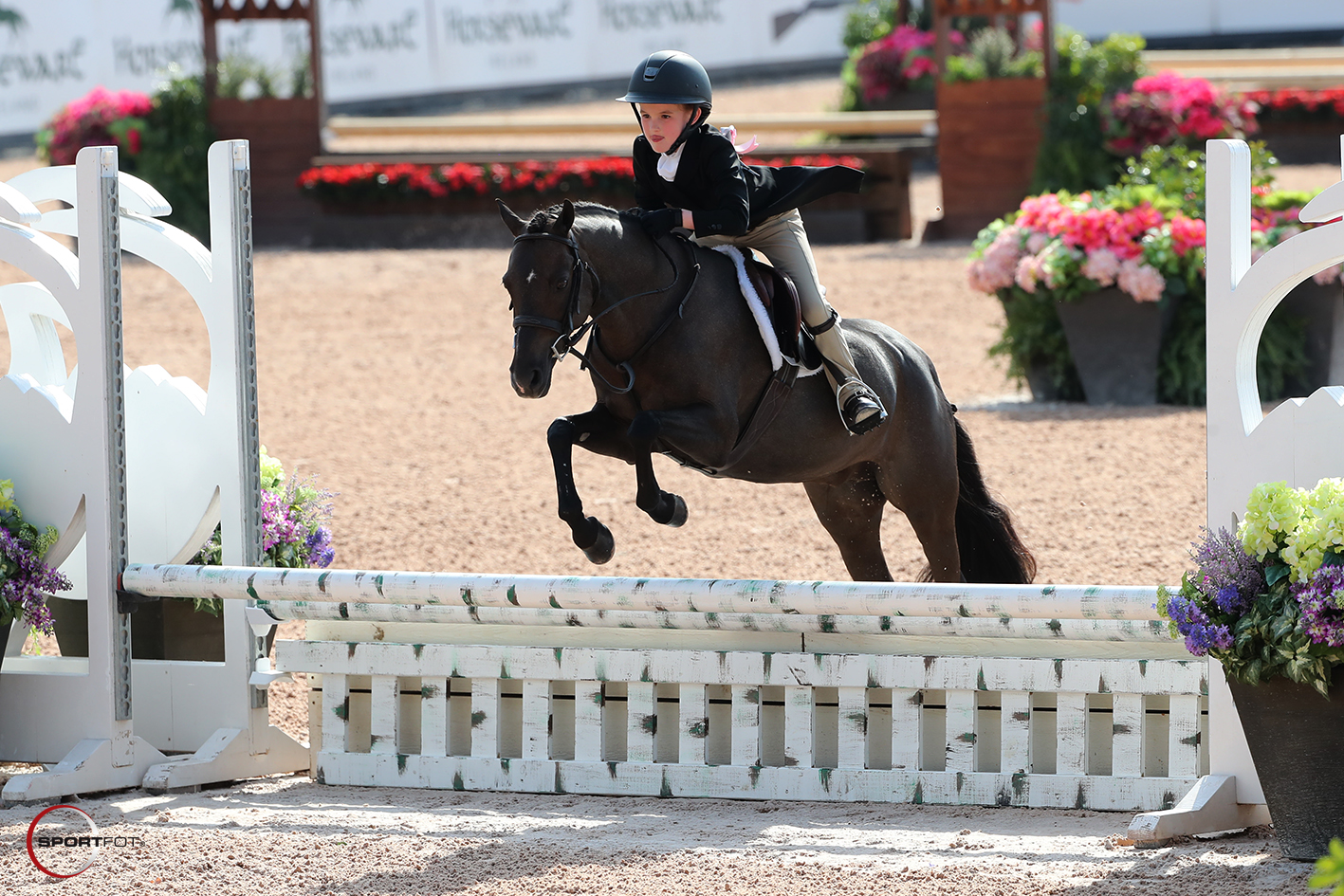 Katherine Mercer and Benlea Mizzou
©Sportfot
Friday's Pony Hunter Derby was held in the Tryon Stadium, allowing future USEF Pony Finals contestants, like Sweetnam, to get a taste of what competition will be like in a larger arena. Sweetnam commented that her favorite part of the Derby was "the victory gallop–it was so much fun! [Showing in the big ring] was amazing, and it was such a cool experience."
Jill Shulman, who owns Secret Crush, commented on the duo's success, stating, "We were lucky enough to have her ride the pony all winter at the Winter Equestrian Festival, where they were Circuit Champion in the Small Pony Hunter Division. It was really exciting since the pony is only six years old," Shulman emphasized. "It's just been a pleasure; Olivia is an amazing rider and her and the pony get along so well. It's been so much fun!"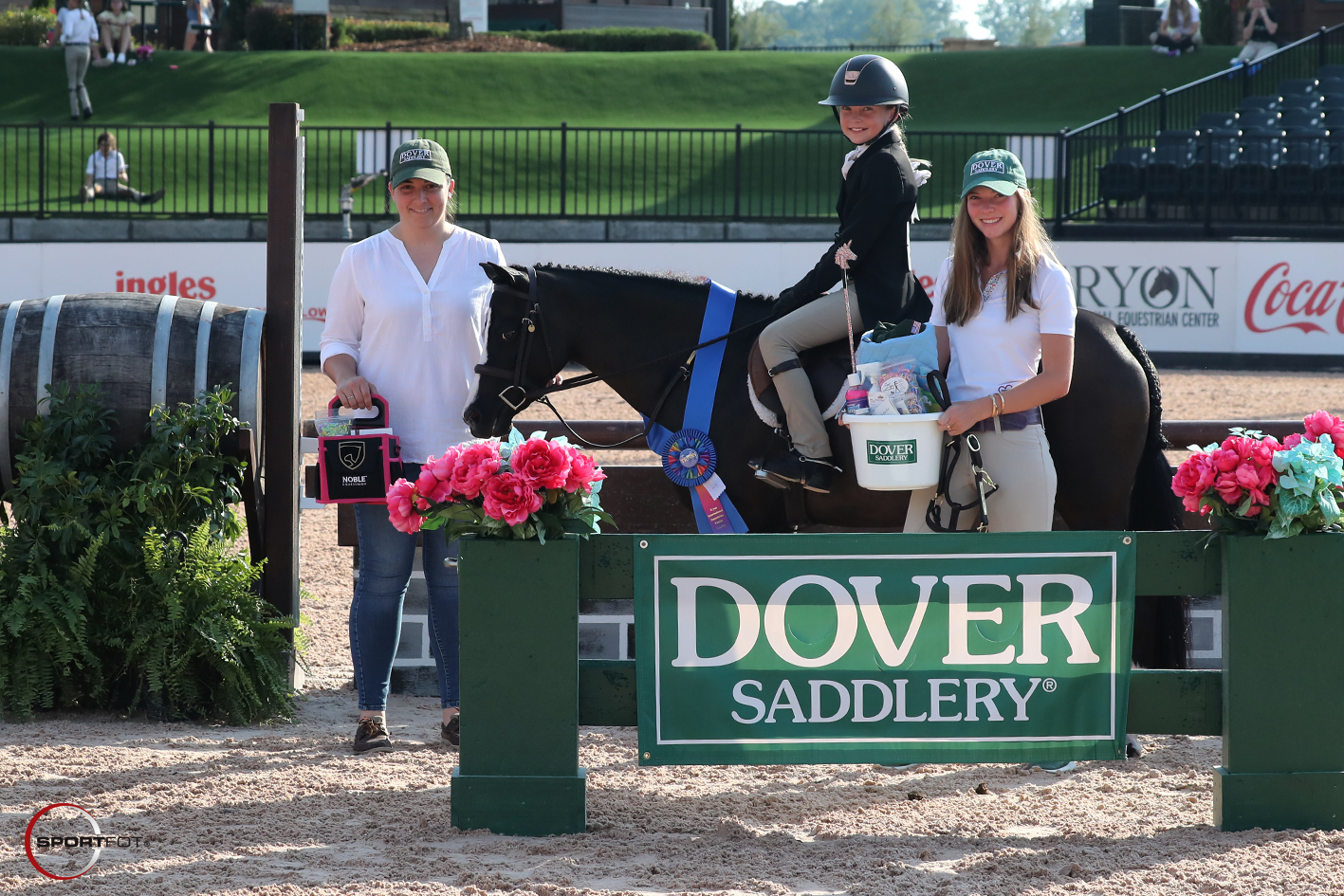 Olivia Sweetnam alongside Mandy Su, Dover Saddlery at TIEC Store Manager, and 2018 $10,000 USHJA Pony Hunter Derby winner, Elizabeth Smith.
©Sportfot
Shulman noted that being able to get into Tryon Stadium is not only great practice for USEF Pony Finals but also great for aspiring Grand Prix riders. Sweetnam aspires to be "better than her dad," international show jumper Shane Sweetnam, who has had great success in Tryon Stadium at TIEC, and Shulman believes that the experience gained at Pony Spectacular will have a lasting impact on all participants: "To get into this arena, for these young girls, is so special. It really gives them a chance to have a taste of what they'll be doing in years to come. I know Olivia will be in there many times in years to come for sure."
Hunter Highlights:
Donald Sheehan (Maryville, TN) and Craig Allen's entry, Quoted, earned champion of the Green Hunter 3'6" Division this week. Mary McKenzie (Wellington, FL) and Patent Pending, owned by Quail Run Partnerships, took home the reserve champion honors.
The Pulse Equine Performance Hunter 3'3" Division saw Nashea Powell (Jacksonville, FL) ride Dessert First, owned by Renae Sweeney, to championship honors. Jeannie Savegnago (Ocala, FL) rode Elizabeth Corey's entry, Hula Hoop, to the reserve champion placing.
Finley Morgan (Concord, NC) rode her own entry, Howie Do It, to earn champion of the Small Pony Hunter Division. Olivia Sweetnam (Wellington, FL) piloted Secret Crush, owned by Jill Shulman, to the reserve champion position.
In the Absorbine® Green Hunter 3' Division, Hunt Tosh (Milton, GA) and Sandman, owned by Douglas Wheeler, earned champion honors. Donald Sheehan (Maryville, TN) rode the Kashmere Farms LLC entry, Indian Ocean, to reserve honors.
Hunt Tosh (Milton, GA) took champion honors again with Eagle Rare, owned by Douglas Wheeler, in the Green Hunter 3'3" Division, while Bob Brawley (Double Oak, TX) rode Argento, owned by DDM Equestrian, LLC, to reserve honors.
The 3'3" Junior Hunter 15 and Under Division congratulated Maddie Tosh (Milton, GA) on earning champion aboard Dr. Betsee Parker's Cold Harbour as well as reserve champion aboard Gotham, also owned by Dr. Betsee Parker.
In the USHJA 2'6" Division Ashley Conkle (Wellford, SC) made a clean sweep, taking champion and reserve champion honors. She and Apricot Lane, owned by Page Tredennick, took top honors while she and Candy Crush, owned by Alexandra Mikhail, took reserve honors.
For full results from the $10,000 USHJA Pony Hunter Derby, click here.