For Immediate Release
Mill Spring, NC – August 26, 2019 – Taylor Land (Atlanta, GA) and Get Go were unbeatable yet again, claiming another Grand Prix win this Sunday in the $25,000 Tryon Grand Prix at Tryon International Equestrian Center (TIEC) after their jump-off time of 39.285 seconds. She also piloted Liroy 30, a ten-year-old German Sporthorse gelding (Levistano x King Kolibri) owned by Pinetree Farms Inc., to a second-place finish with a clear jump-off performance of 40.449 seconds, while Santiago Lambre (Wellington, FL) aboard Doloris, an eleven-year old Dutch Warmblood mare (Harley VDL x Colorado D) owned by Aurora Rangel De Alba, sped to a close third after their jump-off time of 40.485 seconds.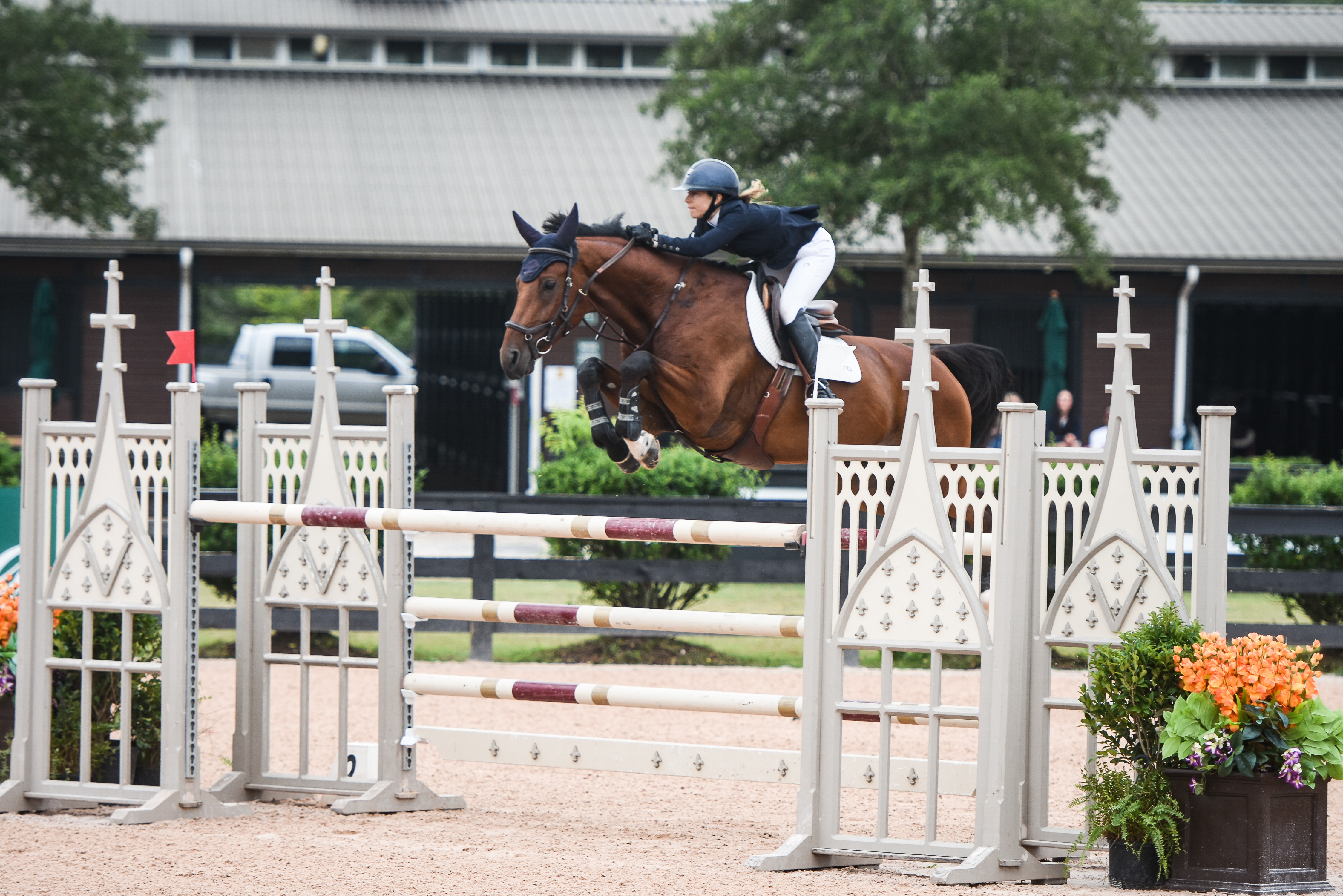 Taylor Land and Get Go
©TIEC
"I loved the first round; it was a little different than the courses we've been riding. It was, I thought, a little bit more connected, which I really liked," Land shared of the JP Godard (Aiken, SC) designed course. Godard's course tested 32 entries in the initial round, with 18 horse-and-rider pairs welcomed back to challenge the jump-off track.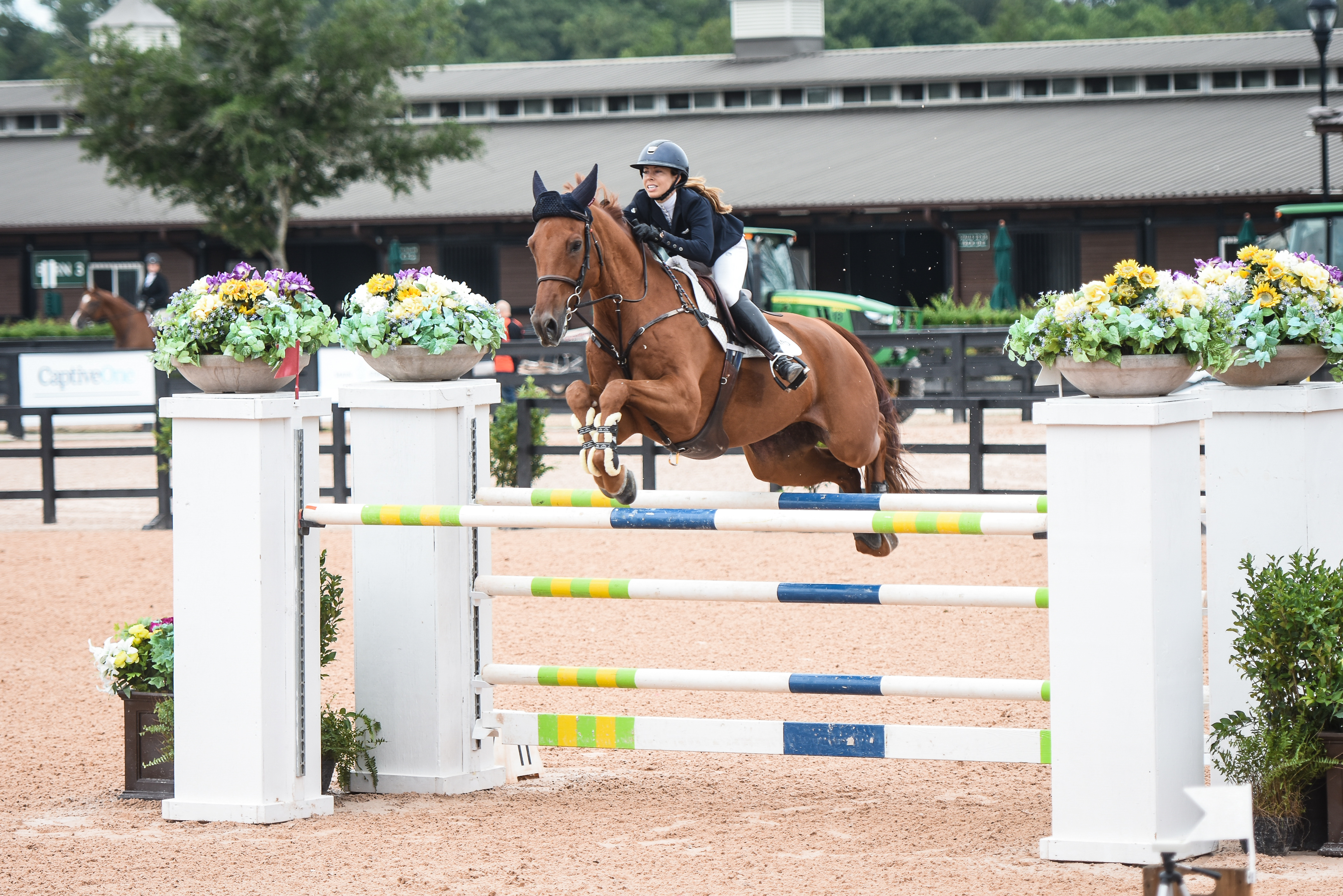 Taylor Land and Liroy 30
©TIEC
Land and Get Go, a 2012 Hanoverian gelding (Grey Top x World Diamond O) owned by Pinetree Farms Inc., started out this year competing in the seven-year-old jumper division, but after his performance at Spruce Meadows, where the jumps were 1.40m, Land felt like he was ready for the next step. "He's really grown up so much this year. He started the year just jumping the seven-year-olds and now he has moved up to doing the smaller Grand Prix classes and I think we just have to keep on our track and try to keep moving forward one step at a time." Land continued, "I'm really excited for his future!"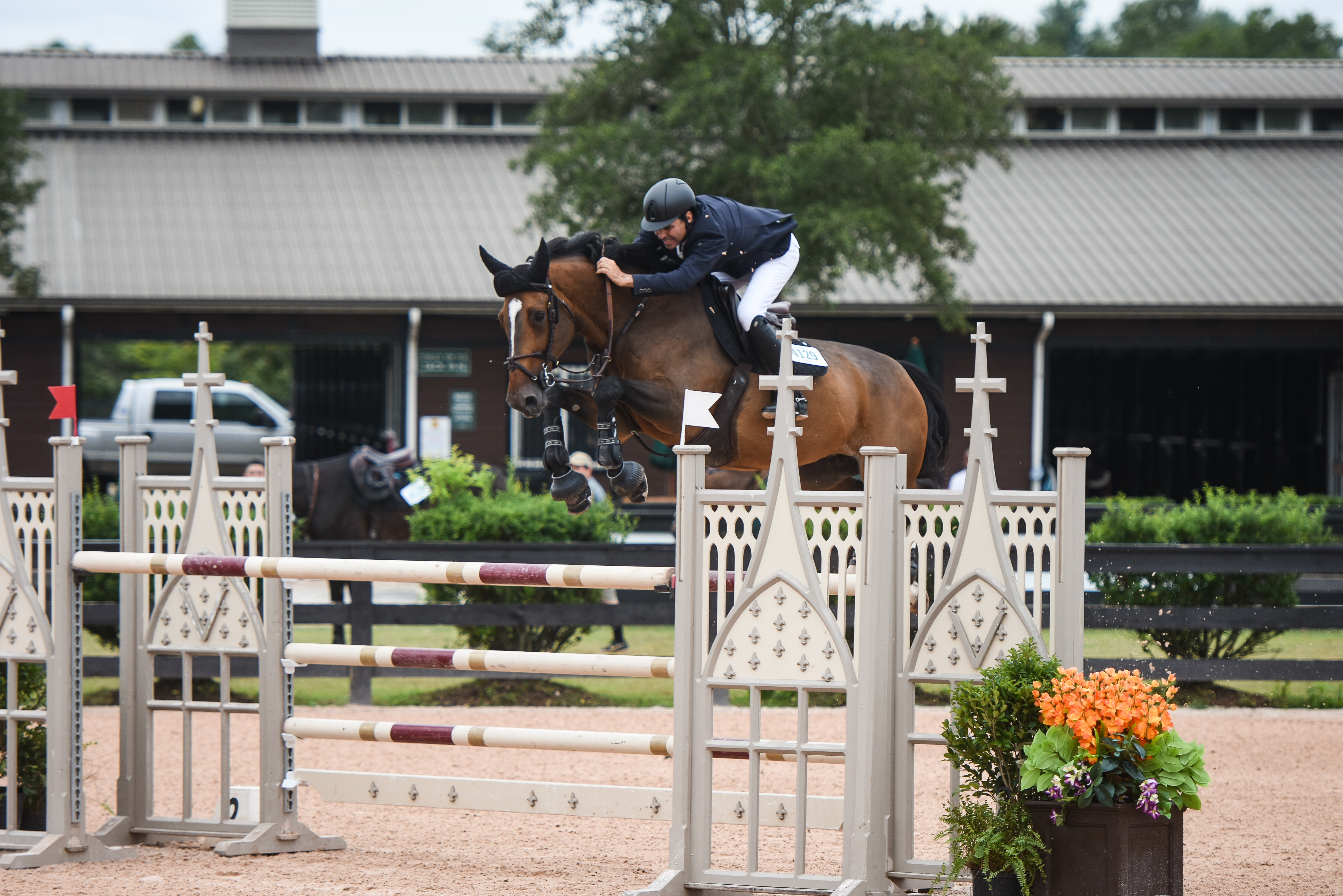 Santiago Lambre and Doloris
©TIEC
Although the talent is a huge part of her success, Land admitted that none of this would happen if it weren't for her team: "My team that's behind me right now is amazing. I've had my rider, Liz, now for a year and she has helped me so much with the horses. She's my support system at home and that makes such a difference. My parents also help me so much whether it's coaching, training horses, or just as support – it's just amazing to have them."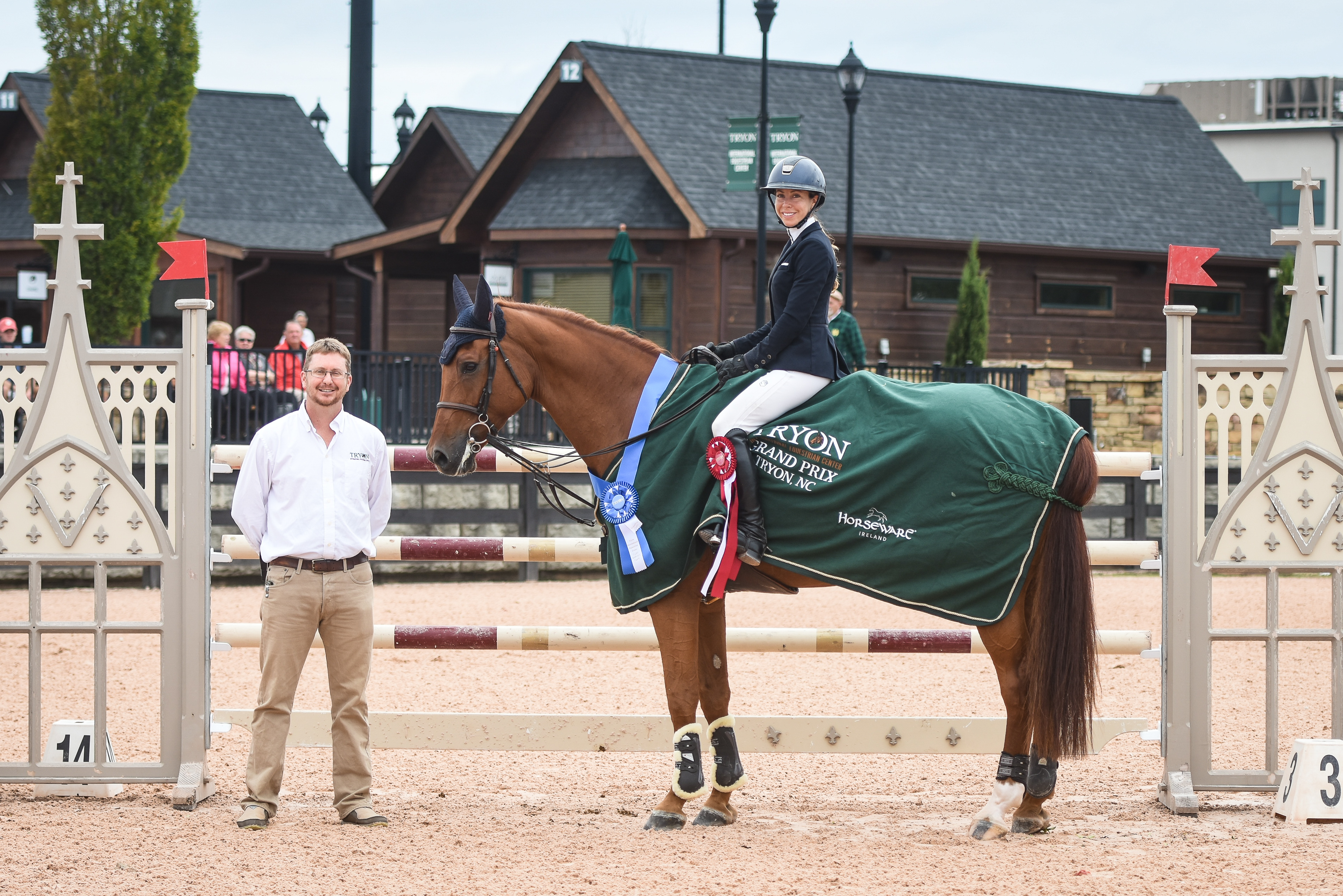 Taylor Land in her presentation ceremony alongside Competition Manager Lance Bennett.
©TIEC
Land concluded: "I think these horses are just at a point where I've had them for a long time, and we are to the point now where we're really teammates. It feels like we are progressing to the next level together for all three of the horses. I've had Falco [V] for three years and the other two [Get Go and Liroy 30] for two years, and it's just enough time to really get to know them. You feel like it should just take six months, but it doesn't. It takes a long time and they're just all coming into their own, and it's fun to have them really reaching an exciting point at the same time."
Jumper Highlights:
Ricardo Villa (Campobello, SC) piloted Juan Pablo Betancourt's entry Walnut to top honors in the $5,000 Horseware Ireland Welcome Stake, while Taylor Land (Atlanta, GA) and Get Go, owned by Pinetree Farms Inc., took the red ribbon.
Allen Nabors Jr. (Odessa, FL) and Numero Dos, owned by Nicole Fisher, took champion honors in the CaptiveOne Advisors 1.20m Open Jumper Division, with Darby Pease (Mount Pleasant, SC) collecting reserve aboard Jessica Mendoza's entry, Malibu.
The Adequan® 1.30m Open Jumper Division saw Maryann Charles (Southern Pines, NC) as champion aboard Cludy for Arianna Tucker LLC, while Juan Ortiz (Loxahatchee, FL) and Diana Patterson's Estrada Empire claimed reserve.
The Children's/Adult-Amateur Combined Jumper 1.10m Division sponsored by Tryon Estates awarded champion honors to Tinita Hughes (Athens, GA) aboard her own Proximo. Reserve honors went to Emily Kocher (Tryon, NC) and Sarah Kerins' entry, Liberation.
John Michael Durr (Shelby, NC) and Rebecca Brown's Magnus claimed champion honors in the 1.10m Jumper Division, while Shawna Swanson (Waxhaw, NC) and Sarah Kerins' Ballyknock Vivendi Blaze took reserve.
Hunter Highlights:
The Foothills Child/Adult Hunter 2' Combined Division congratulated Peyton Carter (Tryon, NC) and Janeen Carter's Pax Romana as champions, with reserve earned by Stella Hartman (Harrisburg, SD) and her own Alpine's Santa Barbara.
Caroline Maude Hedges (Columbus, NC) and her own Dress Balou claimed champion in the Marshall & Sterling Children's/Adult-Amateur Hunter Combined Division, with reserve honors awarded to Jennifer Boyle (Moncure, NC) and her own Margo.
The Pulse Equine Performance Hunter Combined 3'3"/3'6" Division awarded Lee Hughes (Athens, GA) and his own Everett champion honors. Reserve honors went to Heather Hooker (Wellington, FL) and Susan Turner's Scholar.
The USHJA Hunter Combined 2'9"/3' Division saw Tommi Clark (Tryon, NC) pilot her own entry, Chosen, to champion honors, also congratulating Ashley Conkle (Campobello, SC) and Laura Hunt's Dolce in reserve.
For full results from the $25,000 Tryon Grand Prix,
click here.
For full results from the $5,000 Horseware Ireland Welcome Stake,
click here.
The Tryon August Series continues through August 28. To learn more, visit
www.Tryon.com.
Photo credit ©TIEC. These photos may only be used once in relation to this press release with proper credit. Contact
media@tryon.com
with questions.