For Immediate Release
Mill Spring, NC – August 8, 2019 – Taylor Land (Atlanta, GA) landed in the money with all three of her mounts after Thursday's $5,000 Horseware Ireland Welcome Stake at Tryon International Equestrian Center (TIEC) at Tryon Resort, piloting Liroy 30 to victory in a time of 30.598 seconds to kick off Tryon August 1 competition at the venue. Just behind in second, Land and Falco V, the Pinetree Farms Inc. entry, cleared the short-course in 30.872 seconds, while Allen Nabors Jr. (Odessa, FL) achieved third place with Bon Chatsworth Pierre, owned by Allen Nabors and Jessie Grabowski, stopping the jump-off timers in 31.827 seconds.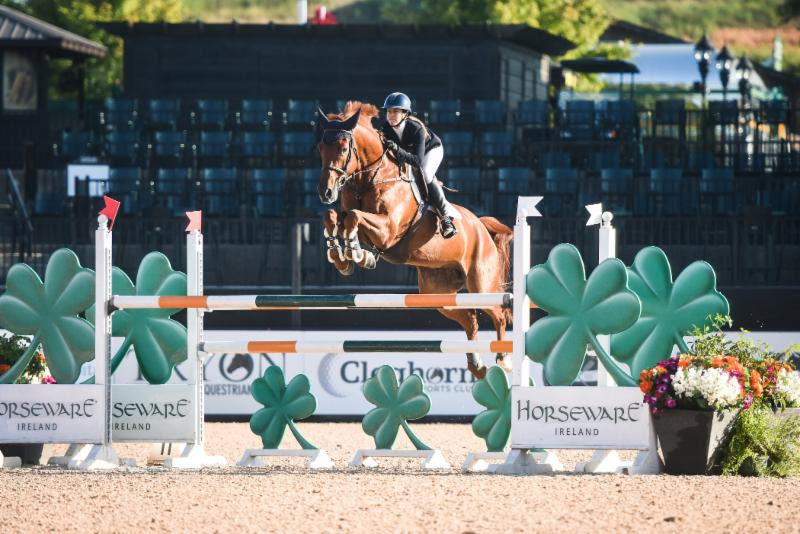 Taylor Land and Liroy 30
©TIEC
Fifteen horse-and-rider pairs challenged the track set by JP Godard (Aiken, SC), with five returning for the jump-off. Land, who has had consistent success as a competitor at TIEC and also collected eighth aboard Get Go, attributed long strides and talented horses to her winning result. "I had my three best horses in this class today," she explained. "Get Go is seven, Falco [V] is nine, and Liroy [30] is ten. They're all such fantastic horses – all in a little bit different stages of life – but they're all so special.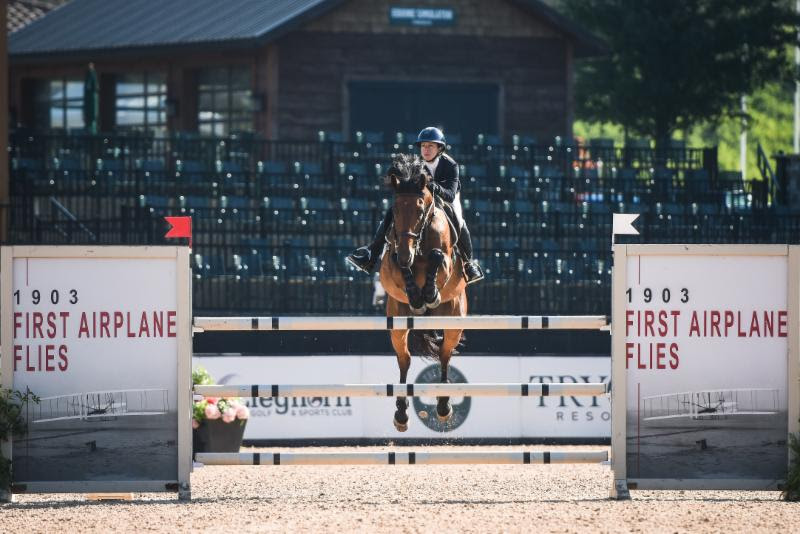 Taylor Land and Falco V
©TIEC
"I think with all three of them I have a little bit of an advantage in the sense that they're all really careful and quick in front, and they all have huge strides," Land assessed. "It's easy to leave strides out that way – I can do leave-outs without taking big risks. Today I really wanted to be just smooth and forward in the jump-off. There was a potential inside turn after the first jump, but it was pretty aggressive [of a turn] for the first day, and I wanted them to feel ready for Saturday, so I actually went around and just went really forward," Land revealed. "I did a few [stride] leave-outs, and then one tighter turn back to the last line. I just wanted to try to stay smooth with an even rhythm to prepare for the Grand Prix."
Allen Nabors Jr. and Bon Chatsworth Pierre
©TIEC
Despite taking the longer track on course, Land admitted that she ultimately had to steady her long-strided mounts and still made quick time over the course, especially with Falco V: "Falco was on such a massive stride today that the leave-outs were really steady for him, actually! So, that walked a little differently than it rode, but overall I thought the course rode about how I walked it. It was a great track, and a great start for the week."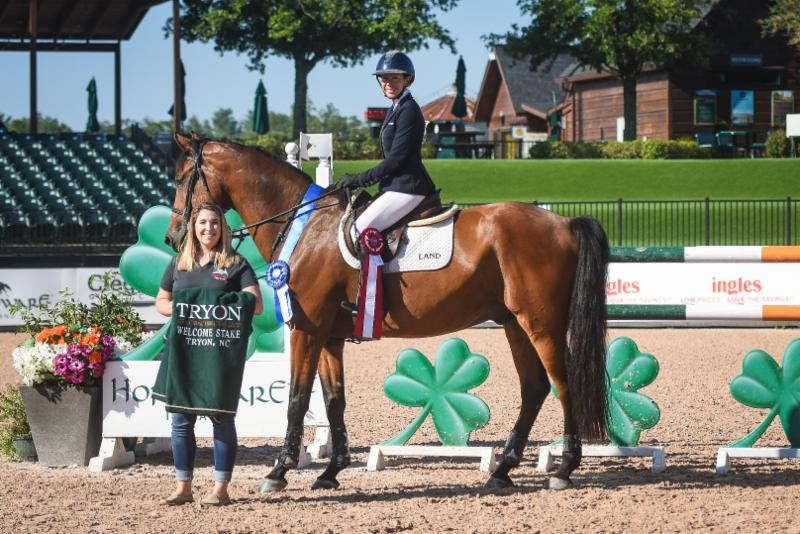 Taylor Land in her presentation ceremony.
©TIEC
Land will give her string tomorrow off, and will bring back her top two finishers Saturday evening to contest the $30,000 Tryon Resort Grand Prix. "I'll give Get Go off the rest of the week, because this is his biggest class for the week, and then Falco and Liroy will do the Grand Prix on Saturday. So they'll have a nice break tomorrow, eat a lot of grass, and then jump Saturday night! It's a great facility, and it's always fun to show here," she concluded.
For full results from the $5,000 Horseware Ireland Welcome Stake, 
click here.
 Tryon August 1 competition continues through Sunday, August 11, and includes highlight classes such as Friday's $2,500 USHJA National Hunter Derby hosted at 8am in the Reynolds Family Grand Hunter Ring and Saturday night's $30,000 Tryon Resort Grand Prix hosted in Tryon Stadium at 8pm. For more information on the Tryon August series, visit 
www.Tryon.com
.
Photo credit ©TIEC. These photos may only be used once in relation to this press release with proper credit. Contact 
media@tryon.com
 with questions.