The Fork at TIEC Returns to Tryon International Equestrian Center Featuring WEG Eventing Test Event
Tryon International Equestrian Center (TIEC) is proud to announce the return of The Fork at TIEC, the FEI CIC 3*/2*/1* and Horse Trials presented by Lucky Clays Farm, on April 4-8. The CIC 3* division of The Fork competition will also serve as the Eventing Test Event in preparation for the FEI World Equestrian Games™ Tryon 2018 (WEG) in September. General admission and parking are free for all competitions and additional ticketed spectator events will be hosted throughout the week. Founded by Jim and Bernadette Cogdell, The Fork Horse Trials began 17 years ago in Norwood, NC and moved to TIEC last year to elevate the level of competition and enhance the spectator experience. As one of the most prestigious Eventing competitions on the North American calendar, The Fork is back at the Tryon venue. Alongside the FEI CIC 3*/2*/1* competition, Advanced, Intermediate, Preliminary, Modified, and Training divisions will also be hosted.
Click here for Entry Status
Click here for Ride Times
Click here for Live Scoring
The Fork at TIEC offers an unprecedented chance for spectators to preview top competitors in their final tune-up before the prominent Land Rover Kentucky Three-Day Event CCI 4* in Lexington, KY, as well as a preview of the thrilling competition to come to TIEC in September for the WEG. For some riders, The Fork at TIEC will serve as a qualifier for the WEG.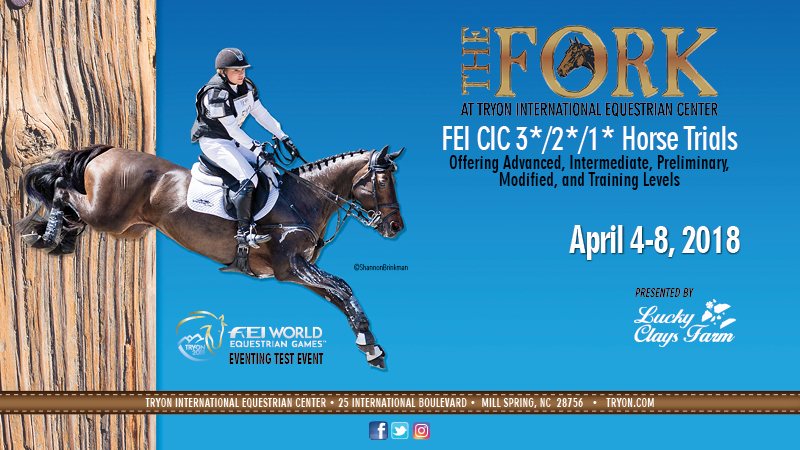 Spectators can also enjoy an impressive lineup of social events throughout the week including a Ladies Champagne Luncheon, Comedy Club Night, Lakeside Lunch with prime viewing of the cross-country course, "What the FORK" Party, and Sunday brunch.
Ladies Champagne Luncheon, Friday, April 6
Six years ago, The Fork Co-founder Bernadette Cogdell started an annual "Ladies Champagne Luncheon" where women donned their best derby hats and cocktail dresses. Doubling as a fundraiser for Brooke USA this year – an organization that raises funds to significantly improve the welfare of working horses, donkeys and mules and the people they serve throughout the world – Cogdell and co-hosts Marcia Kulak and Katherine Bellissimo are inviting attendees to "Brunch in Orange" by wearing their favorite orange attire to celebrate the non-profit organization. The event is scheduled for Friday, April 6 from 11 a.m. – 2 p.m. at Tryon Resort's Legends Club and tickets are on sale at HERE.
The brunch event, complete with prizes for "best hat" and "most original hat," was originally inspired by the spring holiday season, said Cogdell. "The Fork event either ends up on or close to Easter, so it is the perfect time to dress up with an elegant hat and have a champagne lunch. I think ladies love a champagne luncheon and the chance to put on a fun hat while being able to watch either dressage or show jumping."
Tickets for the Champagne Luncheon are available online at www.Tryon.com.

Comedy Club Night, Friday, April 6
Friday evening from 8:30 p.m. – 10 p.m., Comedy Club Night returns as a popular feature to The Fork's social calendar. Held at Legends Club, this event will feature unforgettable laughs and a bar menu, with tickets available online HERE.
Lakeside Lunch, Saturday, April 7
Enjoy the most prime viewing of this elite level Eventing competition at the Lakeside Lunch on Sunday from 11 a.m. until 2 p.m. Located on the cross-country field next to a scenic lake, this beautifully tented buffet lunch includes a gourmet menu, beer and Mimosa bar, plus additional cash bar for other alcoholic beverages. Tickets can be purchased online HERE.
"What the FORK" Party, Saturday, April 7
Celebrate the Eventing riders and their achievements at the "What the FORK" Party on Saturday, April 7 from 7 p.m. – 10 p.m. at Legends Club. The event is free to all riders, but the public is invited to join the fun and can purchase a ticket for the party online HERE. The event will feature a dinner buffet and cash bar and music.
Sunday Brunch
Closing out The Fork festivities is Sunday brunch at Legends Club on April 8, 10 a.m. – 2 p.m. A delicious buffet of traditional breakfast and lunch favorites will be available, along with a cash bar. Information can be found at www.Tryon.com or reservations can be made by calling 828-863-1000.
Volunteers
There are plenty of opportunities to get involved as a volunteer, with positions available April 1-9th! For more information on available positions or to sign up, visit the Volunteer Portal HERE.
Like Tryon International Equestrian Center on Facebook to get the latest updates and info.
Media Inquiries: please contact media@tryon.com.
Vendor Inquiries: Chuck Ebbets, vendors@tryon.com.