August 3, 2020
Dear Competitors, Trainers, Grooms, Family and Friends,
We are excited to welcome you for the August Series beginning this week here at Tryon International Equestrian Center (TIEC).
As COVID-19 cases continue to rise around the country, and following the recent cancellation of the US Equestrian Pony Finals due to COVID-19 cases at Kentucky Horse Park, it is imperative that we all practice our COVID-19 policies that are designed to keep us safe and enable our ability to continue participating in this sport we all love.
As you prepare for your visit to TIEC, please review our current COVID-19 protocols listed here below, as well as a few new rules designed to further protect and safeguard you and everyone in attendance. To view our complete COVID-19 Action Plan, click here or visit Tryon.com.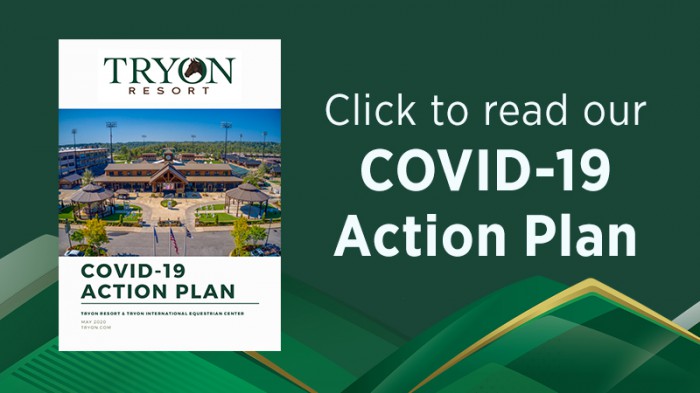 Here is a summary of our COVID-19 protocols:
A cloth mask must be worn at all times in public spaces including barns as now mandated by USEF.
Social distancing must be practiced at all times in all public spaces.
A temperature check is mandatory for admission into our venue and temperatures are taken at the main entrance.
Here are new protocols in light of the recent COVID-19 cases discovered at other equestrian venues:
If you or someone in your barn has tested positive for COVID-19, then anyone from that barn wanting to participate at TIEC must show proof of his/her negative COVID-19 test prior to being allowed access to the venue.
If you are coming from the Kentucky Horse Park and have been exposed to COVID-19, we are asking that you voluntarily be tested for COVID-19 and show proof of your negative COVID-19 test result before coming to TIEC showgrounds.
No braiding will be permitted for the Tryon August series. We respect that braiders are part of the equestrian community, however we feel that this decision is necessary to limit the persons in the barns to essential staff only.
Horse Show Office communication is limited to email and phone. If you must meet in person, you must designate 1 person to be your barn or group's main point of contact with the Horse Show Office. To make an appointment, please contact Sally Dunn at sdunn@tryon.com or 828-863-1005.
We ask that you limit your contact with our horse show office staff. Trainers please designate 1 representative to be your barn or group's main point of contact and make an appointment prior to entering the office. Please contact Sally Dunn to schedule an appointment sdunn@tryon.com or 828.863.1005.
Stalls are limited for the August Series and preference will be given to competitors coming for 2 weeks or more.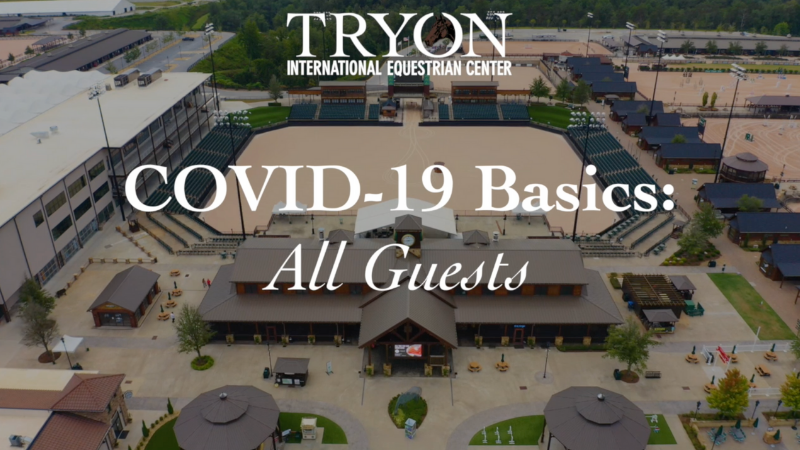 Click here to watch our COVID-19 Basics video.
TIEC employs COVID monitors to patrol the venue to ensure that all safety measures are being followed. This staffing effort is first and foremost to protect you and everyone at our venue. You will find all of our staff wearing yellow vests, so please do not hesitate to ask any of us a question.
To sign up for our TIEC Text Alerts for the latest news and updates, please text your show week code below to 40691:
August 1
August 2
August 3
For additional information about dining, shopping, amenities, show schedules and more, please visit Tryon.com/ThisWeek.
Policy violators will only be given one warning before being asked to leave the venue. Please immediately communicate this information to your staff, grooms, owners and other essential personnel. Again, the severity of these new policies is for the protection of all guests and for the safeguarding of competition. Should you see violations, please report them to any of our teammates in the yellow vests/armbands.
We appreciate your eagerness to return to the competition ring and your understanding and cooperation in following these guidelines. If you have additional questions or concerns, please do not hesitate to contact us.
We look forward to seeing you soon!
Sincerely,
Sharon Decker, President, Tryon Equestrian Partners, Carolinas Operations
Molly Oakman, Director, Equestrian Operations, Tryon International Equestrian Center
JP Godard, Show Manager, Tryon International Equestrian Center