Taylor Land Takes Top Two in the $5,000 Horseware Ireland Welcome Stake
For Immediate Release
Mill Spring, NC – September 23, 2019 – Tommi Clark (Tryon, NC) piloted Extraordinare to win Saturday's $2,500 USHJA National Derby after earning a two-round score of 167 to take the win at Tryon International Equestrian Center (TIEC). Clark also piloted her own entry, Chosen, to a third-place finish with a two-round score of 159, while Robert Stucky (Waxhaw, NC) piloted Allie Rae Hayes' entry, The Girl From Ipanema, a 2009 Hanoverian mare (Clinton I x Vorbuch), to a second-place finish with a two-round score of 166.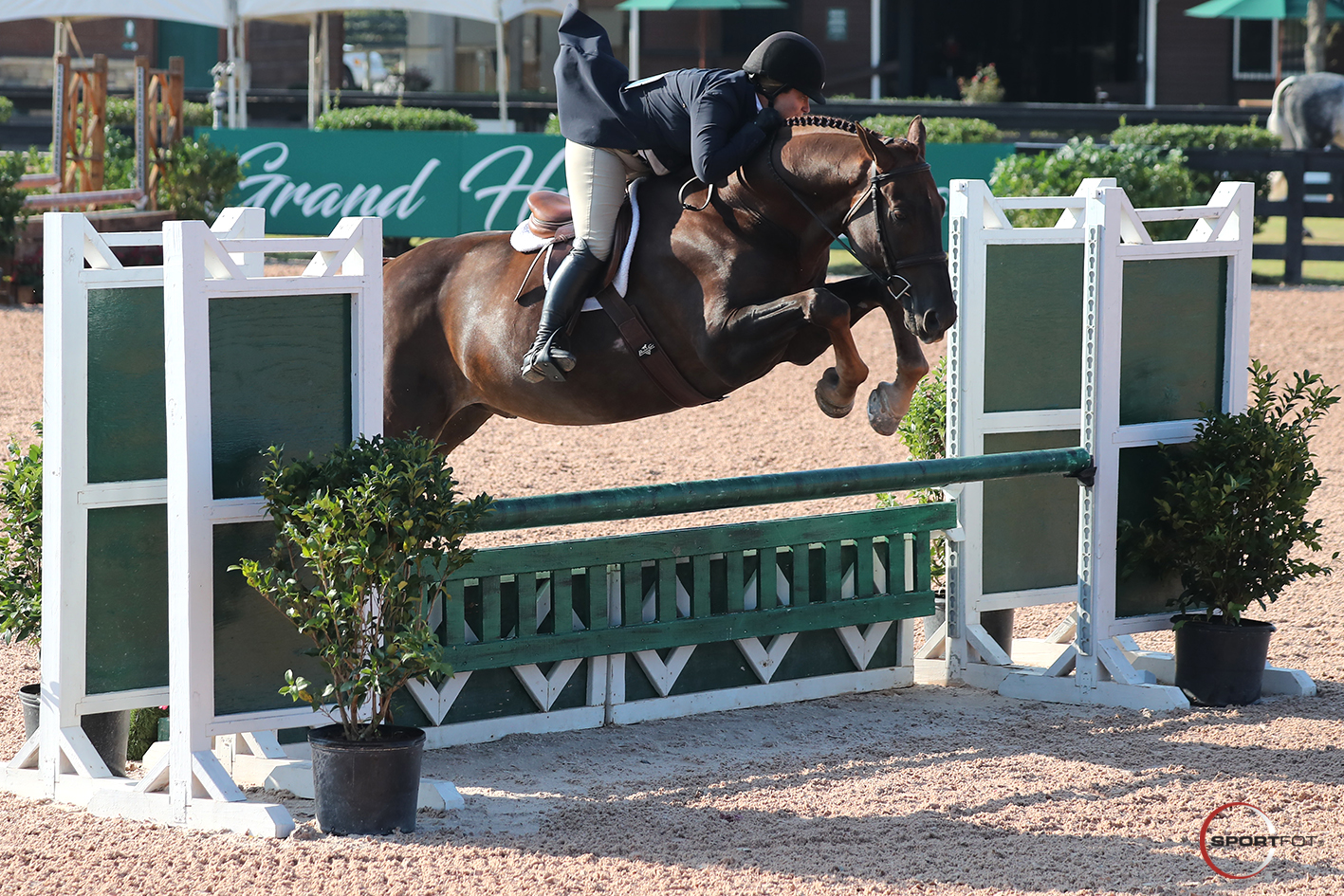 Tommi Clark and Extraordinaire
©Sportfot
"Extraordinaire is a longtime derby partner," Clark shared of the 2007 Hanoverian gelding (Stolzenberg x Cleopatra) owned by Stephen Borders. "In fact, we won the last derby he did here, and then Chosen is my personal horse. So it was pretty cool to have a good day on my own horse, too."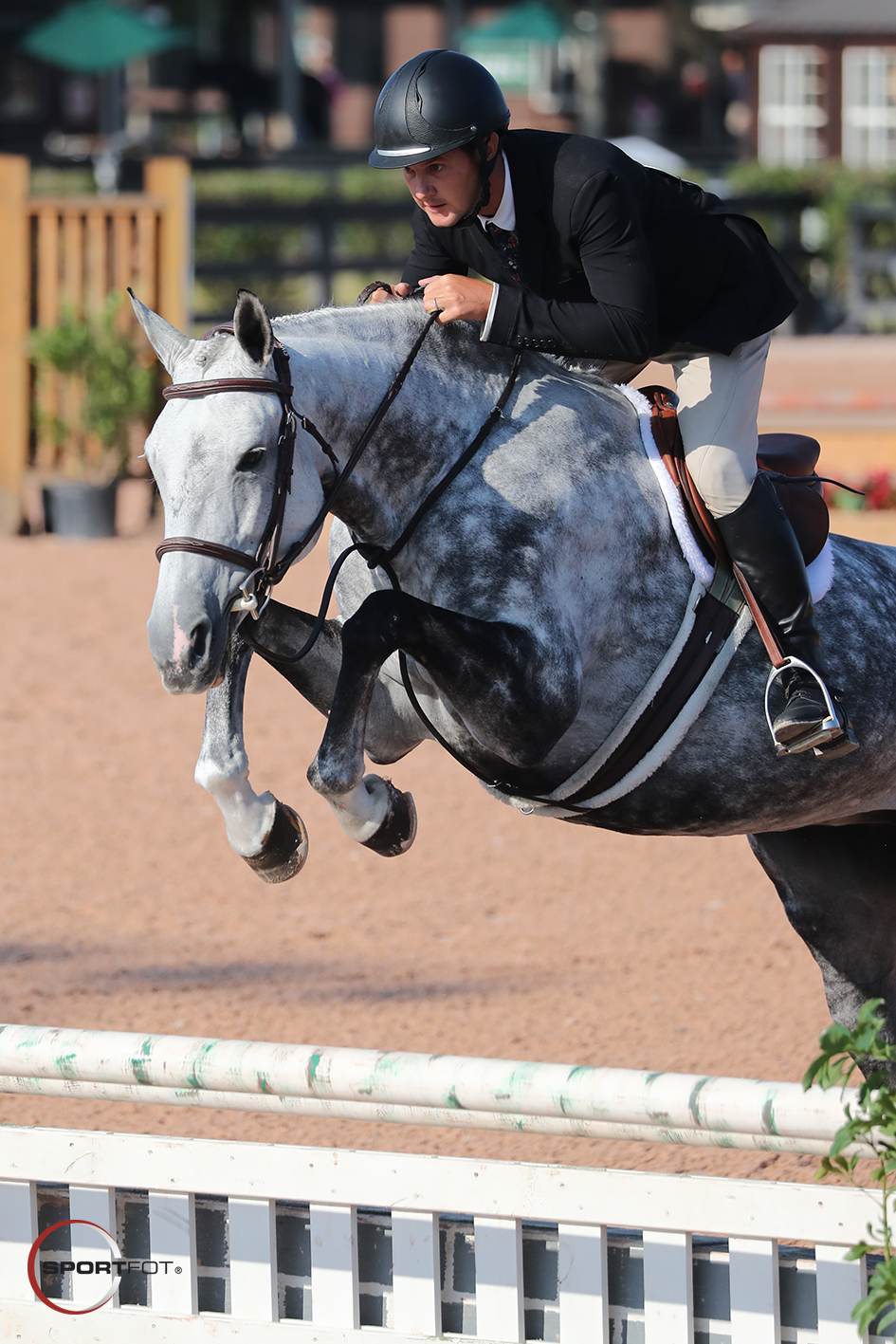 Robert Stucky and The Girl From Ipanema
©Sportfot
Eight pairs challenged both the first and second tracks set by JP Godard (Aiken, SC). Clark, went into the handy round in second on Extraordinaire and fourth on Chosen, the 2005 Warmblood gelding. "With Chosen, he was kinda coming from behind since I got a little deep into the two-stride line. [With Extraordinaire], I was trying to come back so I really went all out with him and normally he's usually really good in the classic round, so I just kind of coast in the handy. It was really fun to see what he had for the handy round."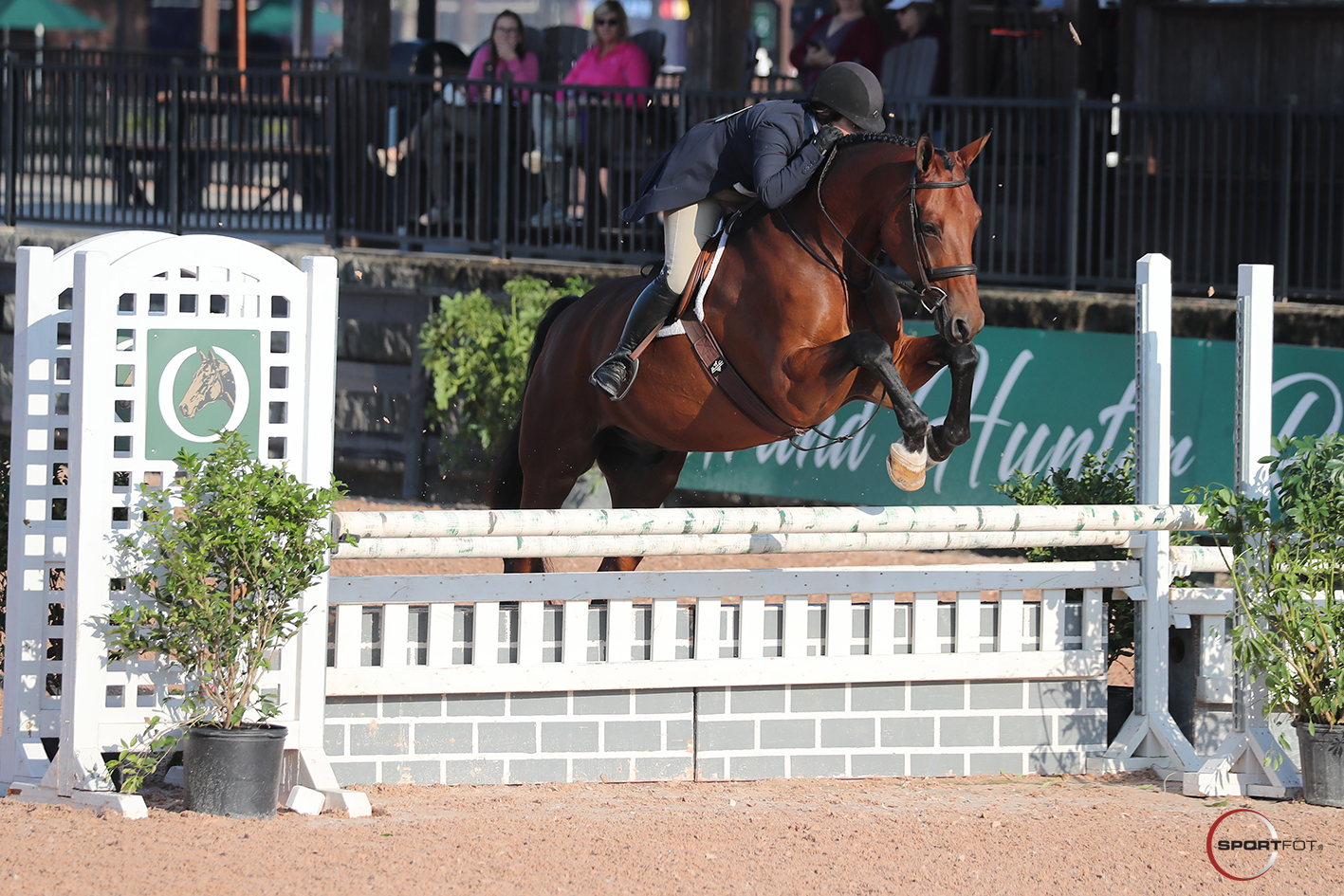 Tommi Clark and Chosen
©Sportfot
Clark, whose farm is only a mile from TIEC, explained that she moved her entire operation from California to live in the Tryon region. "The horses just live differently here. They get to go out on green grass and things like that, which isn't as popular in California, just because it's so overpopulated. It's really fun to see the horses get to be horses."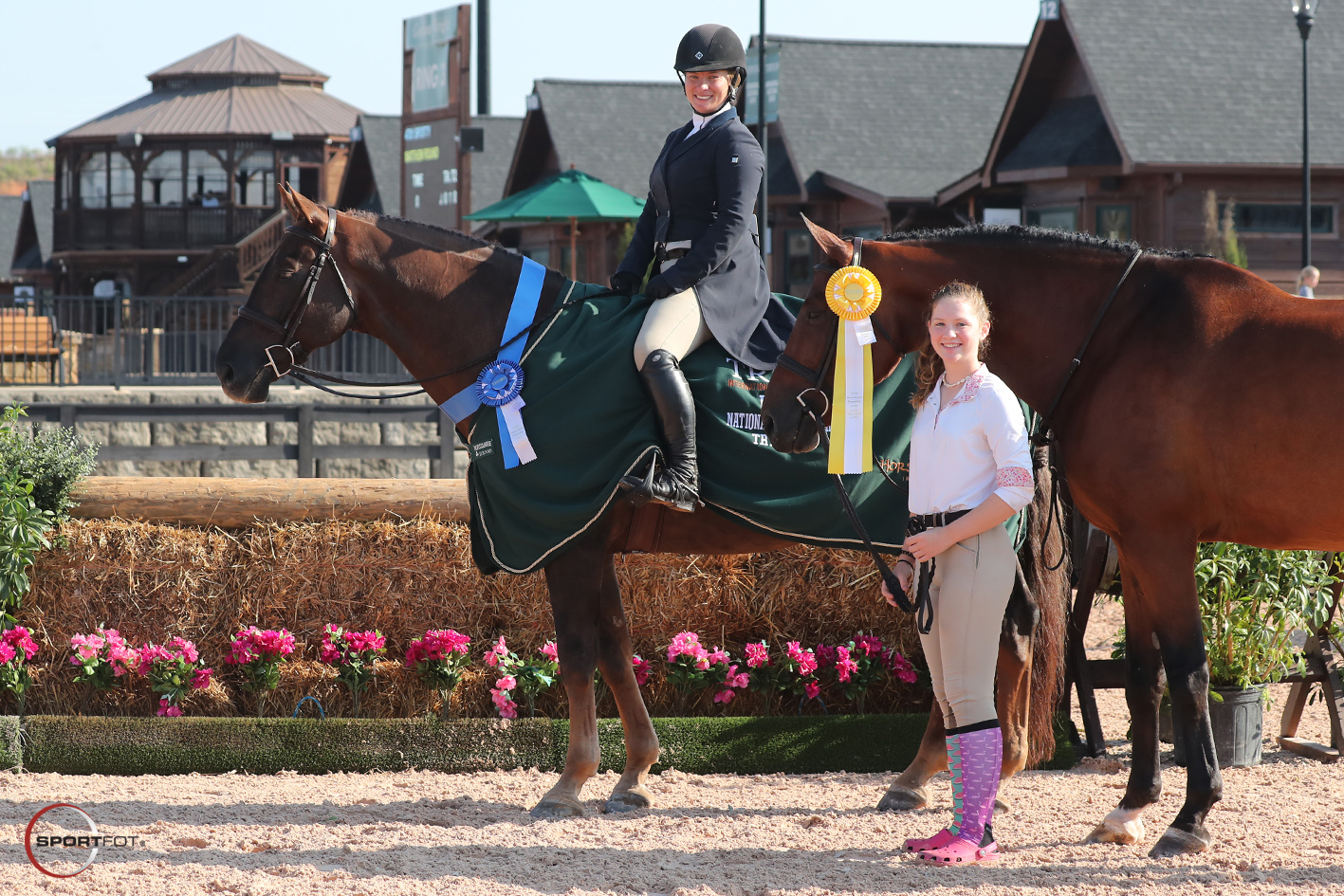 Tommi Clark in her presentation ceremony.
©Sportfot
Clark concluded, "We're coming back for every derby [during the Tryon Fall Series]. We'll go up to Capital Challenge, Pennsylvania National, and Washington [International Horse Show] but we will just do our three days there and come right back for the derbies here."
Taylor Land Takes Top Two in the $5,000 Horseware Ireland Welcome Stake
Taylor Land (Atlanta, GA) claimed the top two finishes in Friday's $5,000 Horseware Ireland Welcome Stake at Tryon International Equestrian Center (TIEC) at Tryon Resort, piloting Falco V to victory in a time of 28.279 seconds to kick off Tryon Fall 1 competition at the venue. Just behind in second, Land and Get Go, the Pinetree Farms Inc. entry and 2012 Hanoverian gelding (Grey Top x World Diamond O), cleared the short-course in 28.869 seconds, while Allen Nabors Jr. (Odessa, FL) landed in third place with Bon Chatsworth Pierre, a 2011 Zangersheide gelding (Revaou de La Bergerie x Little Rock), owned by Allen Nabors and Jessie Grabowski, stopping the jump-off timers in 28.905 seconds.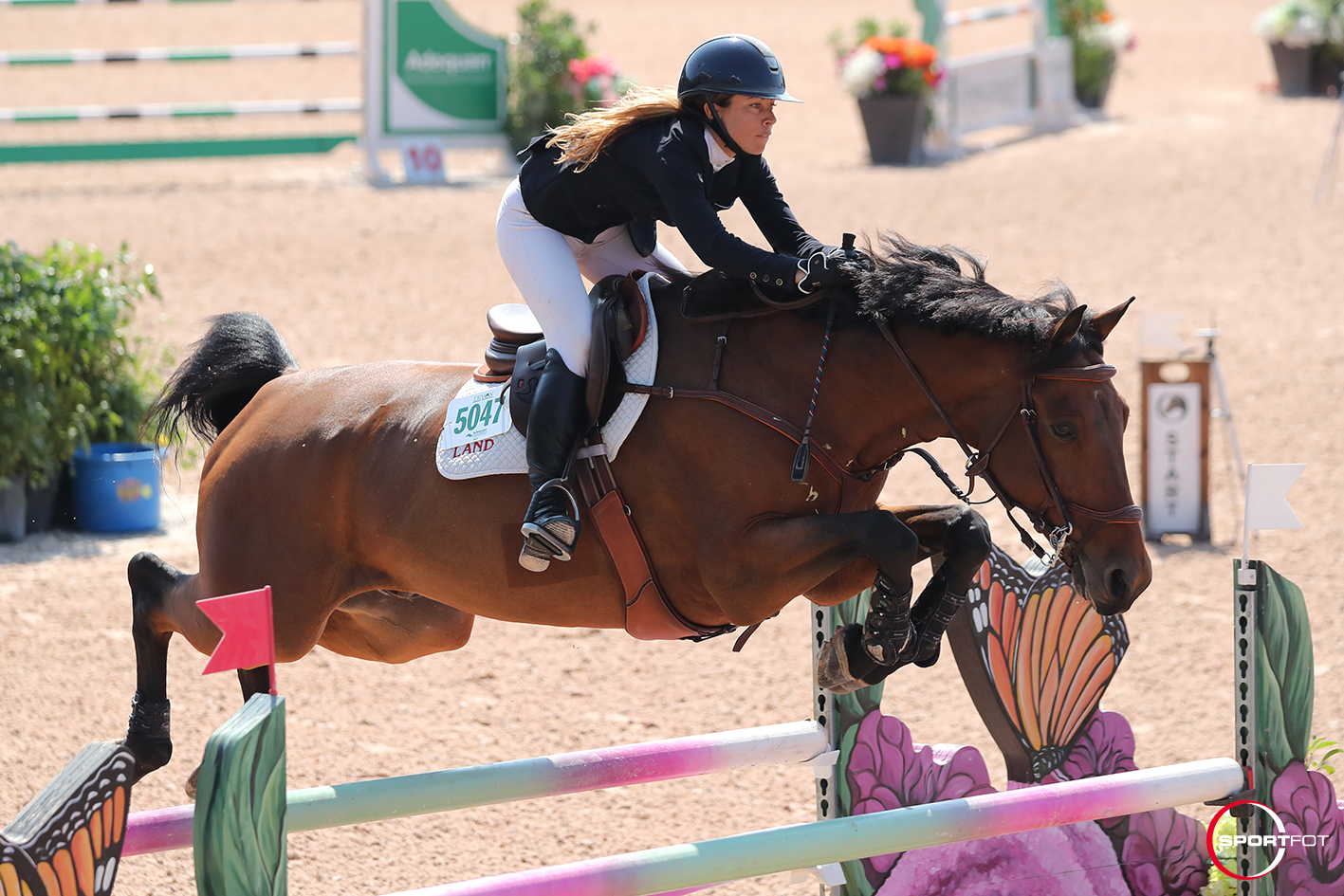 Taylor Land and Falco V
©Sportfot
Twenty-four pairs tested Dean Rheinheimer's (Sheridan, IN) initial round, with 13 returning to the jump-off. Land, who initially was in the lead with her other mount Get Go, was able to leave out strides between the second and third jumps with Falco V, resulting in a win for the 2010 Dutch Warmblood gelding (Bustique x Montreux) owned by Pinetree Farms Inc.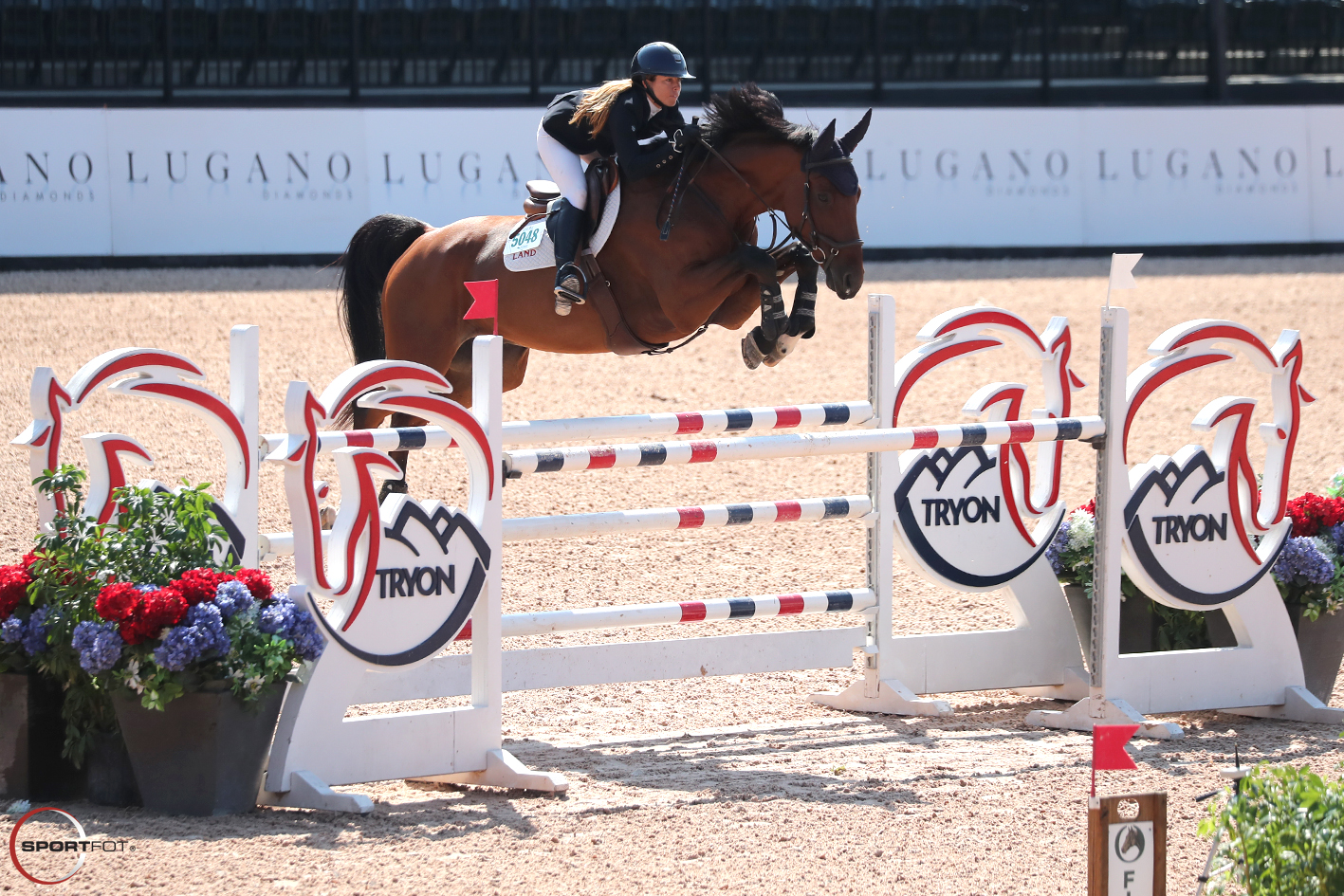 Taylor Land and Get Go
©Sportfot
"He [Falco V] is the most fun horse to ride in jump-offs. He has the most competitive spirit of any horse I've ever had, and just fights for it every time. You feel this energy from him, where he's just fighting to go clean and to go fast," Land continued, "I've never met a horse like Falco, who's so competitive but is also so bomb-proof. If people come out to the farm and are inexperienced I always put them on Falco [V] because he's super safe."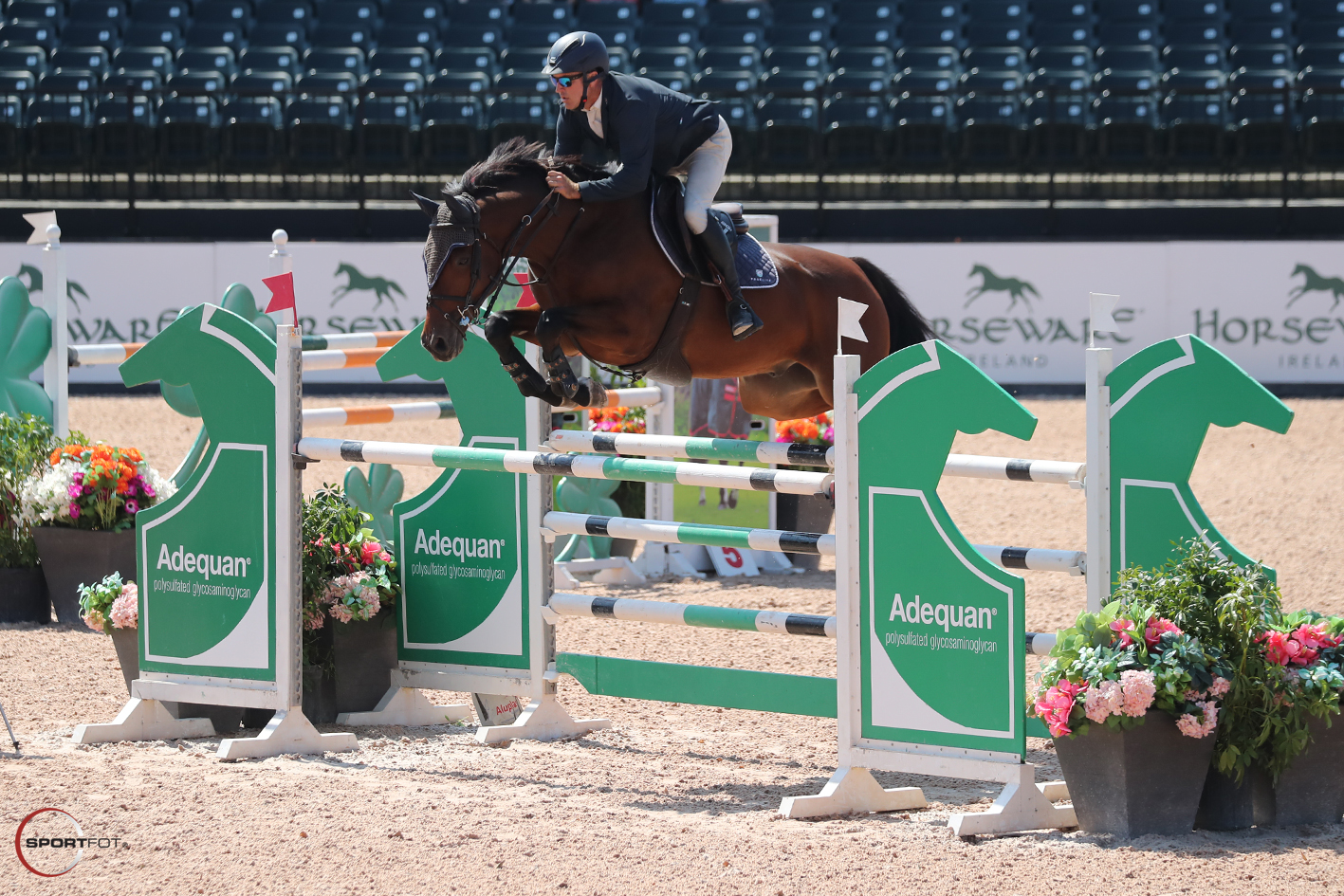 Allen Nabors Jr. and Bon Chatsworth Pierre
©Sportfot
Land, who just returned to competition after a short break, admitted that the down time was a nice change of pace for both herself and her horses: "I had a nice break. I went to a wedding, and then my horses got to just ride out in the field and have some down time. I think [for them] to be able to ride in the hills and have a break from jumping is really important for their mental state and for their bodies."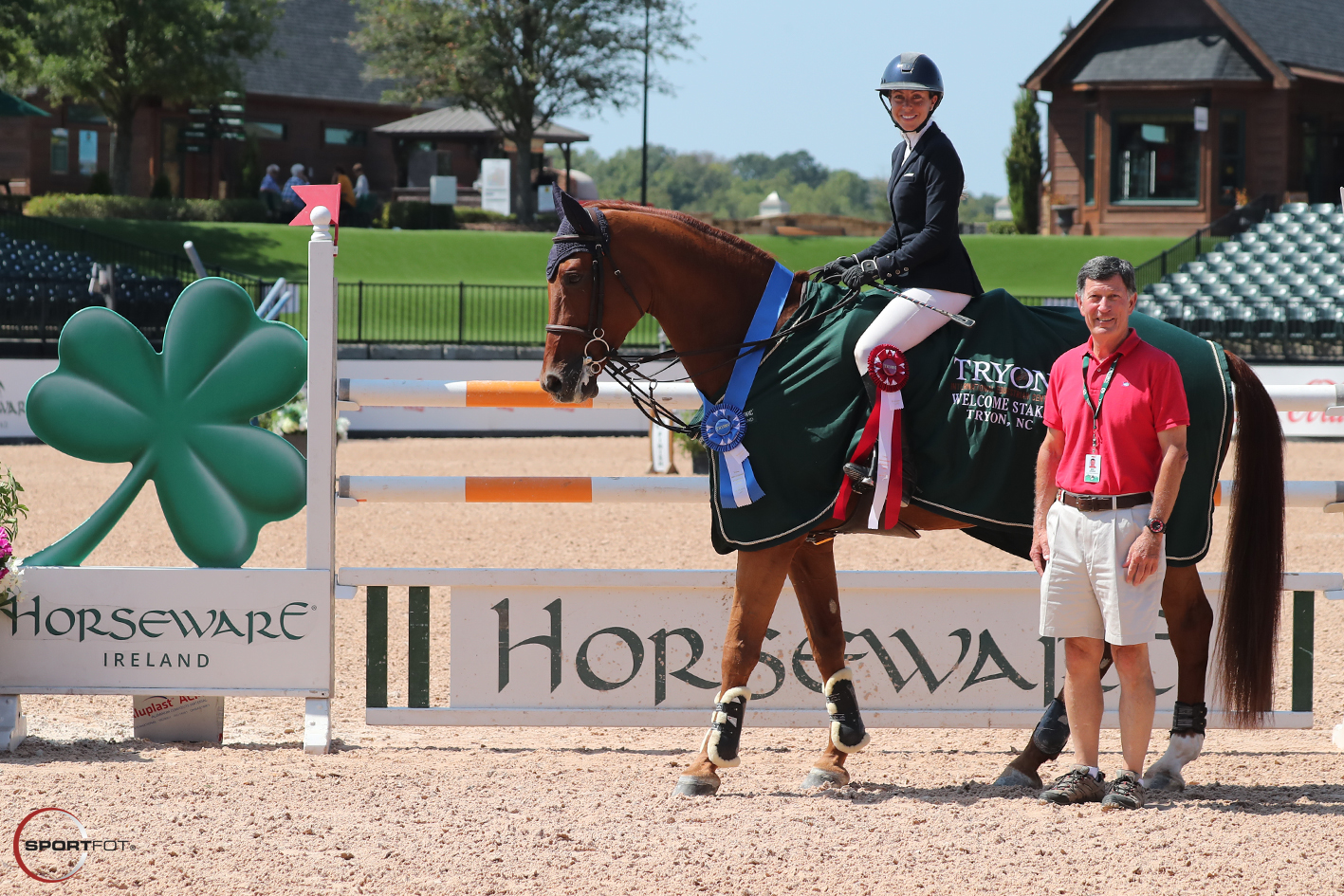 Taylor Land in her presentation ceremony alongside Eric Straus, TIEC General Manager of Equestrian Operations.
©Sportfot
After a short stint at some indoor shows, Land will head back south to Wellington, Florida in November to prepare for the Winter Equestrian Festival. "I'm so excited, I'm ready for it! I can't wait to get to the beach," concluded Land.
Jumper Highlights
The Adequan® 1.30m Open Jumper Division saw Fernando Cardenas Jr. (New Hill, NC) pilot his own Queenie to champion, while David Power (Wellington, FL) and Pine Hollow Farm's Dinozo claimed reserve.
In the CaptiveOne Advisors 1.20m Open Jumper Division, Theo Genn of Lebanon, OH, rode Eduardo Leon's Quinarita and earned the title of champion, with Ashley Duda guiding her own Southside to reserve to represent Laurinburg, NC.
Sandra Roberts (Hillsborough, NC) and her own Sandago were champion in the 1.15m Jumper Division, with reserve named to Ashley Shupe (Galax, VA) and her own Carpino.
Uranus 112 received champion in the 1.10m Jumper Division with Robert Stucky (Waxhaw, NC) in the irons for Caron Stucky, while Roxy Leyshon (Flowermound, TX) rode her own Vesuvius 4 to claim reserve.
The Tryon Estates Children's/Adult-Amateur 1.10m Jumper Division was championed by Arianna Tucker (Kannaplis, NC) aboard her own Lord Carlino, and the reserve rosette went to Ignacio Labbe Hole (Rancagua, Chile) and the Stranksy's Mission Farms, Inc. entry, Uitteraard.
Hunter Highlights
The Absorbine® Green Hunter 3'3" Division congratulated Merideth Bryans of Newborn, GA, and Vickie Bryans' Jaguar as champions, while Robert Stucky (Waxhaw, NC) piloted Gyimes to reserve for Delaney Hughes.
Trilby Allen (Columbus, NC) claimed both champion and reserve in the Junior/Amateur-Owner Hunter 3'3" Division, taking top honors with Fantastic for Stephen Borders and earning reserve with Appointed, also owned by Stephen Borders.
In the Foothills Child/Adult Hunter 2' Division, Brigette Tanner of Columbia, SC, rode Deborah Snyder's Cortona to champion status on the week, while Caroline Isbey (College Grove, TN) and Valentino, owned by Mindy Coleman, received reserve honors.
Jennifer Barker (Hopkins, SC) topped the USHJA Hunter 2' Division with Dutch Boy for Maria Winn, with Brigette Tanner and Deborah Snyder's Cortona earning reserve.
The USHJA Hunter 2'9" Division resulted in a champion rosette for Robert Stucky on Iron Run, owned by Tori Sells, while Taylor Fowler (Mechanicsville, MD) and Elizabeth Shaffer's Paulchen were named to reserve.
To view all Tryon Fall 1 Show Champions and Reserve Champions, click here.
For full results from the $2,500 USHJA National Hunter Derby, click here.
For full results from the $5,000 Horseware Ireland Welcome Stake, click here.
Photo credit ©Sportfot. These photos may only be used once in relation to this press release with proper credit.