For Immediate Release
Mill Spring, NC – July 17, 2019 – Tommi Clark (Tryon, NC) and Extraordinaire claimed the $10,000 USHJA National Hunter Derby at Tryon International Equestrian Center (TIEC), earning a combined score of 174. Megan Wexler (Ocala, FL) and Catherine Merrill's Amara, a 2007 Holsteiner mare (New Quidam x Jasmin IX), collected a total score of 172.5 to receive second place, while Keri Kampsen piloted Marjourie Sugarman's Mr. Fox, a 2013 Dutch Warmblood (Casskeni II x Kimberly), to a combined score of 170 to land in third place.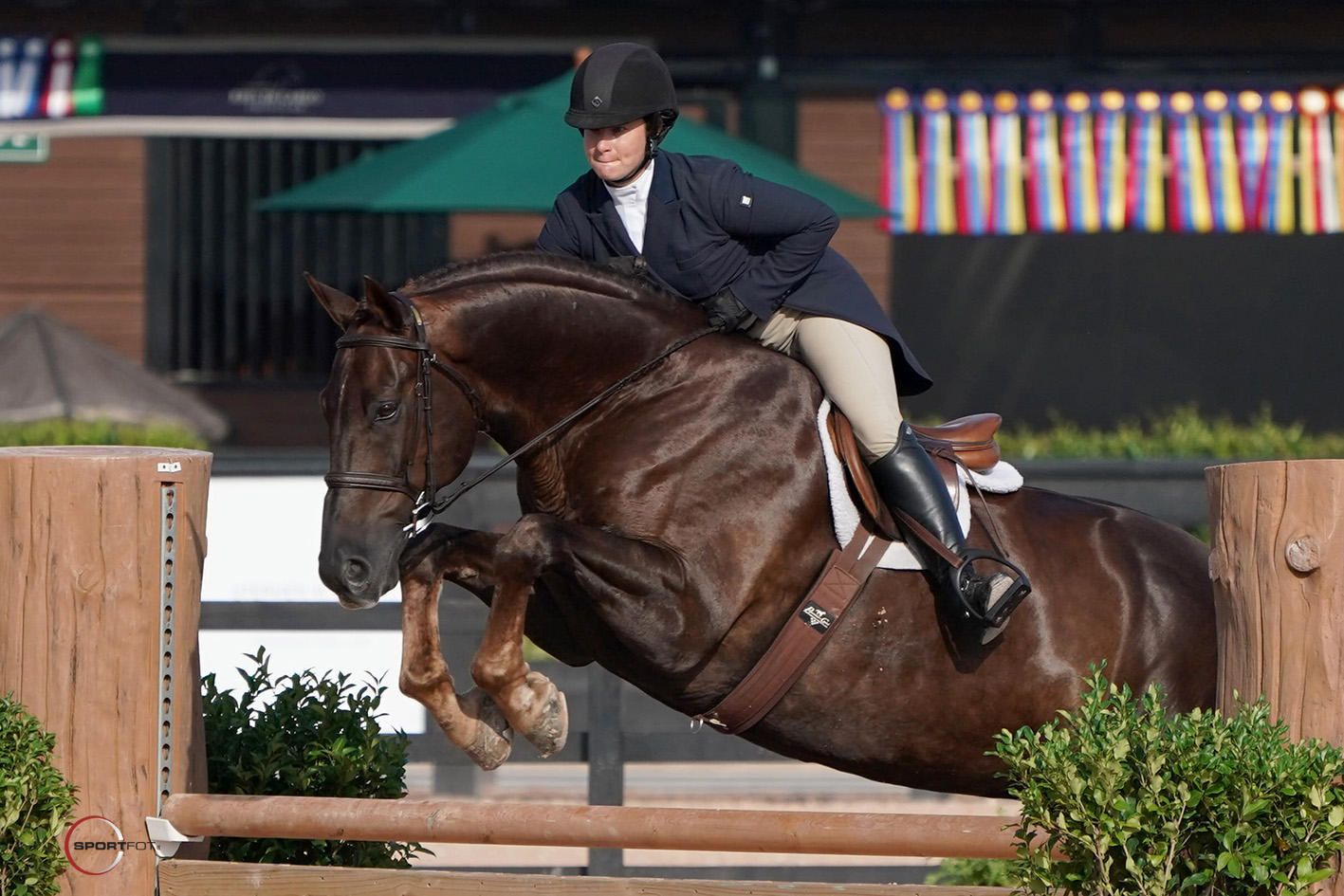 Tommi Clark and Extraordinaire
©Sportfot
Clark was excited about the course that Dean Rheinheimer (Sheridan, IN) designed for the 24 pairs in the Derby: "I thought the courses were set beautifully." Clark added that she has always had good experiences with the courses set at TIEC, sharing, "The course designers at Tryon are just excellent; they set them just tough enough for our horses, but at the same time there is nothing over-facing. He did a wonderful job."
After the first round, the 2007 Hanoverian gelding's (Stolzenberg x Cleopatra) score had landed Clark in second place before the handy. "My really good friend, Keri Kampsen, was in the lead for the first round, so my plan was just have as smooth of a handy round as possible. We were hoping to stay within the top five between the two of us, and then that would be a good day!" Clark shared.
Clark and the gelding owned by Stephen Borders have been partnered for awhile, doing both national and international derbies. Clark revealed that Extraordinaire is starting to begin his next career in the Junior Hunters, and will soon be offered for sale. "It feels good to have another win on him before he is sold," Clark expressed.
"He will do some derbies with me and then some junior hunters with some of my students until he is sold," Clark shared of the pair's summer plans. "We are planning on staying here [TIEC], we mostly stay here, we will go to Kentucky for a few weeks and a couple others but our plans for the summer mostly involve sticking around Tryon."
Clark is a familiar face around the showgrounds, and has racked up top placings at the venue since she arrived in the region. "I cannot say enough good things [about TIEC]," Clark emphasized. "We actually moved [to Tryon, NC,] from California just for the Tryon International Equestrian Center. We absolutely adore the shows here! There are big money classes for your bigger horses, there are smaller shows for your younger horses, and there is something here for everyone."
Clark concluded that she plans to stick around the area and to continue to compete at TIEC in the years to come. "The rings are beautiful, there are always great course designers, and the office staff are just unbelievable. I can honestly not say enough things about the Tryon International Equestrian Center and how it has really helped bring my horses along this year."
Hunter Highlights:
Keri Kampsen piloted Mary McKenzie's Qualified in the Absorbine Green Hunter 3' Division, receiving champion honors. I.M. Gold, owned by Redfield Farm, ridden by Keith Alaimo were crowned reserve champions for their performance.
Barbara Scott's Catchphrase, ridden by Harold Chopping, were crowned champion in the Green Hunter 3'6/3'9/High Performance 4' Division. Robert Stucky navigated The Girl From Ipanema, owned by Allie Rae Hayes, to reserve champion honors.
In the $500 Marshall & Sterling Insurance NAL/WIHS Adult-Amateur Hunter Classic, Lisa Baugh piloted KJ Equine LLC's Resolute to first place honors with a score of 163. Aboard her own Say Cheese, Alexis Worthington was awarded second place honors for their effort scoring a 162.5, while Carly Reinsel and Constantine, owned by Patricia Scopellite, finished in third with a score of 162.
First Class, ridden by owner Katelyn North, was awarded champion honors in the Amateur-Owner Hunter 3'3 Division, while Katherine Paul navigated her own Plot Twist to reserve honors.
Karina Jones's Finnegan, ridden by Kelly Kocher, were presented champion honors for their effort in the Baby Green Hunter 2'6 division, while William Russell rode Zed, owned by Kimberley Kaminsky, to reserve honors.
For full results from the $10,000 USHJA National Hunter Derby, click here.
The Tryon Summer Series continues through Sunday, July 21, 2019. For more information, visit 
Tryon.com
.
Photo credit 
©Sportfot
. These photos may only be used once in relation to this press release with proper credit.