Ahhh, there is nothing like a cozy log cabin any time of year, and our five bedroom, three bedroom, and one bedroom  cabins on-site are pretty cozy if you ask us! Have you ever wondered what the three bedroom cabin looks like? Follow along through our photo tour… If you missed the Facebook live tour, click here to see it as well.
Click here to book your stay at Tryon Resort!
Now, let's get going! You will walk up the front stairs and onto an amazing front porch. But don't worry, we are just getting started!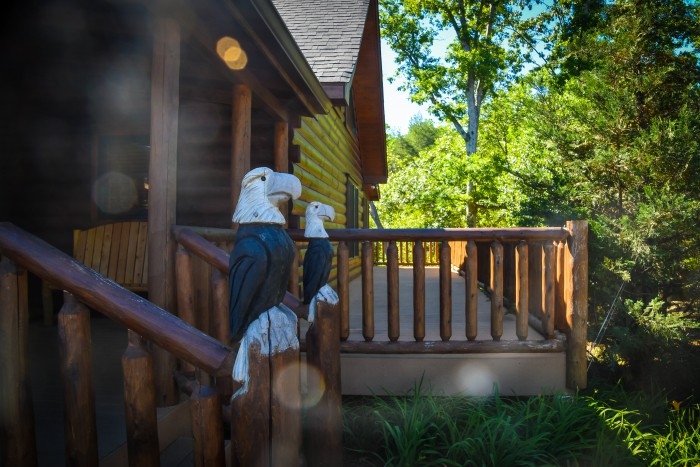 All of the cabins are nestled down by the creek, making it feel as though you are escaping reality.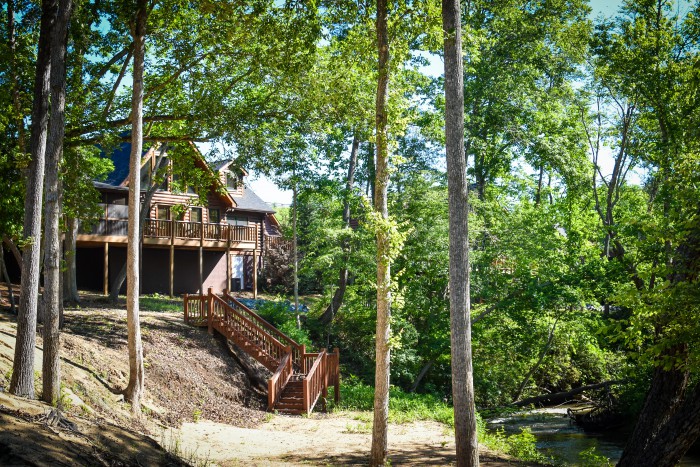 Now, let's take a look in the most important room of the house: the kitchen!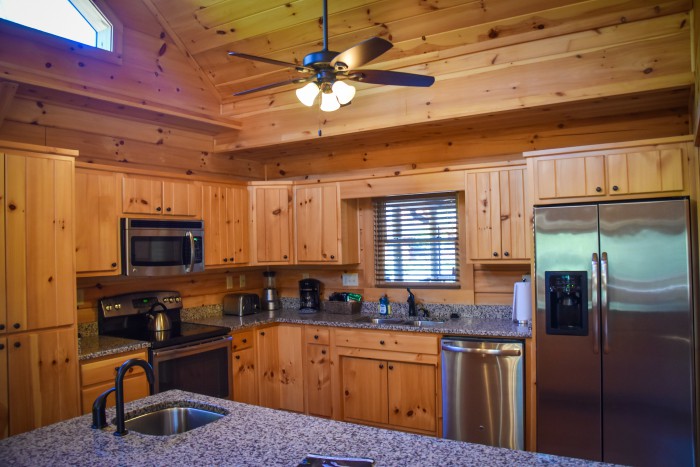 Tons of counter space, stainless steel appliances, and equipped with whatever you need to make that delicious "home- cooked" meal.
The ceilings are also super high, making it feel like a grand kitchen. The large table is perfect for the barn family dinner, or a game of cards with friends! The kitchen connects to the living room, creating that open concept we all know and love from HGTV.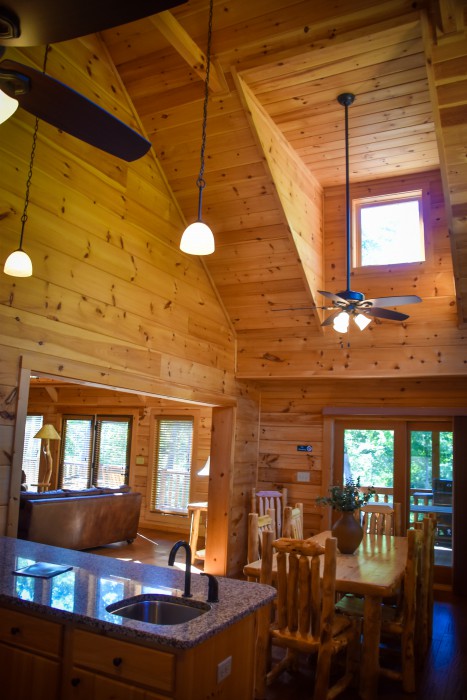 Along with the big kitchen table, there are also barstools to sit and enjoy at the breakfast bar counter.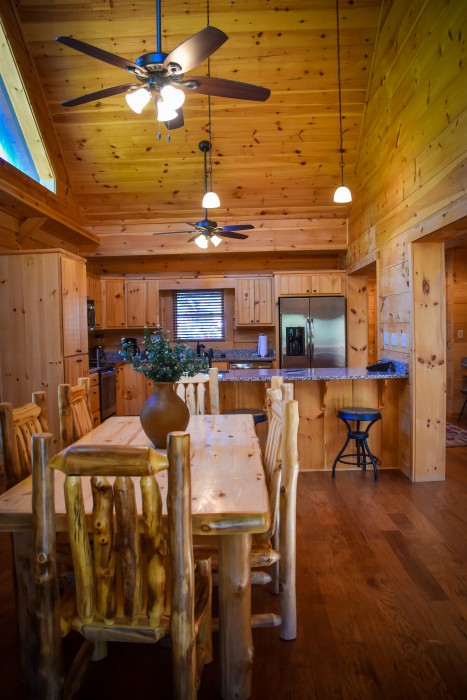 Now, let's walk over to the living room…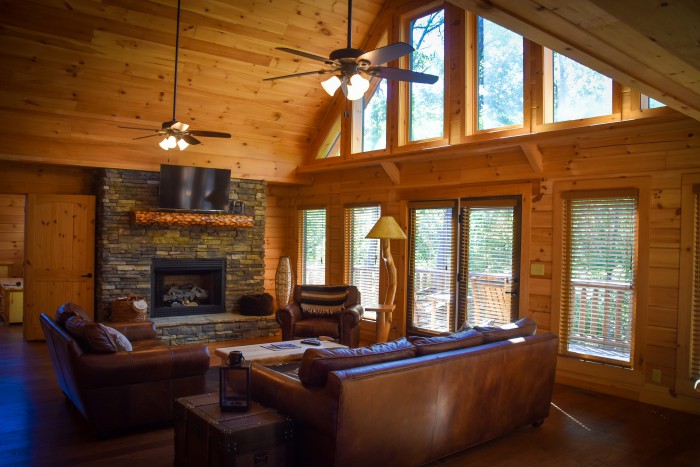 I don't know what's better: the giant comfy couches, the grand fireplace, or the abundance of windows. It's a good thing we don't have to choose and can enjoy all of them in this amazing living room!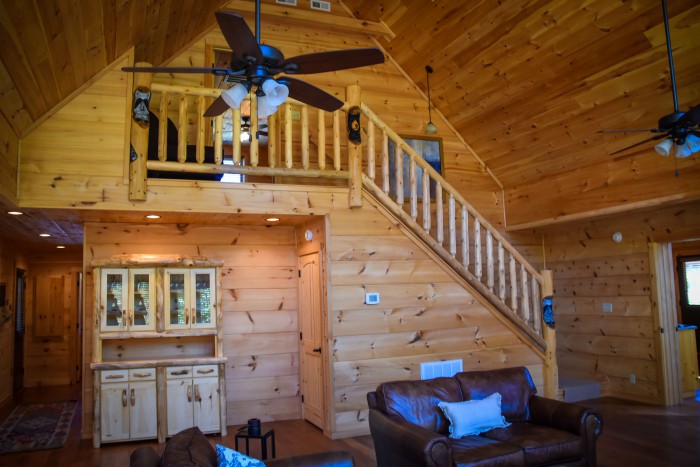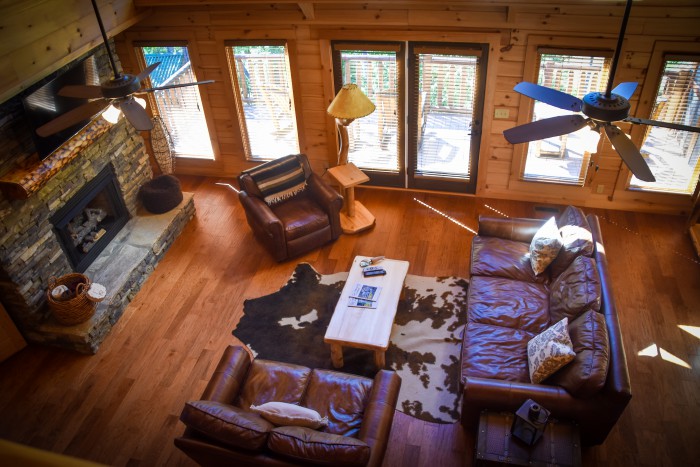 Next, check out the first bedroom.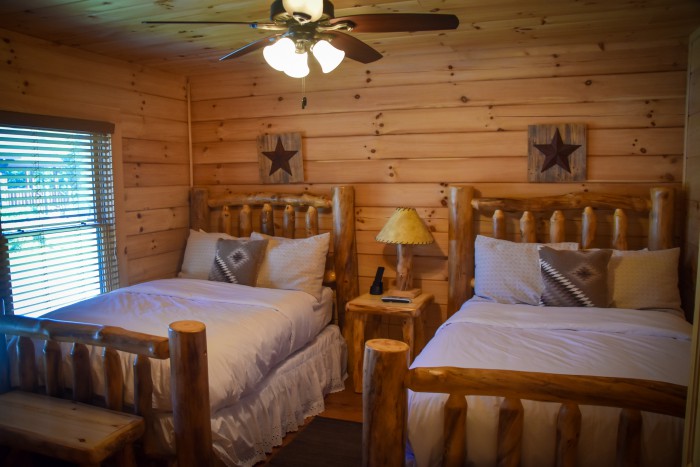 Two full-size beds and a full bathroom ensure that you can sleep as many as you need to in this front bedroom.
Time to head upstairs to see the next bedroom, but first check out this detail carved into the staircase. The little things make this cabin really feel like a home.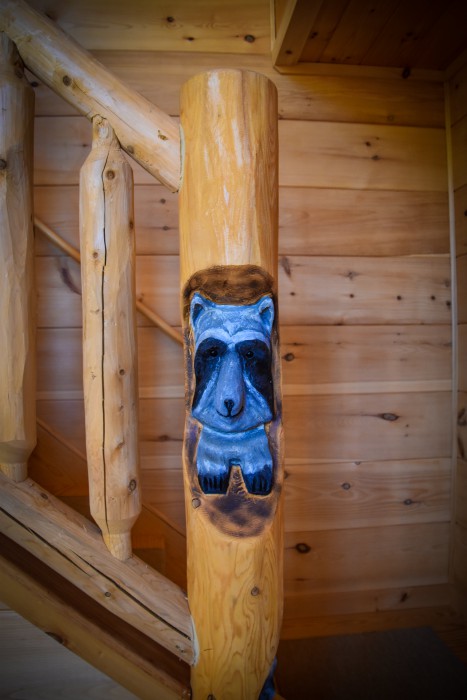 Wow! Two more full-sized beds with tons of space. This looks like a kids' paradise up here.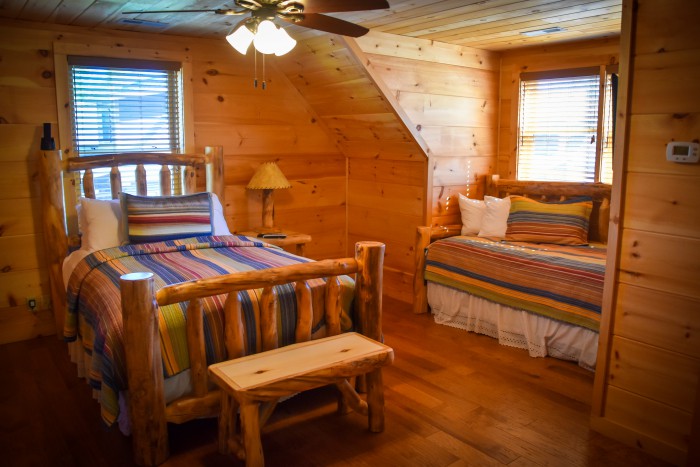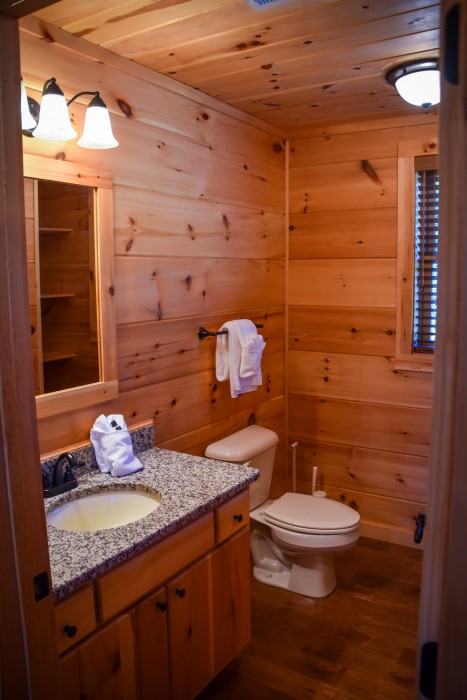 This full shower is perfect for guests, too!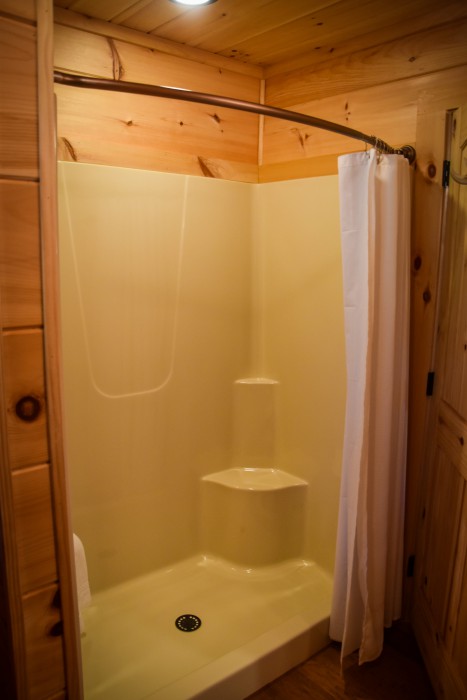 Now we have seen the first two bedrooms, time to check out the master suite. Located on the far side of the house, the master bedroom feels like a secluded getaway within this amazing cabin!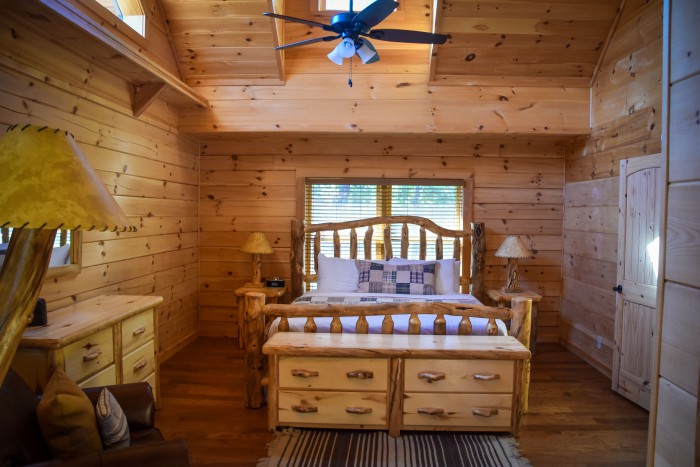 A large king-size bed, a sitting area, and high ceilings will make you never want to leave this master suite. Now, let's walk around the corner into the master bathroom and suite.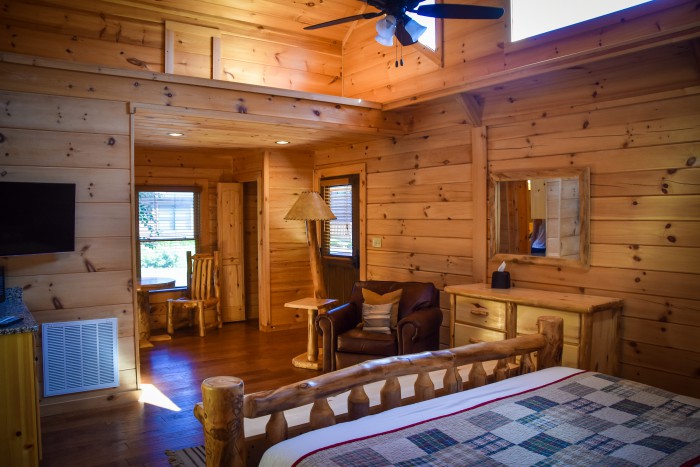 Wow! This bathroom does not disappoint. It's like your own personal spa with double vanities,  a soaker tub with jets, and lots of space.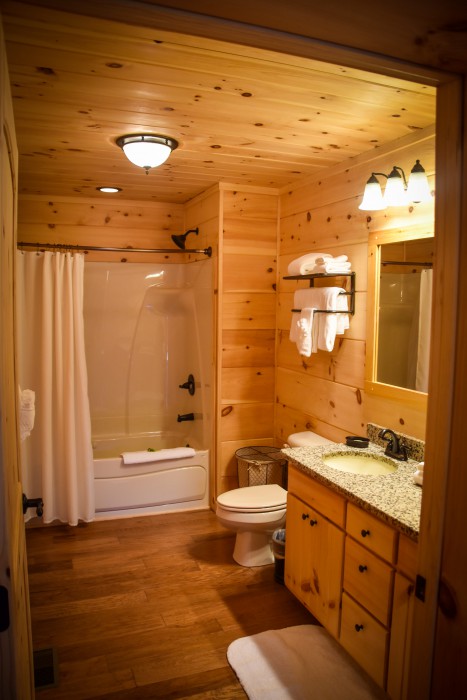 Then, back in the main room, there is a mini fridge, a microwave, and a coffee maker if the kitchen seems too far away.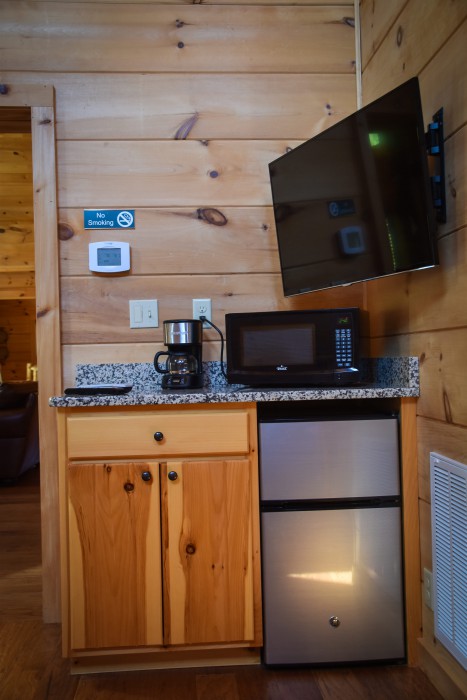 Before we head outside, we wanted to point out each cabin has a washer and dryer to get those Sunday white breeches looking pristine!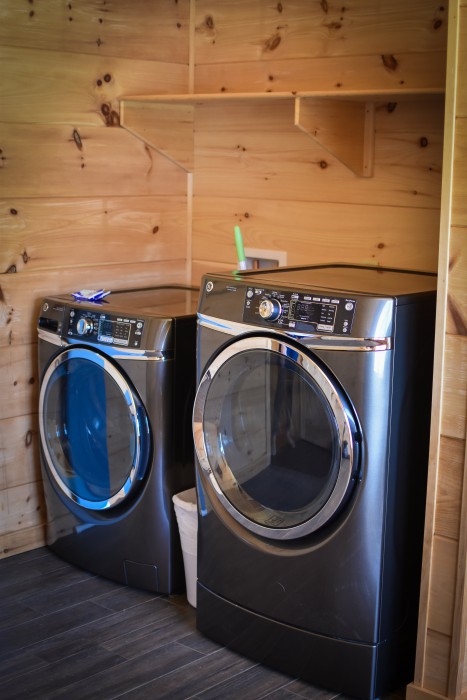 Well, that's it for the inside of the cabin, but check out this back porch…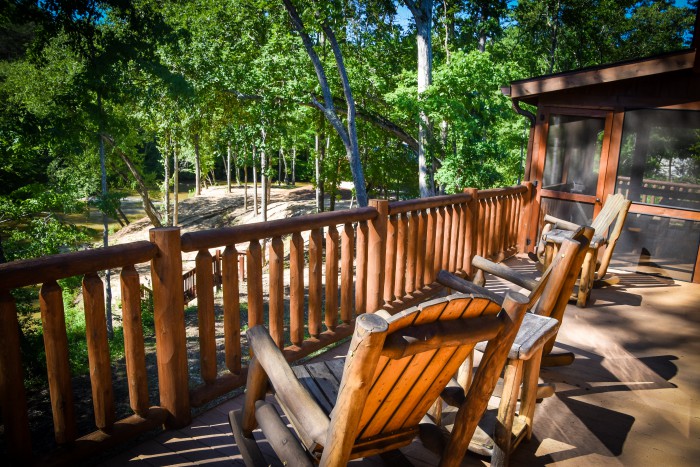 These big comfy rocking chairs are the perfect place to relax and listen to the natural sound of running  water in the river below. The screened-in porch is also a great place to grill your favorite meals, with more seating at the picnic table! The screen porch is right off the kitchen, continuing the flow of the open concept. (Going HGTV again.)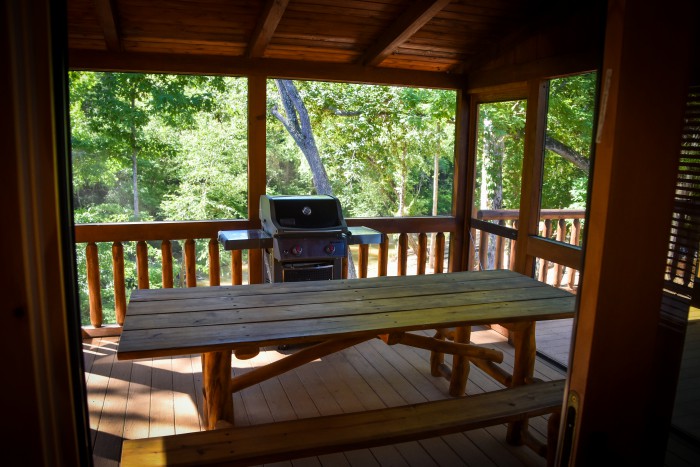 Now we have stepped out of the three bedroom cabin and down to the river area. There is the covered pavilion, outdoor games, hammocks, and a sandy beach by the river. All of the three and five bedroom cabins back up to this little slice of paradise.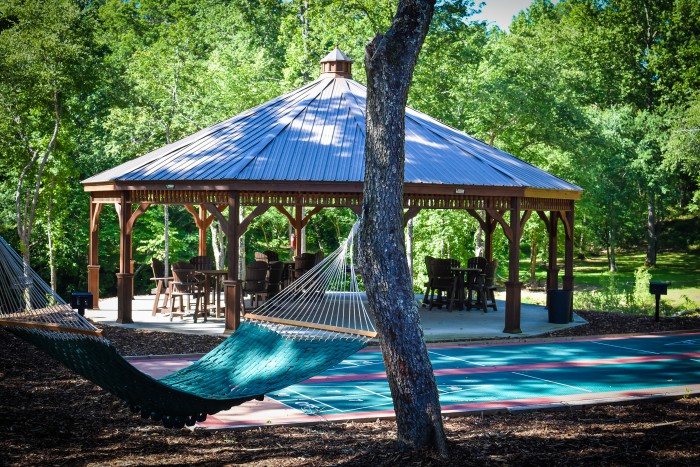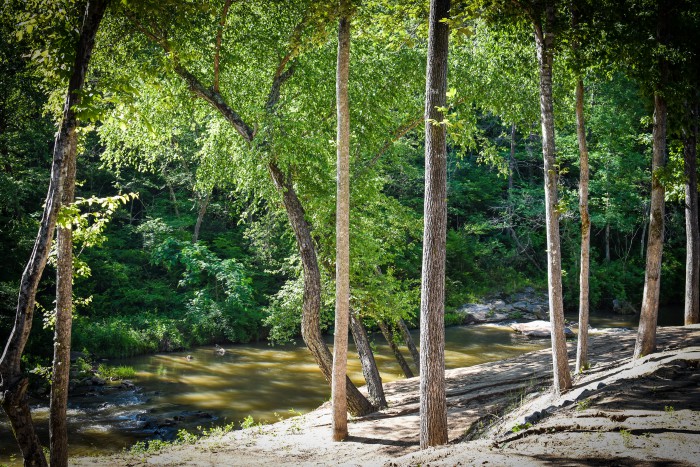 That's it for this three bedroom cabin tour, click here to book your stay with us at #TIEC!