For Immediate Release
Mill Spring, NC – August 10, 2019 – Taylor Land (Atlanta, GA) landed an iconic win in the $30,000 Tryon Resort Grand Prix at Tryon International Equestrian Center (TIEC) as the venue's first rider to ever claim first, second and third place in Grand Prix competition. Land topped the podium with Get Go, stopping the jump-off timers at 34.885 seconds. She also placed second and third aboard the Pinetree Farms Inc. entries, Liroy 30, a ten-year-old German Sporthorse (Levistano x King Kolibri), and Falco V, a nine-year-old Dutch Warmblood (Bustique x Montreux), clearing the short course in 35.081 seconds and 35.3 seconds, respectively. Marking the landmark event, riders Ricardo Villa and Genevieve Edwards joined Land on the podium to celebrate with her.
"It's crazy! I never thought that was going to happen, but it's amazing," Land confided of her iconic win. "I'm so glad he [Get Go] won it; he's my baby."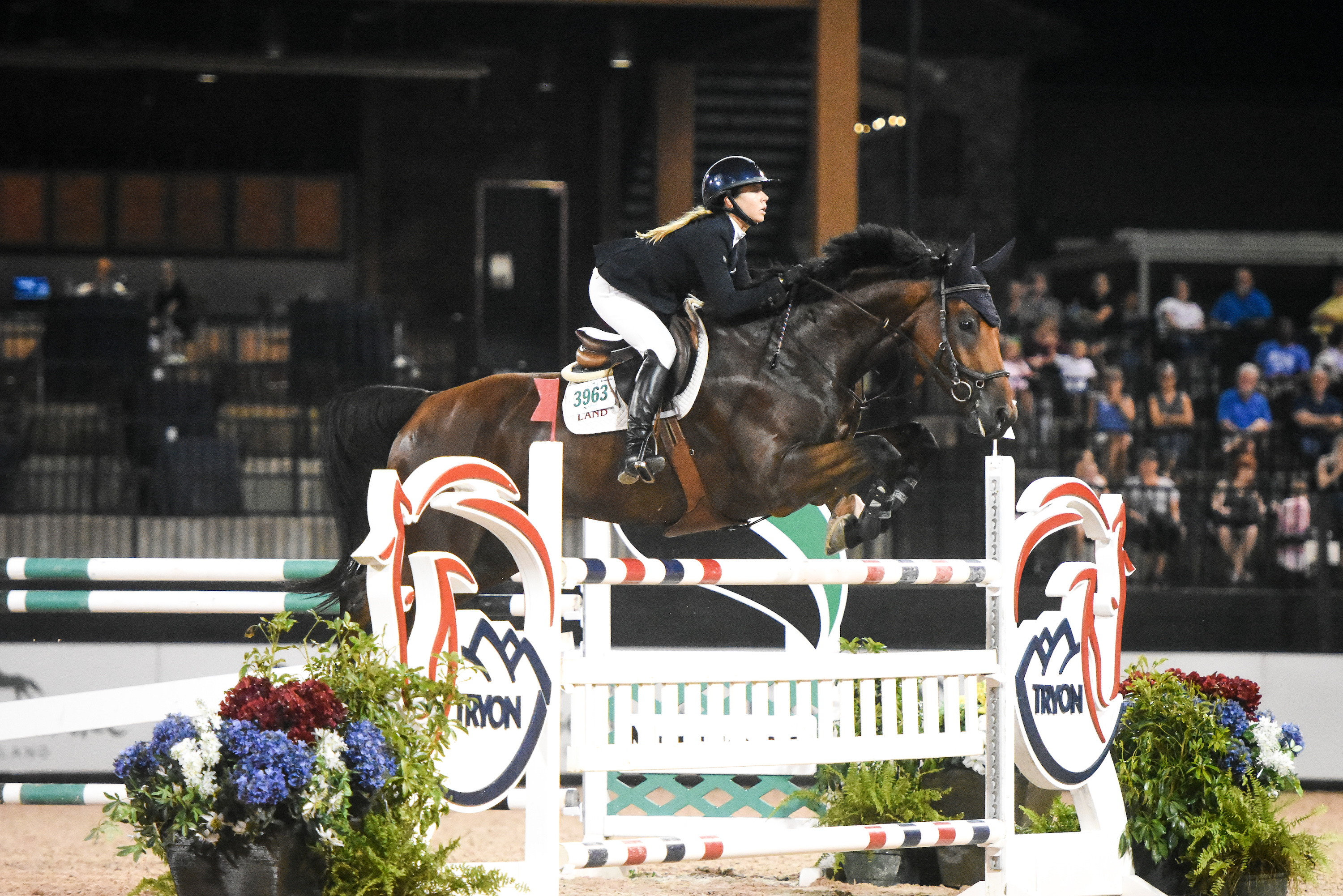 Taylor Land and Get Go
©TIEC
The course, designed by JP Godard (Aiken, SC), tested 15 horse-and-rider combinations with nine pairs returning for the jump-off. Land shared that having more than one horse proved to be an advantage: "The last line in the jump-off, I expected to be able to get seven strides done on all of mine, [since] they're all big-strided. With the first two, I decided to do the inside turn, and it just slowed me down and set me off to the right so much that I didn't get the seven on either horse. With Grumbles [Get Go], I decided to go around and I lined it up in seven and it actually ended up being faster. [Having more than one horse] was a huge advantage.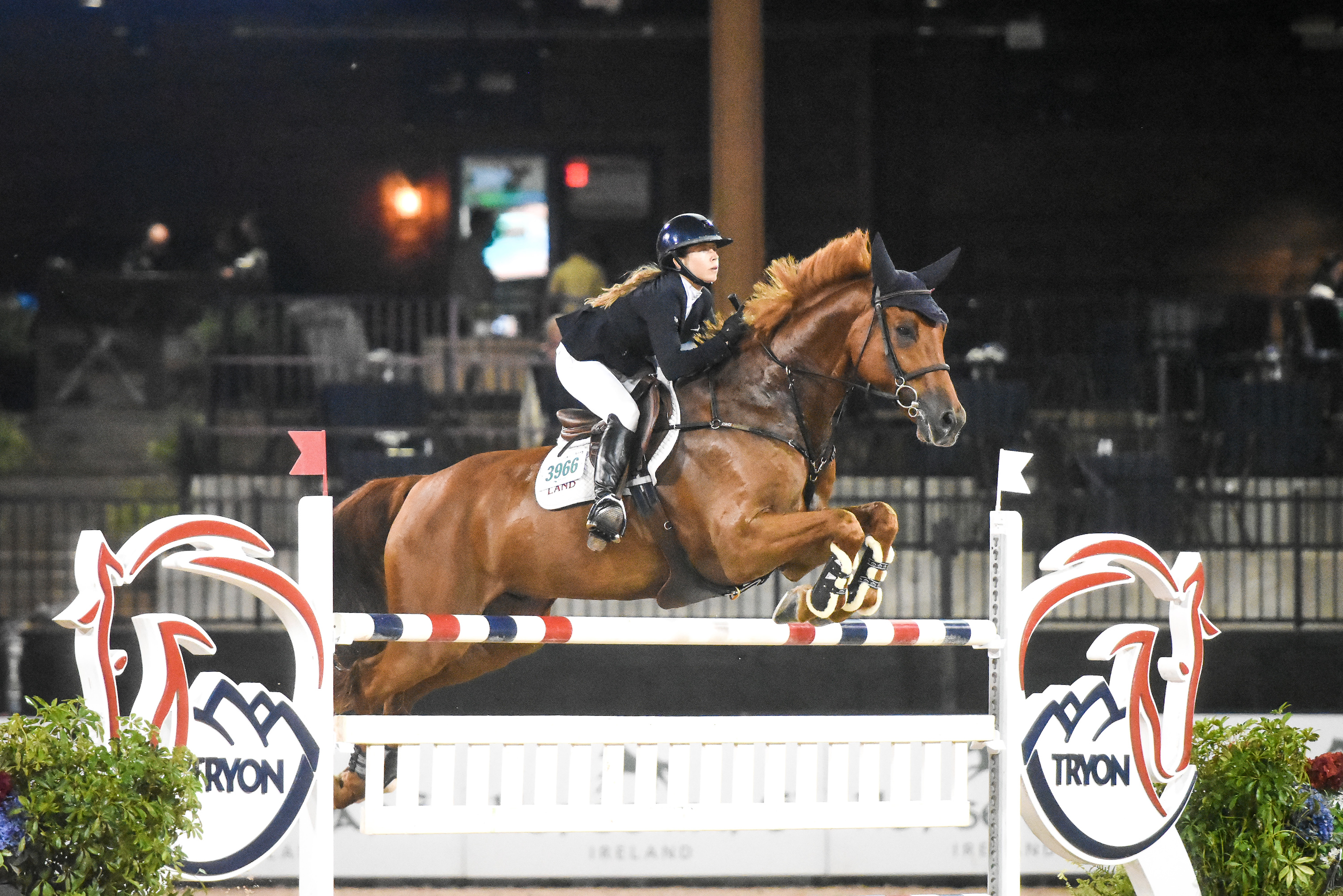 ©TIEC
"He's amazing; he's so special," Land shared of Get Go, a Hanoverian, who she has owned for two years now. "We did the six-year-olds last year and we've been doing the seven-year-olds this year. He stepped up to do a few 1.40m classes in the spring, because we were preparing to do the seven-year-olds at Spruce [Meadows] where they were 1.40m. He was great there, so after that I felt like he was ready for the next step." Land continued, "He was really good in the $5,000 Horseware Ireland Welcome Stake [Thursday], so afterwards, my dad and I were talking and thought that maybe we should just enter him and walk it and see. It was a great track, and he just really stepped up to the plate."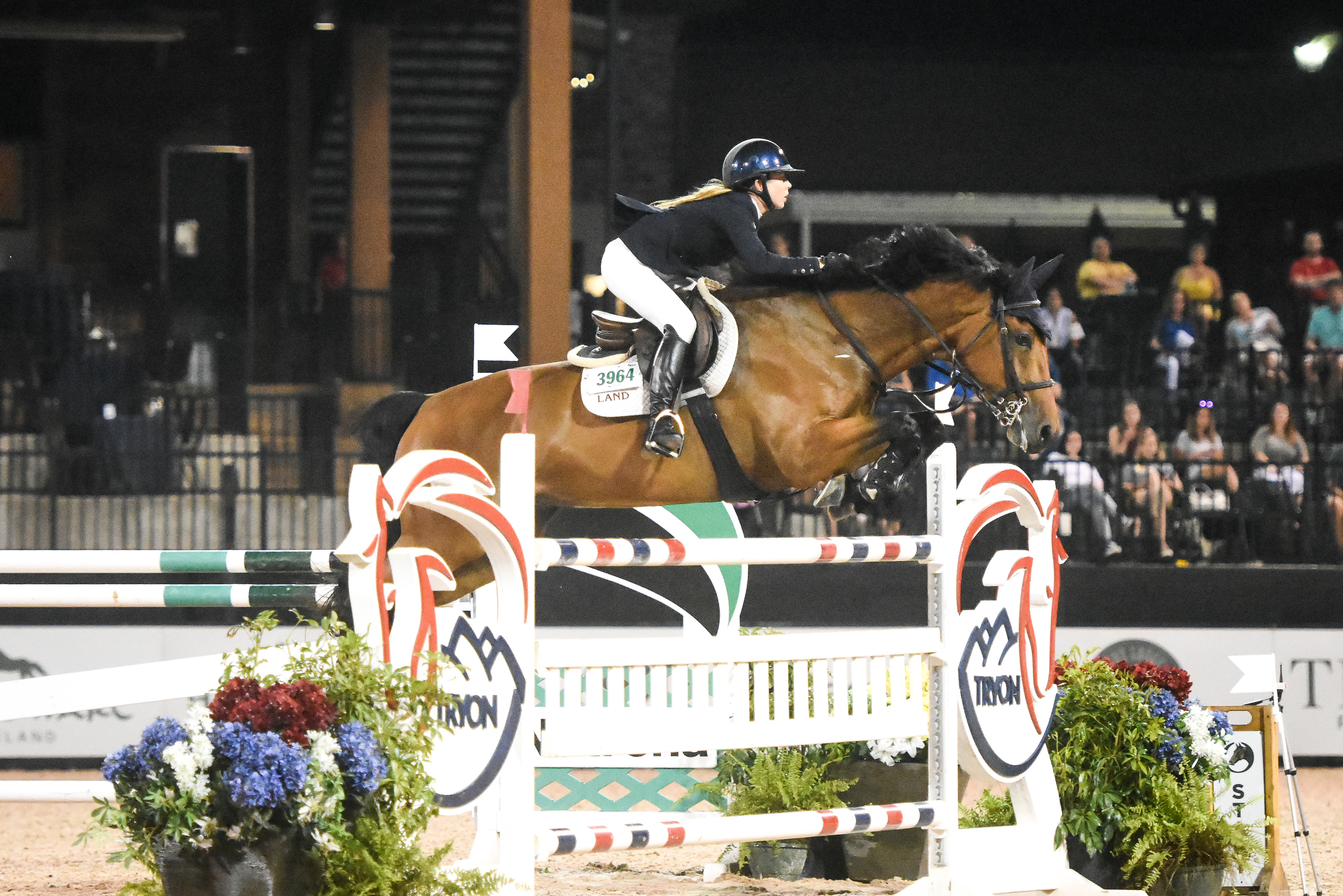 Taylor Land and Falco V
©TIEC
Land added that although she is from Georgia, she feels right at home at TIEC. "Two summers ago I stayed here the whole summer before our barn was finished, so I feel like I'm a local. Everyone who works here is amazing; it's such a nice group of people. It's a real family atmosphere," she emphasized. Land plans to stay at TIEC for the remainder of the August Series and then return again in October.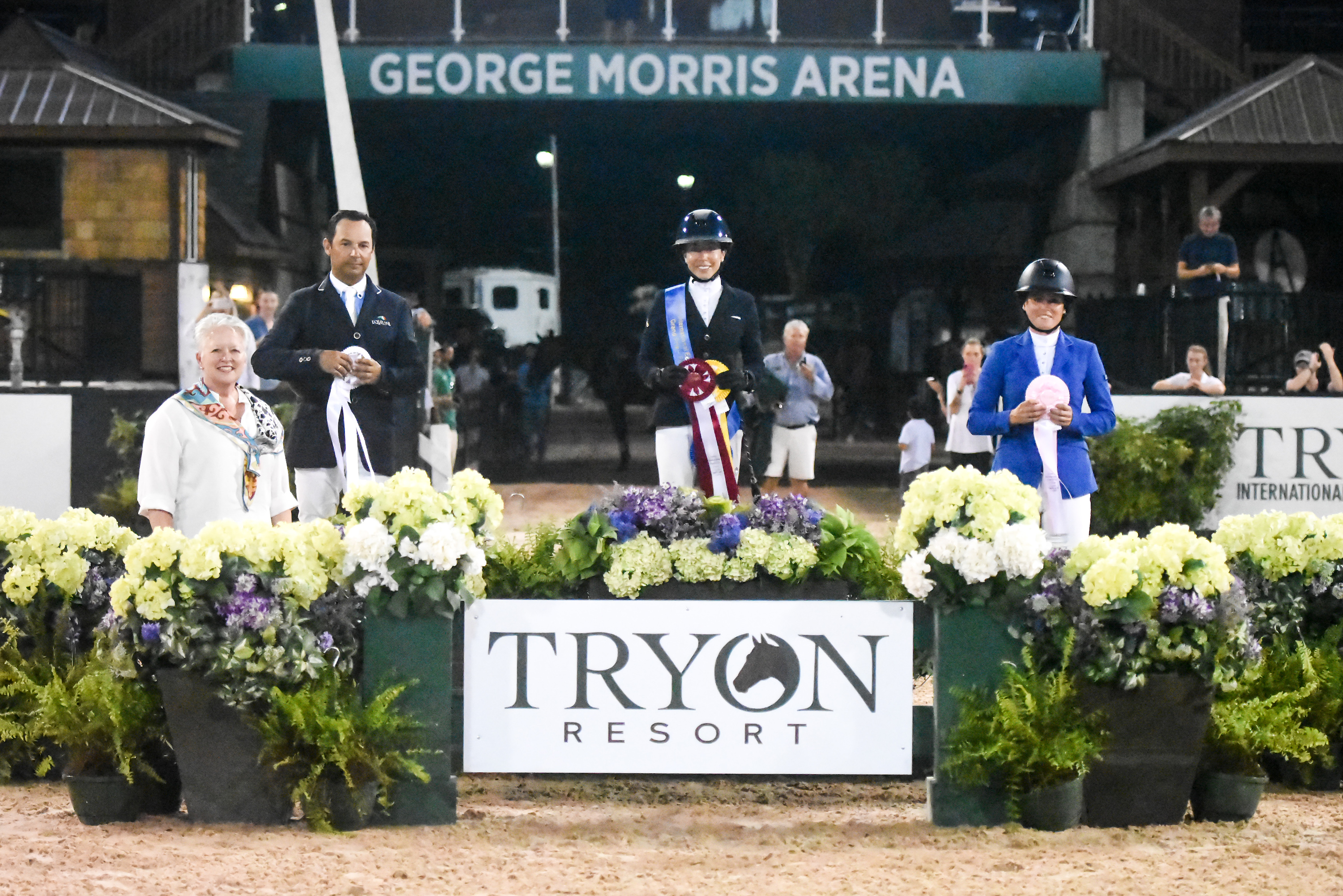 Land, Villa and Edwards in their presentation ceremony alongside Sharon Decker, TIEC Chief Operating Officer.
©TIEC
For full results from the $30,000 Tryon Resort Grand Prix, click here. Tryon August 1 competition continues through Sunday, August 11. For more information on the Tryon August series, visit www.Tryon.com.
Photo credit ©TIEC. These photos may only be used once in relation to this press release with proper credit. Contact media@tryon.com with questions.