For Immediate Release
Mill Spring, NC – February 5, 2019 – Tryon International Equestrian Center (TIEC) at Tryon Resort has launched its 2019 Hunter/Jumper competition schedule, featuring 29 weeks within six series of world-class Hunter, Jumper, Equitation and CSI competition and new upgrades to competition ratings in the Tryon Welcome Series. The news comes in addition to a previously-announced calendar of special competitions at the multidiscipline venue, including Reining, Eventing, and more to total 33 weeks of competition with more than 40 competition events announced so far.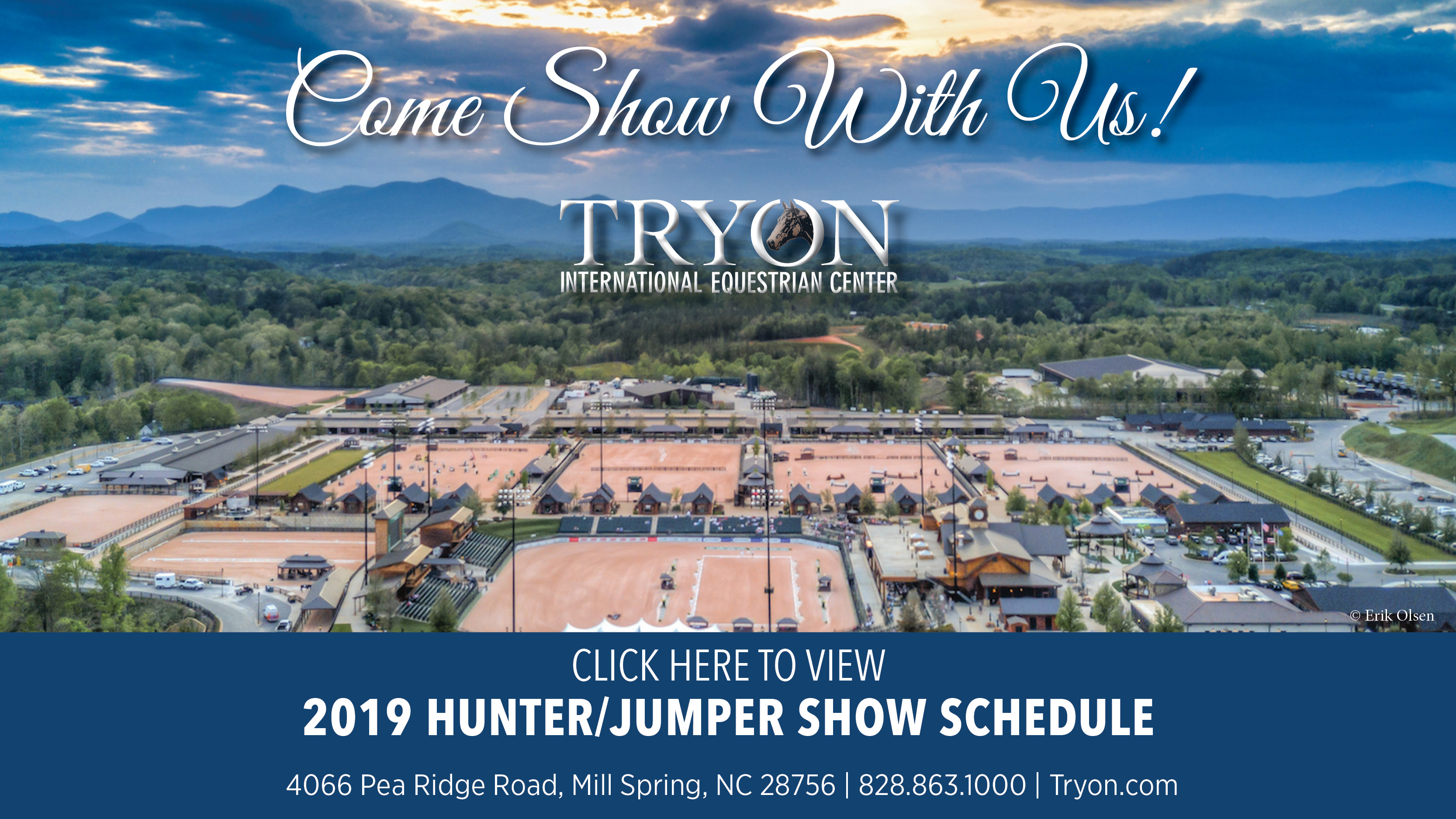 Click image to view the 2019 Hunter/Jumper Show Schedule! 
Tryon Welcome Series
The 2019 calendar kicks off with a Welcome Series, hosted March 21 through April 28, featuring two weeks of A-rated classes for Hunters and Level 3 competition for Jumpers, upgraded from a B rating in 2018. The opening series also includes three weeks of AA and B-rated Hunter and Level 3 and 6 Jumper competition.
Tryon Spring Series
The Spring Series will be hosted April 30-June 9 at the venue, including six weeks of A and AA-rated Hunter competition and including Level 4-6 alongside CSI 2*, 3*, and 4* Jumping competition. The Spring Series will also see the return of the popular "Saturday Night Lights" Grand Prix tradition at TIEC beginning in May.
Tryon Summer Series
Continuing June 13-July 21, the Summer Series will include B and AA-rated Hunter competition with Level 3 and 6-rated Jumper competition alongside CSI 2*, CSI 3*, and CSI 4* FEI weeks. Tryon Summer 5, hosted July 9-14, will also host CSIU25-A competition in addition to CSI 2* competition.
Tryon August Series
A new addition in 2019, the August Series will include three weeks of B and AA-rated Hunter competition in conjunction with Level 3 and 4-rated Jumper competition, hosted August 7-25 at the venue.
Tryon Fall Series
The Fall Series kicks off September 19, continuing through October 27 with six weeks of B and AA-rated Hunter competition, with Level 3 and Level 6 Jumper offerings in addition to a competitive FEI schedule that includes CSI 2*, 3*, and 5* competition.
Tryon Festival Series
The Festival Series, hosted October 31-November 17, includes two B-rated Hunter and Level 3 Jumper competitions to conclude the 2019 Hunter-Jumper calendar at the venue.
Prize Lists: When available, forthcoming prize lists will be posted on the website here.
Stabling: For stabling requests, please click here or call 828-863-1003.
Lodging and Dining: A variety of onsite lodging is available for competitors and spectators. Choose from a three or five-bedroom riverside cabin, Tryon Resort's signature one-bedroom "tiny house" cottages, or a room at the Stable House Inn. RV pads with full hookups are also available onsite. Year-round, onsite restaurants serve farm-to-table cuisine, sushi, Italian and casual favorites, and Sunday brunch, with a General Store available for all sundry needs. Click here to reserve lodging now or call 828-863-1015.
Media Inquiries: Click here to request media credentials for any of the above events, or contact media@tryon.com for more information.
About Tryon International Equestrian Center at Tryon Resort:
Tryon International Equestrian Center at Tryon Resort, host of the FEI World Equestrian Games™ Tryon 2018, is one of the world's ultimate equestrian lifestyle destinations with first-class facilities for all FEI disciplines and showcasing Hunter/Jumper, Equitation, Steeplechase, Fox Hunting, Polo, Reining and multidiscipline events in Mill Spring, NC. From carousel to competition, the mission of Tryon Resort is to celebrate the magic of the horse, grow equestrian sport, and increase access to this majestic animal. A haven for equestrian competitors and enthusiasts, Tryon Resort is an iconic, year-round destination for connoisseurs of diverse cuisine and shopping, lodging getaways, and family entertainment. Learn more at www.Tryon.com.