For Immediate Release
Mill Spring, NC – June 26, 2018 – Thirty-six entries contested the $25,000 1.35-1.40m Grand Prix national track on Sunday afternoon in Ring Four at Tryon International Equestrian Center (TIEC) and fifteen horse-and-rider pairs returned for the jump-off, concluding the Tryon Summer II hunter-jumper competition with a win for David O'Brien of Lexington, KY, aboard Spy Coast Farm's Kioki Coffee SCF, stopping the short-course timers in 30.36 seconds. Luis Larrazabal of Wellington, FL, guided Jorge Matte Capdevila's Caballo to a second-place finish in 31.385 seconds, while third place honors went to Thomas John Russell of Columbus, NC, and Arnoud Dobber's Any, for their 31.784 second jump-off performance.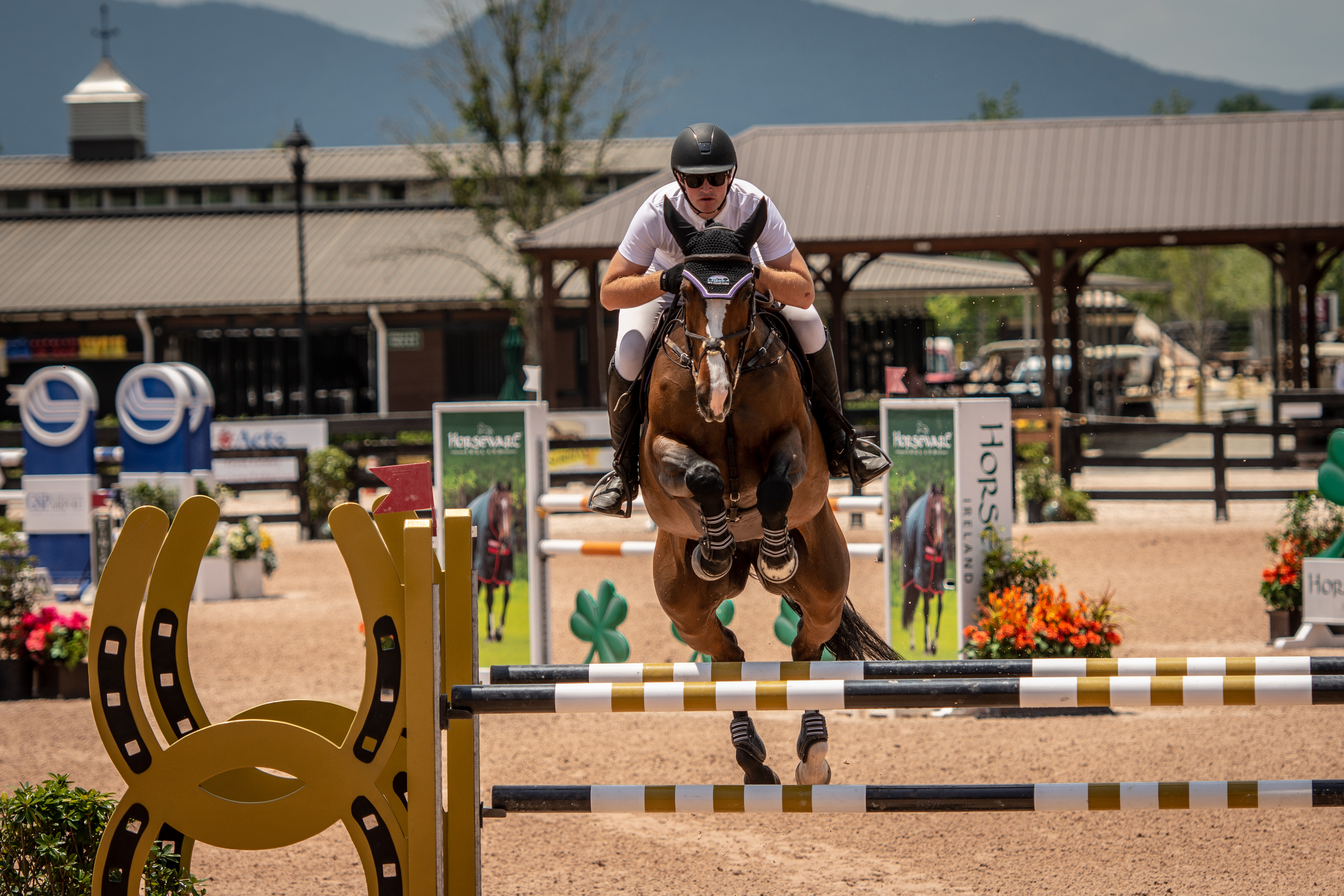 For full results from the $25,000 1.35-1.40m Grand Prix, click here.
Jumper Highlights
In the 1.10m Jumper division, Juan Ortiz of Loxahatchee, FL, guided Number One to champion honors for Gut Einhaus, LLC, while John Michael Durr of Shelby, NC, and Caroline Williamson of Asheville, NC collected reserve champion honors aboard Williamson's Ulises Car. Genevieve Edwards of Guyton, GA, also claimed reserve aboard The Flying Dutchman, owned by Michael Gelb.
Todd Minikus (Loxahatchee, FL) rode Maidensway's Chaco 34 to claim the Adequan® 1.30m Open Jumper division, with Marianne Spelling of Durham, NC, earning reserve honors riding her own entry, Cover Girl.
The Children's Jumper 1.0m division crowned Josie Baird of Savannah, GA, its champion aboard Evergate Stables LLC's Toupie da Cantraie, with Jack Dengler (Marietta, GA) achieving reserve piloting his own Rollo V.
Lexi Smylie (Jupiter, FL) and Bowers Cone, LLC's VIP Quality Royale grabbed the champion title the Low Junior/Amateur Jumper 1.20m division, while reserve honors went to Laurie Sharma of Wellington, FL, and her own Equine Couture's Gustav.
In the .90m Non Pro Jumper division, Danielle Murphy (Lawrenceville, GA) emerged as champion aboard her own Upcountry Comano. Reserve honors were awarded to Kathryn North (Cary, NC) aboard Marianne Spelling's Westlife.
The 1.15m Non Pro Jumper named Hayley Iannotti of Wellington, FL, its champion riding Palm Ponies LLC's It's Top Del Maset, while Renee Gruenthal of Morriston, FL, claimed reserve champion honors aboard Dollar Due Alme.
MacKenzie McGehee (Jacksonville, FL) piloted her own Fiona Van't Paradijs to the champion slot in the Medium Junior/Amateur 1.30m Jumper division, with Carly Dvorkin collecting a reserve title on the week, aboard Pine Hollow Farm's entry Carlotta 168.
The 1.15m Jumper division congratulated Sarah Kerins of Wellington, FL, as its champion, aboard Darragh Kerins Entertainer V, while Wellington, FL native Hayley Iannotti and Haines City, FL, native Meredith Gallagher steered Curacao to reserve for Pumpkin Patch Farm, LLC.
The Open Amateur 1.20m Jumper division resulted in a champion title for Juan Ortiz (Loxahatchee, FL) and Wauw for Stransky's Mission Farms Inc., while Clayton Russell of Columbus, NC, piloted Melleficent for Vick Russell to reserve.
The $5,000 1.35m Welcome Stake saw David Blake of Wellington, FL, pilot Pine Hollow Farm's Emilia to top honors for a 35.528 second jump-off performance, while David O'Brien (Lexington, KY) and Spy Coast Farm's Kirschwasser SCF earned second place in 36.862 seconds in the jump-off, and Tanner Korotkin rode Castlewood Farm's Eurohill's Alcatraz to a time of 37.711 seconds, to achieve third on behalf of Wellington, FL.
The $1,600 1.20m Open Jumper Stake victory went to Clayton Russell (Columbus, NC) and Vick Russell's Melleficent after a clear jump-off round in 35.51 seconds, while Tanner Korotkin rode Eagle Valley Partners LLC's Fairtrade VD Hazelhof to second place representing Wellington, FL, with a 37.049 second short-course performance, and Lily Hahn climbed onto the podium with Victoria VII on a 37.049 second jump-off round.
The $1,600 1.30m Open Jumper Stake sponsored by Adequan® welcomed Marianne Spelling back to the winner's circle for her 37.233 second jump-off round with her own Cover Girl, with Todd Minikus following behind aboard Chaco 34 and taking second place after completing the short track in 37.444 seconds, and Miguel A. Ventura (Murfreesboro, TN) scored third aboard Allison Ventura's Jordantinus, riding through the first round in 83.084 seconds and with one added fault.
Topping the $300 1.10m Low Child/Adult Jumper Stake on Sunday was Ana Ramos of Ocala, FL, aboard her own Brown Eyed Girl, completing the short track in 44.381 seconds, while Alaina Lugus claimed second for Fletcher, NC, on her own Zannetje in 46.141 seconds, and Paola Pou Aybar (Miami, FL) rounded out the podium with Ann Lei's Chairman 22, stopping the timers in 47.858 seconds.
Phoebe Alwine of Boca Raton, FL, flew with In The Clover Equestrian's own Zenith Dance to first place in the NAL/WIHS $1,600 1.10m Adult Amateur Jumper Classic, sponsored by Tryon Estates, putting in the fastest jump-off round in 39.482 seconds, while Taylor Stier (Cornelius, NC) and her own Ciacomina finished in second on a time of 39.538 seconds, and Sarah Williamson rode through the track in 45.608 seconds to take third place aboard Ossian Ventures' Carlo 389 from Wellington, FL.
Emmanuelle Greeberg of Boca Raton, FL, rode Pumpkin's Patch Farm, LLC's Carlos G to victory in the NAL/WIHS $1,600 1.10m Children's Jumper Classic competition, stopping the short-course timers in 42.215 seconds, while Rebecca Duffy (Jacksonville, FL) and Eileen O'Leary's Rhumba stole second place in 44.185 seconds with four added faults, and the yellow ribbon went to Vincent Desiderio (Chester, NJ) riding Tranquillity Farm's Landini to a four-fault short track performance of 46.202 seconds.
Hailing from Jupiter, FL, Lexi Smylie conquered the $1,600 1.20m NAL Junior/ Amateur Jumper Classic aboard Bowers Cone, LLC's VIP Quality Royale, speeding through the short-course timers in 31.138 seconds, while Tanner Korotkin of Wellington, FL, rode Castlewood Farm's Nea Forlani Z to a 31.773 second finish to capture reserve. Korotkin also piloted Eagle Valley Partners LLC's Fairtrade VD Hazelhof to third place, stopping the short-course timers in 32.061 seconds.
The 1.30m Medium Junior/ Amateur Jumper Classic once again congratulated Carly Dvorkin and Pine Hollow Farm's Carlotta 168 for their blazing jump-off time of 32.067 seconds to take the lead, followed by Grace Jordan of Marietta, GA, and Sarah Kerins' Camboro in second, finishing in 33.818 seconds. Judy Sutton of Maggie Valley, NC, guided her own Win A Date to third place honors in 31.129 seconds and with four added faults in the jump-off.
Hunter Highlights
The $2,500 USHJA National Hunter Derby saw Megan Wexler of Ocala, FL, and Melhill Stables, LLC's Ziggy Stardust score 190 to top the class, with Tommi Clark of Agoura Hills, CA, and Stephen Borders' Extrodinaire just behind in second on a score of 177, and Kristen Cox of Columbus, NC, and Troylyn Ball's Hudson scoring 175 to earn third.
Alexandria Desiderio of Chester, NJ, piloted Tranquillity Farm's Memphis to first in the $1,000 Junior/Amateur Owner Hunter Classic 3'3/3'6, scoring 172, while Angela Million of Easley, SC, scored 171 aboard her own Jackson Square to claim second, and Desiderio also claimed third, this time aboard Tranquillity Farm's Laurius, scoring a 167.
The $500 NAL/WIHS Children's/Adult Hunter Classic 3′ saw Macy Williams and Sydney Woodring's own Privilege claim first for Knoxville, TN, on a score of 151, while Emma Woodworth (Saint Johns, FL) and her own Vancouver claimed second with their 150-point performance, and Jonesboro, TN, native Hattie Bradford and Bucatini rounded out third with a score of 127.
The Children's Hunter Pony Challenge saw four entries and conferred top honors to Georgia Lewis (Sullivans Island, SC) aboard her own Fleetwood, with Wesleigh Vasqez (Miami, FL) piloting Madison Grinders Chromeo to take second. Third Place went to Raffaella Agnelli of Coral Gables, FL, and her own Hershey's Kisses.
The Gardner-Webb University Pre-Child/Adult Hunter Challenge saw Peyton Gilliland of Albertville, AL, ride to the top slot with All In, while Emma Hodes of Asheville, NC, rode Lexi Hudson's Santo Bellini to second, and John Hutchinson rounded out the podium with his own Hennessy, representing Johnson City, TN.
Carsyn Korotkin of Wellington, FL, ended the week at the top of the Short Stirrup Hunter Challenge with Maggie May for Stoney Ridge Farm, LLC, while Audrey Blase of Roswell, GA, and her own Champagne Sparkles earned reserve honors. Third place was captured by Estefany Mendoza of Ventura, FL, riding Celinde Cooper, owned by Maria Fernanda Asuaje Armas.
Chrissy Mitchell of Greensboro, GA, collected champion in the Pre-Adult Hunter Challenge, riding Seaborne's Billabong to top honors for Kristi Roberson, while Sunni Duke of Oxford, GA, steered The Gamboling Lad to reserve for Megan Lauderdale. Lisa A Ottens of Charlotte, NC, rounded out the top three with Fabian Herrera's Alpine's Magnolia.
The Tryon  Summer Series continues on Wednesday June 27 with the start of Tryon Summer III CSI 2*. The second annual Pony Spectacular will be welcomed by the $10,000 USHJA Pony Hunter Classic in the George H. Morris Arena at Tryon Stadium beginning at 3:00 p.m. on Friday, June 29. The highlight class of the week, the $70,000 Adequan® CSI 2* Grand Prix will take place on Saturday, June 30.
To learn more about Tryon International Equestrian Center, please visit www.Tryon.com.
Photo Credit ©TIEC. These photos may only be used once in relation to this press release with proper credit.