2016 United States Pony Club Championships East at TIEC

Welcome, US Pony Club riders and family! We are so excited to welcome you to Tryon International Equestrian Center for the 2016 USPC Championships East. Below, please find information we have collected for your stay at TIEC. We recognize all of the hard work and dedication each Pony Club rider and team has put in to make it to the Championships and we are eager to celebrate with you and ensure you have a fantastic experience at TIEC. If at any time you have additional questions, please feel free to contact our dedicated TIEC Pony Club hotline at  (828) 863-1431 to be directly connected with a TIEC representative prepared to help you. 
Click here to visit the official US Pony Club website.
FAQ 
When Are USPC East Championships?
The 2016 United States Pony Club East Championships will be held at Tryon International Equestrian Center (TIEC) from Wednesday, July 27th to Sunday, July 31st. This will be the first sanctioned USPC event hosted at TIEC and will welcome competitors and their families to Mill Spring, NC, for a weeklong celebratory event.
What Are the USPC East Championships?
Each year Pony Club offers Championship competitions in seven disciplines; Dressage, Eventing, Show Jumping, Games, Polocrosse, Tetrathlon, and Quiz (non-riding, knowledge based competition). Championships generally follow the same format as a Qualifying Rally. Members compete as part of a team and are judged on riding abilities as well as horse management skills.
Championships, held at locations in the East, Central, or West, bring together hundreds of members each year. All Pony Club Members must qualify to compete at USPC Championships. Championships teams are formed with members from different clubs and centers throughout each Region. Competing as part of a team teaches members the importance of working together, cooperation, respect for others, and communication. This allows all Pony Club Members to have a positive experience at Championships, creating life-long friendships.
Pony Club Members, their parents, coaches, volunteers, friends, and siblings all have activities to see and do while in attendance. Championships are a time of excitement as friends are made, goals are met, and awards are given. With seven disciplines running over several days and a trade fair with many equine vendors, there is something at Championships for everyone.
Article Credit: United States Pony Club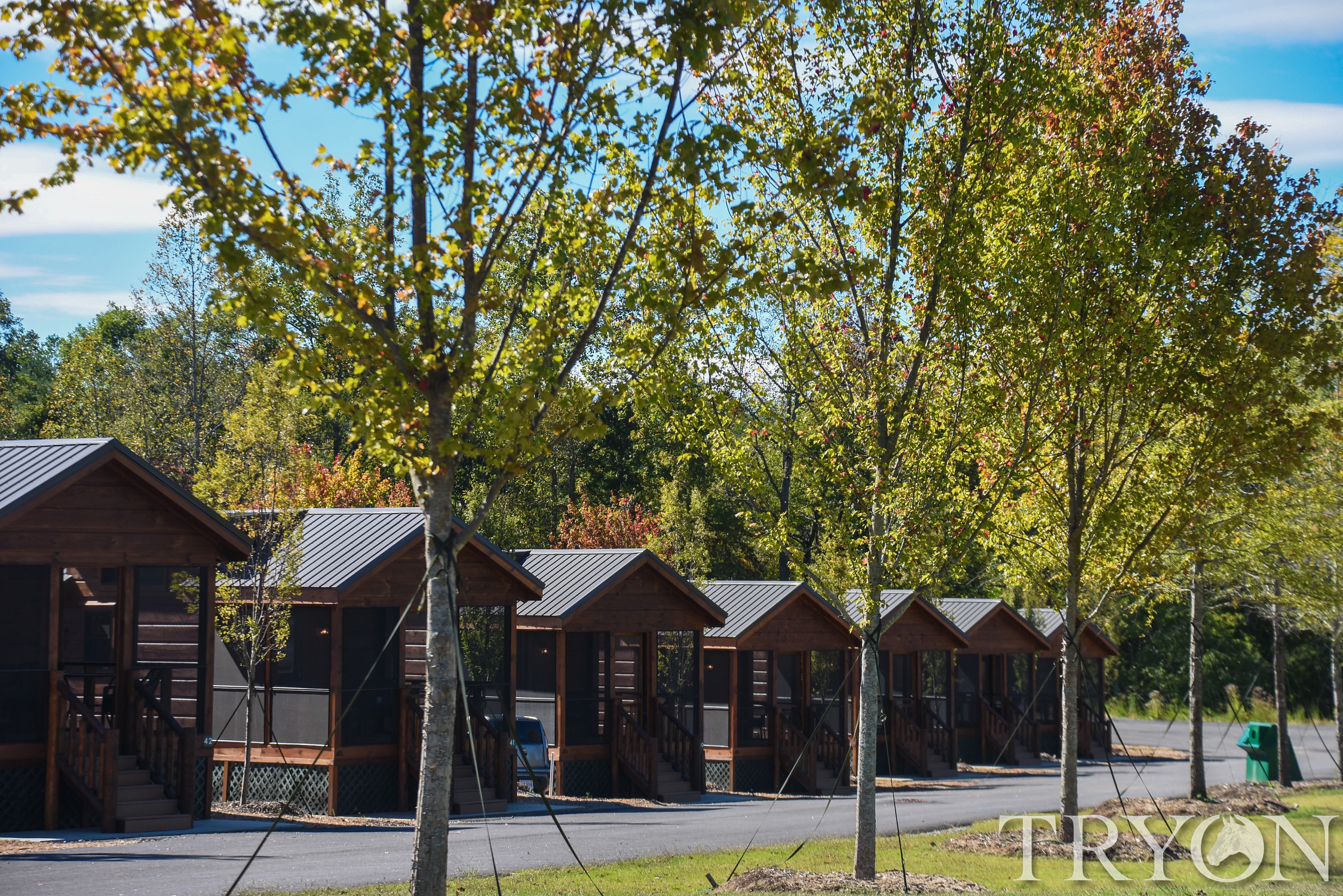 On-Site Lodging & Dining at TIEC
TIEC offers competitors and spectators numerous on-site dining and lodging options throughout the duration of one's stay at the facility.
On-Site Dining
Open seven days a week year-round, TIEC boasts a diverse range of affordable fine dining options, whether you've planned a family night out with the kids or an intimate evening of casually elegant dining with close friends. Open every week, 50s-inspired Roger's Diner offers breakfast, lunch and dinner, with a menu of classic and southern favorites like burgers, patty melts, grits and milkshakes along with breakfast all day. Also offering lunch and dinner service and indoor or patio seating, Legends Grille serves dishes that are prepared using the freshest ingredients and presented with casual elegance. Get your sushi fix year-round at Blue Ginger Sushi & Noodles where the freshest seafood and locally sourced ingredients are handcrafted into edible works of art. During the competition week, try Mane St. Coffee, Tryon Cafe, Triple Crown Deli & Subs, Clear Rounds Pub, and The Siesta Cantina. Our on-site General Store also offers groceries, local and NC-based treats and delicacies, and a huge variety of basic toiletries and home supplies for your convenience. To browse all of our restaurants and cafes and their menus, click here.
On-Site Lodging
There are a number of varied lodging options at TIEC, including 1-bedroom cabins, 3-bedroom cabins which sleep up to nine, and 5-bedroom cabins, which can house nearly twelve guests. We have room for the whole family and your friends, so be sure to invite them to cheer you on at your championship event!
Also available for booking during the USPC East Championships will be The Lodge on Lake Lure, a historic staple of the western foothills of North Carolina, overlooking the picturesque Lake Lure. The Lodge on Lake Lure is about a 20-minute drive from the TIEC facility.
Please click here to book your on-site lodging at TIEC for the 2016 USPC East Championships! 
Questions? Call the dedicated USPC Championships East TIEC Hotline for any inquiries about our facility or how we may help you get ready! Call: (828) 863-1431
Nearby Lodging
15 minutes
Days Inn
626 W Mills St, Columbus, NC 28722
828-894-3303
www.daysinn.com
$
30 minutes
Lodge on Lake Lure
361 Charlotte Drive, Lake Lure, NC 28746
828-625-2789
www.lodgeonlakelure.com
$$$$
The Esmeralda Inn
910 Main Street, Chimney Rock, NC 28720
828-625-2999
www.theesmeralda.com
$$$
Bright's Creek
2222 Palmer Rd, Mill Spring, NC 28756
828-694-4500
www.brightscreek.com
$$$
The Orchard Inn
100 Orchard Inn Ln, Saluda, NC 28773
828-749-5471
www.orchardinn.com
$$$
Pine Crest Inn
85 Pine Crest Lane, Tryon, NC 28782
828-859-9135
www.pinecrestinn.com
$$$
Firehouse Inn
125 W 1st St, Rutherfordton, NC 28139
828-286-9030
www.thefirehouseinn.com
$$$
Holiday Inn
200 Holiday Inn Dr, Forest City, NC 28043
828-755-2000
www.hiexpress.com
$$
Mountain Inn & Suites
755 Upward Rd, Flat Rock, NC 28731
828-692-7772
www.mountaininnflatrock.com
$$
Holiday Inn Express
111 Commercial Blvd, Flat Rock, NC 28731
828-698-8899
www.hiexpress.com
$$
Carrier Houses
255 North Main St, Rutherfordton, NC 28139
828-287-4222
www.carrierhouses.com
$$
45 minutes
Marriott
299 N Church St, Spartanburg, SC 29306
864-596-1211
www.marriott.com
$$$
Red Horse Inn
45 Winstons Chase Ct, Landrum, SC 29356
864-909-1575
www.theredhorseinn.com
$$$
Hilton Asheville Biltmore Park
43 Town Square Blvd, Asheville, NC 28803
(828) 209-2700
www.hilton.com
$$$
Courtyard Asheville Airport
360 Rockwood Rd, Arden, NC 28704
828-684-5000
www.courtyard.com
$$$