73rd Tryon Block House Races:
Saturday, June 5, 2021

The Ultimate Tailgate Experience Awaits You at the Tryon Block House Races Steeplechase!
Load up your vehicle with your friends and family and head out for a day at the races – the 73rd Tryon Block House Races – the historic steeplechase of Tryon Riding & Hunt Club. Purchase a tailgate space along the 1.16-mile track and watch the jockeys and horses races to the finish line.
Gates Open: 10:00am
First Race Post Time: 12:30pm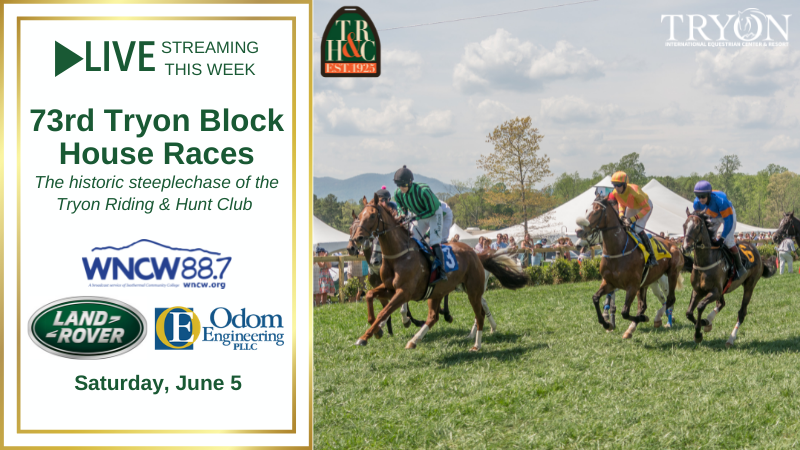 Click here to view the live stream! 

Box Office: 828-278-8088 or tickets@tryon.com
Tailgate Tips
While you can set up your tailgate space however basic or deluxe you like, you'll find many tailgaters who come loaded with a buffet of food and desserts, custom cocktails and a fully-stocked cooler, tables with tablecloths, plenty of chairs plus a tent for shade (be sure to purchase the $25 tent permit).
Some tailgaters even break out the fine silver for this special occasion! Check out these tailgate setups from previous years for a little inspiration, especially if you want to win the "Best Tailgate" contest: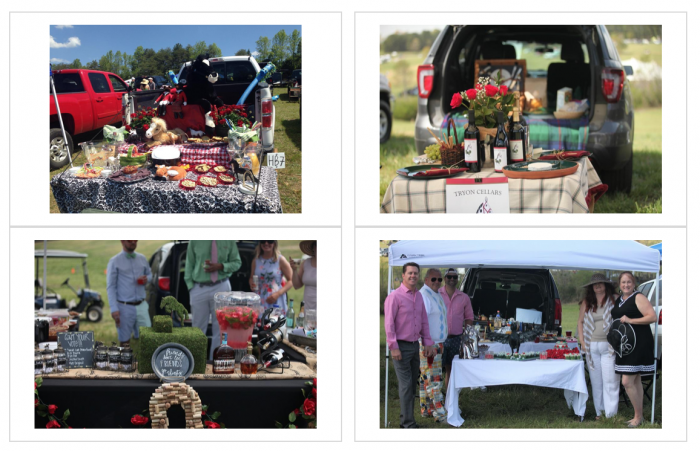 It's All About the Outfits
In addition to an impressive tailgate setup, remember to breakout your fancy hats, sundresses or crazy pants to join the traditional garb worn by many attendees to the Tryon Block House Races.
Introducing "Fantasy Stable"
by the National Steeplechase Association
You've enjoyed steeplechasing from afar. Now get involved with your own Fantasy Stable. At no cost, become a member of the National Steeplechase Association Racing Club, follow the action and watch the horses fly!
All members can create a Fantasy Stable with a chance to win a grand prize, plus weekly awards along the way from meet to meet throughout the spring.
Pick six horses, follow their exploits, enjoy the show!