Come Show With Us!
Click to View This Week's:
2021 Hunter/Jumper Competition Schedule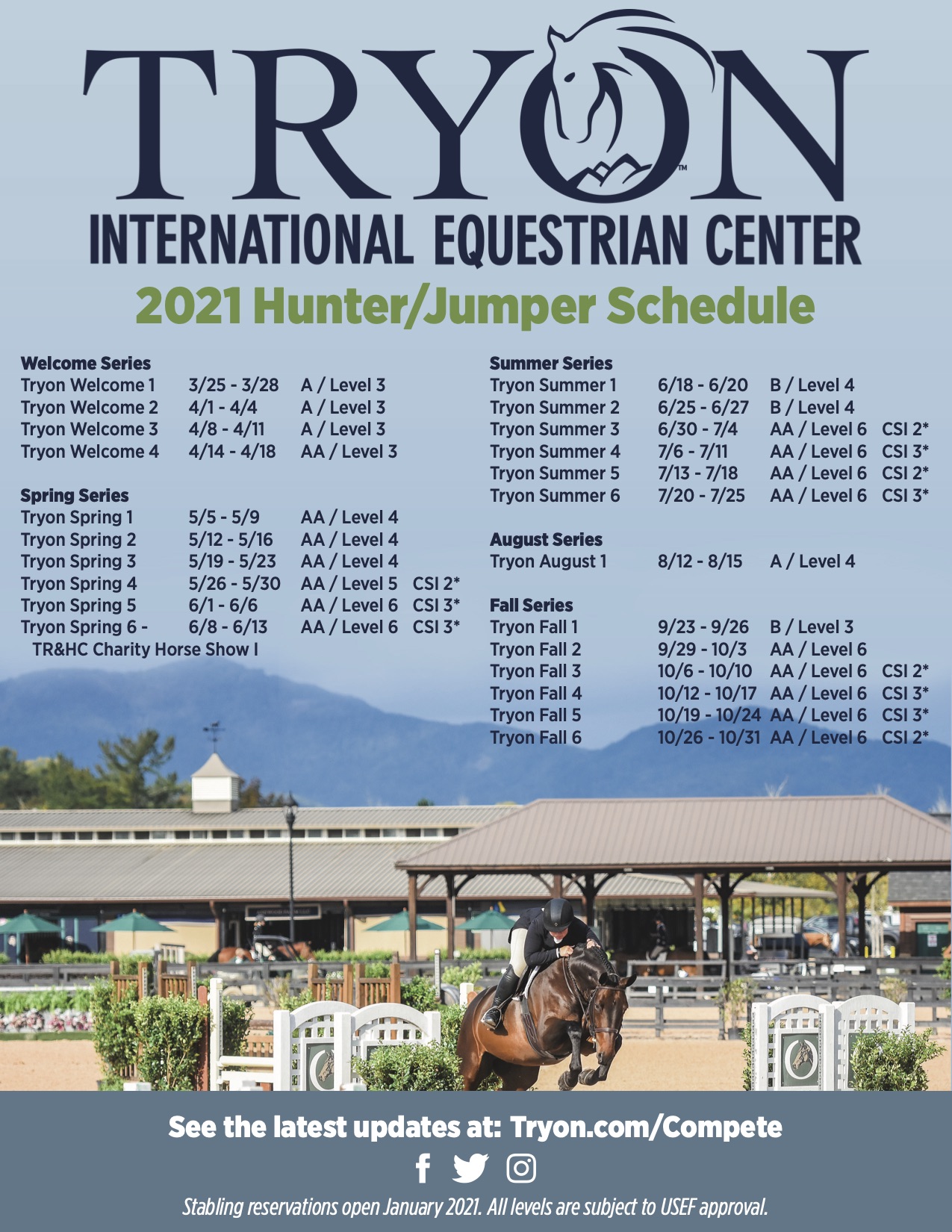 ***Please note: Schedule is subject to change.***
Prize Lists:
Prize Lists are added continuously to the website. Click here to view the Prize Lists

Lodging and Dining: A variety of onsite lodging is available for competitors and spectators. Choose from a three or five-bedroom riverside cabin, Tryon Resort's signature one-bedroom "tiny house" cottages, or a room at the Stable House Inn. RV pads with full hookups are also available onsite. Year-round, onsite restaurants serve farm-to-table cuisine, sushi, Italian and casual favorites, and Sunday brunch, with a General Store available for all sundry needs. Click here to reserve lodging now or call 828-863-1015.
Media Inquiries: Click here to request media credentials for any of the above events, or contact media@tryon.com for more information.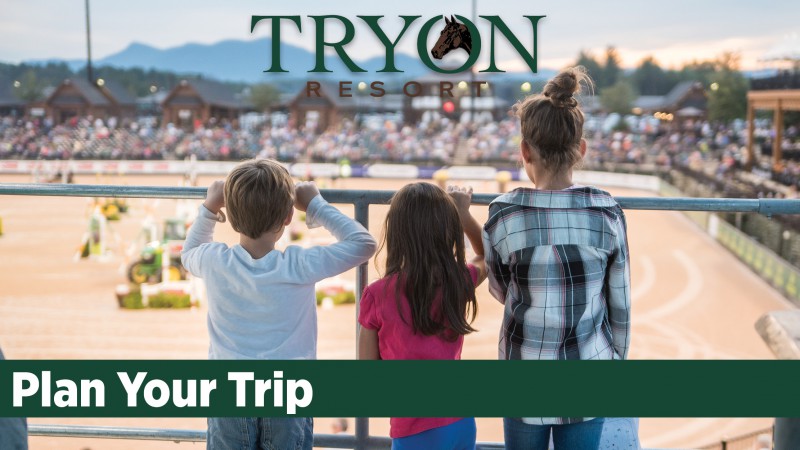 Click here to Plan Your Trip to Tryon International Equestrian Center at Tryon Resort. 
What Riders Are Saying: Competitor Praise
McLain Ward (Jumping): I think the arenas are phenomenal. It's an equine area, so you get a lot of great fan support and the facility has a lot going for it. I've actually always stayed on site other than during WEG, which is great. I think with a lot of these venues in the United States it's something we do very well, where we have a great sport and competitions not only for juniors and amateurs but also for young riders. People can be around top-level show jumping while participating at the lower-level. It's created an incredible industry in the United States stronger than anywhere in the world, and venues like TIEC really cater to that type of a set-up. It's a beautiful part of the country with great people, so it's hard not to enjoy your time there.
Hardin Towell (Hunter/Jumper): There are nice restaurants and it's a great facility with plenty of room to ride your horses. That's actually probably the biggest thing that I like. The horses really seem to like it here, because there's plenty of room and you can take them out on the cross-country field. You can really produce a horse here. You can go from a big field like the International Stadium to a smaller ring, so there's a lot of different venues. As a trainer, you can get to all the different rings quite quickly, as well.
David O'Brien (Jumping): All my horses jump really well here. It's a great facility for me, and I get to really prep my horses here and train them up. Everything about this facility is good for young horses, even down to the bridle paths. When you have a young one, it can be hard to get them around the show through traffic and such, but here you have the bridle paths and a lot of rings to ride in. Covered rings, outdoor rings, different kinds of arenas – it has a bit of everything, and you can really get a lot of mileage done in a short space of time.
Adrienne Lyle (Dressage): I love this showgrounds – it's maybe my favorite showgrounds in the world to show – but it's great for the horses to get to come to a new place and ride in a new stadium with atmosphere like this. It's really fun.
Tommi Clark (Hunter/Jumper): We used to travel the country, and we've seen almost every horse show ground – we were in a different state every week – and then we came here and just fell in love with the show itself. The rings are beautiful, there are always great course designers, and the office staff are just unbelievable. I can honestly not say enough about the Tryon International Equestrian Center and how it has really helped bring my horses along this year.
Boyd Martin (Eventing): I think it's a brilliant track and I couldn't imagine a better place to prepare for a 5* event than [TIEC]. It's got magnificent stadiums, beautiful rings and then obviously a world championship cross-country course.
Parker Minchin (Reining): We're just blown away by how fabulous this facility is! We don't want to show anywhere else besides here.
John Michael Durr (Eventing/Hunter/Jumper): Every part of what TIEC does makes you feel special – whether you're there for a national horse trials, a B-rated Hunter/Jumper show, or the 5* week. Tryon gives you that championship feeling all the time, so when my students do go to the championships or go to Young Riders or something like that, they don't fall apart because they're used to being in a big atmosphere.
Misdee Wrigley-Miller (Driving): Number one, the barn facilities are the best I've ever seen at a show facility – the safety of the barns – it's all top, top class. There's no question that the venue is just absolutely gorgeous. We were going along by the creek today and it's very soothing to hear the creek – it's like a zen fountain!
Julie Curtin (Hunter/Jumper): It's always a lot of fun to ride here. The venue is just very nice. The footing is always really nice. I'm a big fan of footing. The jumps are pretty, it's well-manicured, and it's just very horse-friendly. Footing is a really big thing for me, and I like the way they [my horses] land with some cushion. It's a professional's show! They do it right here.
Katherine Bateson Chandler (Dressage): It's an amazing venue. This is truly a world-class venue with beautiful stabling, which always really matters to us. The footing here is perfect, and the staff has been great. We stayed in one of the cabins here, so that was really fun. We just brought our bikes and didn't have to worry about driving back and forth, and always had a place to eat every night, so you can't beat that!