Eventing at TIEC
Eventing will once again return to TIEC at Tryon Resort in 2021, featuring The Fork at TIEC presented by Nutrena® in April and the Tryon Fall Horse Trials in September, along with the return of the Tryon International Three-Day Event in November. Stay tuned for more information, including volunteer opportunities and live streaming availability. Attendance onsite for competitions is currently limited to competitors and their family, barn staff, and essential personnel only and spectators are not permitted.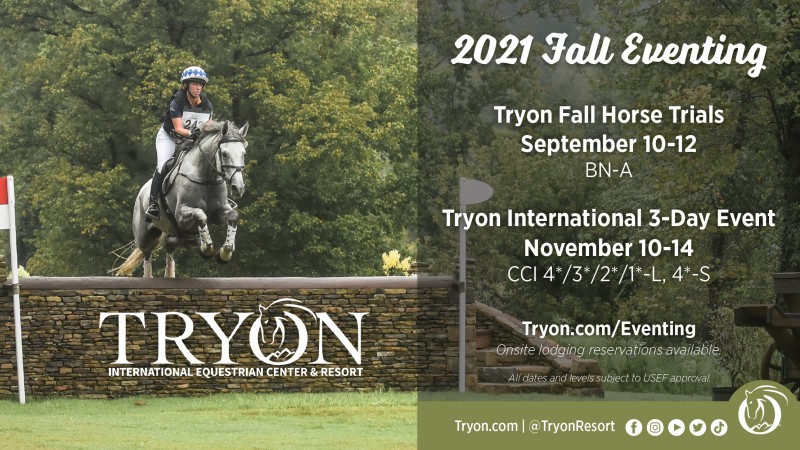 Tryon International Three-Day Event to be Hosted November 10-14, 2021
The Tryon International Three-Day Event, returning November 10-14, 2021, will feature CCI 4*-L competition after the event debuted at the venue to great success in 2020. Combining international and national competition with beautiful fall weather, the Tryon International Three-Day Event at TIEC is sure to be a highlight of the 2021 Eventing season. More information to come at www.Tryon.com/Eventing.

Recap: The Fork at TIEC 2021
Recap: the 2020 MARS Tryon International Three-Day Event
News:

USEF Announces CCI4*-L Eventing National Championship will be held at the Tryon International Three-Day Event
Relive the 2020 Blue Ridge Horse Trials
Lodging and Dining:
A variety of onsite lodging is available for competitors and spectators. Choose from a three or five-bedroom riverside cabin, Tryon Resort's signature one-bedroom "tiny house" cottages, or a room at the Stable House Inn. RV pads with full hookups are also available onsite. Year-round, onsite restaurants serve farm-to-table cuisine, sushi, Italian and casual favorites, and Sunday brunch, with a General Store available for all sundry needs. Click here to reserve lodging now or call 828-863-1015.
Media Inquiries:
Click here to request media credentials for 2021 competitions, or contact media@tryon.com for more information.