The Festival of the Hunt returns to TIEC this November!
Partnering with the Tryon Hounds and Green Creek Hounds for field hunter trials onsite at TIEC, Tryon Resort is proud to welcome the Festival of the Hunt back to the venue in 2018.
*Judged Hunting Days Wednesday and Thursday canceled due to weather*
All times are approximate and subject to change.
Friday, Nov. 16 – TIEC Derby Field
9am: Warm ups
10am: Carolina Performance Hunter Hilltoppers
10:45am: Carolina Performance Hunter Class
11:30am: Team Challenge
11:45am: placings for Carolina Performance classes and team challenge
12:00pm: lunch hour
1:00pm: Hilltopper Championship final (mock hunt followed by individual rides at judge's request) with awards to follow
6:00pm: Festival of the Hunt Party (Legends Club)
Join us for Comedy Night at 8pm in Campagna! 
Saturday, Nov. 17 - TIEC Derby Field
9am: Parade of the Green Creek Hounds and Tryon Hounds
9:30am: Mock Hunt – qualified Field Hunters Championship competitors
10:30am: Field Hunters Top 8 – Pairs Handy Hunter Round
Awards to follow
 Events
Save the date: join us for the Festival of the Hunt Party on Friday, November 16th, in the Legends Club from 6-7pm! Open to all competitors. Additional tickets will be available here. 
Video
Click here to see preview of the week!
Competitors
Please direct questions to foxhunting@tryon.com. Click each link below for class rosters.
Carolina Performance Hilltoppers
Due via email or mail no later than November 11.
Due via email or mail no later than November 11.
Program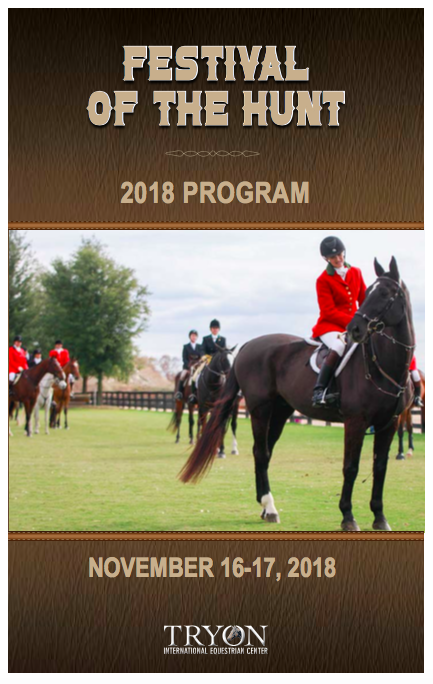 Click to view the 2018 program!