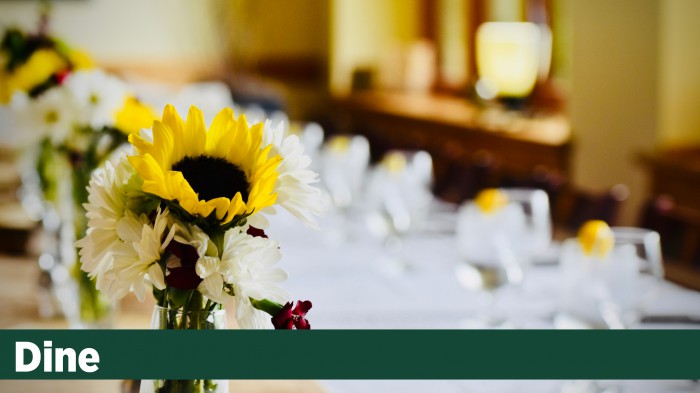 Blue Ginger Sushi
Onsite at Tryon Resort
828-863-1121
Get your sushi fix at Blue Ginger Sushi, where the freshest seafood and locally-sourced ingredients are delicately handcrafted into edible works of art. With a large selection including rolls, sashimi and traditional sushi, there's something for every palette!
Campagna Italian Cuisine
Onsite at Tryon Resort
828-863-1127
Indulge in hearty Italian dishes, wood-fired pizzas and more at Campagna Italian Cuisine, featuring indoor and outdoor seating and a full bar.
Jennifer's Creamery
Onsite at Tryon Resort
Enjoy delicious soft serve ice cream at Tryon Resort's newest addition serving up a variety of treats including milkshakes, floats, ice cream cones and more.
Huckleberry's
62 North Trade Street, Tryon NC 28782
828-436-0025
Located in the heart of downtown Tryon near the water fountain! Open daily at 11am for lunch, dinner, and Sunday brunch. Seasonal menus, outdoor dining, live music, and full bar!
Larkin's Carolina Grill
155 W. Mills Street, Columbus, NC 28722
828-894-8800
Join us at your neighborhood Grill for daily food and drink specials, live music, karaoke, football, and more!
Legends Club
Onsite at Tryon Resort
828-863-1130
Sit ringside in the covered pavilion of the Legends Club for the ultimate viewing experience at every Grand Prix competition. Daily dining, reserved tables, and weekly or seasonal memberships are available and open to the public. Also available for special events – call for more information.
Legends Grille
Onsite at Tryon Resort
828-863-1122
A Tryon Resort favorite, Legends Grille offers gourmet lunch and dinner without the dress code, and always features local and organic ingredients. Indoor and outdoor seating and a full bar available.
Mane Street Coffee
Onsite at Tryon Resort
828-863-1123
Open seasonally for all your beverage needs, Mane Street Coffee is a great place to sit and relax with a cold or hot pick-me-up. Conveniently located along Vendor Row in a close proximity to show rings, with both indoor and outdoor seating.
Mulligans at Tryon Resort
183 Golf Circle, Rutherfordton, NC 28139
828-286-9117
Located inside the Pro Shop at Cleghorn Golf & Sports Club, Mulligans is the perfect way to round out your golf, games or pool adventure, and offers classic salads, sandwiches, wings and more.
Pony Express Deli
Onsite at Tryon Resort, General Store
828-863-1432
Pony Express Deli serves up fresh, deli-carved sandwiches, salads, wraps, soups and breakfast sandwiches to go, as well as grab-and-go entrees and sides in the General Store for guests who need convenience without sacrificing taste.
Roger's Diner
Onsite at Tryon Resort
828-863-1113
Open year-round, seven days a week, Roger's Diner offers a menu of classic and southern favorites like burgers, patty melts, grits and milkshakes along with breakfast all day and gluten-free, dairy-free and vegetarian choices. Indoor and outdoor seating.
Siesta Cantina
Onsite at Tryon Resort
828-863-1434
Siesta Cantina delivers fresh, authentic Mexican cuisine for those looking for a quick and delicious meal. From tacos and burritos to salads and margaritas, satisfy your cravings at Siesta Cantina located by the Silo Bar.
Silo Bar
Onsite at Tryon Resort
Unwind at the Silo Bar, built from a true grain silo, and relax on a barstool or one of our many hammocks! Karaoke and live music hosted often. Be sure to head down to the end of Vendor Row and enjoy seasonal nightlife at Tryon Resort.
Tryon Resort Food Truck
Onsite at Tryon Resort
Always stationed conveniently to the barns, the Tryon Resort Food Truck serves delicious, quick, and easy meals or coffee for anyone on the go.