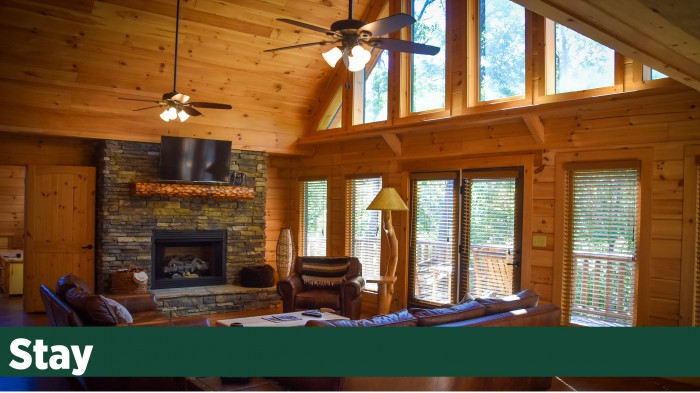 Lodging at Tryon Resort and TIEC
Onsite at Tryon Resort
828-863-1015
From cozy one-bedroom "tiny house" cabins to luxurious three and five-bedroom log homes, the Stable House Inn and more, Tryon Resort has you covered, from competition to getaways and holiday celebrations.
The Lodge on Lake Lure
361 Charlotte Drive, Lake Lure, NC 28746
828-863-1015
The Lodge on Lake Lure offers an intimate escape just minutes from TIEC, along with world-class fine dining. Whether you seek rest or adventure, Tryon Resort's signature hideaway awaits.
Featured Listings:
Hampton by Hilton Hendersonville
155 Sugarloaf Road, Hendersonville, NC 28792
828-697-2333
Enjoy blue ribbon accommodations and free hot breakfast buffet. Conveniently located 30 min from TIEC and 2 mi to historic downtown Hendersonville. Rooms feature microwaves/mini-fridges and complimentary WiFi. Indoor pool and fitness center.
Little House at The Grey Fox
2011 Moore Road, Tryon NC 28782
864-415-9198
http://Great-Rental.2.vu/Beside-TIEC
Less than 2 minutes from the entrance to TIEC. 2 bedrooms, 2 baths. Hop back home for a nap. Text the number and mention this advertisement for specials. Great reviews.
Moore Road Cabins
1217 Moore Road, Tryon, NC 28782
864-230-4626
Our fantastic 3 rental cabins are within 1 mile of TIEC. Go out our driveway, turn left and arrive at TIEC. New Cabins with Modern Comforts and Woods behind – enjoy!
Our Happy Place
828-778-4721
Our Happy Place! Gated community 3 miles from TIEC. Four-bedroom house on two acres available by whole house, main floor only, or upstairs apartment only. Well-behaved pets welcome.
Studio R
Green River Highlands
828-289-3565 (call or text)
http://tiny.cc/Studio-with-pool
Splash! Summer cool off! Studio R, fully furnished cabin apartment with swimming pool outside your door. Queen bed. Gym, kitchen, washer/dryer. Gas fireplace for winter. TIEC is close (5 minutes).
Top of the Hill Cabins
216 Camp Hill Road, Mill Spring, NC
828-301-2028
Affordable, luxurious cabins less than 20 minutes from TIEC. Convenient to Ingles Lake Lure, ample parking, laundry. Text POTTERY to 828-301-2028 to get free handmade pottery with booking.
Tranquility Farm Rentals
4694 Peniel Road, Tryon, NC 28139
828-817-4970
Minutes from TIEC. 4B 3B house/fenced yard. 2 master, sleeps 8 & plenty of parking. VRBO 1327851. Also Adorable Cozy House near TIEC. Brand new 2B 2B VRBO 1464471.
Yonder Luxury Vacation Rentals
838 N Trade St, Tryon, NC 28782
888-699-2987
Celebrating 11 years in WNC, Yonder dedicates itself to providing the ultimate vacation experience for couples, families or large groups. We'd love to help you plan!