2019 Schooling Days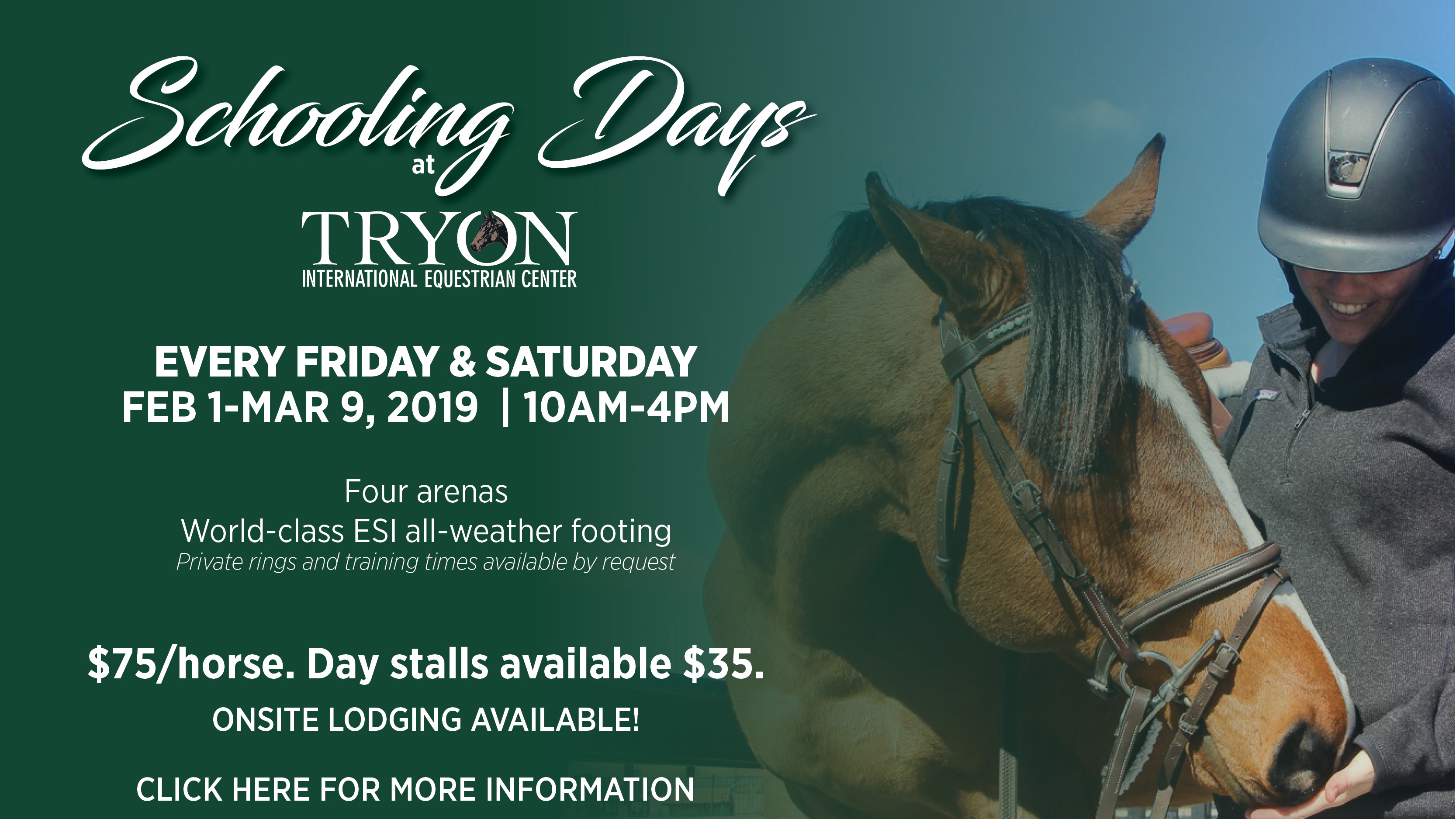 Come train at TIEC! No reservations or pre-registrations required! 
Fees:
$75 per HORSE One-Day
$35 per Day stall
$50 Overnight stall
$9 Shavings, per bag
Private rings and training times available by request. Email schooling@tryon.com to inquire.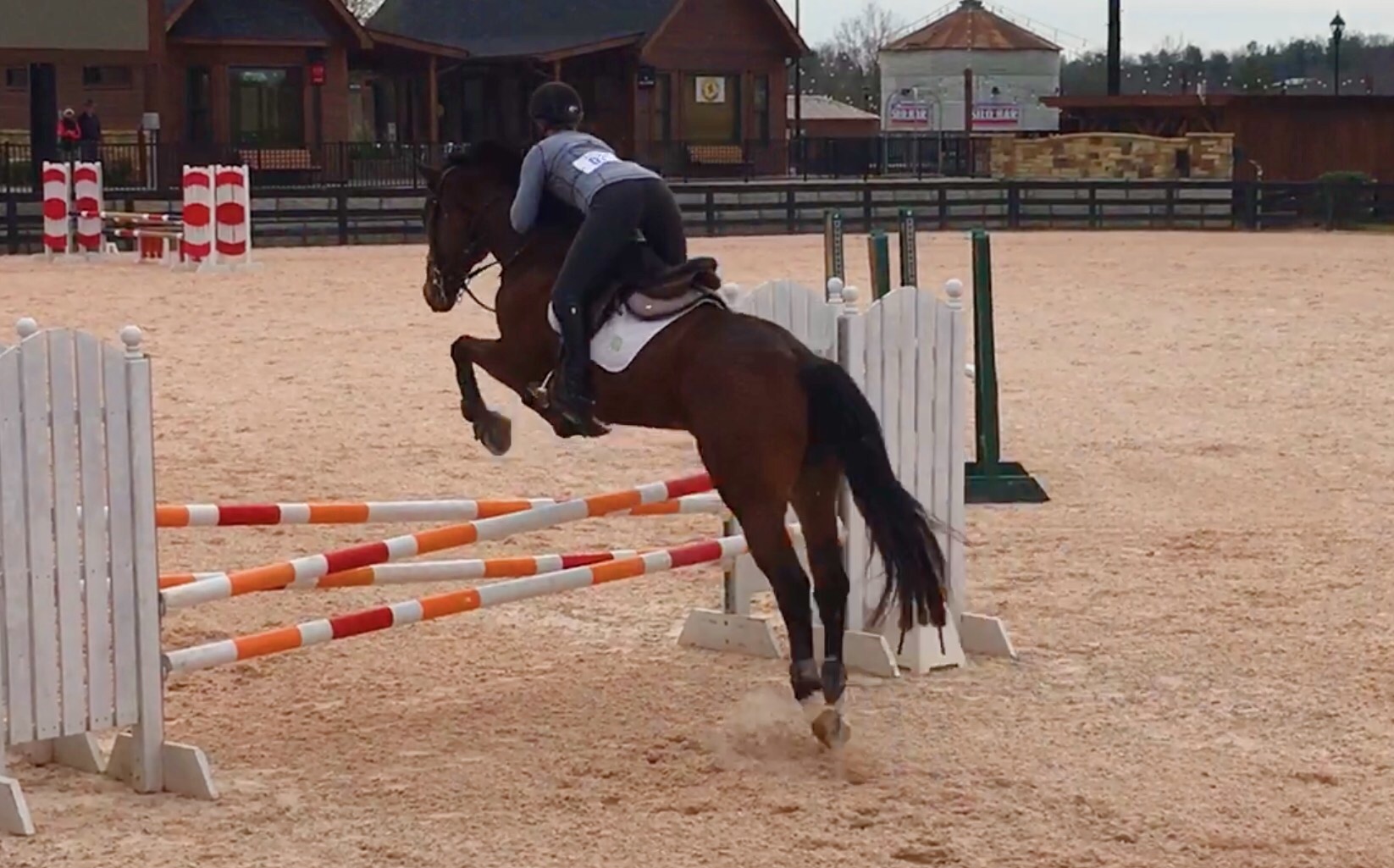 EVERY FRIDAY AND SATURDAY  FEBRUARY 1  through MARCH 9, 2019
(Feb 1, 2, 8, 9, 15, 16, 22, 23; Mar 1, 2, 8, 9)
Weather update: Schooling Days is CANCELED for Saturday, February 23. 
All HORSES must have a current Coggins to present to Guard Gate upon arrival.
All RIDERS must fill out/sign a waiver. Multiple HORSES can be added to each form.
Each RIDER will be given a back number. They must have the back number visible during the day.
Safety/Security Rules:
All dogs must be on leashes/No dogs in arenas.
All mounted riders must have on an approved safety helmet.
No trotting/galloping on bridle paths.
Arena details: Rings open from 10am-4pm.
Fence height adjustments will be determined by the majority of participants. Trainers can be in the arenas with students and adjust fences.
Ring 1-Dressage – 1 full size arena.
Ring 2-Beginner – Fences remain as crossrails and 2'
Ring 3-Hunter – Fences will start at 2'3"
Ring 4-Jumper – Fences will begin at .60
Ring 10 (Arena adjacent to Barn 4)- Lunging Area
ALL OTHER RINGS AND COURSES CLOSED.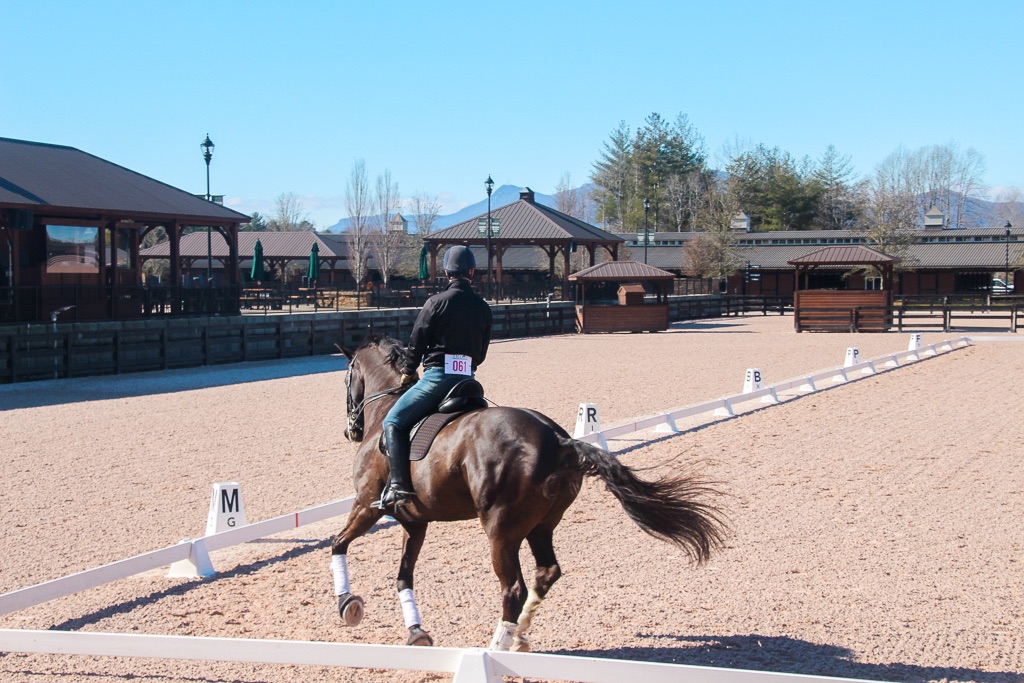 Event Notes
Open to the public. No reservations or pre-registration required.
Current Coggins required to be presented at the TIEC Guard Gate upon arrival.
Bridle paths connecting all competition areas.
Derby Field, Cross Country Course, and Ring 6/7 are all CLOSED.
Shaded spectator view areas and permanent restrooms surrounding the facility.
All participants will be required to sign a waiver and

must

display the TIEC number assigned while on property.
EMT and TIEC staff security will be present.
This event is weather permitting. Cancelations will be announced on Facebook by 8am the day of the event.
All rings will be groomed and maintained daily, as necessary.
Parking and Facility Maps will be available upon arrival at the TIEC Guard Gate.
Lodging: Winter rates available, plus overnight stalls with 24 hr. security.