Click the Above Image to Access the Volunteer Portal!
Upcoming Needs:
The Fork at TIEC – April 4-7
The Fork at TIEC welcomes the sport of eventing back to Tryon on April 4-7, 2019, offering competitors a chance to compete utilizing fields of play designed for the FEI World Equestrian Games™ Tryon 2018 Cross-Country course. The Fork at TIEC will include FEI CIC 4*, CIC 3*, and CIC 2* short-format competitions and Horse Trials at Beginner Novice, Novice, Training, Modified, Preliminary, Intermediate, and Advanced levels.
73rd Tryon Block House Races – April 13
This historic event celebrates the stunning display of power and speed that is steeplechase with tailgating, hat and "go to heck" pants contests, plus five races and a total purse of $135,000 up for grabs, all for an unforgettable springtime day steeped in tradition.
The Carolina Classic at TIEC – May 9-12
Reining returns to TIEC in May after a successful debut at the venue in 2018. Numerous levels of reining competition will delight any fan of western disciplines. Hosted in the Indoor Arena at TIEC, the Carolina Classic is a don't-miss event this year!
Saturday Night Lights – May-October
The ultimate Tryon tradition – "Saturday Night Lights" (SNL) – features free family fun coupled with world-class equestrian sport creating a favorite community event all season long.
USPC Championships East – July 24-28
The USPC Championships East returns to TIEC for its third appearance at the venue, continuing Tryon Resort's strong relationship with the United States Pony Club and celebrating multidisciplinary competition and horsemanship July 24-28, 2019. Members compete as part of a team and are judged on riding abilities, as well as horse management skills, in seven disciplines: Dressage, Eventing, Show Jumping, Games, Polocrosse, Tetrathlon, and Quiz (non-riding, knowledge based competition).
 Young Horse Show Series Finals – November 7-10
The Young Horse Show Series is designed to provide sport horse breeders as well as owners, trainers and riders of all disciplines an affordable show venue to introduce and evaluate their young horses to the show environment and "put on necessary mileage" with appropriate and special classes suitable to the proper development of young horses.  It is also intended to create a sales environment where numerous young horses are in a single location and their talents displayed in front of a buying audience.
 Winterfest – Saturdays in December
Celebrating the season with festive events, lights, and music, TIEC's Winterfest tradition is hosted Saturdays in December and includes Breakfast with Santa, Story time with Mrs. Claus, cookie decorating and more!
Helpful Documents:
Required for all volunteers. Please print and bring with you!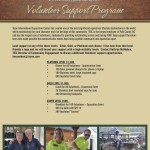 Volunteer Support Program:
Click to learn more about the Volunteer Support Program and how you can get involved!