The 72nd Annual Tryon Block House Races, the Historic Steeplechase of the Tryon Riding & Hunt Club, Needs Your Help!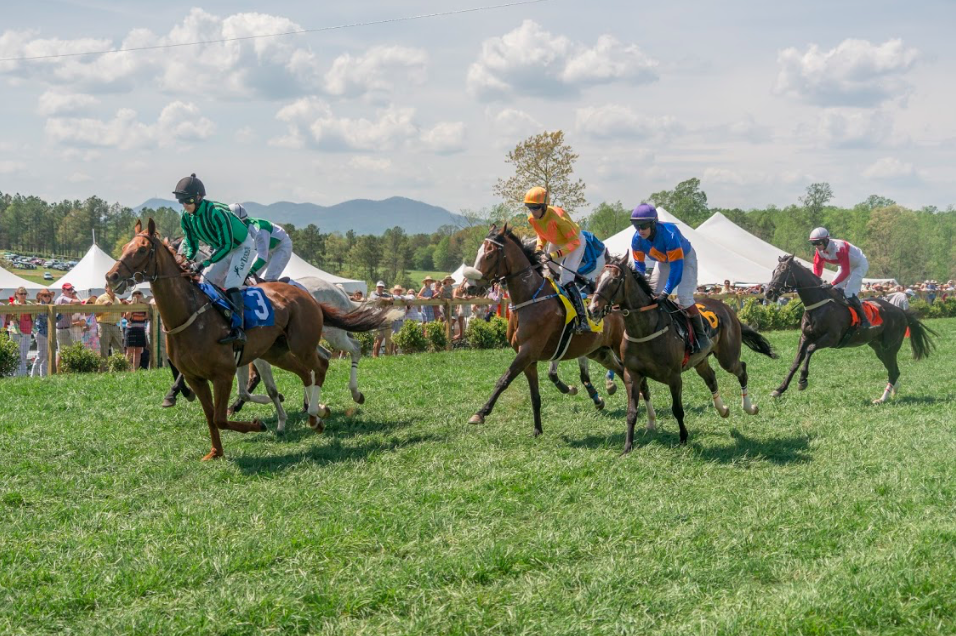 The 72nd running of the Tryon Block House Races is on Saturday, April 14th! Join us for a beautiful day of steeplechase racing on the new "Green Creek" Race Course, located on Hwy. 9 in Columbus, NC.
Volunteers are an essential part of the success of any race day and of pre-race day preparation, set up and planning. Thank you for your willingness to participate in this year's race. We could not do it without you!
Committees, Leads, and Volunteer Positions:
Parking & Grounds Committee
Volunteer Lead, Terry Lynch
Volunteer Positions:
Pre-Race Hanging signs & banners
Pre-Race Golf Cart Tour Guide
Shuttle Cart Drivers
Race Guide Sales
Hospitality Committee
Volunteer Lead, Mary Pat Monteith
Volunteer Positions:
Annual Contests Judges: Hat, Tailgate, & GTH Pants
Tent/Area Marshalls: Legend's Club Tent, Race Tower, TRHC Tent, Volunteer Tent
Trophies & Awards
Refreshment Delivery to volunteers
Volunteer HQ / Information
Volunteer Lead, Beverly Bradford
Volunteer Positions:
Volunteer Check in
Office assistance
Operations
Volunteer Lead, Fred Bayley
Volunteer Positions:
Jockey Cart Drivers
Vendor Coordinators
Amateur Photographers
Pre-Race Entertainment: Bugler, PC Veterans Memorial Color Guard, etc.
Non-race Stable Steward: Green Creek Hounds and Shea Rose Vaulters
PRIOR TO RACE DAY, PLEASE :
Sign up for a Volunteer Orientation if you haven't already. All 2018 TIEC volunteers must attend an orientation, sign a waiver, and receive a handbook and a name tag. Click here to signup for an orientation
Take a tour of the new racecourse – Familiarize yourself with the layout of the venue, noting gates, EMS postings, infield parking areas & hospitality tents based on the maps
Review your job description – Understand fully what you are being asked to do –what, when, where and for how long. Let us know if you have any questions and/or physical restrictions.
Print out your parking pass – Check your email – You will receive a link to your parking pass
KNOW BEFORE YOU GO – WHAT TO EXPECT & WHAT TO DO:
Dress appropriately – Wear slacks or shorts, a white collared shirt, and comfortable, closed-toe shoes that are stable to walk on uneven terrain. All Leads are asked wear a blazer. (All volunteers are encouraged to wear a blazer.)
Volunteer parking – Area marked on your map – in the infield. Enter through Gate 1 or Gate 2. Please arrive at least 15 minutes prior to the start of your role/activity. We expect heavy traffic, so please allow plenty of time to arrive at the venue and park.
Plan ahead – Gates will close when there is a horse on the racecourse and you will need to arrive/depart while the gates are open.
Check in at the Volunteer Tent upon arrival – Volunteer tent is adjacent to the parking area; it will be open all day, and there you will pick up:
Credentials
Lunch ticket
Radio and/or golf cart (if specified)
Bottled drinks and snacks – keep your energy up!
Lunch – Please see your lunch ticket at the TIEC "diner" in the infield. You may eat your food in the volunteer tent, or wherever you choose. Also, feel free to take a break at any time as long as you get someone to cover your position while you are away.
Check out – At the end of your shift, return your credentials, radio, and/or golf cart to the Volunteer tent. At that time you will be given a swag bag full of goodies.
Thank you again for your time and your support of the 72nd annual Tryon Block House Races, the historic steeplechase of the Tryon Riding & Hunt Club!
FAQ
ALL VOLUNTEERS MUST BE 18 YEARS OF AGE OR OLDER
ALL VOLUNTEERS in NC and SC MUST COMPLETE AN ORIENTATION. Click here to signup.
Determine the day(s) you want to work. Days are listed on the signup in blue under "Event Days". Click on the day to see the positions available.
Select the signup button next to the shift you want to work
If there is no button, then that means that all slots for that position have been filled
Any special needs / requests, etc – please use the comments field to convey these – we will do our best to accommodate.

HELPFUL LINKS:
Lodging Information – https://tryon.coth.com/bookings/new-booking
Tryon International Equestrian Center – www.tryon.com