Saturday Night Lights at TIEC 
Saturday Night Lights is a signature Tryon Resort event series featuring food, fun, live music, and more every Saturday through October. August will feature a special Tryon Block Party Series you won't want to miss! Bring the whole family: admission, parking and carousel rides are all FREE! The activities start at 6:00pm!
Saturday Night Lights events run during our spring, summer and fall horse shows. For a list of upcoming dates, please click here.
August 17:
Tryon Summer Block Party: Legends Plaza 6-9pm
Featuring: Miss USA Meet-and-Greet & Puppy Pageant
No equestrian competition (Tryon Stadium is getting a footing upgrade!)
Live Music from the Colby Dietz Band (6pm)
Miss USA Meet and Greet with Cheslie Kryst (6-7pm Legends Plaza)
"Puppy Pageant"  ft. High Jump, Costume and Talent Competition – see more info below
Featured Nonprofit: Foothills Humane Society
Tryon Block House Races FREE Tailgate Giveaway: "Stock the Schools" Supply Drive at Information Booth
About Miss USA Cheslie Kryst:
Cheslie Kryst is a full-time attorney from Charlotte, NC that is licensed to practice law in two states. She earned both her law degree and MBA from Wake Forest University and graduated cum laude with a Bachelor's degree from the Honors College at the University of South Carolina. This 28-year-old is a former Division I athlete, having competed in the heptathlon, long jump and triple jump on South Carolina's track and field team. Additionally, she sits top ten in the record books at South Carolina for the triple jump. Cheslie runs a fashion blog, "White Collar Glam", that focuses on workwear fashion for women. She is an active volunteer for Dress for Success and credits her achievements to her ability to learn from failure.
#MissUSA #RPMForTheWin #MissNCUSA #MUO #ALWS19
Puppy Pageant Info:

Location: Grass near General Store
Pre-registration not required, check in by 6:30pm. Competition  at 7pm.
High Jump first, then talent show and Costume Contest to follow
*All dogs must be leashed at all times*
Superlatives & prizes for contestants, with Miss USA to judge & hand out awards
Puppy Pageant Contest Divisions:
High Jump: For those pups that have springs! Show off his/her jumping ability with our high jump category. The bar will be raised until there is one dog remaining. Does your dog have what it takes? 

Talent: Every dog is talented in their own way, whether it be catching a ball, showing off some awesome tricks, or even walking on its hind legs. Show off your dog's unique capabilities in this category.

Costume: This is where you and your companion's creativity can shine! Each dog will model an outfit of choice. Make sure to dress and act the part! Dogs will be judged on personality and outfit choice. 

Superlatives and prizes will be handed out to contestants, with Miss USA to judge and hand out awards.
Giggle Box Circus at TIEC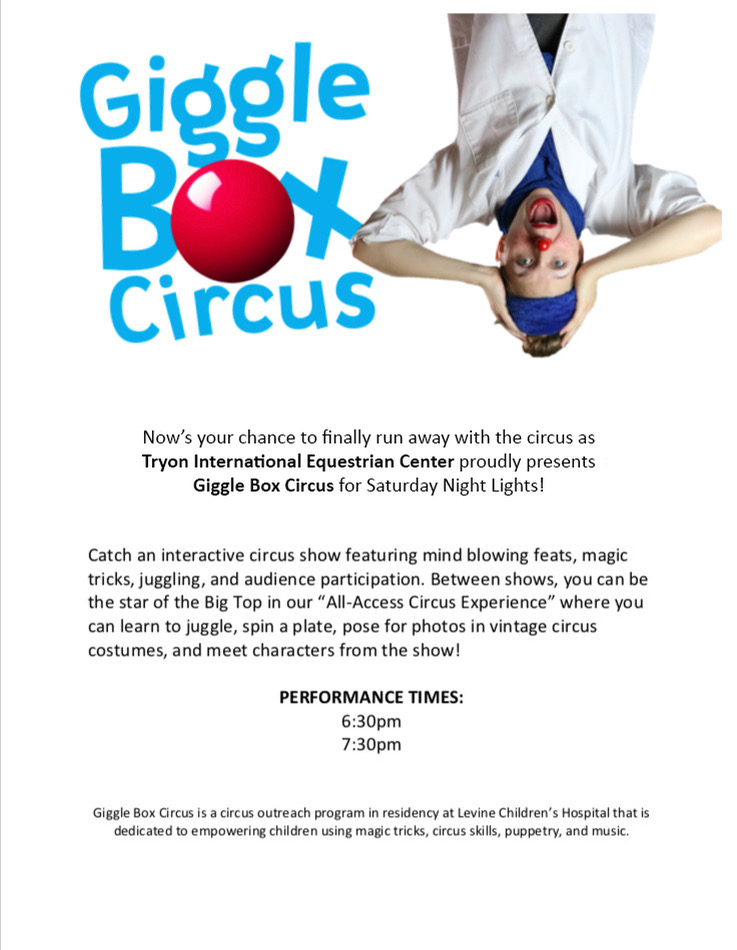 FAQ:
When should I come?
The family activities begin at 6:00pm. Our on-site restaurants are open during Saturday Night Lights, so make an evening of it and plan for dinner as well! Vendors will be open for your perusal along Vendor Row, concessions will be readily available along with all your favorite beverages. 
What sort of activities are there?
Every week there will be face-painting, performers, free rides on the venetian carousel and a live band – there is fun in store for guests of all ages!  In the past there have been fire twirlers, acrobats, magicians, mechanical bull riding, sand-castle building, shag dancing competitions, vintage car shows and craft beer festivals. Check out our Facebook page to see what fun we're planning for the next one!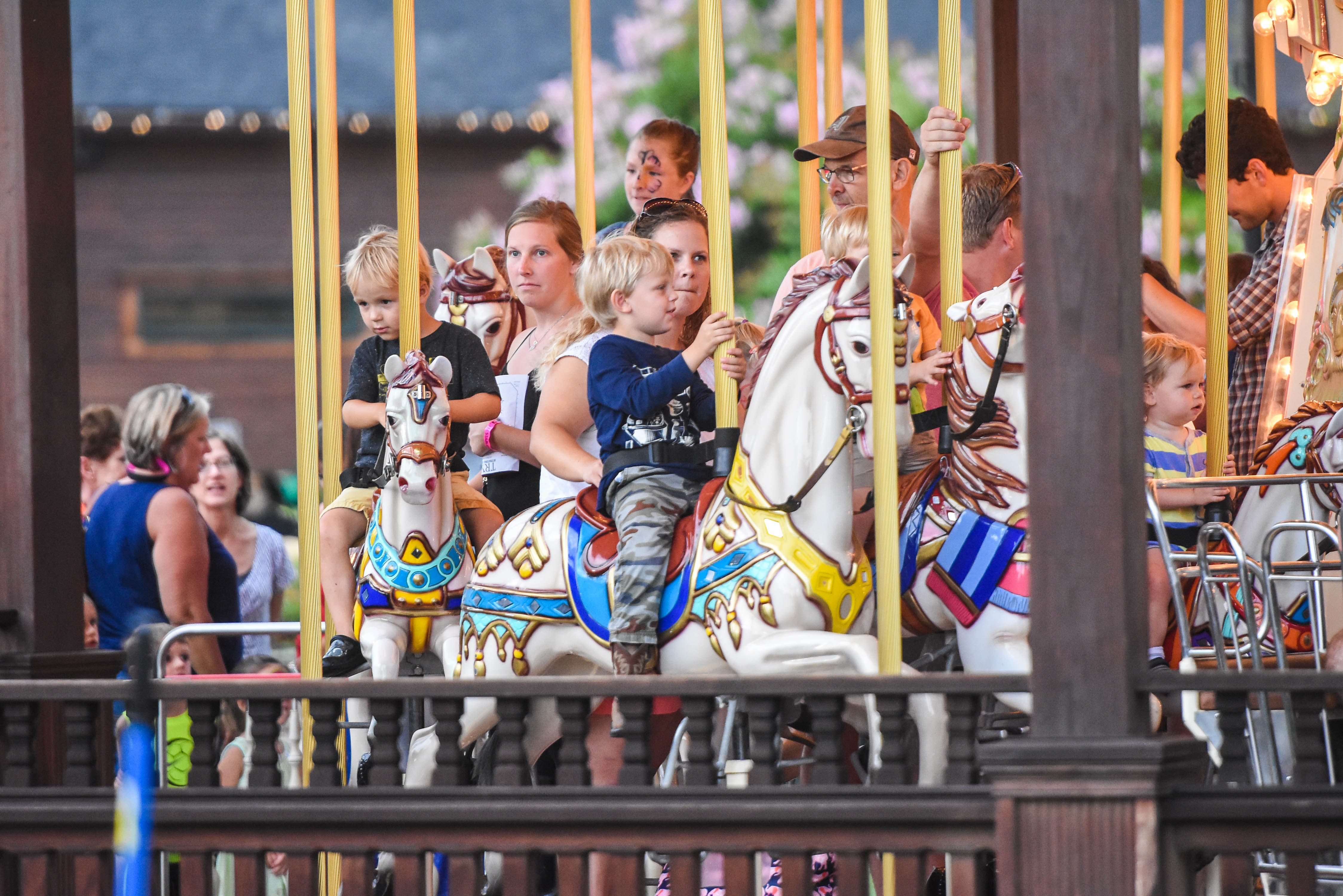 What's available to eat?
We have a number of delicious on-site restaurants ready for you to enjoy on Saturday Night, whether you're in the mood for casual fare or fine dining—to see their listings and menus, click here. We even have a wood-fired pizza oven out during the show, as well as a barbecue, frozen yogurt, cotton candy and other treats!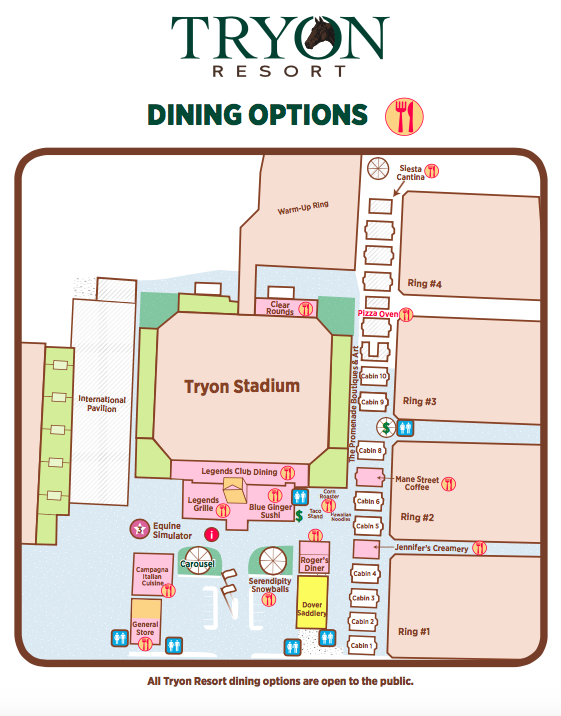 What stores are open?
A number of the equestrian show vendors in the cabins adjacent to the main ring are open during Saturday Night Lights, offering clothing, jewelry and much more. 
What kind of competition is it?
Saturday Night Lights features a Grand Prix show jumping event where expert riders from all over the world guide horses around a course and over jumps almost 5 feet high, which is nearly the same level as at the Olympics! Riders that make it around the course successfully will return for the jump-off, a high stakes shortened course that determines who wins first place and the largest share of the prize money— sometimes over $100,000! For more information about show jumping, visit our Horse Show 101 page.
Where do I sit?
All stadium seating is first-come first-served, and there isn't a bad seat in the house! Also, The Legends Club offers a reserved VIP table with great views of the ring and an elegant dining experience for members. For more information, click here.
What if it rains?
All our events are rain or shine —some of the most exciting jumping competition is in the rain! We only cancel or postpone a competition if the weather is severe to the point of risking the safety of horses or humans. We will post on Facebook if there are last minute cancellations, postponements, or other changes.
For a Saturday Night Lights highlight video, click here. This is one of our favorite events to host at Tryon. We hope to see you under the lights soon!